If you decide military radio is thats what you want and you want something really secure and robust you will need to look on several points and price is not priority of course in that situation because people can sale you something not usefull atall.
What make military radio secure?
Frequency hopping
Encryption
Lets start with frequency hopping
Ok we can look on several radios using freqs hopping
Most of the military radio suppliers using on HF frequency hopping 256 kHz
Why 256 Khz and from where that limitation is coming from?
Most importand is how effective your antenna tuner are specially in manpack radios
Some of the manufacturers reduce effeciency and keeping 256 kHz of course thats reduce range with whip antennas dramaticly.
Other manufacturers of HF military radios are Codan and Barrett
Like I say above manpack is most important and we can compare Codan 2110 radio and Barrett PRC 2090 radio.
Codan 2110 offering varius frequency hopping band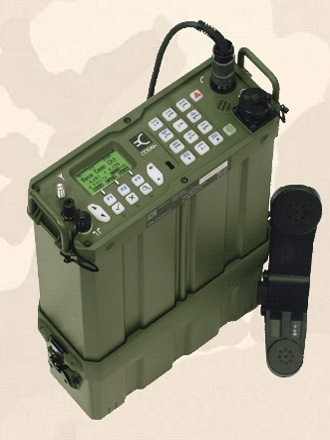 Standard FH 1% of the freqs thats mean on frequency 3 Mhz freq hoping band will be 30 kHz and on 7 mHz 70 kHz.
On the same time Codan is allow customer to change setting of freqs hopping and customer can decide what freqs band he need and he will FH band will be limited only by antenna and propagation you can hope 1.6 - 30 mHz but of course propagation will not allow you do that.
Other modes Codan offering you can hop on preset channel. Thats quite unique option also as far as I know Rhode Swarz can offer the same.
Possibility for customer to decide how wide you can hop is very unique and of course its great advantage for the customer.
Ok Barrett 2090 manpack radio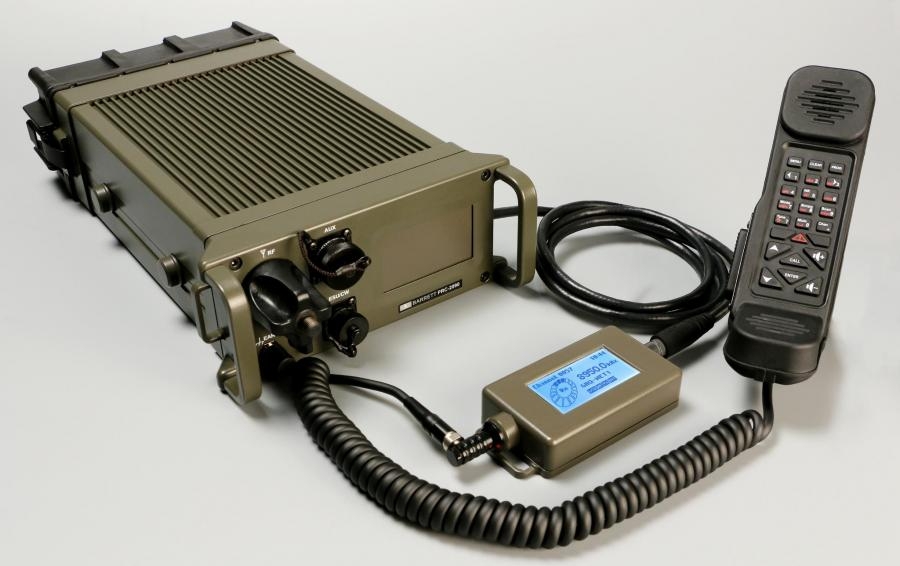 Ok if you look on that radio and will request operator manual for manpack radio you will understand that radio cant be considered as secure frequency hopping radio.
Reason? Frequency hopping band. Manual I see is state that frequency hopping is only plus minus 1 kHz and that narrower then SSB signal!!!
Of course its very easy even for people with amateur radio equipment to intercept such FH.
Company are good anyway hiding their disadvantages and in specification there is no word about FH Bandwith :-)
General specifications
Frequency range 1.6 MHz to 30 MHz Tx, 250 kHz to 30 MHz Rx*
Channel capacity Up to 500 programmable channels
Operating modes J3E (USB, LSB) – H3E (AM) – J2A (CW) – J2B (AFSK)
Frequency stability ±0.5 ppm (±0.3 ppm optional)
Sensitivity -120 dBm (0.224 μV) for 10 dB SINAD – J3E Mode pre-amp on
Frequency hopping 5 or 25 hops per second
RF connections Whip or long wire using internal automatic antenna tuner or 50 ohms connector
RF output power 30 W PEP, 10 W PEP (125 W PEP) when in vehicle or base docking station (voice duty cycle only)
Operating temperature -30°C to +70°C humidity 95% relative, non condensing
Programming RS-232
Weight 2090 transceiver with 10 Ah Lithium Ion battery cartridge 5.22 kg
Standards Meets AS/NZS4770:2000, CE, MIL-STD 810G for immersion, shock, vibration, dust and spray
*reduced sensitivity 250 kHz to 500 kHz
Specifications are typical. Equipment descriptions and specifications are subject to change without notice or obligation.
If you look on Barrett website
http://www.barrettcommunications.com...-2090-manpack/
company states:
"The PRC-2090 is a rugged fully featured tactical HF transceiver solution delivering proven field deployable secure communications with un-paralleled reliability. Designed for operation in the toughest of environments, the PRC-2090 complies with MIL-STD 810G for shock and vibration, is immersible to a depth of 1 m and can be operated in extremes of temperature from –40°C to +70°C." and when you look on technical specification temperature limit drop down from minus 40 to minus 30.
Probably its not important if you in Africa or Caribean but its create questions if manufacture claiming different figures what is reason of that and how any of them can be trusted?
Thats short description of Frequency Hoping.
When we consider Frequency Hopping we need to remember that Frequency hopping was real secure in 20 century when all that SDR receivers and fast scanning receivers not exist or was very expensive.
This days even 256 kHz or wider FH range is helping to make it more difficult to jam your communications but not as before and modern sophisticated jammers will jam it anyway.
Another way we need to know about FH are synchronization type.
Harris, Thales, Tadiran, Rhode Swarz and other military radios manufacturer using on air synchronization and some of them offering also GPS synchronization.
Codan and Barrett both use GPS synchronization for Frequency Hopping.
Disadvantage of on air synchronization are that you need always to TX your synchronization signals and thats make also your network more visible on the air and your enemy have a chance to jam your synchronization signals also.
GPS synchronization have advantage because you dont need synchro signal but problem can appear if some one will start jam GPS.
Radios have protection from that because you dont need to have data from GPS receivers always and there is number of the other things like for example developed by AT Communication GNSS system you can use for synchronization
https://at-communication.com/en/hf-s...-receiver.html
I think good video of design military HF radio is video of the friend of mine Rod Macduff VK6MH designer of Q-MAC HF - 90 transceiver.