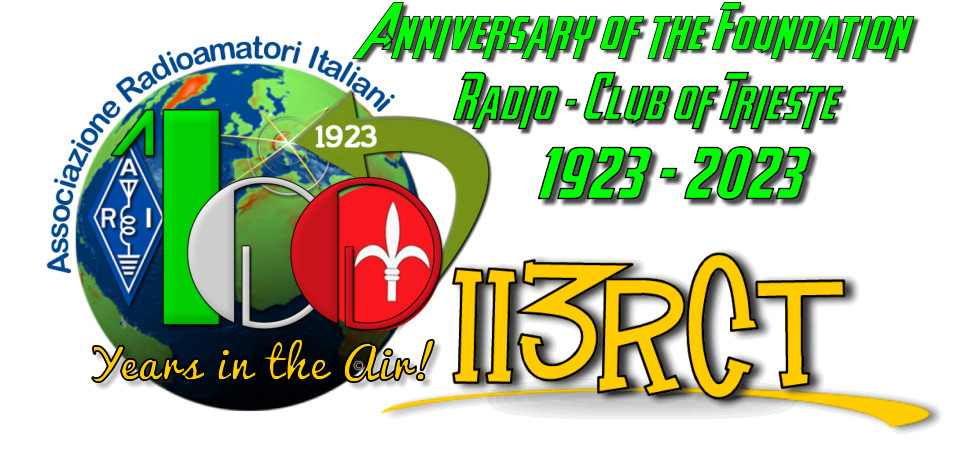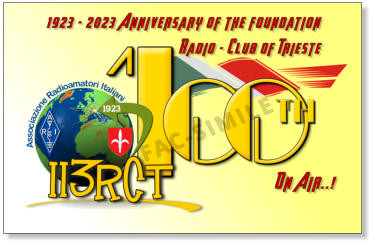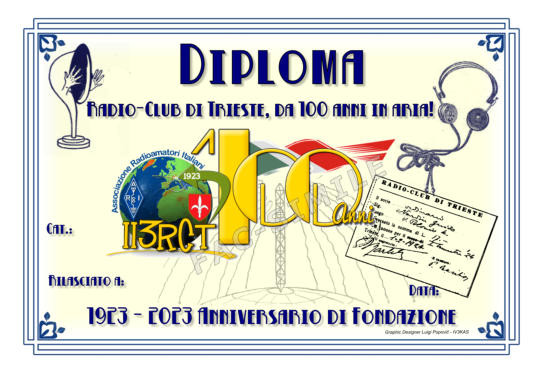 https://www.qrz.com/db/II3RCT
https://www.aritrieste.it/ii3rct_100.htm
The Board of Directors and the Members of the A.R.I. of Trieste OdV establish an international diploma extended to all countries called: "Radio-Club of Trieste, 100 in the air!", with the aim of commemorating the Trieste radio enthusiasts who decided, in November 1923, to give life to -Club di Trieste". This group of radio enthusiasts from Trieste joined the A.D.R.I. Associazione Dilettanti Radiotecnici Italiani and later, in 1927, at the A.R.I. Italian Radiotechnical Association
Participants - The diploma is open to all OMs/SWLs in the world and will be issued to those who request it, provided they have completed the connections and/or listened and achieved the minimum score.
rom 13 May to 30 June 2023;
from 1 September to 31 October 2023;
on 25 and 26 November 2023
.
During the period of activity, the special station
II3RCT
and the callsign of the A.R.I. Trieste
IQ3TS
. Emission bands: connections are allowed in: HF (WARC included) in the modes: CW, SSB, RTTY and any other digital mode. V/UHF in the modes: FM, CW, SS and all digital modes. (Repeaters are excluded and in compliance with the relative Band Plans). Call: SSB: "100 years OM Trieste" CW and digital: "CQ 100 TS" Reports: only the RS(T) report will have to be passed
Score:
the callsign II3RCT will award 5 points while IQ3TS will award 4 points
.
The same station may be listened to/connected to several times a day for the entire duration of the Diploma, provided there is a change in mode, band and/or date
.
The minimum threshold for obtaining the diploma will be: 50 points per Italian stations 25 points for European stations 15 points for non-European stations
Diploma request – the diploma request will be sent exclusively via e-mail to the address:
ii3rct(at)aritrieste.it
attaching your own abstract log which must contain the following data: e-mail address, operator name, QSO number, call, date, time/utc, band, mode, RST.
ATTENTION
:
The log must be sent only in the "ADI" or "ADIF" format
, other formats (Excel, paper, etc.) will not be taken into consideration.
The diploma is free and will be sent by e-mail in PDF and/or JPG format to as many as will be requested, by and no later than 31 December 2023
, in a single solution at the conclusion of the diploma (26 November). Same procedures for the SWL.Extra Diploma – The "Extra" diploma will be assigned to OM/SW, exclusively in pdf format, to those who have made the highest number of valid connections in the three categories: Italian, European and non-European stations. web page dedicated to the diploma. QSL POLICY: QSL via Bureau or direct (no IRC) SASE (pre-stamped and pre-addressed envelope) Europe and Mediterranean Basin $2, SAE/Americas, Asia and Africa $3, SAE/Oceania Area $4.