HAMfest Awards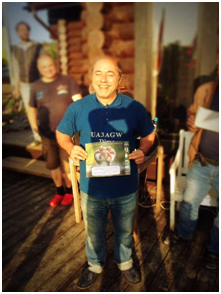 HAMfest 2017. Dima, UA3AGW, with participant award.
This year HAMster awards will be handed over to all participants of the HAMfest – "participant award and also awards for achievements in competitions, contests and other events, together with prizes – but below about them.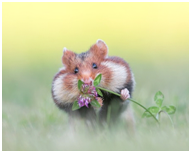 Hamster.
Award program "Shared drinks with ...
There is no other award program in short waves which one can start to work for only after reaching definite age, not earlier.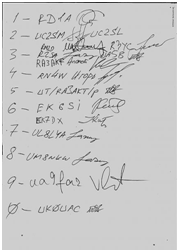 Award "Shared drinks with 10 USSR Call Areas" fulfilled by chief referee of the HAMfest Valery R2SA on August 25, 2017
For not to draw manually "table of achievements" as it was last year, there is a proposal for office keeper: before handing over the awards to participants run them through laser printer for printing table grid on reverse side. At estimation there will be enough place not only for "Shared drinks with 10 USSR Call Areas", but also for "Shared drinks with 15 USSR Republics" and for beginning of "Shared drinks with 100 USSR Oblasts" awards.
But – dibs – one has to take snack after every record. Thanks God we will have some.