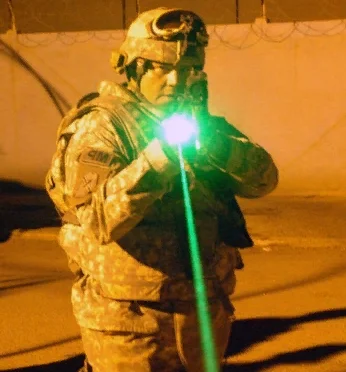 Antiterrorist operations are reaching a new level, because very soon a unique laser weapon will be deployed to the security forces, which affects the organs of vision of the enemy.
Weapons for special operations - combat characteristics
The development of this type of weapon is the company "Roselectronika" in the state corporations "Rostec". According to the creators of the striking laser beam, the laser blinding beam will be tested in the coming 2019, and the development will come to the arming of law enforcement agencies a little later.
The striking effect of the development of Rostec is the generation of visual optical noise to vision, while the laser effect is not fatal. It is planned to use a laser beam during antiterrorist operations or as part of special operations to eliminate particularly dangerous criminals.
The main objective of the weapon is not to eliminate the enemy, but to alleviate the task of neutralizing to gain time for the special forces, blinding the offender with the help of high-intensity radiation. The device will be able to work from a distance of 700 meters, while having a very impressive impact sector - from 10 to 15 degrees.
However, it is interesting how the UN will react to such a development, because in 2017 the world organization attributed the use of blinding laser weapons to war crimes on a par with chemical and biological weapons of mass destruction.