Hi There
Miriam and I just returned home to Cape Cod and are re-packing for our trip out to V84SAA on Tuesday.
I thought I might pen a few lines about what it was like to visit Svalbard for the past 6 days - and to operate at JW5E.
First - perhaps I did not enough homework about the place - but in my "mind's eye" I was assuming some quanset huts and a very primitive and spartan lifestyle on Svalbard. Boy was I ever wrong!!!
Here is a quick summary:
1) The place is at almost 79 degrees North but it is warmer than VY2ZM at this time of year
2) It is a thriving city of some 2200 residents who basically want for almost nothing - except for daylight during this time of polar night up there
2a) I was amazed to spot a TOYOTA automobile dealership - never expected to see that up there
2b) We went to a bank and the ATM said "Welcome to the northernmost ATM machine in the WORLD!!!" WOW!
3) There were at least 7 really fine restaurants, many very high end boutique shops for the XYL to browse and spend some money at
4) There was a hospital, school, museum and a university to explore
5) On Thursday night we went to the Performing Arts Center - with seating for about 500 - and saw some wonderful musical entertainment consisting of rock, broadway type show songs, dancing and vocal ensembles that were first rate. The sound system was impressive and the feel of the place as well.
6) The burgers,pizza and fine dining was superb.
7) The locals are among the friendliest people you ever want to meet
8) We saw some great aurora, had a dinner at a trapper's lodge, visited with the huskies, went into a coal mine one afternoon and spent lots of time walking up and down the main street walker's mall where autos are not allowed
9) Anyone can live there (which is a bit different than many places where more formal arrangements are necessary) as the place is loosely affiliated with Norway. Bear Island is also part of Svalbard but JAN MAYEN (JX) is a true part of Norway.
10) As such immigrant Svalbard residents cannot vote in Norwegian elections - native Norwegian citizens may (I think) where the rules are more well defined
11) Polar night is a bit weird - it was always dark but from 10-13 hours local time one could see the "white nights" type of sky to the South that we saw in Helsinki during WRTC 2002 in July. The sun will soon show its face again in about a month's time in JW land. As such the place is lit up all 24 hours of the day by man-made lighting - with coal providing the electric power and heat for the whole town.
12) There were some gradations in houses and neighborhoods - the upper crust lives on a ridge aptly named "BEVERLY HILLS"!!!
13) There was little snowfall while we were there - some drifting along the permafrost roadways - and spiked tires are "de-rigeur" in winter in JW land.
14) There is an outpost to the North that is Russian occupied - two in fact - not all that far from Longyearbyn either. We heard about Isiford Radio where JW7QIA often operates but it was closed at this time of year. One gets there either by 3.5 hours on a skidoo or by zodiac boats in summer - where there is a fine hotel and a 5 star restaurant for those who go there. This is worth the effort to visit for sure - it is quite special.
15) Condx in the contest were total polar propagation - I could never hear the BIG GUNS I was expecting - meaning W2GD/K3ZM/N5DX/K1DG/AA1K/N4IS - it was a total wipeout along the entire USA east coast. nothing heard at all even though I kept checking the spots - but signals just were not there....
I did work NO3M and N0FW around 0700z - and VE3EJ had the most consistent signal for a couple of hours.549/559 - which is a solid signal considering that no one else could be copied at that time.
I also heard KV0Q Bill in Colo and worked N9RV Pat in Montana who was LOUD for about 90 seconds and then went POOF.
UA4M and UA1OMS were the most consistent "local" signals - but there would be 30-40 minute periods when NO SIGNALS were present on the band. I did alot of tuning and managed to work 31 stations in 12 DXCC entities - 6 of which were the NA stations noted above. This was in 14 hours - which came out to about $4 per qso - since JW5E rental is about $110 per day - hi. But the experience was well worth it!!!!!
ON BALANCE - this was a really neat place to visit - even in Winter - in summer it tops out at about 50F in the high season and of course, that is when the tour ships all go to JW when there is perpetual summer daylight in the place.
Gotta close now - lots of things to do before we make the long trip out to Borneo! Hope to work as many as possible from NA this time out - we surely are going to do our best to hear and work you guys and gals!
73 JEFF K1ZM/VY2ZM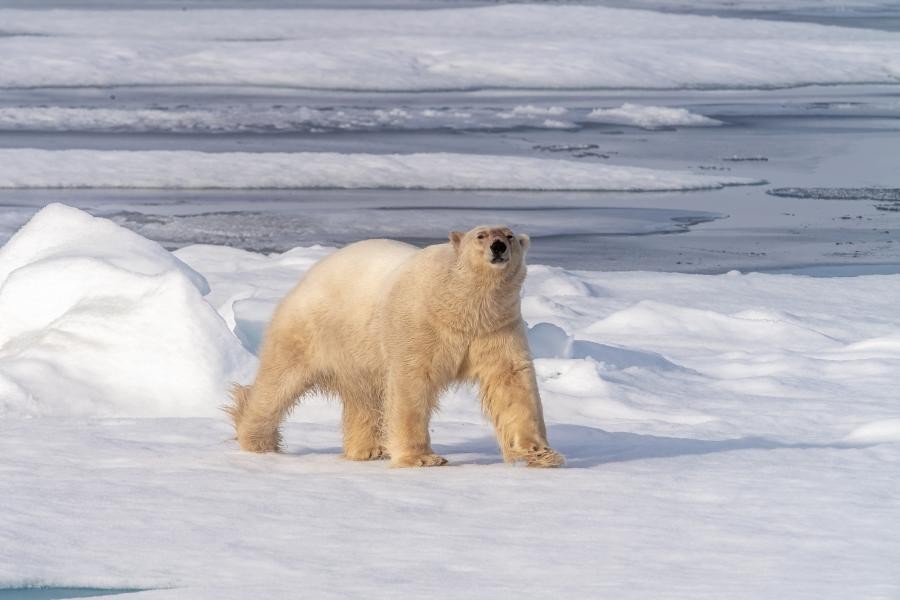 Polar Bear, Svalbard. Author - Nedko Nedkov.