The DX Engineering and Bouvet Island teams have worked together to design an efficient 90 foot top loaded 160 meter vertical antenna that can be installed quickly and safely on Bouvet Island by the 3Y0Z team this January.
With a good radial system the difference in gain between a 120 ft (full quarter wavelength) vertical and this custom 90 foot top loaded vertical is less than 0.5 dB.
This vertical uses a custom designed heavy duty hinged pivot base with base insulators to accommodate a 40 foot falling derrick 3 inch heavy duty pipe for installation.
The vertical is base fed using two inductors to match to 50 ohms. The first 70 feet of the vertical is Universal Aluminum tower (12 inch face) and the top 20 feet is 1.875 inch diameter aluminum tubing.
There are guys at 30, 50 and 70 feet. There are also three 30 foot top loading wires attached to the top of the tubing that are tied to anchors 60 feet out from the base.
DXE is actually donating two of these vertical packages to the 3Y0Z team in case one gets damaged (there are 300 storms per year on Bouvet).
More details on the construction and the final test raising plus VSWR measurements are shown in the video filmed and produced (in 4K Ultra) by Greg, W8WWV.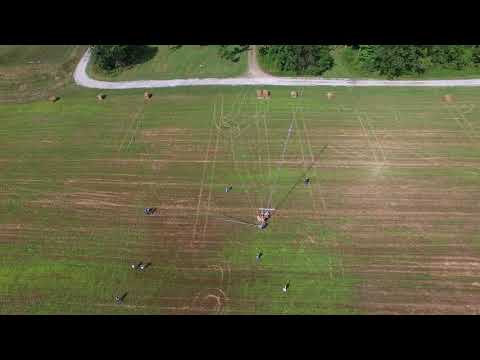 73 Tim, K3LR