OL75CARBON will be active from Zlin, Czech Republic.
Info from qrz page:
This station celebrates the 75th anniversary of the WWII Operation CARBON
Special Amateur Radio Station OL75CARBON
75th Anniversary of the dropping the CARBON paratroops in the Protectorate of Bohemia and Moravia.
The special event station OL75CARBON will be active from 5th September to 30th November 2019. During the whole time of our activity OL75CARBON will be active on all radio amateur bands depending on propagation conditions, the main mode being CW, but we also want to be active on SSB, FM and possibly DIGI modes. Every first QSO will be answered by a special QSL card sent via the Bureau. Please do not send your cards. We will also answer with pleasure every SWL report sent via bureau to OK2PXJ or via email. Those who need to receive the card direct then please send a SASE. By operating this special station we would like to remember the Carbon Operation, just as we remembered the Clay Operation earlier this year with the OL75CLAY station. But we also want to express our thanks and pay tribute not only to the members of the Carbon and Clay groups but also to all the others who did not hesitate to battle for their native country even at the cost of their own lives. They deserve our admiration and recognition.
For OL75CARBON, Pavel, OK2BMA
Operation Carbon took place 75 years ago and it was a cover name for the operation executed during World War II in the Protectorate of Bohemia and Moravia by Czech paratroopers trained in England. It was organized by the intelligence section of exile Czechoslovak Ministry of Defence in London. They started out on April 12th, 1944 from an Italian base near Brindisi in a four engined Halifax aicraft piloted by a Canadian crew. There were two paratroop groups on board, Carbon and Clay. Carbon jumped out first, Clay came some time after. The Carbon group consisted of the commander captain František Bogataj, radio operator sergeant Jaroslav Šperl, staff sergeant František Kobzík and company sergeant Josef Vanc. Their task was to gather intelligence data from Southeast Moravia, send it to London by radio and to cooperate with the local resistance groups to organize the resistance against the Nazi occupation and later, when the situation required, to set for the open fight or destruction operations against military targets.
The whole group landed near village of Ratiškovice near Hodonin on the night of 13th April 1944. Unfortunately they landed separately from each other and they had already never met as a complete group again. They also lost their cargo parachoot including the radio station. Two members, F. Kobzík and J. Vanc met together and after 3 weeks of hiding in forests they found a shelter in a farmers cottage, but were revealed and during the gunfight with policemen they commited suicide and shoot themselves dead. They thus fulfilled their pledge not to be taken captive alive by the enemy. The commander of the group, captain F. Bogataj found a shelter at a local resistance group member in Bzenec, the radiooperator J. Šperl managed to hideaway in Popovice near Uherské Hradiště. Later they finally met each other, got in touch with the Council of Three (Rada tří, R3, the greatest resistance organisation in the Protectorate of Bohemia and Moravia in 1944 – 1945) and till the end of 1944 they had managed to build up a large resistance organisation, find many places for weapon drops and estabilish resistance groups to take over these weapons. They also managed a number of open fights and destruction operations in the rear of German Wehrmacht. At the end of the war, just before the Red Army came, they managed to liberate village Popovice.
To contact the central control (VRÚ) in London they were originally equipped with a radio station with the code name Jarmila and the radio beacon Eureka for aircrafts control. Though the cargo parachoot including the radiostation was lost during their landing, they managed with help of some local resistance groups and also CLAY group to make their first radio contacts with London. Later they got two new transmitters built by a member of the local resistance, one was located in Louky, the other one transmitted first from Popovice, then moved to Sady and later to Kunovice.
By means of these stations they managed to transmit plenty of messages and report about many places for weapons dropping. In addition to their large intelligence activity the Carbon group also took part in many open fights and made a lot of destruction operations, by which it belonged to the most successful operations.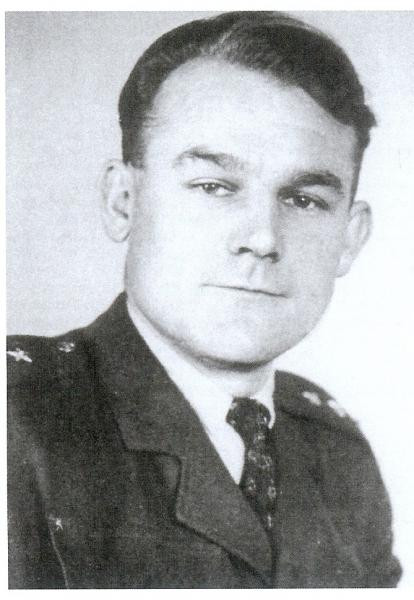 František Bogataj, the commander of the Carbon group.
QSL via OK2PXJ.
Ads for direct QSL:
Vaclav Dosoudil, Horni 9, Kvasice, 768 21, Czech Republic.