Features of Envoy™:
Clear, reliable voice communications
Compatible with Analogue HF Radios
Digital Voice option upgrade
Dual antenna support
125 W RF output power
Industry-leading RF performance
Intuitive programming and operation, and USB Smartloader
Software-defined architecture
IP remote controllable
Ethernet / USB connectivity
High-resolution colour display
Multi-lingual graphical user interface
Integrated robust 3012 compatible data modem
CES / AES
Powerful PC-based programming software
Desk console for base stations
Calling systems 4/6 digit Selcall based on CCiR 493-4 (compliant with UN open Selcall)
FED-STD-1045 ALE
MiL-STD-188-141B ALE
Other advanced features of the Envoy™ include:
Support for dual antenna inputs allowing the best signal to be selected from different antenna types
Multiple language support allowing operators to view the user interface using intuitive and familiar menu labels
GPS Positioning offers peace of mind knowing you can locate your field personnel
USB smart loader for distribution of programming, configuration and updates
Option for Digital Encryption of Voice and Data. (Subject to export controls)
15way GPIO Port Audio Recorder Support
Snake Game
HF Transceiver Codan Envoy™
Codan's Envoy™ HF Transceiver system delivers unparalleled dependable, clear, digital voice and data communications in challenging environments.
The Envoy™ is a powerful software defined radio (SDR) communications tool that allows organisations to create and fulfil several operating scenarios using only the Envoy™. Its amazing digital voice clarity provides clear communications in even in the harshest of radio environments. Using Codan's advanced digital vocoder option, voice clarity in high noise environments now provides even more dependability when it really counts in the field. Even untrained operators can now overcome frustration common with analogue HF radios.
In addition to the remarkable digital voice option, the IP connectivity embedded in the Envoy™ now allows control options simply not possible with conventional analogue radios without a lot of add-on accessories. The Envoy™allows voice communication from the field using RF to a base station routed through the Internet to another country in real time.
Using the built-in IP control capability in the Envoy™gives organisations the following benefits and operational possibilities;
Remote control of radio transmitter. The operator can now be located remotely from the transmission location. Even in another country!
Radios can be re-programmed in the field. No more sending radios back to a maintenance depot.
Radios can be updated in the field. New features can be added remotely.
Email & Messaging is possible with the Envoy™ built in high-speed data modem
SPECIFICATIONS
GENERAL
Channels Up to 1000 simplex or semi-duplex
Scanning Up to 20 scan groups
Simultaneous scanning for SelcaII (ALE / CCIR) and voice Dwell time 125 ms to 9.9 s, adjustable
Contact list Up to 500 entries
SDR processing architecture DSP, 456 MHz, 32-bit FPGA, 500,000 gate MCU, ARM9, 300 MHz 32-bit
Interfaces USB (via Handset or Console)
Serial RS232 (supports NMEA-0183 GPS)
Ethernet (TCP / IP, supports remote control)
Auxiliary GPIO (audio in /out, PTT, RS232) on Envoy™X2 model
Audio response Less than 3 dB variation from 300 Hz to 3 kHz (with optional 2.7 kHz filter)
Compliance CE, NTIA, FCC, AS/NZS 4770:2000, AS/NZS 4582:1999 (pending)
Temperature range -30 to +60°C
Humidity 95% RH maximum, non-condensing
RF
Frequency range Transmit: 1.6 to 30 MHz
Receive: 250 kHz to 30 MHz
Frequency Stability: ±0.3 ppm from -30°C to +60°C
Modes Single sideband (J3E), USB, LSB, AM (H3E), CW (J2A), AFSK (J2B), FIB (FSK) (software controlled filter bandwidth)
Output power 125 W PEP ±1 dB (two-tone or voice), user-programmable (low / medium / high)
Duty cycle 100% Voice / Data with optional Fan
RF output impedance 50 Ohm
Filter bandwidths 2.4 kHz standard (500 Hz, 2.7 kHz optional)
Wideband software programmable filters available on Envoy™ X2 model
Transmitter specifications Spurious and harmonic emissions: Betterthan <69 dB below PEP
Intermodulation products: 40 dB below PEP Carrier suppression:
Betterthan: 65 dB below PEP
Sideband suppression: 70 dB below PEP
Receiver specifications
Sensitivity: 0.12 |iV,-125 dBm for 10 dB SINAD
Selectivity: >70 dB at-1 kHz and +4 kHz ref SCF USB
Blocking: >100 dB at ±50 kHz
Image rejection: >95 dB
Spurious response: >85 dB
Intermodulation: Unwanted signal >92 dB below desired signal
Intercept point: +38dBm
Switching speed <25 ms (Tx:Rx or RxTx)
ELECTRICAL
Operating range 10.8 to 13.8 V DC (12 V Nominal)
Supply current Receive: 500 mA (backlight min, audio muted)
Transmit:Two-tone 12.5 Atypical, average speech 8 A
Protection Over-voltage / under-voltage /over-temperature / reverse polarity
MECHANICAL
Size 2210 RF Unit: 210 x 270 x 65 mm (8.3 x 10.6 x 2.6 in)
2220/1 Handset: 75 x 32 x 151 mm (5.9 x 1.3 x 3.0 in)
2230 Console: 190 x 228 x 79 mm (7.5 x 9.0 x 3.1 in)
Weight 2210 RF Unit: 2.8 kg (6.2 lb)
2220/1 Handset: 0.3 kg (0.7 oz)
2230 Console: 1.1 kg (2.4 lb)
Paint finish 2210 RF Unit: Powder-coated matt black
Ingress protection IP54, MIL-STD-810G method 510.5
Environmental standards MIL-STD-810G (Dust, Shock, Vibration, Humidity, Fungus, Altitude)
OTHER
Data Modem (robust low rate) CHIRP / QPSK, 2400 bps (up to 6000 bps using in-built compression)
Data Modem (high speed) MIL-STD-188-110A/B, STANAG 4539, 75 to 9600 bit/s
Encryption
CES-128, 97 x programmable 16-digit keys, 4-digit PIN (Voice only)
AES-256, 256 x programmable 256-digit keys (Voice/Data)
MELPe (1200/2400 bit/s)
Software applications
TPS-3250 Transceiver Programming Software
Internav™ GPS Tracking
RC 50-C E-mail (for high speed modem)
UUPlus™ Email (for robust low rate modem)
Language support English, Spanish, Russian & Dari language
ACESSORIES
Desk Console
500 W / 1 kW High Power Amplifiers
3040 Automatic Whip Antenna
3020 AC Mains supplies
3033 Telephone Interconnect
Dual-port Antenna Selector
Vehicle installation kit
Vehicle dash-mount handset cradle
MODELS
Feature ENVOY X1 ENVOY X2
No. of channels 100 1000
Scan groups 10 20
Contact list entries 200 500
Accessory serial port N/A Standard
Data modem N/A Optional
Wideband filters N/A Optional
MIL-STD ALE N/A Optional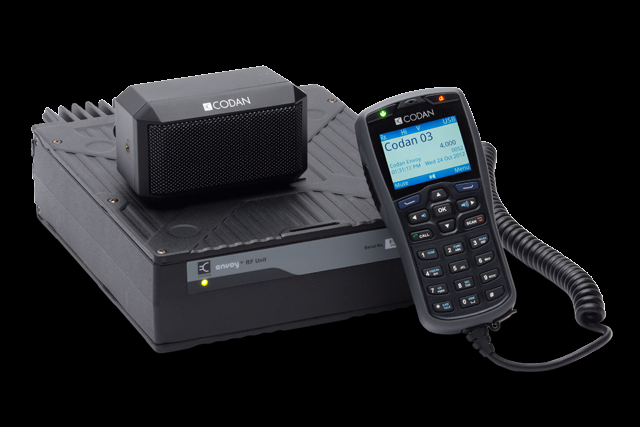 More information:
https://at-communication.com/en/hf_s...ned-radio.html