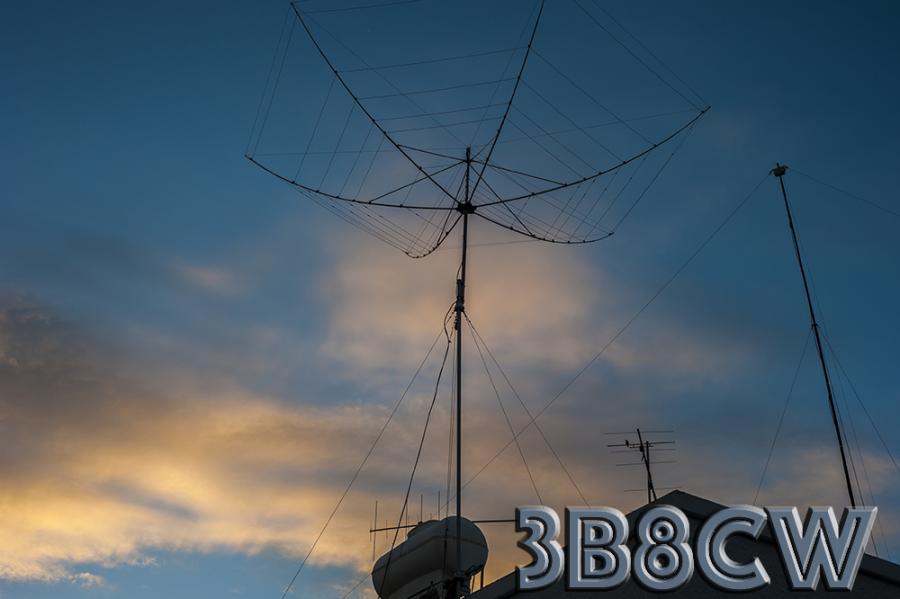 Clive, 3B8CW, is one of the most technically advanced Amateur Radio operators in Mauritius. I met him twice while I was on holiday in this charming island in December 2016. I became impressed by his knowledge, and skills, as well as ease of communication, and last but not least, his easy to understand and considerate language. He is one of many expatriates living on the island, sometimes described as paradise on Earth. Some of them hold local Amateur Radio licences.
Clive was born and spent his early years in the south west of England. The climate in this peninsula is mild, and even palms grow there, so it was natural for him to work and live in tropical countries in his adult life. The radio was a thrilling phenomenon after the WWII, available to everyone and Clive, like many teenagers of that time, fiddled with crystal receivers and aerial wires. He found his way to the local amateur radio community and, in 1961 at the age of 16, passed the Radio Amateur Examination test. He must have been a bright student at the Cable & Wireless Engineering College in Cornwall, where he studied, since he was sent on assignment to Barbados at the age of 21. This is where he got his first call sign, namely 8P6AP, in 1966. This one is used today by someone else. During some 30 years working for the Cable & Wireless Company, Clive lived in many exotic places. The HF radio service, on which he started his working career, was quickly replaced and complemented by VHF, satellite and submarine cable communication. One of his most memorable professional experience was working on ground support for NASA during Apollo and space shuttle missions. This was in Ascension - ZD8 - and Bermuda - VP9. The list of places where Clive contributed to the development of communication infrastructure is impressive. He mentioned Yemen, Turks & Caicos, Oman, Seychelles, Diego Garcia, Qatar, Saint Vincent, Hong Kong and Mauritius. His first stint to Mauritius was sometime in 1980, and I guess he knew then that perhaps one day he would settle down here.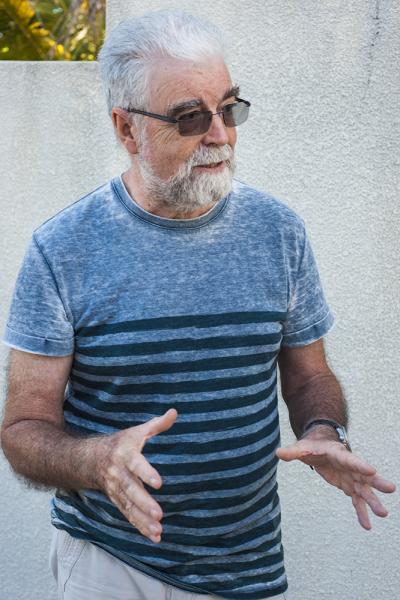 Today Clive is 71 years old, but honestly, I did not believe him when I met him. It seems that active people do not age. He made his full time retirement home on Mauritius only a few years ago but is still very active. Not professionally these days, but for the local Amateur Radio community where he is an active member of the Mauritius Amateur Radio Society. The organization is small but has, in recent years, influenced the telecommunication authority to modernize the terms of operation for Amateur Radio Service in Mauritius. Both portable and mobile operation is now allowed, on land and on sea. A licence issued for Mauritius, 3B8 is automatically valid for Rodrigues, 3B9 and other islands under the same administration. The legal power has been increased on certain bands and now is 800 W. Right now Clive is helping with work on a project to conduct classes and tests for the Class A licence locally. Hopefully the system will be implemented in 2017. Class B permits – with restricted operating privileges - are already being issued based exams and recommendations from MARS. The aim is to have a licence compatible with the CEPT standards.
Clive mentioned that a new repeater group, consisting of local amateurs who are competent in modern techniques, is being coordinated by another active operator, Jean Marc Momple (3B8DU. One repeater is already functioning, located at a commercial tower next to a volcano crater in the central part of Mauritius. To obtain full coverage of the island, three additional repeater sites are being prepared. The network is going to be linked to the neighbouring island of Reunion using cross-band configuration. Mauritius has a considerable number of mountain peaks ranging from 300 to 800 meters above sea level, the highest top is 828 m, while Reunion´s volcanoes are much higher, the highest point is 3071 m. Consequently, with careful planning, it is possible to maintain line-of-sight communication over the 220 km distance between the islands.
I have noticed that Clive, 3B8CW, gladly helps local amateurs and visitors to the island. One day he drove to the airport to meet Olof, 3B9HA, who was coming back from his 3-week stay in Rodrigues Island. Olof had to wait several hours for his connecting flight back to his home QTH in Europe. Instead of a boring airport lounge, Clive provided both company and some sightseeing. We all visited a relatively new amateur, who, it turned out, had been encouraged and supported by Clive. No doubt 3B8CW is going to contribute to the growth of Amateur Radio in Mauritius.
The "CW" in the call sign apparently has no other meaning than his initials. Although Clive runs a 24 hour HF CW skimmer, he is rarely heard on the key and prefers voice and digital radio communication. The island is slowly becoming RF-noisy, like many of the inhabited places on Earth, and this presents a good opportunity for some digital modes, which have good noise reduction capability and surprising efficiency with low power. The station at 3B8CW is balanced, but modern. He uses an ICOM IC-7410 as the main transceiver and a 500W Elecraft amplifier when needed. A car battery back-up is useful in Mauritius, as mains power outages are sometimes frequent, especially during stormy weather.
The present location allows for relatively good on-air activity. Clive also recalls the times when he was S79CW in Seychelles Islands. There his activity was probably the most intensive during his whole Amateur Radio career. He had space for full-size antennas and the propagation was good. The ARRL honoured him with an award for providing S79 contact for many DXCC chasers.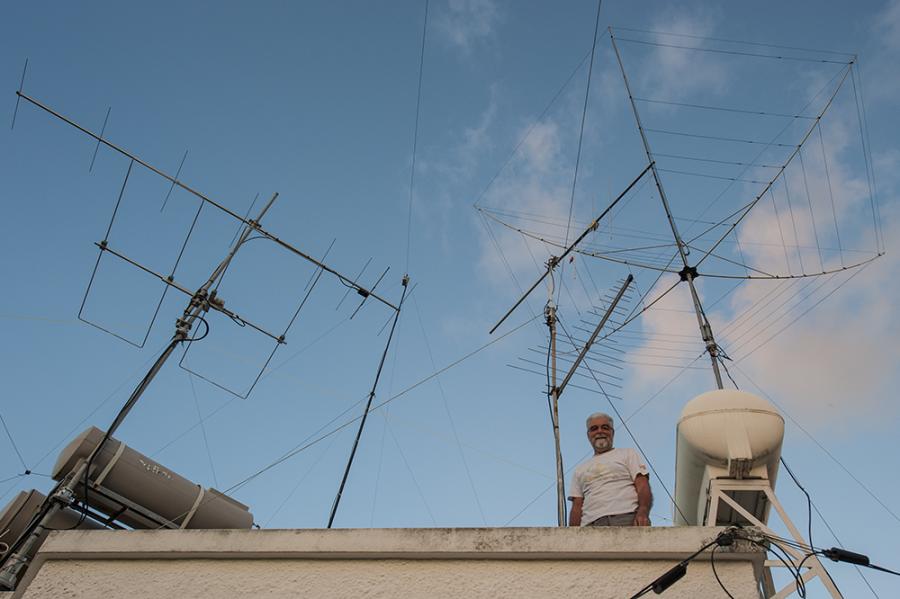 Left: 144 MHz Yagi and 50 MHz Super Moxon 4 elements. Right: A hexbeam for 14-50
MHz.
The antenna farm at 3B8CW is mostly home-made and compact, but covers all usable frequencies. A rotary Hexbeam antenna, from a supplier in Wales, is tuned for 20 to 6 meters. An additional Super Moxon beam for 50 MHz shares a second rotary support with an 8-element Yagi for 144 MHz. Another 144 MHz Yagi, with vertical polarization, is pointed to the repeater site. Low bands are served by an 80m OCFD wire antenna. Top-band is of little practical use here due to island´s location in the Indian Ocean. However, a dedicated DXer and contester, Olof, 3B9HA, managed to make over 1k QSOs on 160 m during his 2016 visit to Rodrigues Island.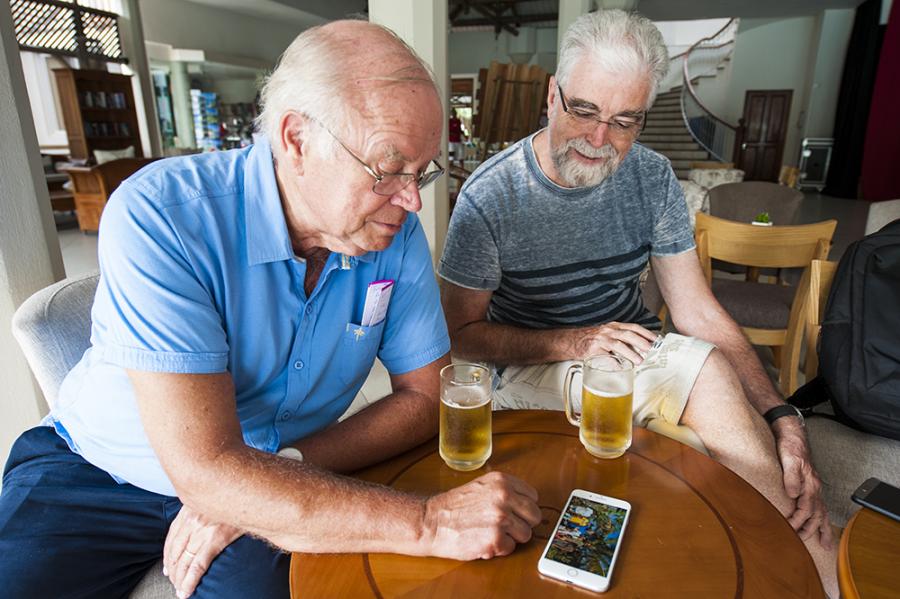 Left: Olof, 3B9HA shows photographs from his stay on Rodrigues Island, some 500+ km
east of Mauritius, to Clive, 3B8CW at the hotel I was staying in.
Sometimes I wonder why people who professionally deal with advanced electronics and telecommunications still consider Amateur Radio attractive. My guess is that while professionally one is obliged to do specific things, our hobby gives a certain degree of freedom. We can choose what we want to experiment with, we can choose whom we will communicate with and what we can talk about. Additionally, there is the element of the unexpected, the thrill of getting a rare and distant DX, the abnormal propagation conditions, the mystery in how it really works.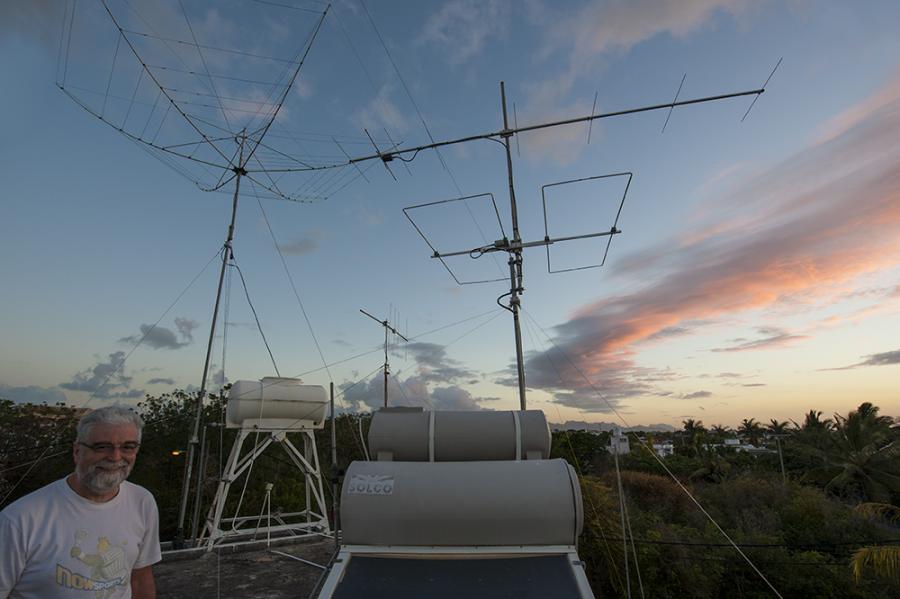 After sunset on the roof of Clive´s house on the northern coast of Mauritius. The vertically
polarized 2m Yagi in the centre is pointing toward the repeater in Curepipe.
Incidentally, I was born in the same year as Clive. Became interested in radio about the same time as he did. Listened to Radio Luxembourg into late evenings. Passed the licence test and got my first call sign in 1960. However, the rest of our lives proceeded poles apart.
Henryk Kotowski, SM0JHF
December 2016