PE7T and 9V1YC currently active again from Timor Leste as 4W/PE7T and 4W/N1YC.
They active on HF Bands CW, SSB.
QSL information:
4W/PE7T via PE7T, LOTW
4W/N1YC via W5UE, LOTW.
Democratic Republic of Timor Leste. Country Information
East Timor or Timor Leste, officially Democratic Republic of Timor Leste, is a country in Asia.
Anthem- Fatherland.
Capital city- Dili.
Official language- portuguese, tetum.
Local languages- Atauru, Baikeno, Bekais, Bunak, Fataluku, Galoli, Habun, Idalaka, Kawaimina, Kemak, Makalero, Makasae, Makuva, Mambai, Tokodede.
Tourist attractions- Cristo Rei de Dili, Dare Memorial Cafe, Santa Cruz Cemetery, Chega Exhibition, Dinosaurs in the Presidential Palace.
4W/PE7T 4W/N1YC Timor Leste. Information for radio amateurs
Amateur Radio call prefix- 4W.
DXCC country- East Timor.
WAZ zone- CQ 28.
International Telecommunication Union broadcast zone- ITU 54.
IARU WAC continent- Oceania.
RSGB IOTA reference- IOTA OC-148.
Timor Leste
Timor Leste or the Democratic Republic of Timor – Leste is also called East Timor, commonly. It is a Southeastern Asian country that is located in the northwestern part of Australia that in the eastern end's Lesser Sunda Islands and at the end of the archipelago of Indonesia. East Timor or Timor Leste is inclusive of Timor Island from the eastern half, Jaco and Atauro's small islands and the northwestern parts of Ambeno or Oecussi.
Timor Leste is a country known for being both cursed and blessed because there isn't anything easy about it. Getting independence was not at all easy for Timor Leste. The country was under the rule of the Indonesian and Portuguese for years and has experienced tragedies after tragedies in the process. The tourism sector has not been thoroughly developed. However, travellers and tourists will definitely experience a great source of adventure when visiting Timor Leste.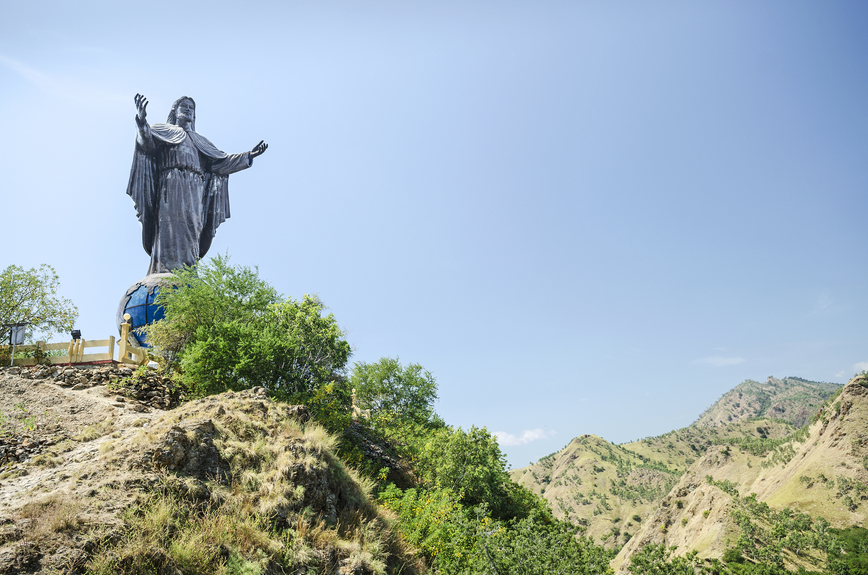 Cristo Rei landmark statue near Dili East Timor Timor-Leste
The countryside of Timor Leste is truly beautiful and diving opportunities surely attract divers from around the globe. Furthermore, the natives of Timor Leste are genuine and welcoming in nature. Visit the eastern part of Dili and get to discover the best of beaches in the world. After this, you can visit Atauro Island and enjoy snorkeling. Commuting from one place to another is not a piece of cake, as the roads of Timor Leste are not user-friendly. However, while walking down the road, you will definitely get a glimpse of the country's uniquely different and rich cultural essence, which is a healthy amalgamation of Asian and European, elements.
Timor Leste comprises of 13 administrative districts of Baucau, Lautem, Dili, Manatuto, Viqueque, Aileu, Oecussi-Ambeno, Cova-Lima, Bobonaro, Ainaro, Ermera, Liquica and Manufahi.
The cities of Timor Leste are Ermera, Dili, Tutuala, Suai, Manatuto, Liquica, Baucau, and Viqueque.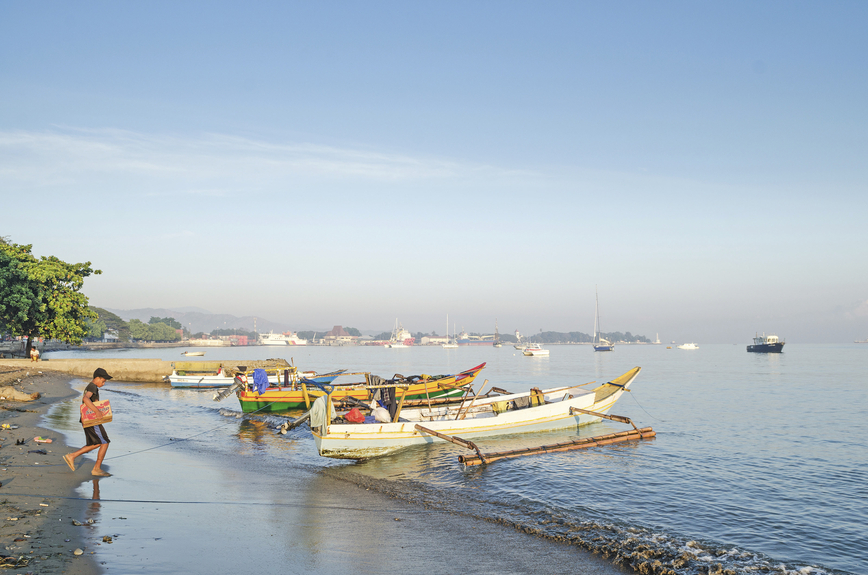 Fishing boats on beach in Dili East Timor, Timor Leste
Timor Leste's activities and sights in the offering
Atauro Island– This Island is close to the Dili coast. It is developed a destination for ecotourism, offering numerous adventure and water sport activities, from cultural immersion, hiking to scuba diving.
Nino Konis Santana National Park – The first national park of East Timor, Nino Konis Santana National Park was entitled in the year 2007 in August. The national park is located on the island's eastern tip within coverage of 123600 hectares of land. The park is home to about 25 endemic species of birds, inclusive of the Timor Green pigeon, which are an endangered bird species and also the Yellow crested Cockatoo. There is also an incorporation of a marine area called the Coral Triangle, covering 55600 hectares. It is a source of the best biodiversity in the world.
Cape Fatucama – Rio de Janeiro's statue of the Christ crowns Cape Fatucama and defines it as one of the most stunning coastal area, lined up with numerous bars and restaurants.
Timor Leste enjoys a tropical climate, with a humid and hot conditions, but the mountainous regions experiences a cooler temperature. From the months of December to March, the region gets its western monsoons and from July to November the region experiences a hot and dry season.
Video Timor Leste.


4W/PE7T 4W/N1YC. Where is Timor Leste located. Map.
4W/PE7T 4W/N1YC Timor Leste. Sunrise 05-28-2023 at 21:43 GMT sunset at 09:25 GMT