EXPEDITION TO YA-38 THE LAST NEW ONE RDA
Within a period November 25 – December 4, 2013, a group of hams including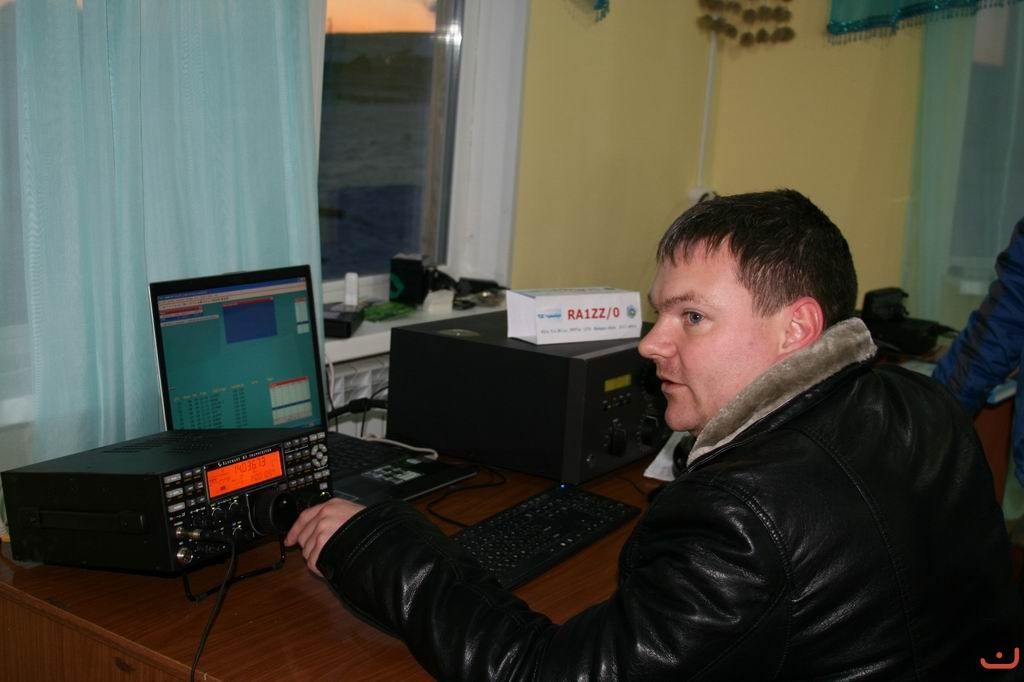 Vasily Sukhanov, RA1ZZ/3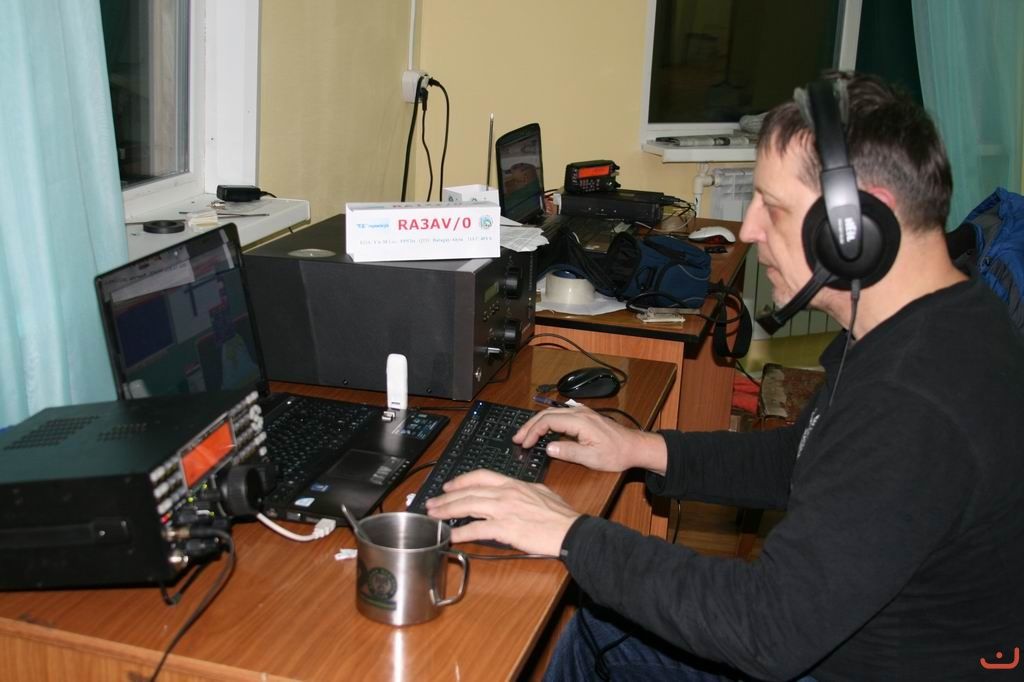 Alexander Ivanov, RA3AV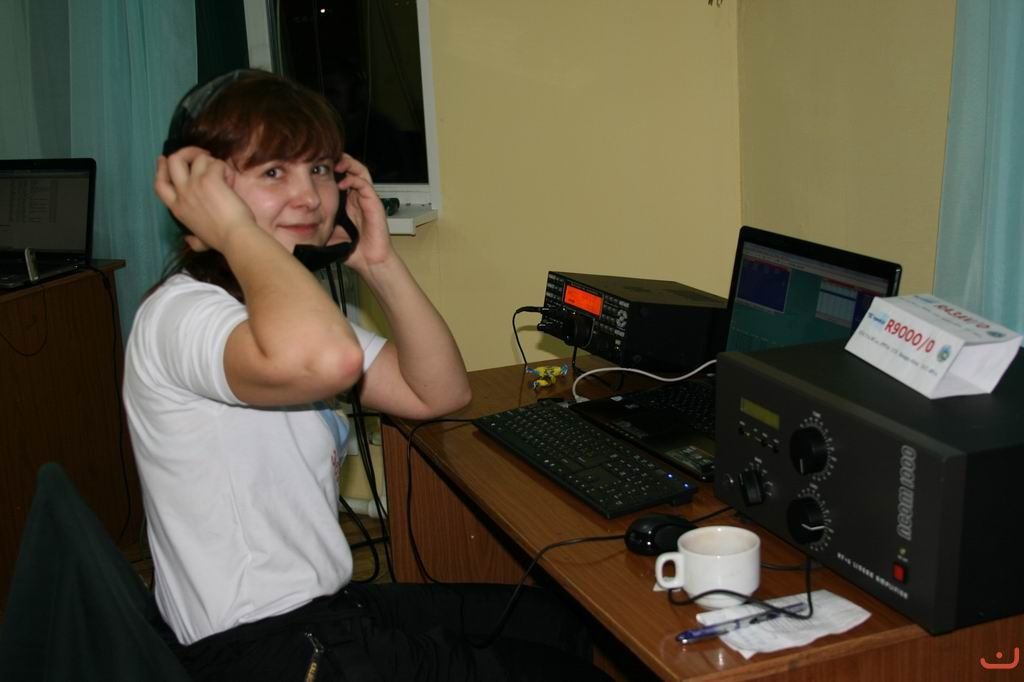 Natalia Menyajlova, R9OOO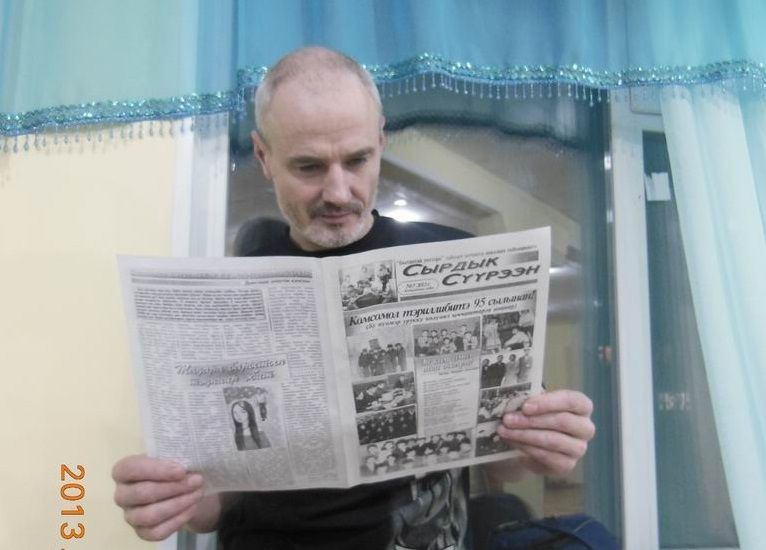 Yury Petrokhalkin, UA9KW
undertook an expedition to Eveno-Bytantajsky national ulus, Yakutia. Administrative center - Batagaj-Alyta (Sakkyryr). Region in RDA terms - YA-38, WW Loc. PP57ET, ARKTIKA DAT QTH: 40YA.
I shall not make a secret – it was a dream of many of us to become activators of this last new one RDA and make a serious expedition to be memorized for long time by us and possibly by many other hams.
But this region was kept the only "white spot" at the ham's map of Russia not by chance – it is one of the most hard-to-reach places and very serious preparation was needed (financial, moral, technical) to undertake this expedition.
Besides our aim was not only to appear on the air to make a score of connections, but to represent this region on the air most actively, for as many as possible hams could "close" most rare (the last at the moment) RDA region – the last for almost the 12 years of diploma program existence. What is most surprising: two active RDA hunters - RW7M and RW1QQ managed to approach to the same top having at that moment confirmations from all the 2643 regions of Russia, except YA-38.
PART 1. The IDEA
I remember as it was today all began from a forum, where a discussion was on for long time of the possibility to visit Eveno-Bytantajsky national ulus (region). To my mind a great work to study different ways of reaching the region and staying at the ground was made by Natalia, R9OOO. Earlier there were attempts of other hams to visit the region but by different reasons no one managed to finish the enterprise.

I joined the discussion of expedition undertaking possibility and began to work out the route in parallel with Natalia, to form the crew, to estimate the budget and connect with Batagaj-Alyta people. At that time it looked not more as idée fixe, but the deeper I was absorbing the matter, the stronger the desire was becoming to get there. At last the picture of possibility of the enterprise began to become realistic .

Naturally the main problem getting arisen in front of us - finances – which we could not solve singly. Due to our preliminary estimation the minimal sum to undertake the expedition – about 200 thousand rubles – covering only two-way tickets and habitation of three people (in the end it increased by more than two times). I was sure that many hams, first of all RDA hunters, will support us financially as they could, but we needed to find sponsors to accept the main part of the expenses.

I addressed for support to Roman, RX3RC, a head of a RDA program and promised to assist in finding the sponsors. Days, weeks have gone, but my attempts to find anybody to accept at least a part of the expenses, came to no result, there were no news from Roman either. There was a moment I became reconciled with the fact we were unlikely to undertake the expedition in 2013, comforting myself by explanation, that we were rather not ready yet and the time for the expedition was not the best one. On September 30 I sent letters to the assumed crew members RA3AV è R9OOO informing that the expedition would not take place.
Some time later Roman called me and advised that there is a man ready to help us. Dmirty Pastukhov turned out to be a ham (RN3DHJ). During the meeting he confirmed that he was ready to take a part of our expenses and we began to work again very actively. After one more sponsor (a company "Thermocool", where I work) agreed to allocate some money for our expedition, it became clear, we have a real chance, that we must use. We still needed a good sum of money for the tickets, but here we could count on our own funds, RDA hunters support and simply active hams, who could have a desire and possibility to help us in implementing our dreams.
PART 2. PREPARATION
We might very hurry - the daylight hours in the polar areas were becoming shorter and shorter, which was not good for HF propagation. Besides it was becoming colder and colder every day. From the other side we needed enough time for proper preparation, since we could not disgrace ourselves.
Within several days we opened our expedition web-site http://ya38.org, which was being updated every day by new information. Several times a day we are connecting with Alexander RA3AV and Natalia R9OOO, specifying details, related to equipment, logistic and the whole preparation. I was making announcements of the forthcoming expedition at the ham' web-sites, forums, reflectors, including international ones, doing my best in attracting as much attention to the forthcoming expedition as possible. Soon financial support became arriving, both from RDA hunters and other people.
The support was coming also from hams, who do not much need a connection with YA-38, but who are just ready to help and trust us. I had to ask pardon my chiefs in "Thermocool" – about one month I had to devote a part of my working hours to the expedition preparation, I didn't manage to tune myself normally to the work - all the thoughts were about the trip.

Once when we were going to buy the tickets, I got a call from Yury, UA9KW. He said he had a desire to join the expedition. My reply was the same as to others, who addressed me with similar proposal: we would accept with great pleasure, but the money we had were not enough even for the three, we were preparing the expedition. But Yury said that it would him to bear his expenses. Hurrah! We got a forth crew member! Speaking frankly, it is difficult to imagine now, how we would manage without Yury.
Yury, UA9KW, arrived to Moscow two days before our departure to Yakutia, for him the expedition had begun a little earlier and finished a little later. As for Natalia, R9OOO, we met her in Yakutsk.

The last week-end before the departure we were planning to "warm up" in CQ WW CW, but failed, since were busy running in a car round the whole Moscow region, collecting the equipment. On Sunday evening after checking the equipment began to pack it. When we unloaded Alexander's car, frankly speaking I got confused when seeing a pile of hardware in front of my door.
The problem was not to carry all the equipment in hands, the problem could be to pay for the overloading in the airport, taking into account the changes of planes when having no reserve of money. Therefore decision was made to leave some part of the equipment and instruments at home and to take most necessary ones, without a reserve. Unfortunately some necessary units, as we discovered later, were also left.

Here is a list what we took in the end:
- metal mast for Spider;
- the Spider;
- cable for invertor or some other aerials -200 m;
- telescopic plastic mast 15 m;
- multirange Vertical DX77;
- transceiver Elecraft K3;
- transceiver ICOM 756 PROIII;
- three notebooks;
- amplifier ACOM1000;
- transistor amplifier 900 W, EB-104;
- instrument, measuring devices;
- two litres of alcohol;
- set of range filters REMO;
- cable appr. 300 m, 50 Îhm;
- miscellaneous items (connectors, fasteners, lights, modem etc)
- minimal personal items;
- three cameras.
PART 3. Moving to the tudget
On Monday early in the morning we left for airport. We got up an hour later than planned, therefore packing up was in a rush. I was nervous a bit, on the contrary Yury was as calm as a boa. In the airport we again weighted the luggage and repacked some things to avoid extra payments (for additional items, for overweight more than 20kg, for oversized items). Overweight is very expensive and consumed a good part of the expedition budget.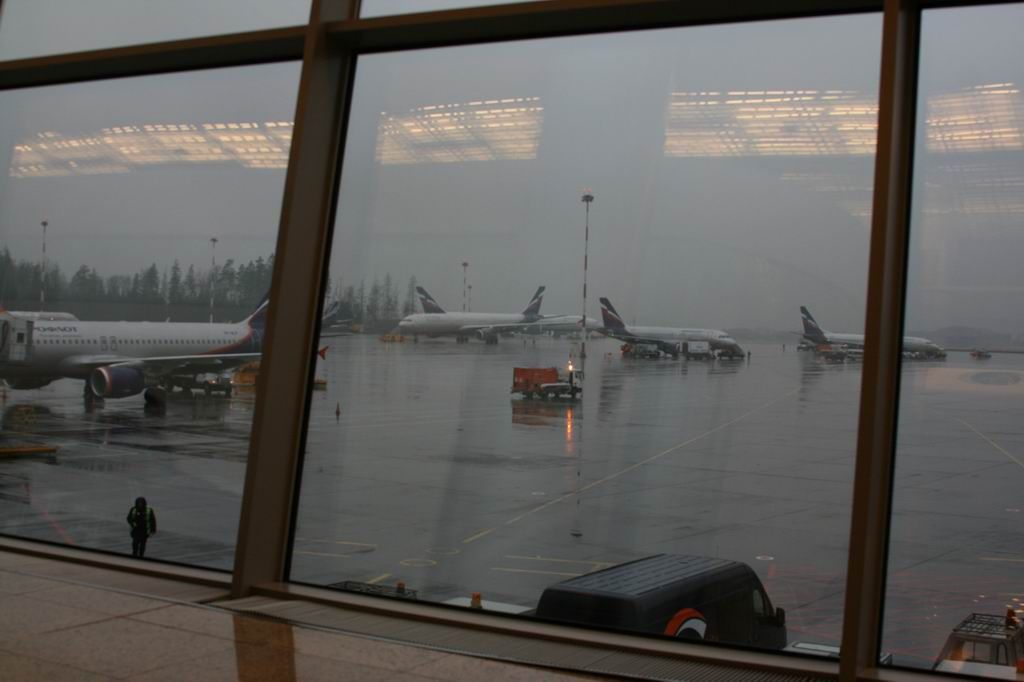 30 min before the flight to Yakutsk
Alexey, RO5D, helped us a lot, sacrificing us his transistor amplifier EB-104 after my request at a forum and delivered it just to the Sheremetjevo airport from the other part of Moscow.
At the security area we had to say farewell to our soldering tool – it was not a good idea to take it within personal items, and for putting it into the luggage we had no chance already. We were lugging into the plane a lot of warm outerwear – despite we had +4 in Moscow, there was a proper frost in Yakutia.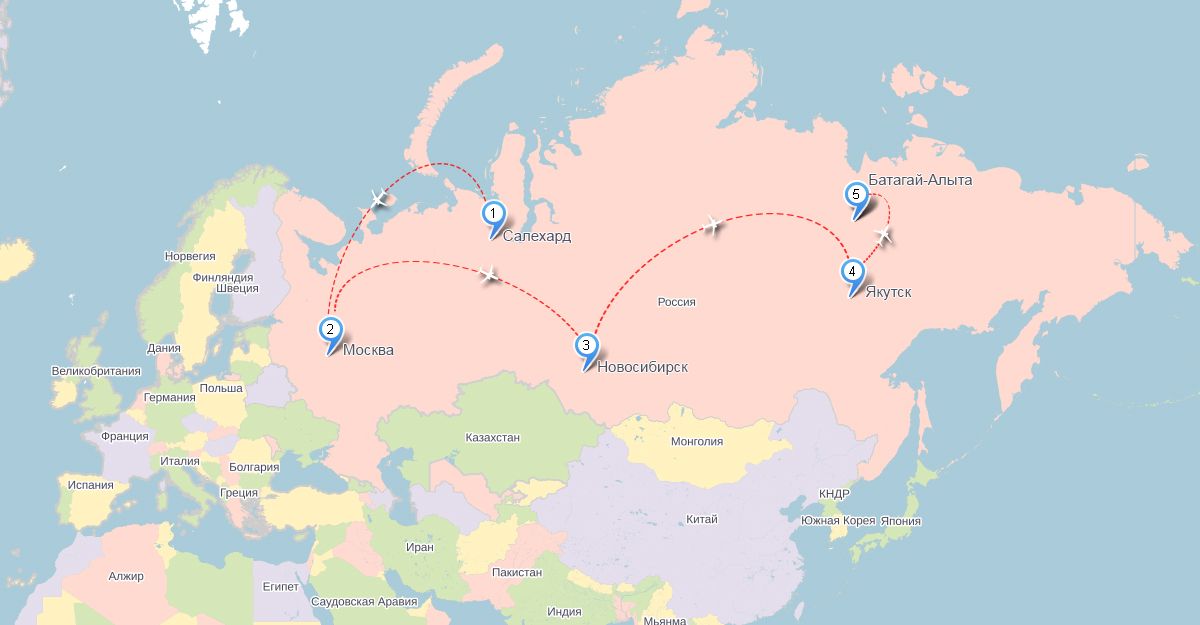 OUR ROUTE
When in the plane we keep discussing the forthcoming expedition. It would take eight hours to get to Yakutsk, it would be good to sleep after sleepless previous night, but different thoughts are getting into the head both good and not very good. If there will be a delay, we or Natalia, who was flying from Novosibirsk shall miss the connecting flight Yakutsk-Sakkyryr. It will mean our expedition will finish at that point because the planes are flying to Sakkyryr only once a week.
Or it can be we left something important of the equipment at home and we shall fly there with no result. Or it can be a strong magnetic storm happens and nobody will be able to hear us. What shall we say to people who helped us, hoped for us, were waiting for us on the air? How shall we keep dealing with radio after that…? Would it be easier to tear the license? Nobody of us could sleep during the flight, except for Yury. It seemed to me his approach was simpler and he worried about it less of all.

Yakutsk welcomed us by a frost of -32 dC. Fortunately we all arrived in time (we – from Moscow and Natalia from Novosibirsk), without a delay and we have more than four hours till flight to Sakkyryr – our expedition destination.
Everybody was having good and cheerful spirit, despite we had not much chance to sleep. Yury got some stomachache, the food in the plane Moscow-Yakutsk probably being the reason, but everybody was encouraging him..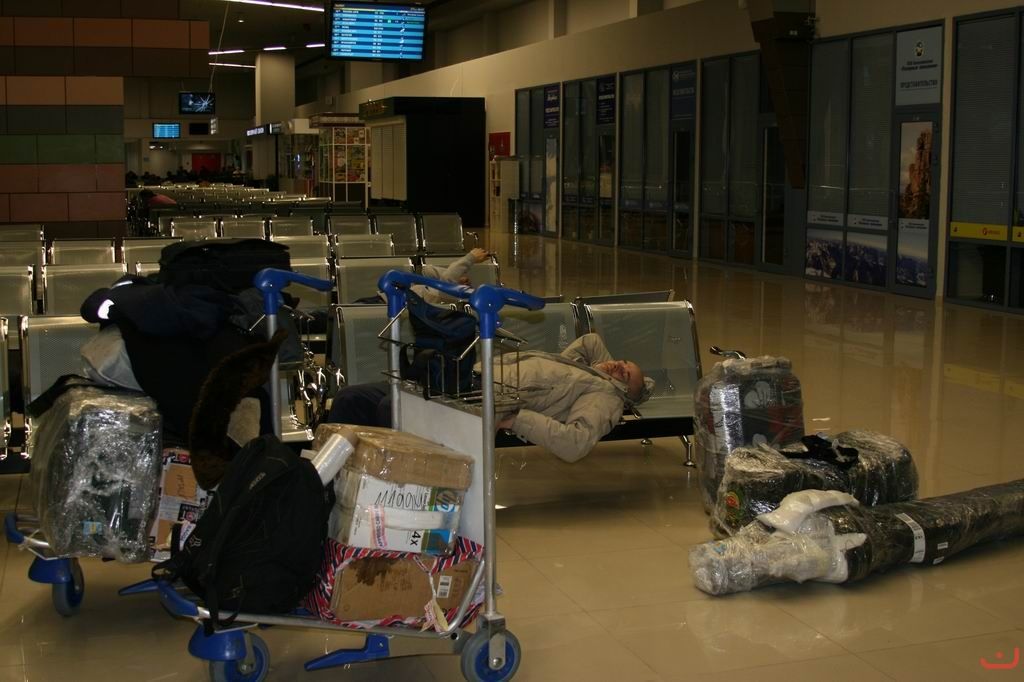 Waiting for the flight to Sakkyryr
Natalia arrived not empty-handed – the weight of her "handbag" was about 60 kg. By some wonderful way she managed to bring in the plane, despite the restriction on the length of the luggage, not disassembled plastic spider bars of 4 m long!
This is what Natalia brought:
- transceiver TS480SAT;
- metal mast for Robinson;
- The Robinson with fasteners;
- notebook;
- a pile of "wires";
- personal items;
- one litre of alcohol.

Since there was Internet in the airport – rather slow, still real – we were working with notebooks making use of the spare time.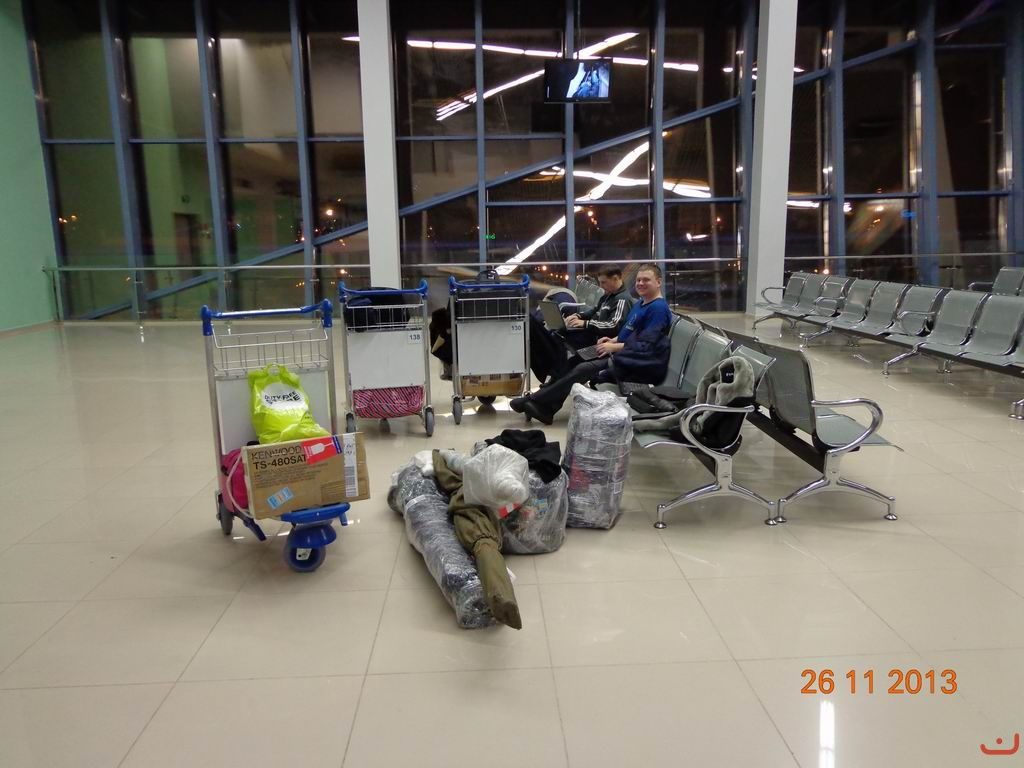 There is Wi-Fi - it's very good!
Here was an announcement about invitation to boarding. We grabbed our trolleys with bags and masts and went to the exit. At the registration point two men approached us and greeted. They turned out to be hams, Vadim, RT0Q and Vasily, RN0QA. It was a pleasure to realize they came just to see us off.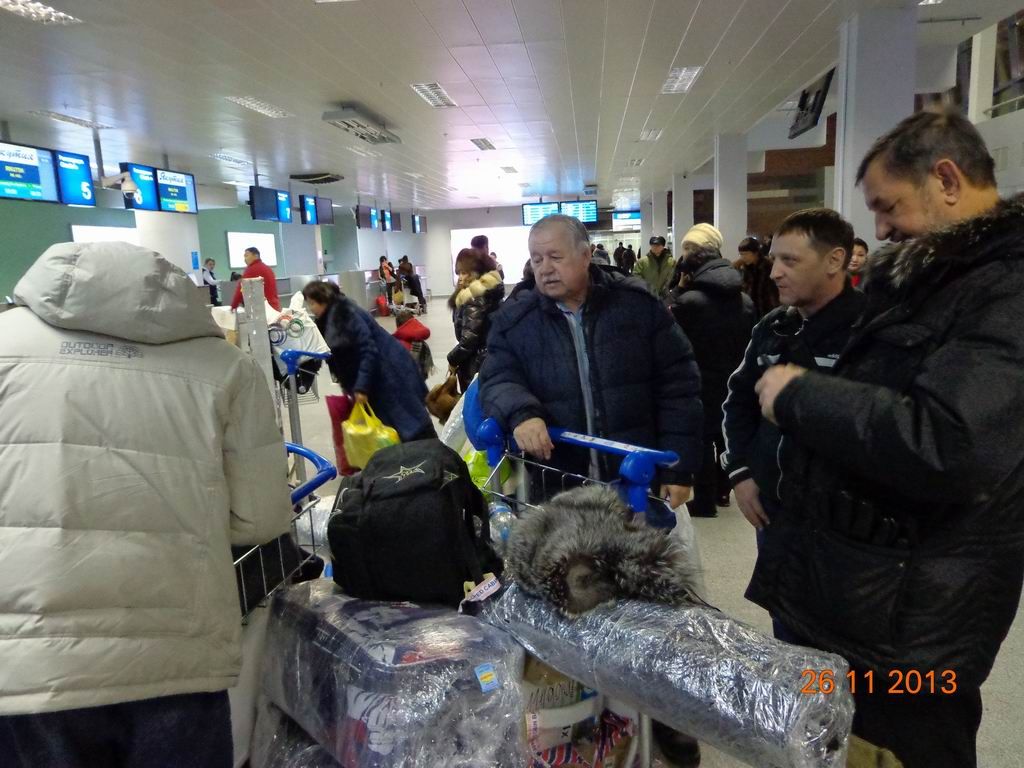 Or maybe they came to get sure, we were really ready to undertake the trip? Vasily asked for an autograph in his old ham's log, where we discovered many records of hams from different regions and countries, who was in Yakutsk before. The guys helped us with the luggage and wished a lucky trip. Later we came across them on the air.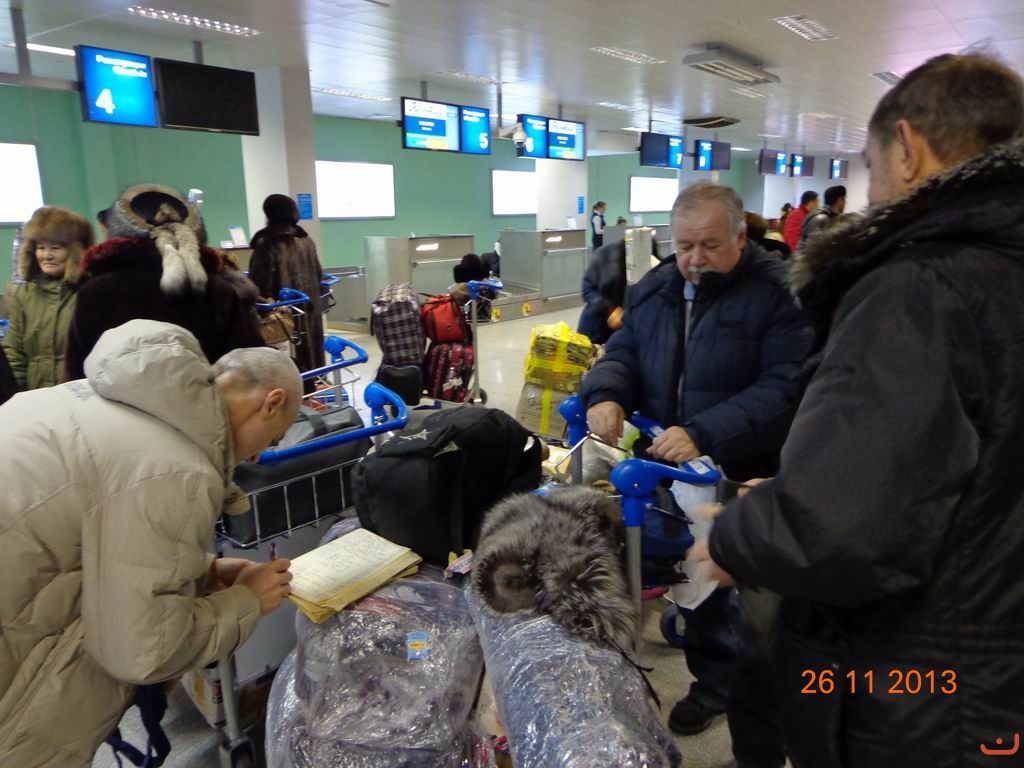 UA9KW leaves autograph
Now we were facing most serious part of the way – 800 km sharply to the North from Yakutsk. We helped to the guys from airline "Polar airlines" to load our suitcases, bags and masts in the luggage section of the good old AN-24. Altogether we had 12 pieces of luggage plus our hand items. I had an impression our things took a good half of plane's load.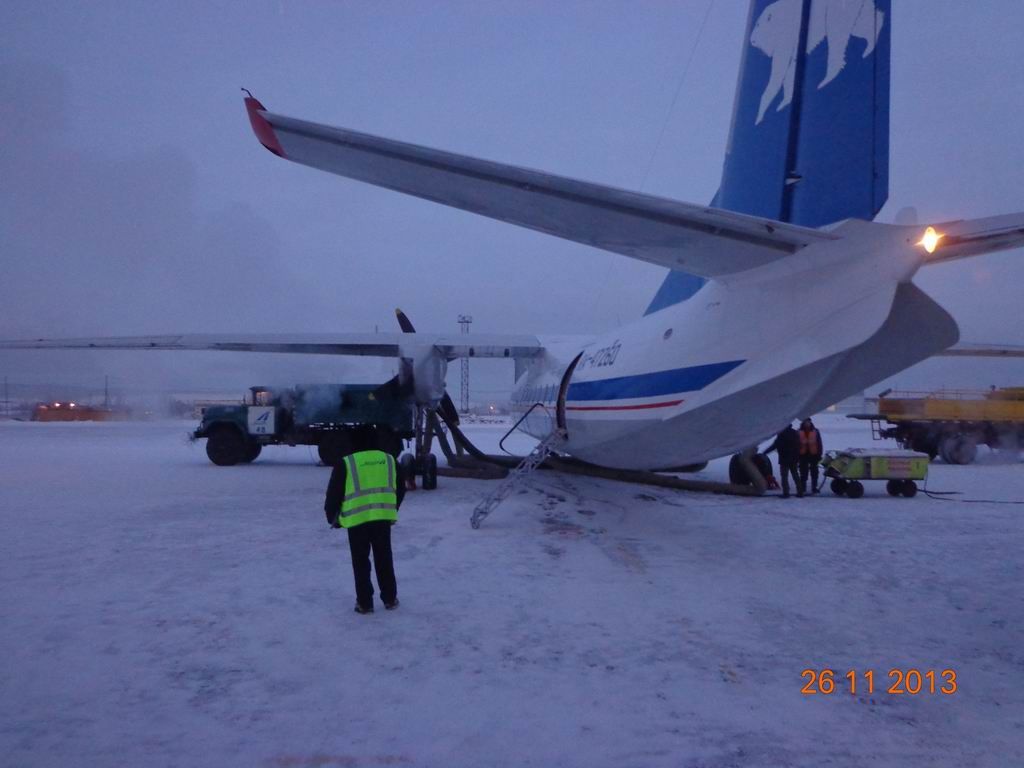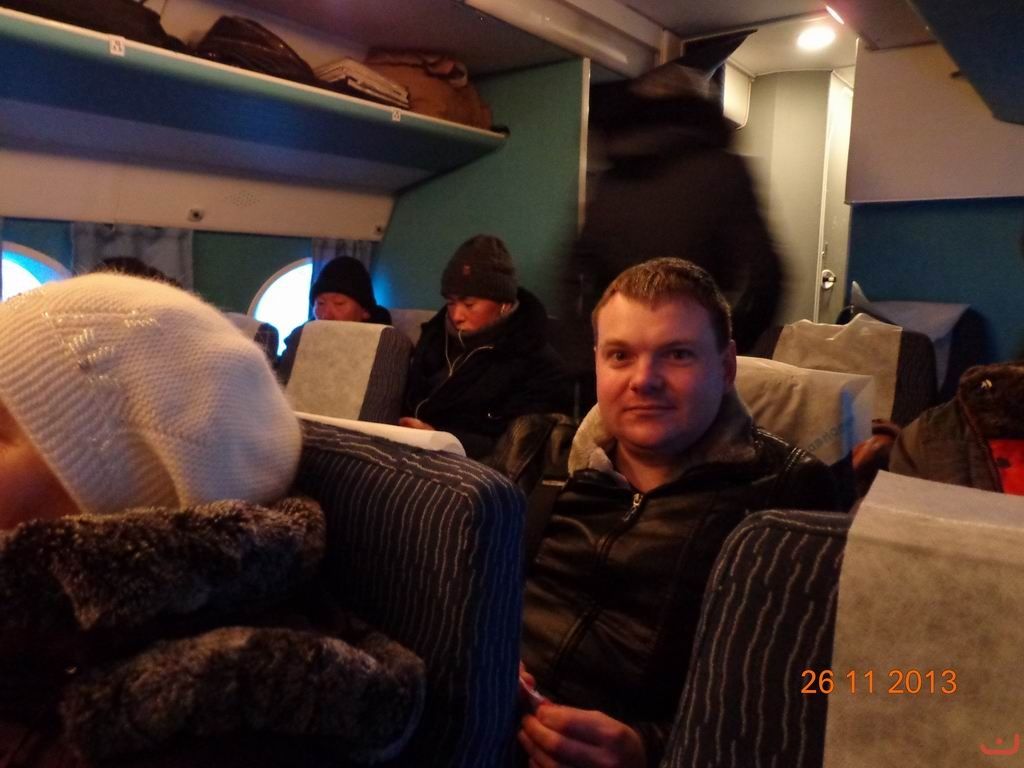 Inside, an old but very reliable AN-24
In the plane we were sitting in different places. My neighbor turned out to live in Batagaj-Alyta and taking the chance I began to interview him about the settlement. We took off and were slowly climbing. It began to dawn and we could see magnificent landscapes – mountains , valleys, rivers.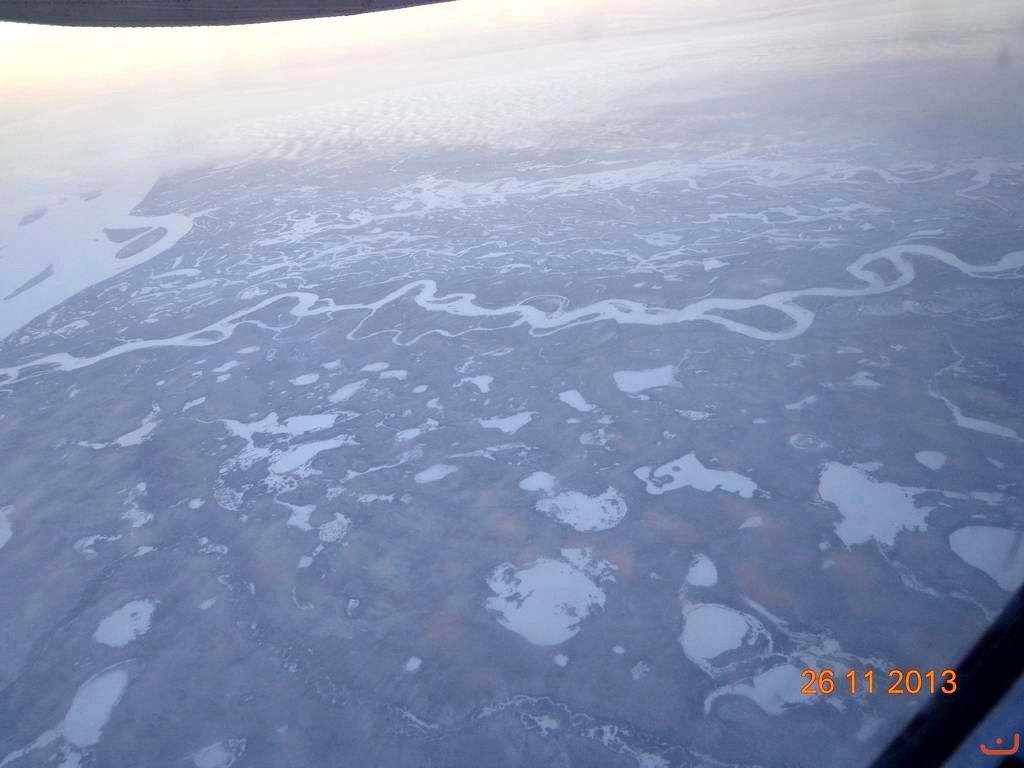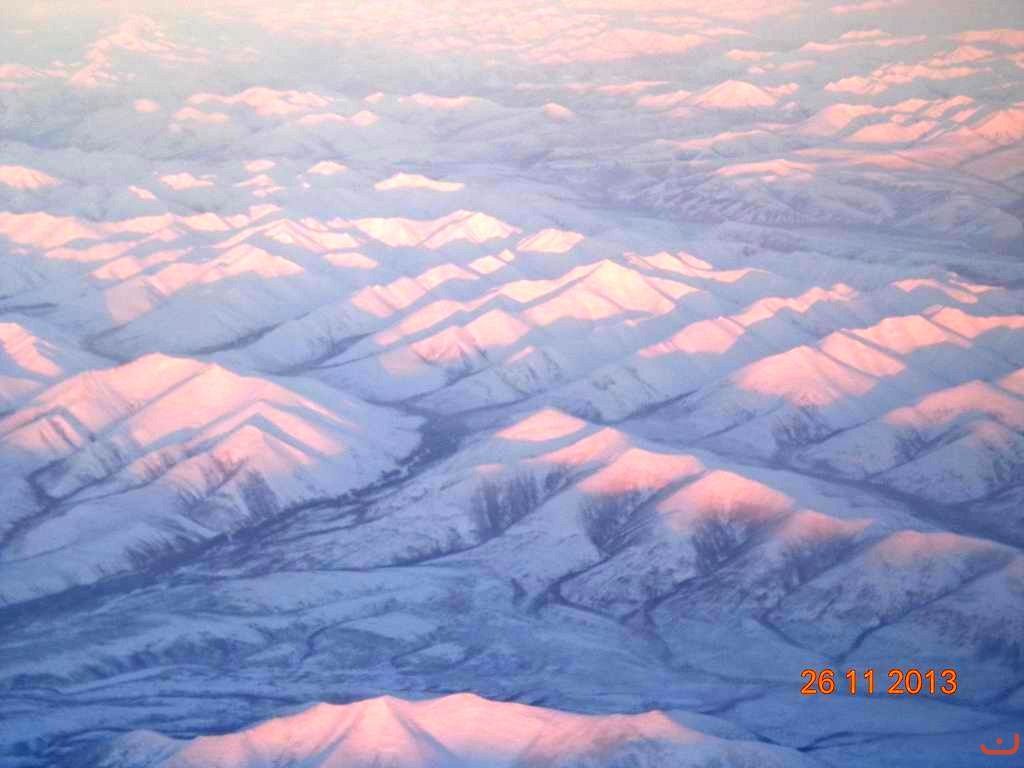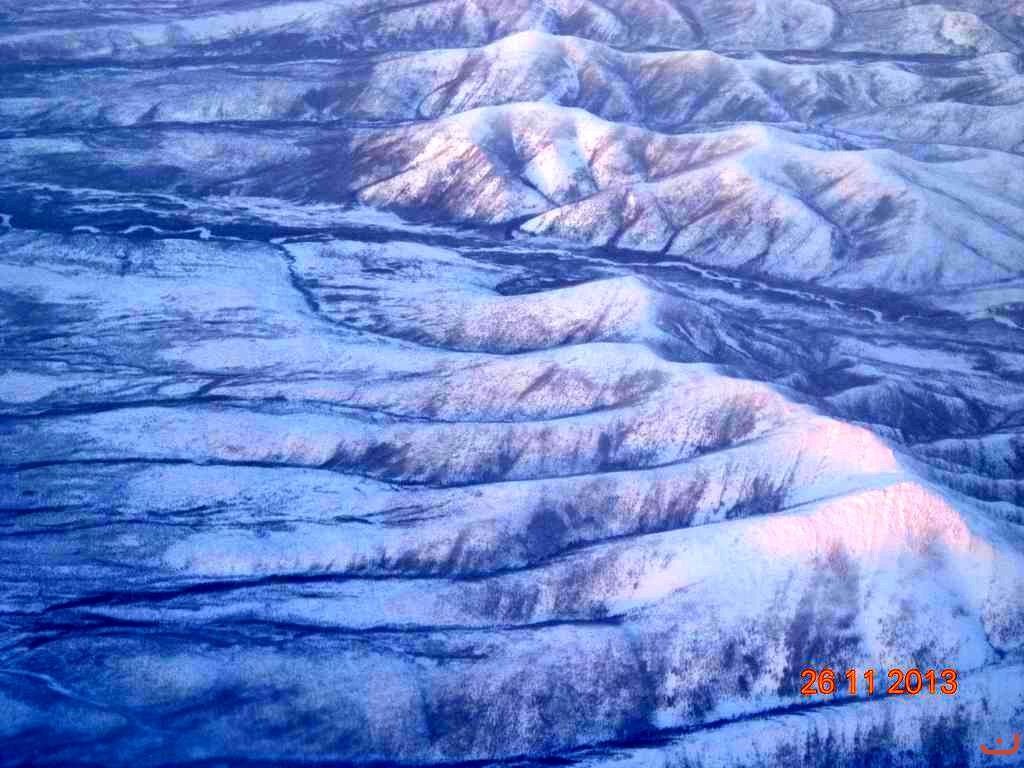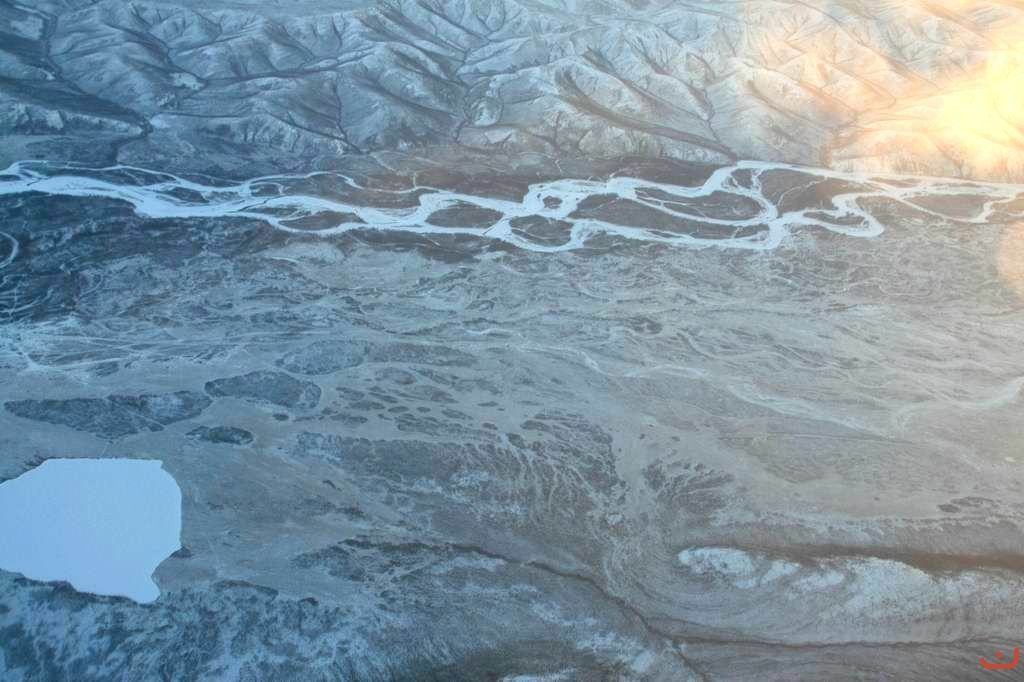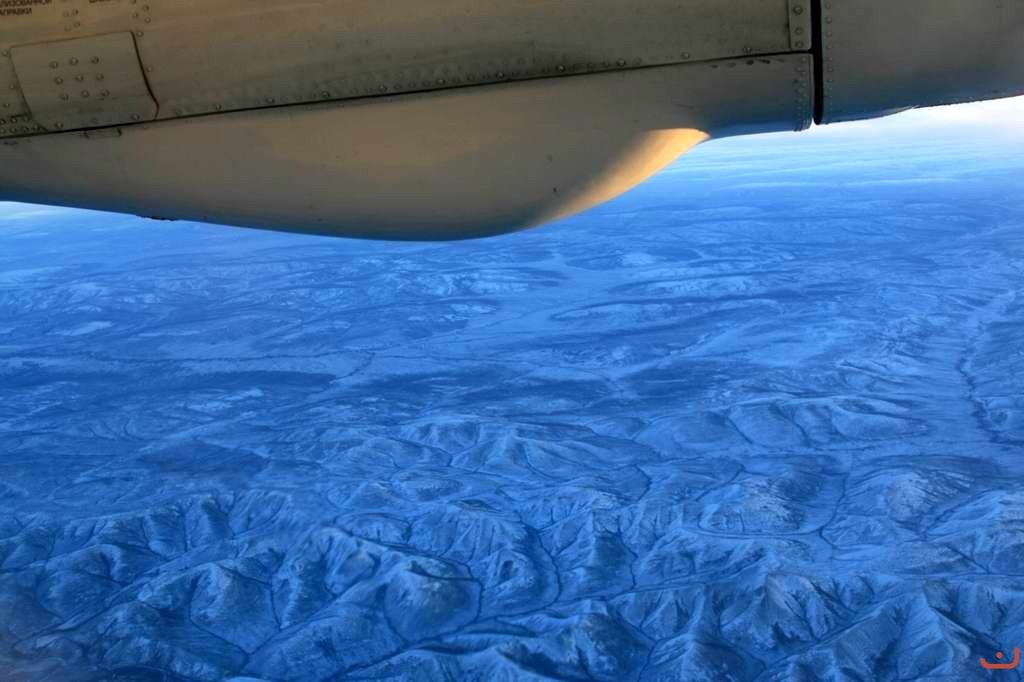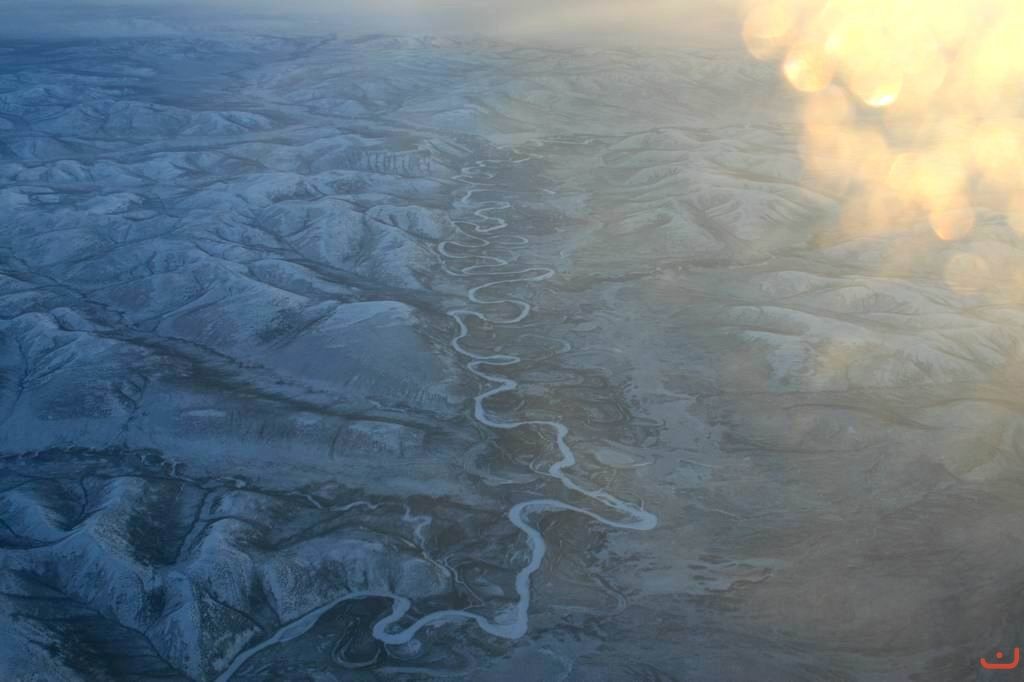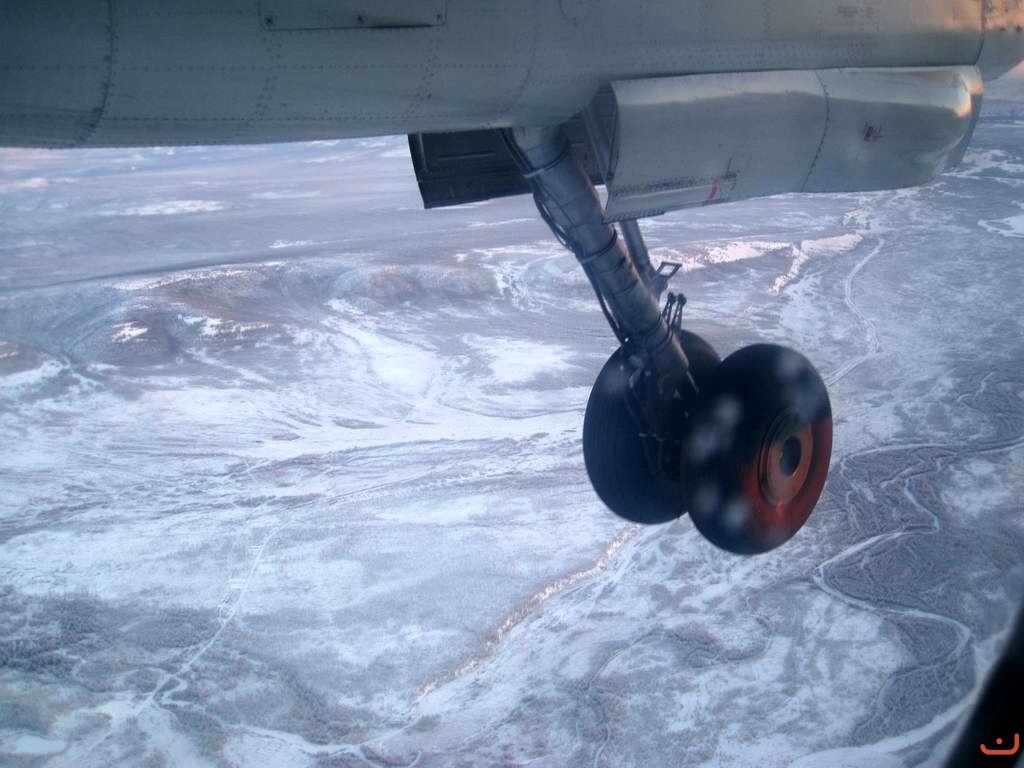 The stewardess was serving us with peanuts and juice. She was wearing a warm coat – the temperature in the plane was obviously not a room one. In a hour and a half the pilot announced that we were going to land and the temperature in Batagaj-Alyta was -42dC. I was hoping that we shall be picked up in the Sakkyryr airport and the car will be big enough to take all our luggage and we shall not have to spend long time outdoors at the heavy frost.
He old AN-24 had landed very softly, despite the runway turned out to be a field with gravel and some snow.
The pilot did a good job! Our gratitude to the pilot of the Yakutsk local lines!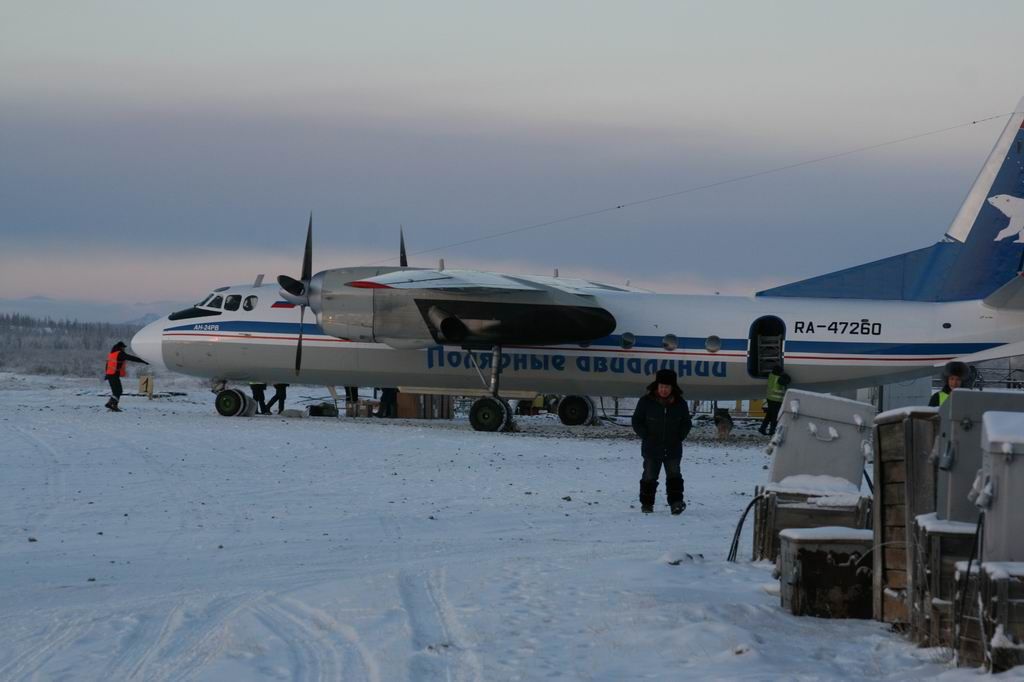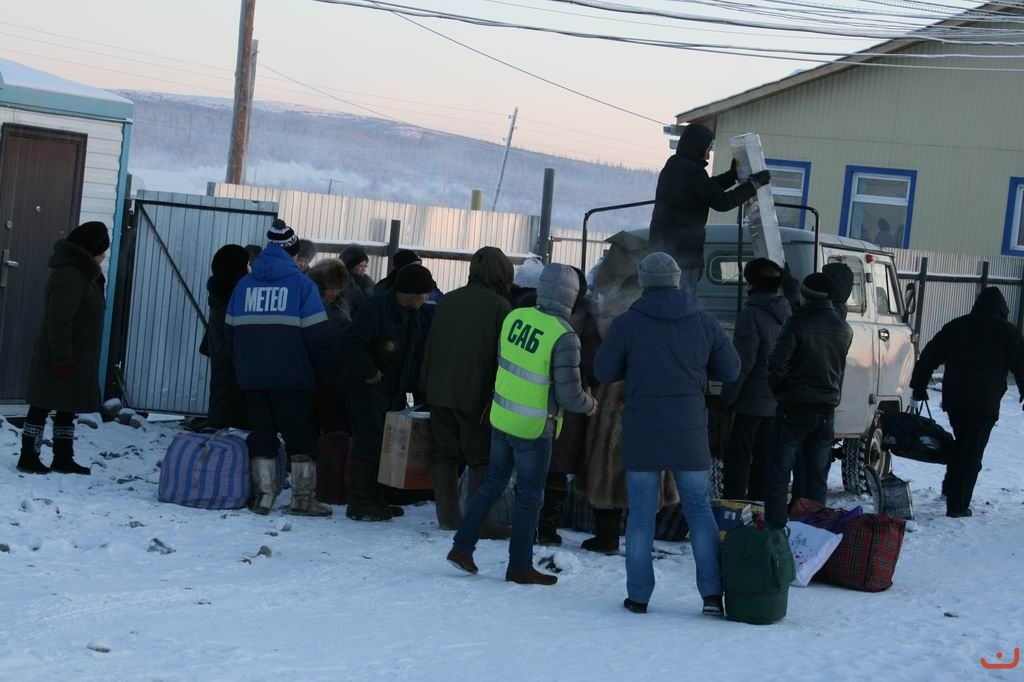 Unload luggage yourself. During our stay, according to locals, the weather was good. The temperature dropped to -45 to -35 and rose. Almost no wind and low humidity, this frost normally tolerated.
We were met by administration representative Semen Sleptsov, with whom we spoke by e-mail and phone. The truck was big enough to accept our luggage, but plastic elements of Natalia's Spider were too long for its body and Semen had to hold the by arm outside the truck's window.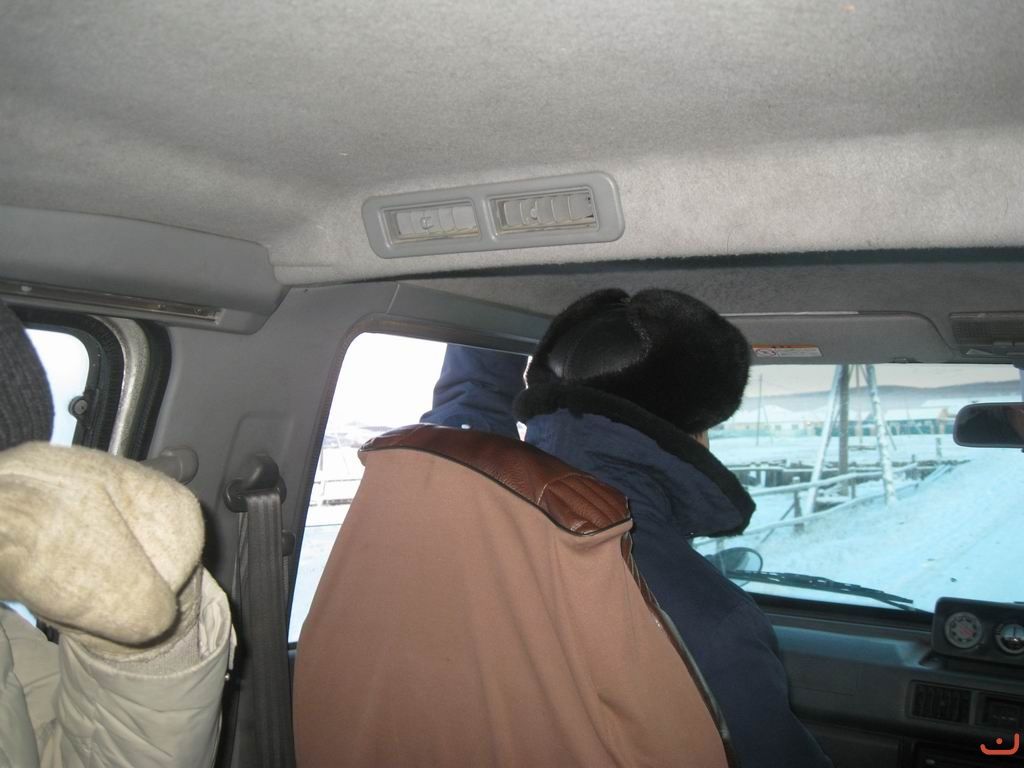 On road to the hotel
PART 4. Preparation to work on the air
In just five minutes we were approaching the hotel. "Hotel" is too much said about the small inn, which has only three rooms: one big with five beds and two rooms with two beds. All the conveniences in the hotel are outdoors as in the all the houses of the settlement , no running water, but good food three times a day.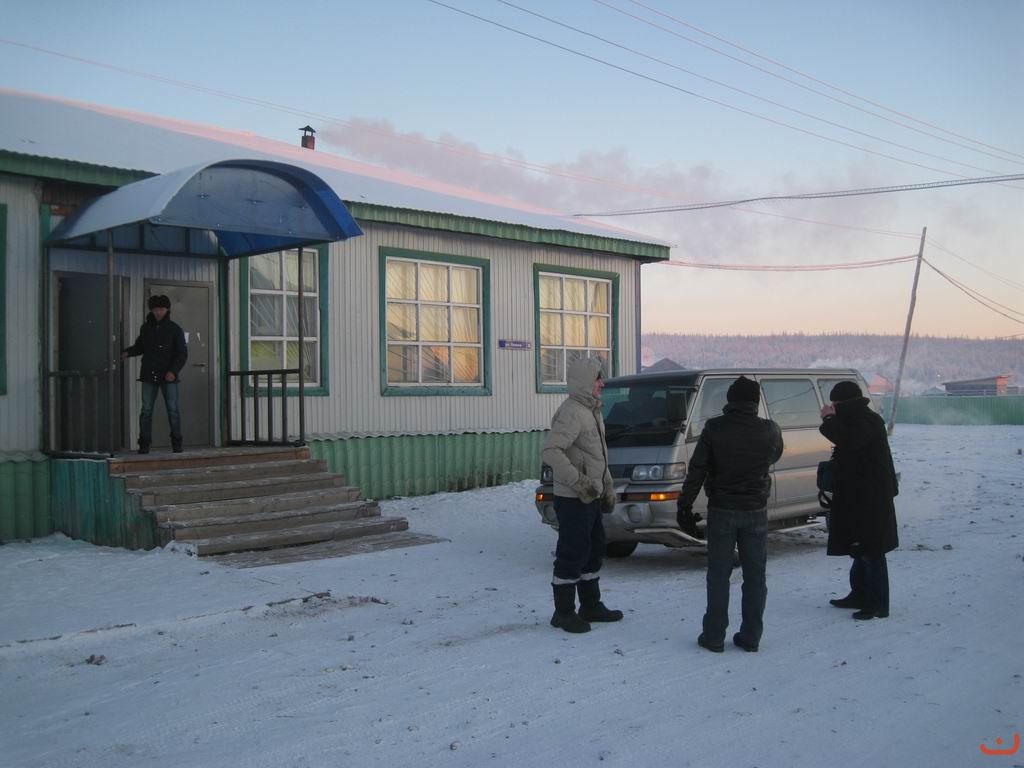 Near the hotel
I paid for the week in front calculating 1700 rubles of a person per night. We were given three beds in the big room (together with a man from Yakutsk), Natalia was given a bed in a small room. We didn't like it and asked to give us the whole big room. The hotel director did it, being very indignant that the girl will be sharing the room with three men. We tried to explain her, that we are a ham's expedition and within the next week we become sexless radio operators.
As we expected, the roof of the hotel turned out to be a sloping one, no chance to fix the aerials on it. We decided to look around the territory and to find proper places for the aerials. All together we had three masts and multi range vertical. Every aerial should be placed as far as possible from the other for us to have a possibility to work simultaneously for all the three workstations.
There were not much place around the hotel, several other administrative buildings were neighboring it, but we managed to find more or less acceptable places for our aerials. Yury managed even to agree with a kindergarten director to locate an aerial at their territory, using familiar expressions like "coaxial cable", "electromagnetic compatibility". After that he was called "PR director". I was called simply "director" or "chief".
But main problem turned out to be the hotel's windows – they were double and tightly immured not to provide a smallest air circulation (the indoors temperature was +23, outdoors - 50dC). We tried to find some opening for the aerial' cable, but failed. Despite we were proposed to use the dining hall as the radio shack, we could not find there an exit to outdoors for the feeder cable either.
Time for lunch came. We were served by a soup and deer's meat with potatoes. I could not understand what the soup was made of, but the taste was very unusual. The only familiar ingredients were beet and vermicelli. Since one member of out team was a vegetarian, we asked to take it into consideration. It was done and he was served with the same as others but without meat. It was local bread I liked most of all. The bread was being made in the local bakery in an oven heated by firewood and was served by warm. It had a special taste due to flour made of special northern wheat. It seemed I had never eaten such a tasty bread.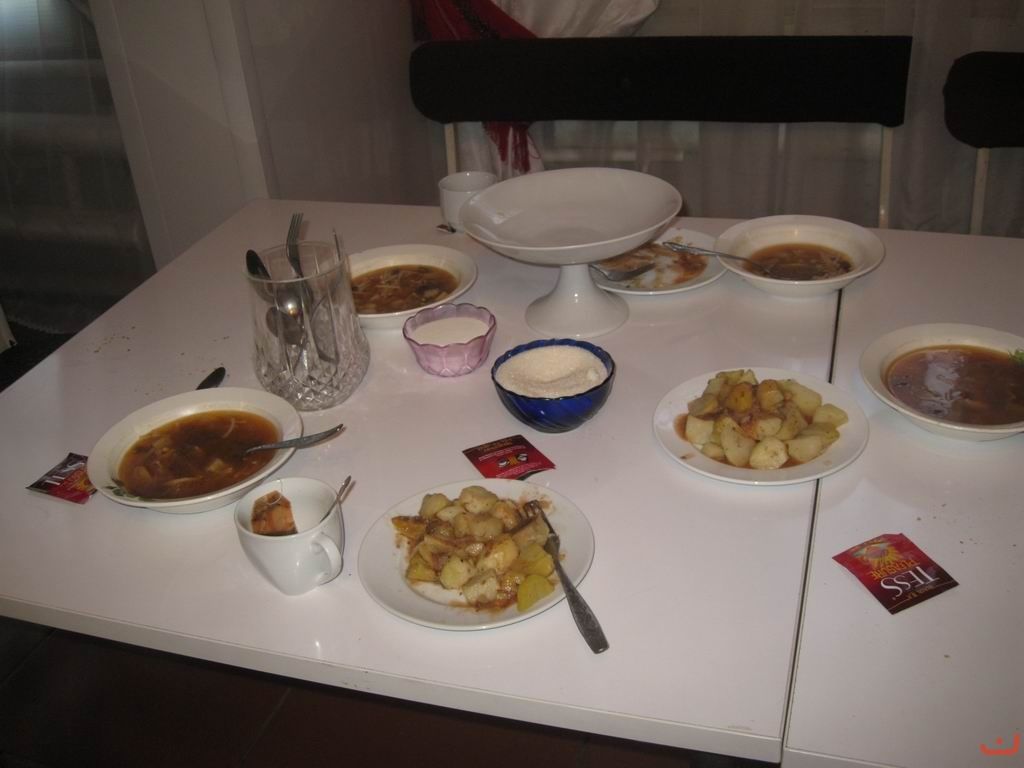 Typically, eggs for breakfast, lunch and dinner - venison with pasta, potatoes or buckwheat
Having very quick lunch we continued to solve the aerial-cable problem. Just in time we got a guest – Maxim Gorokhov – a representative of administration. We told him about the problem and he proposed to go along the settlement and try to find a better place for the shack. Very soon we were proposed one of the rooms of clubhouse located in ten minutes walking from the hotel. It suited us very much – room big enough for our equipment, free space around for the aerials and freely opening small ventilator windows. The place was magnificent – it went without saying!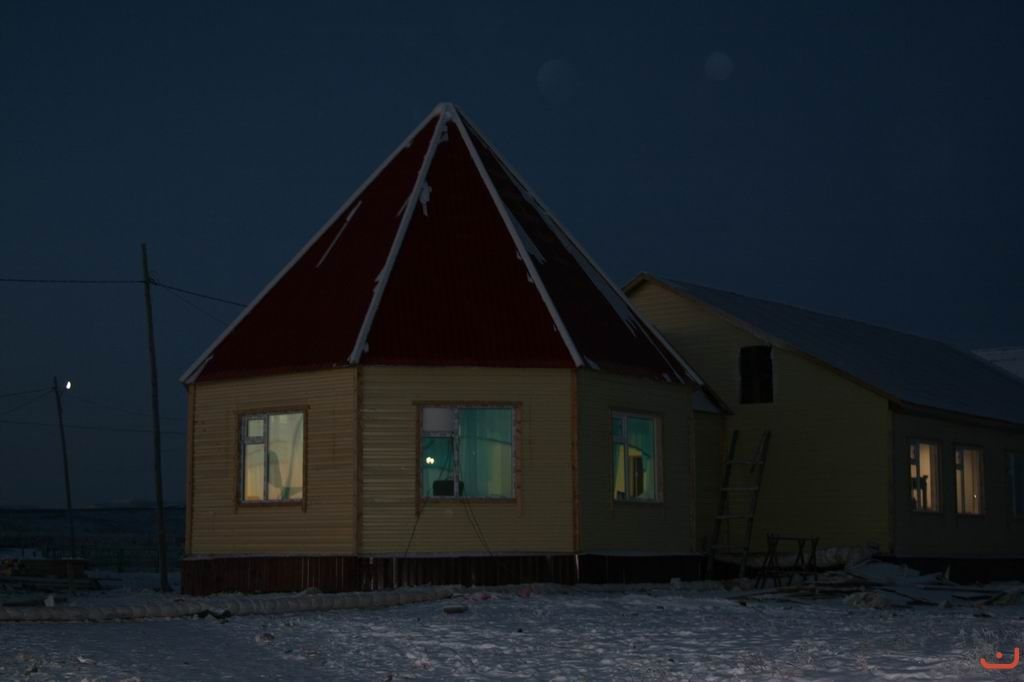 Our shack
Without a hesitation we went to the hotel, again loading the truck with our equipment, transported it to the new place and began to assemble the aerials.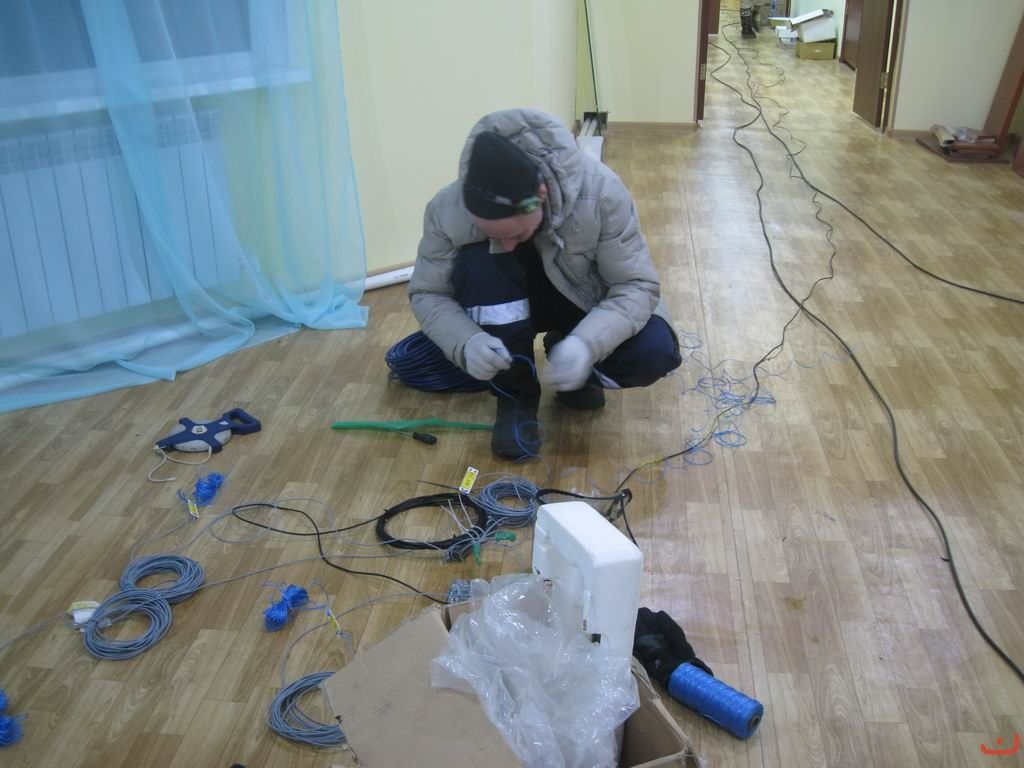 The cord, on the advice of Yakutsk colleagues reeled indoors, as it breaks down in the cold
Meanwhile late evening had come while central region was having a morning and little by little first SMS, next calls began to be coming, the frequency and periodicity getting grown and not only from Russia. There was the same questions: "WHERE ARE YOU???".
From one side it was a pleasure, that many people were waiting for us on the air, from the other side we felt uncomfortable –in fact due to preliminary announcements we should appear already on the air.
The first trouble appeared – the biggest during the whole expedition – we left in Moscow plastic elements for the spider. We had brought mast, fasteners, aerial, but the plastic spacer bars turned out to be among the equipment, which was "separated" before the departure.

By the light of electric torches we were trying to assemble the Natalia's "Robinson", plus invertors 40 and 80 at the same mast. The result was not very good – at the heavy frost the elbows of the mast got seized up. At the same time the multi range Vertical DX77 was being assembled and we managed to do it quicker than to raise the Robinson. But problems also arose with the Robinson – the resonance was far outside almost all the bands, despite all the dimensions were up to the design and the aerial was used before many times. For some time we left the Spider and kept assembling the DX77.


DX-77 (TNX RX3F)
After several hours of "dances with tambourine" as they do it in Yakutia, we managed to reach resonance at the main ranges, apart from 10 MHz.
Tried to work, but discover that there was no manipulation. One more attempt – the amplifier did not match. Natalia spoiled all the memory at the camera, trying to take a video of the preparation to receiving the first QSO.
PART 5. Hurrah! We are on the air!
Yes, we had to admit: the first day and night turned out to be very unlucky for us.
At last at one workplace all is OK, including amplifier and aerial DX77. Checking the ranges: 20 m – silence, 30 m – silence, 40 m – silence – 2-3 station at the level of noises. Still I gave the first CQ at 7020. Second CQ, third CQ – nothing. In several minutes I got the first M0UNN in my log -, after that – again unreciprocated CQs. Then a Japanese skimmer had heard us but there was no appeal yet.
Within 40 minutes we got only 8 connections, Sergey RJ3AA among them. We knew the Sergey's setup and the level to hear him, and had to make a sad conclusion: propagation was very bad. Of course we were ready that propagation in the northern latitudes is not very good, but we were not ready to such a undisguised failure. It would be good if it was a magnetic storm and tomorrow all would be OK, at least at the HF. Today I needed just a rest and so I did.
Meanwhile Yury and Alexander continued to raise the Spider and after several feeble attempts (at the severe frost the clicks didn't work) they managed to at 5 am local time.
In two hours in the morning the situation changed for better. At least Japanese stations and those from Far East could be heard at 40 and little by little we were being requested.
But for the morning a very serious event was scheduled – we received an appointment for meeting with the Head of the ulus (region).
Our expedition attracted a high interest of the administration, thanks to it we were provided by all necessary during the whole out stay in Batagaj-Alyta. At the official meeting we told with great pleasure about ourselves and the purpose of out visit. From its side the ulus' head told us in details about their land, customs, way of life. Everybody of us received a book about ulus' history, its places of interest and local folklore. We passed to the administration Letters of Thanks, we prepared beforehand.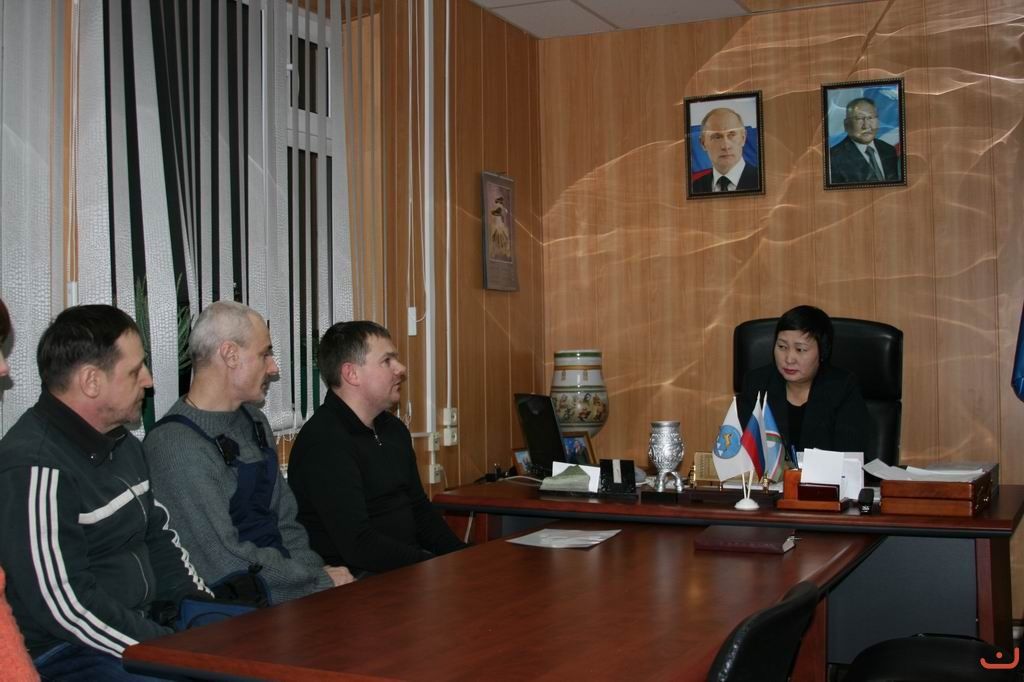 Summit :)
After the meeting with the administration we continued the work on the air. The propagation was good enough also at HF despite not the ideal one. Still our logs began to get supplemented. Robinson despite the comparatively low height was operating excellently and turned out to be rather wideband to everybody's surprise (SWR was not worse than 1.1 at all the band of 20m-15m-10m).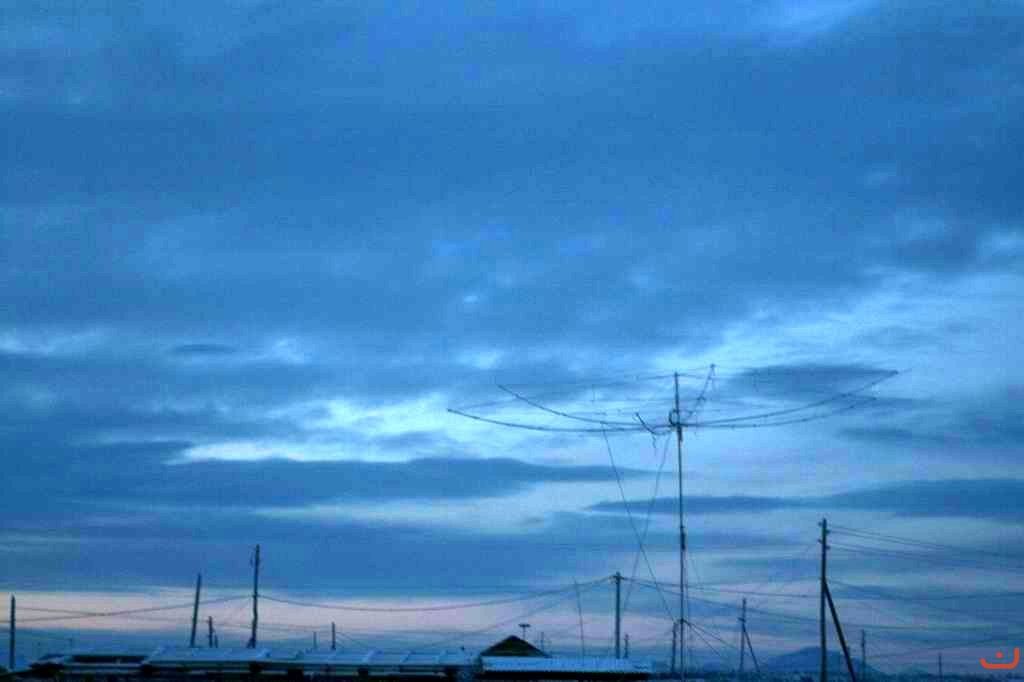 Antenna ROBINSON 20-15-10 (TNX RO9O)
Later we tried to arrange a second workplace we faced another serious problem. It seemed the RO5D Alexey's transistor amplifier had not passed the flight and refused to operate. In all fairness I must say, that we had no claims to the assembling of the amplifier, it looked as a quality and reliable device. Outside check of the wires and connections as well as the fuses brought no hope of the quick reanimation. No way! We had to operate at the second workplace without an amplifier. We were heard not so loudly, still there were connections in our log.

The third workplace, which was also without an amplifier was operated by Natalia. It was specialized for PSK.
While evening was approaching, Europe began to be heard at 20m. Actually at this time of the year the propagation at HF in this region is not so good at this canal track. To be more exact, it is very transient, lasting for about one hour only. When there was a dawn in Europe, we had practically darkness. Unfortunately therefore there were not so many chances to connect with stations having low efficient aerials.
Late evening when propagation at HF was finishing, we went to arrange the vertical delta with a perimeter
of 85 m.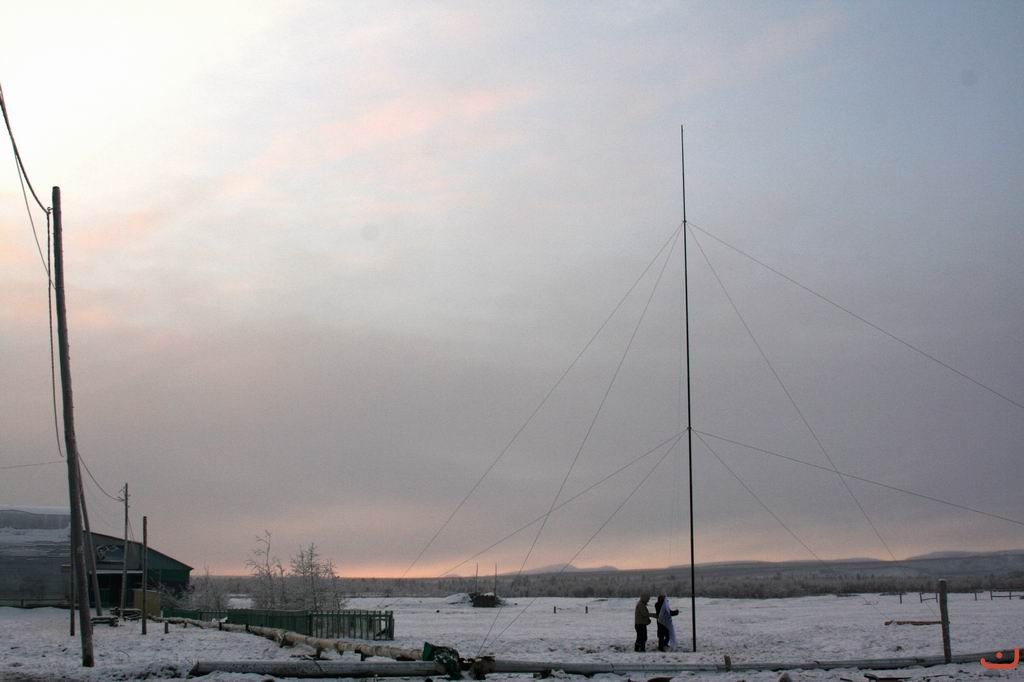 Mast with frame 85 meters
We managed to fix the mast, but failed to hang the aerial in the full darkness. Decided to postpone it till the morning.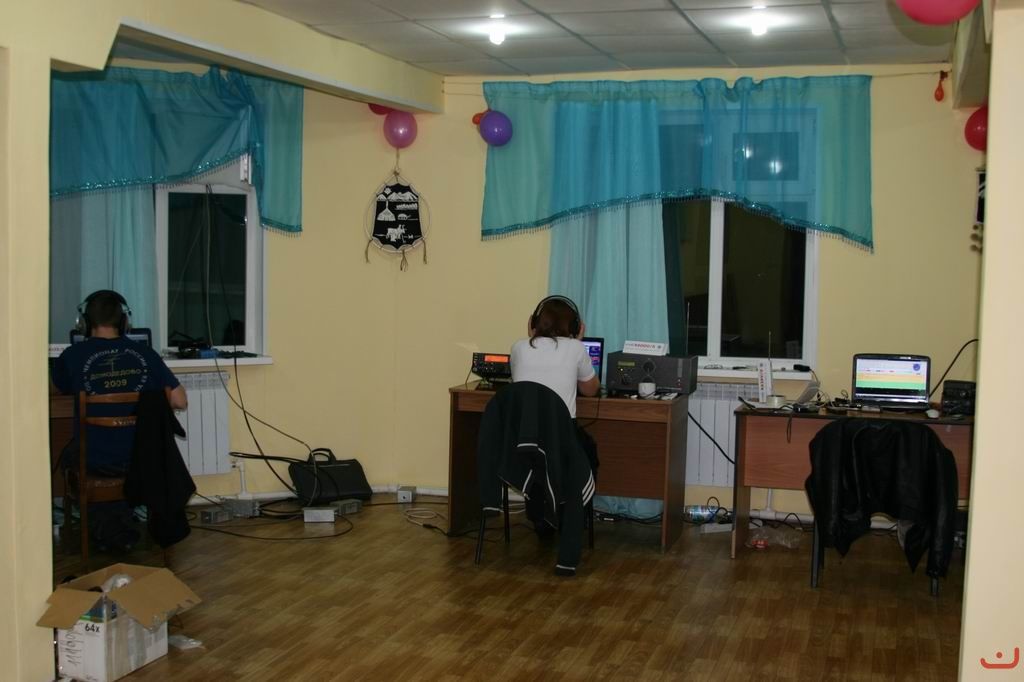 Work on the air
The third technical problem (fortunately the last one apart from router power pack which had burnt down) we faced soon – notebook disabled at the main workplace. It was simply replaced by a reserved one, but adjusting of CAT and manipulation took some time.

Apart from the working on the air we paid some time to walks along the village and conversations with local people.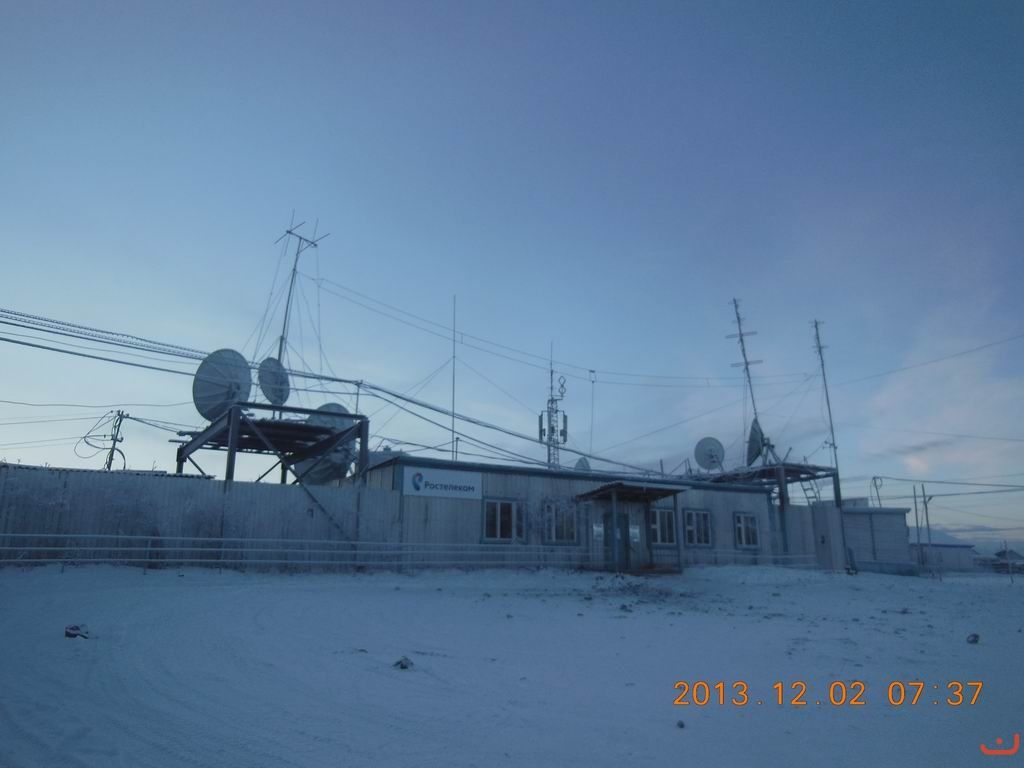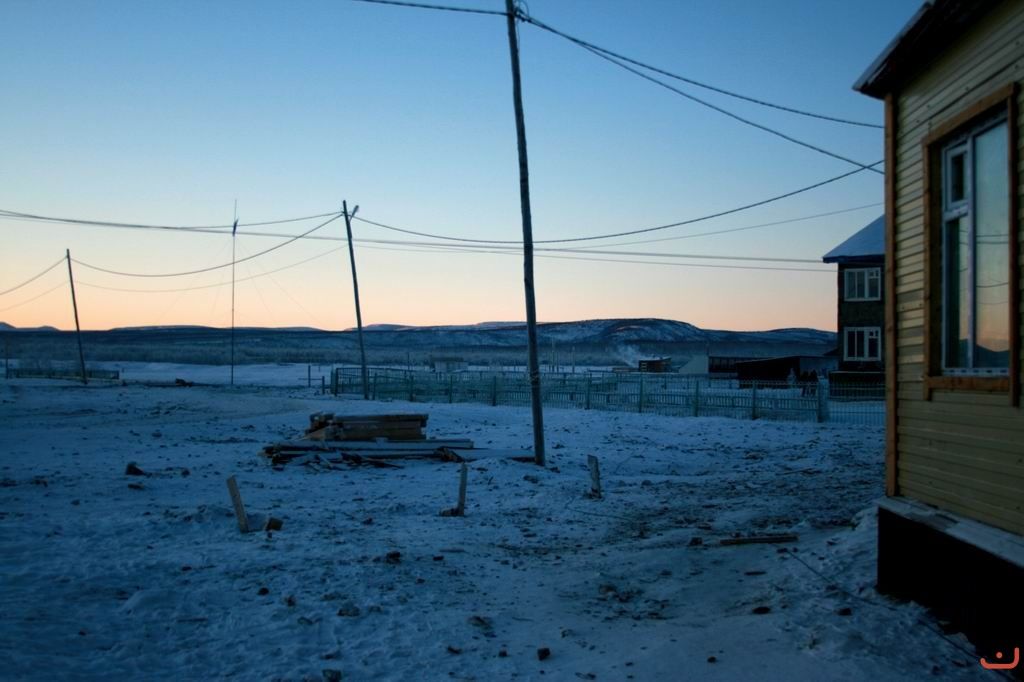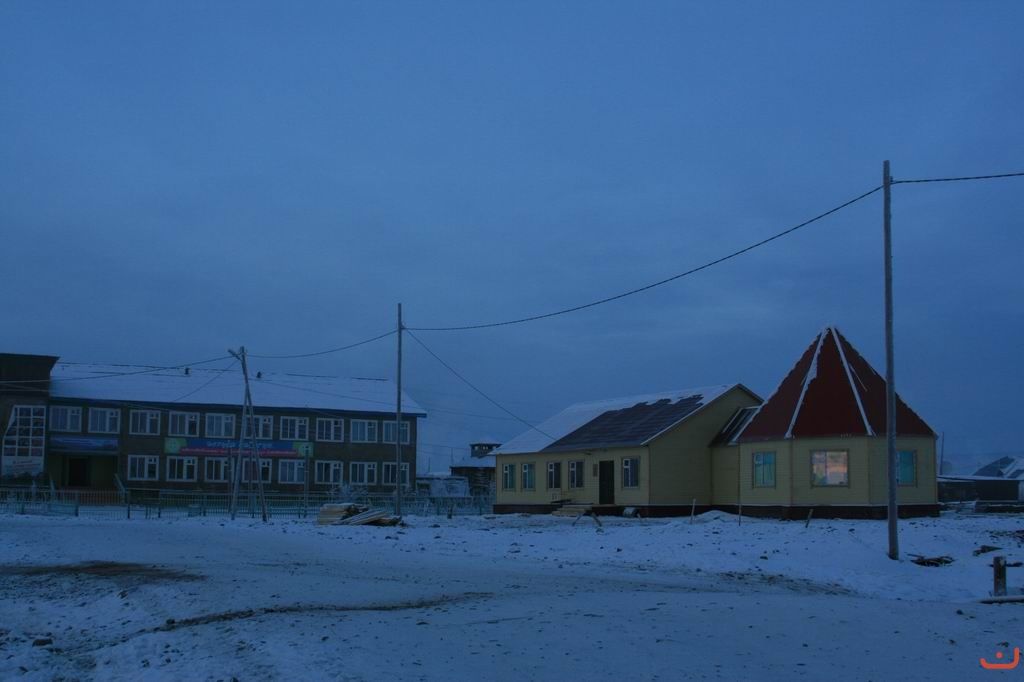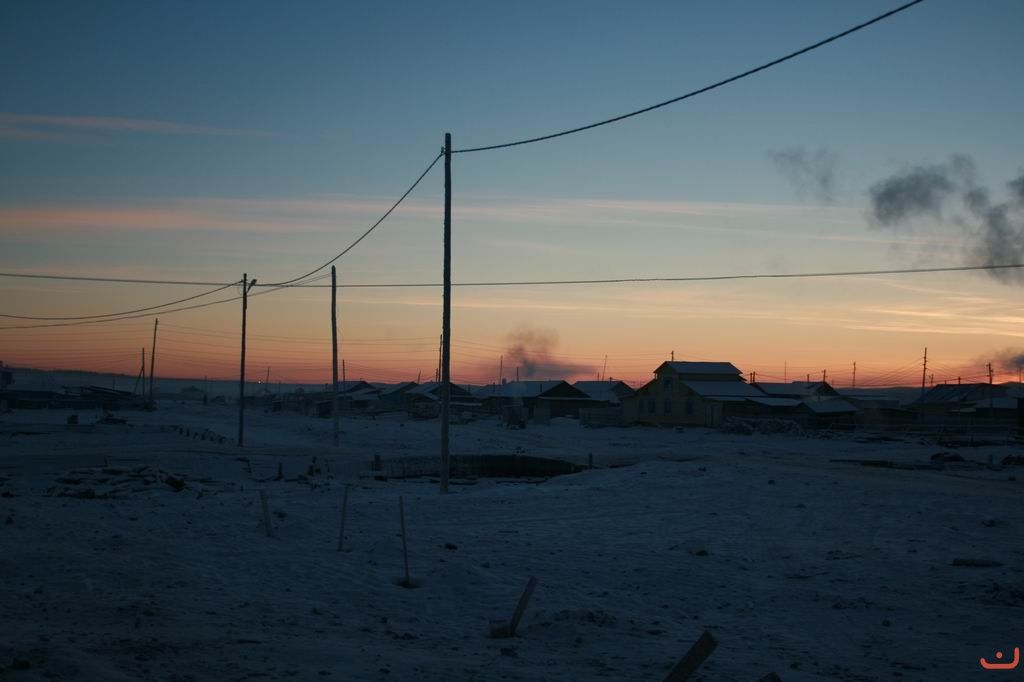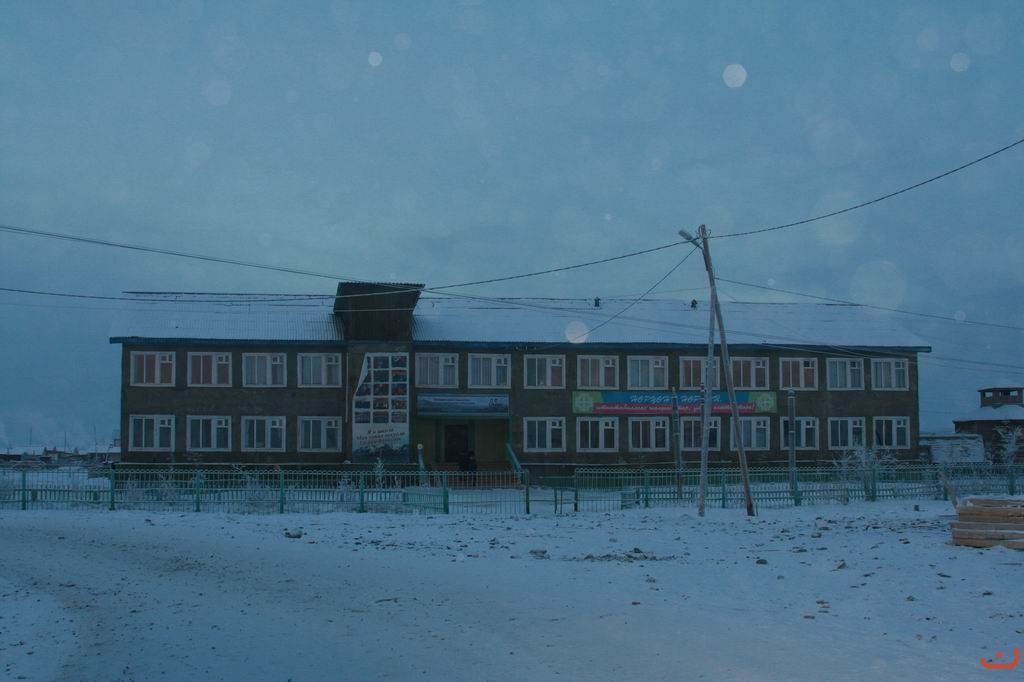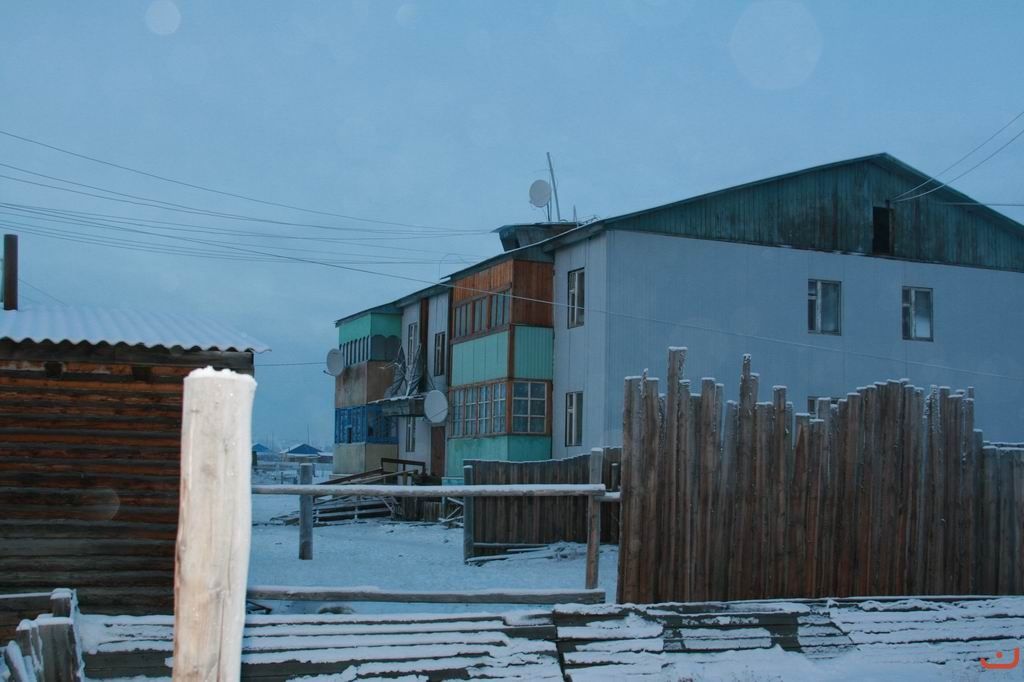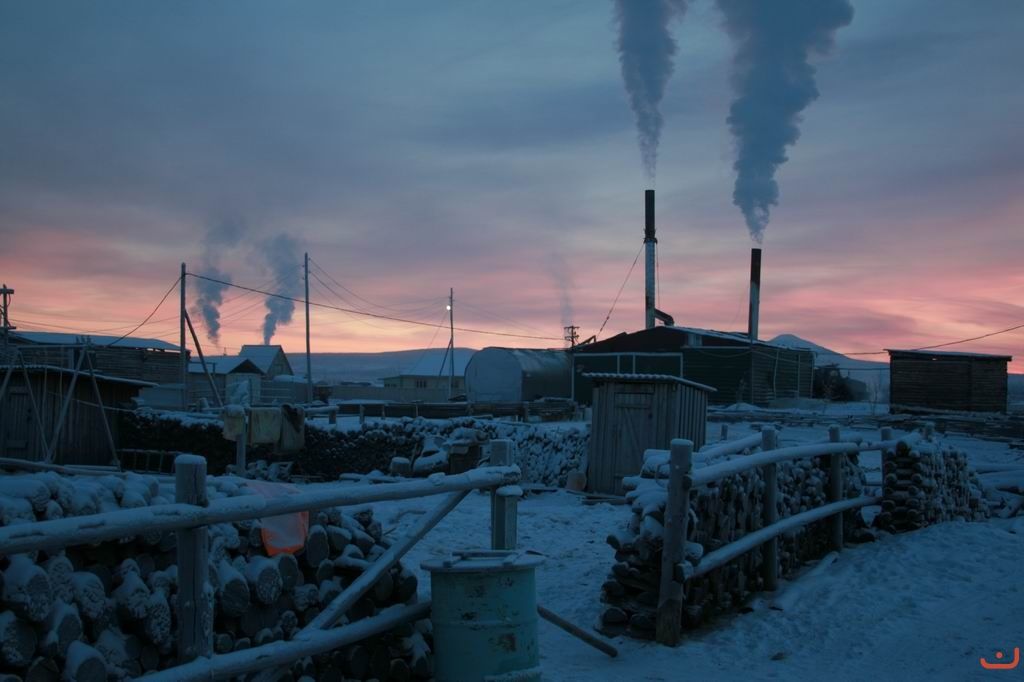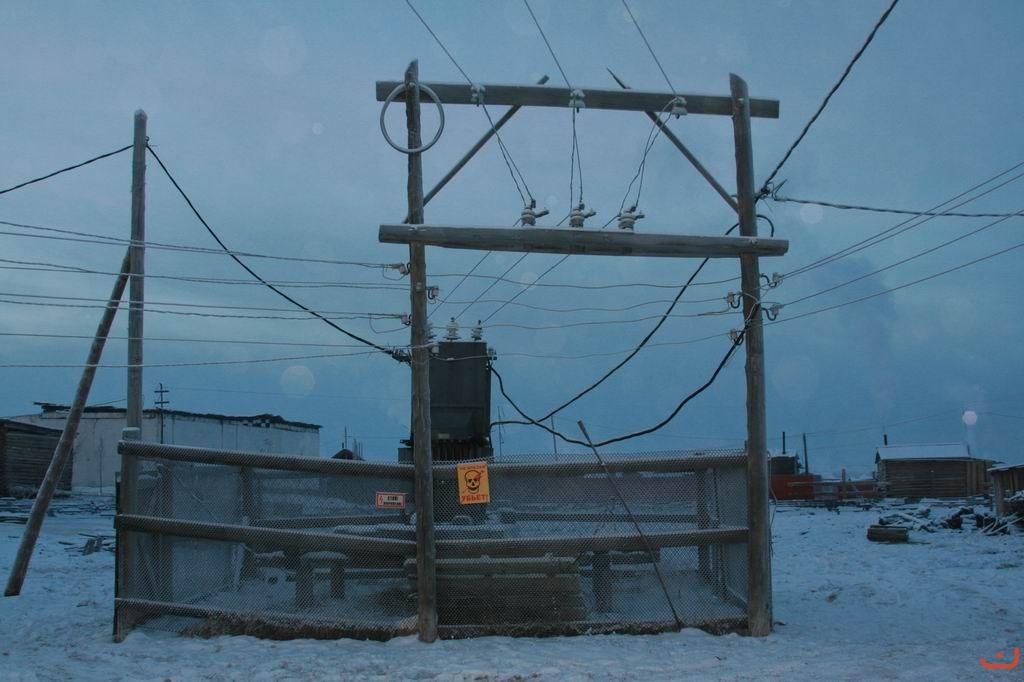 One of the remarkable features of Batagaj-Alyta were cows, which were quietly walking along the streets during 40-degrees frost and eating withered grass extracting it from under the snow by their muzzles. As we learned later they were a special unique kind of northern cows, which are covered by thick hair and therefore can easily stand for severe frosts.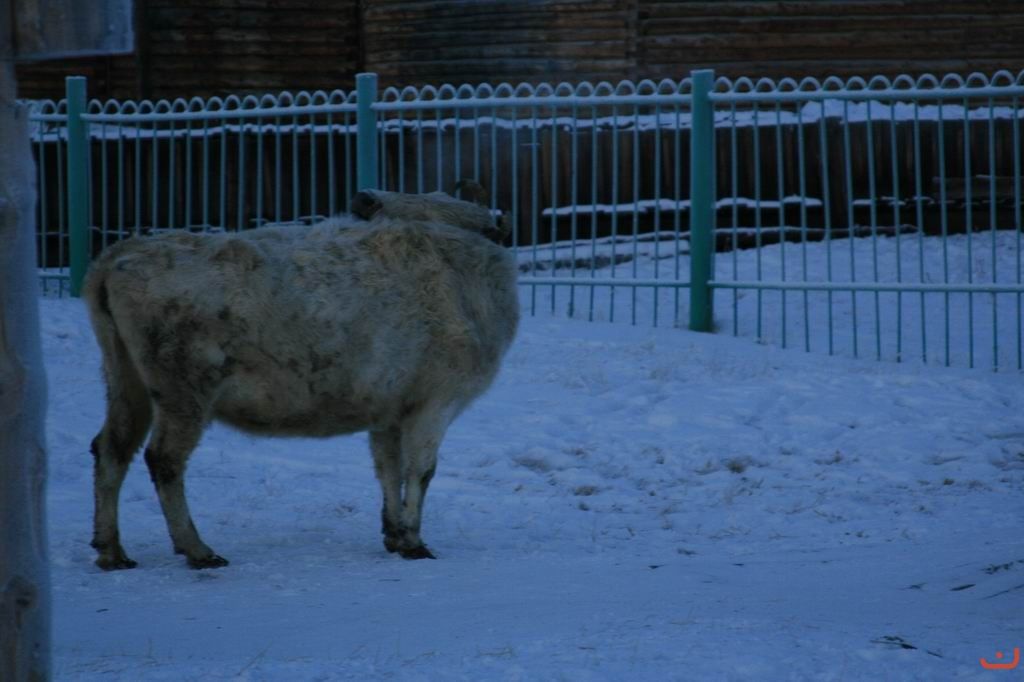 Northern cows
There were several shops at the territory of the village. All most necessary can be bought, but prices…… A small cake – 800 Rbl (about $22), mandarins are sold by items.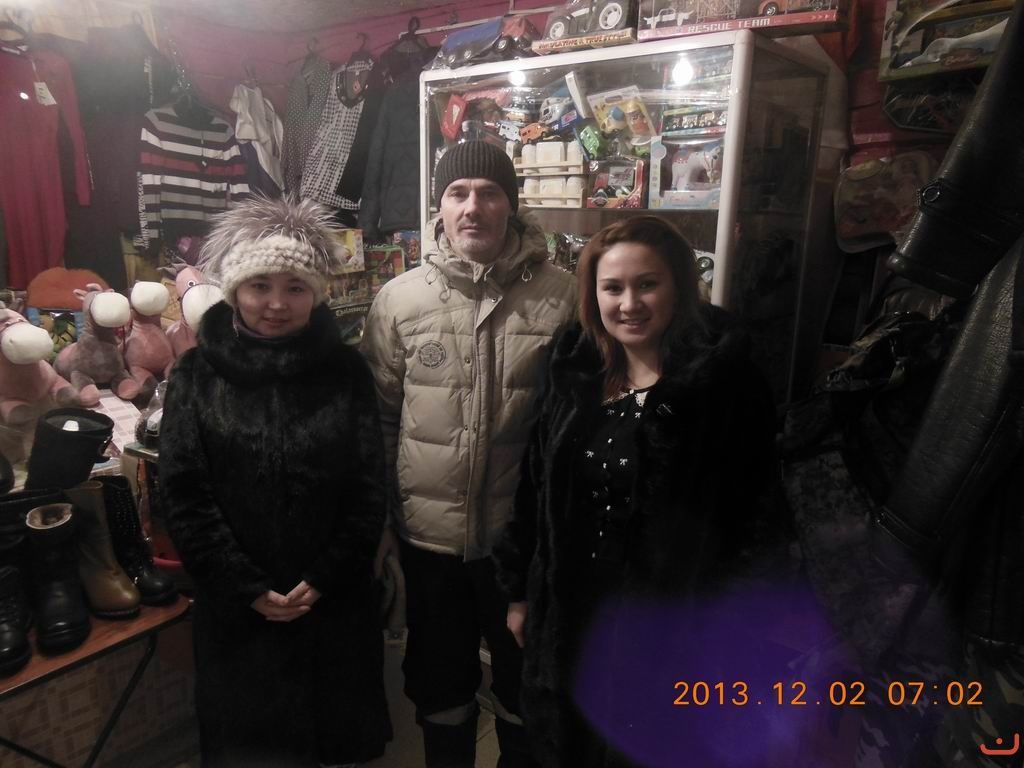 Yuri inside the store
Alcohol is not sold legally apart from beer. For justice' sake it should be noted, the salary there is not low at all, at least the local people we were discussing the matter persuaded us.
Once myself and Natalia attended a local vocal concert, managed to find the last part of it only.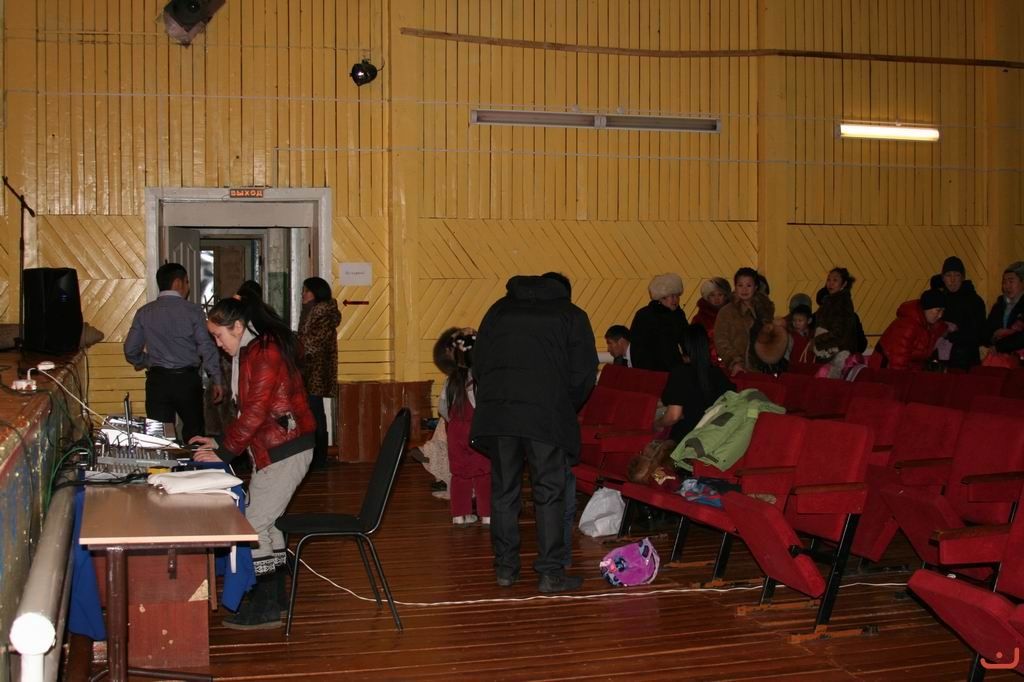 At the concert
After the concert the head of the local authority addressed to the local citizens with some announcement. The only familiar words we understood, were "Putin" and "Constitution". During the announcement the people were leaving the premises, in the end only myself and Natalia were listening the speaker.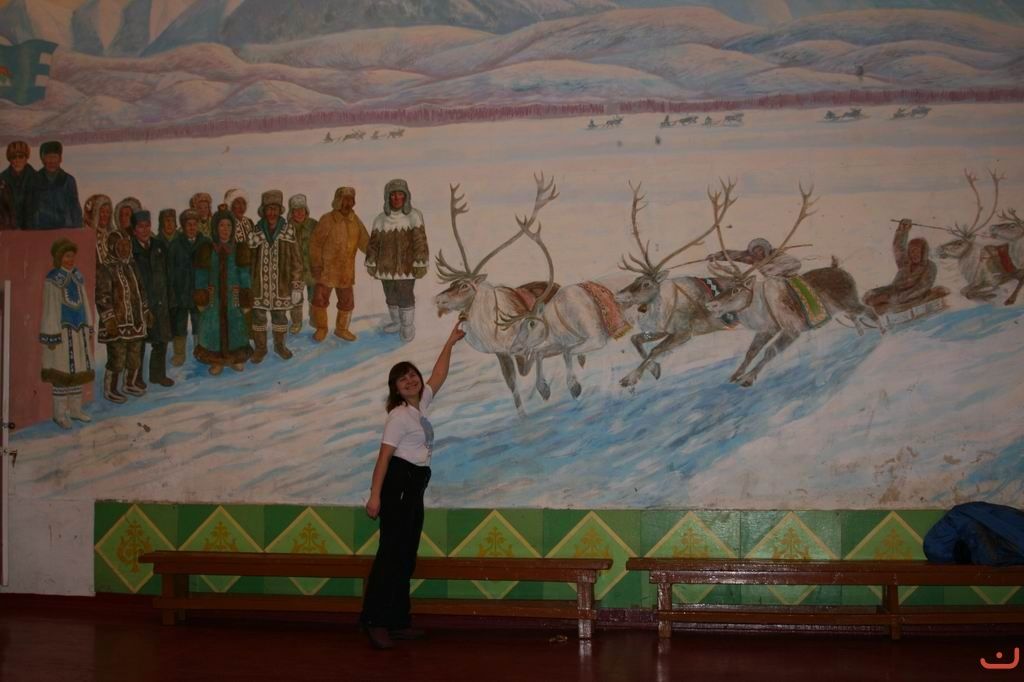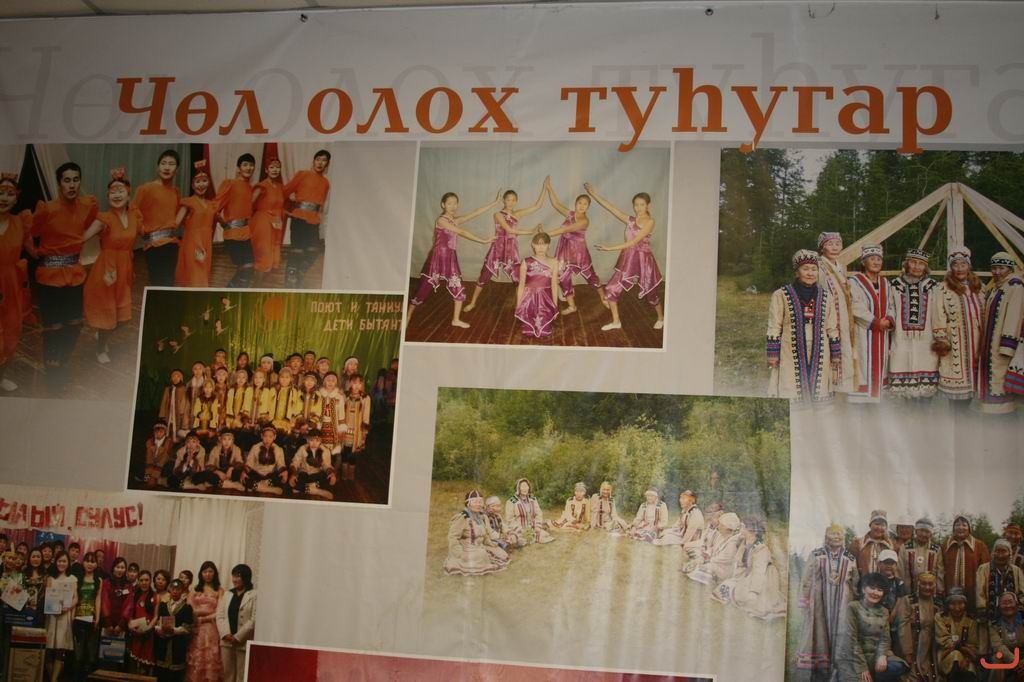 In the House of Culture
Besides we visited the local history museum.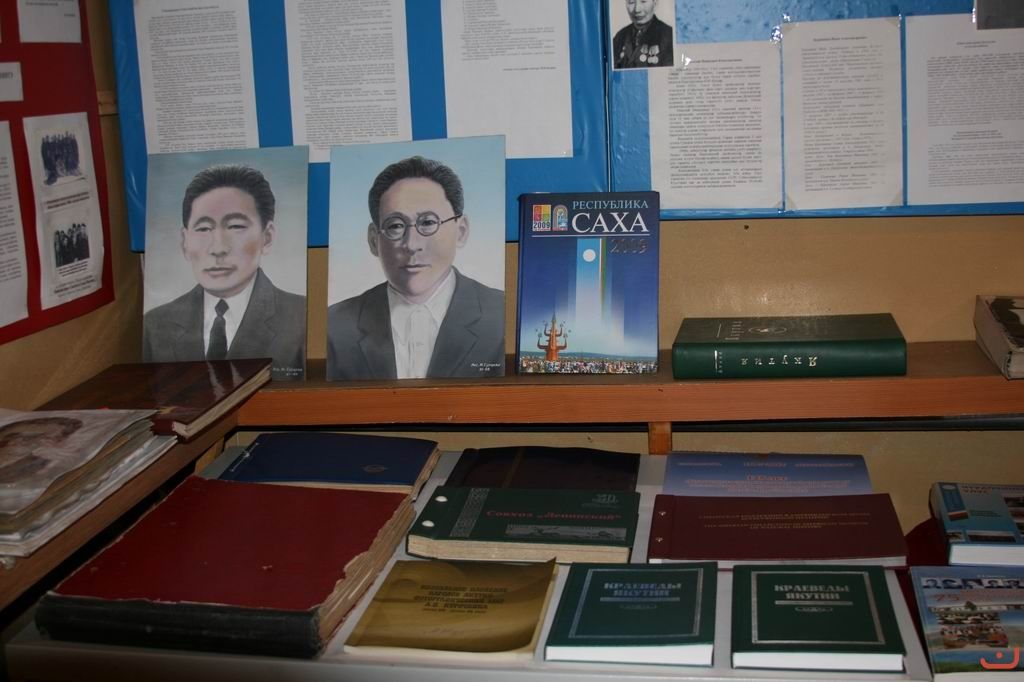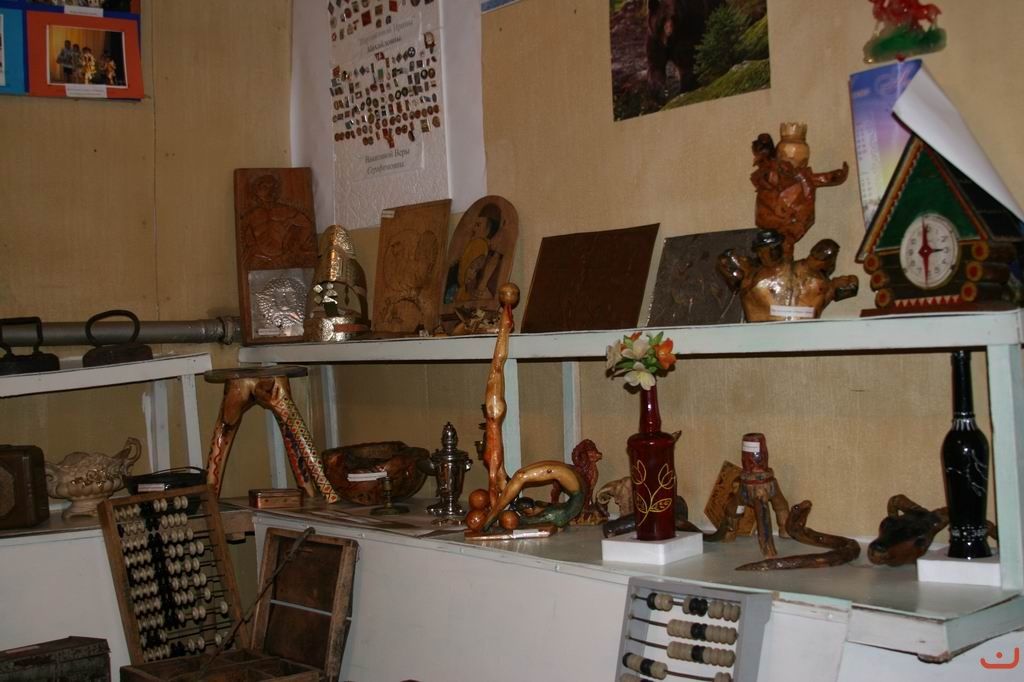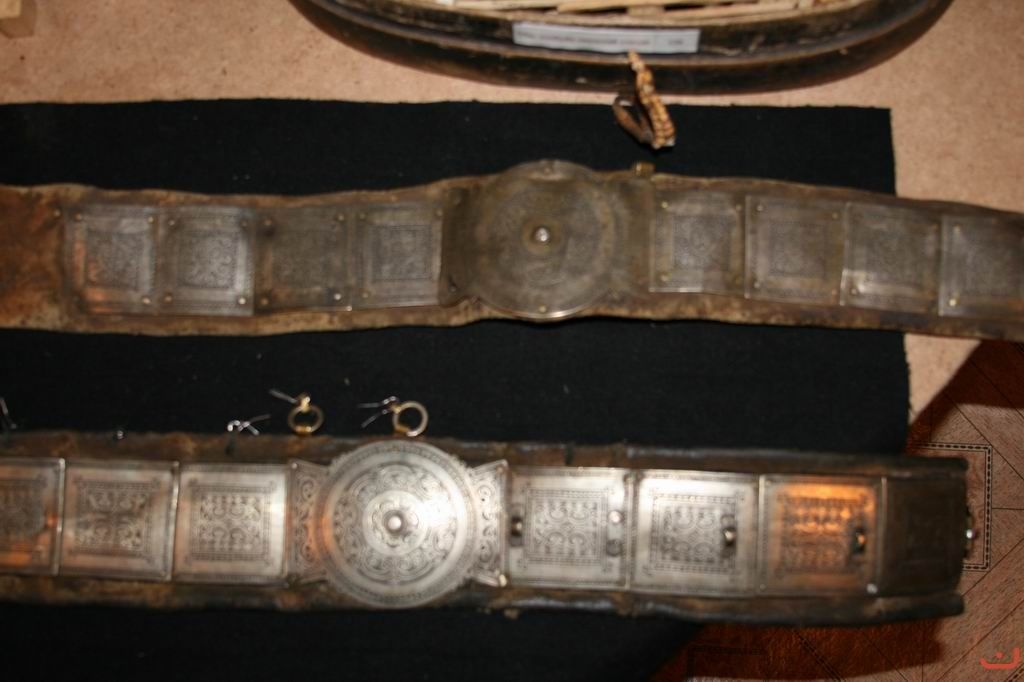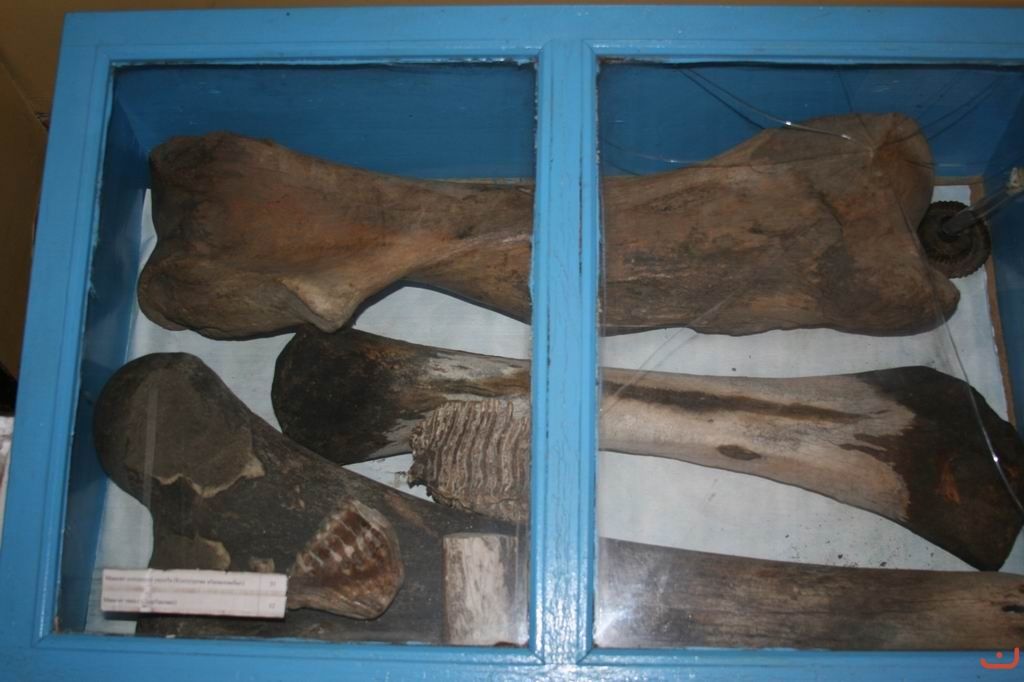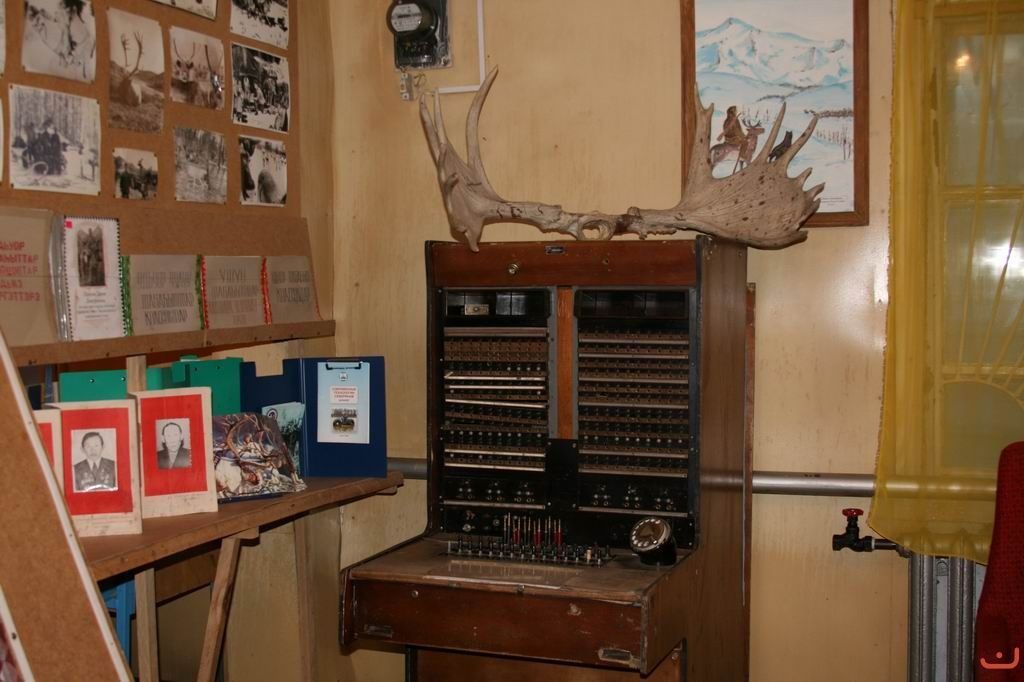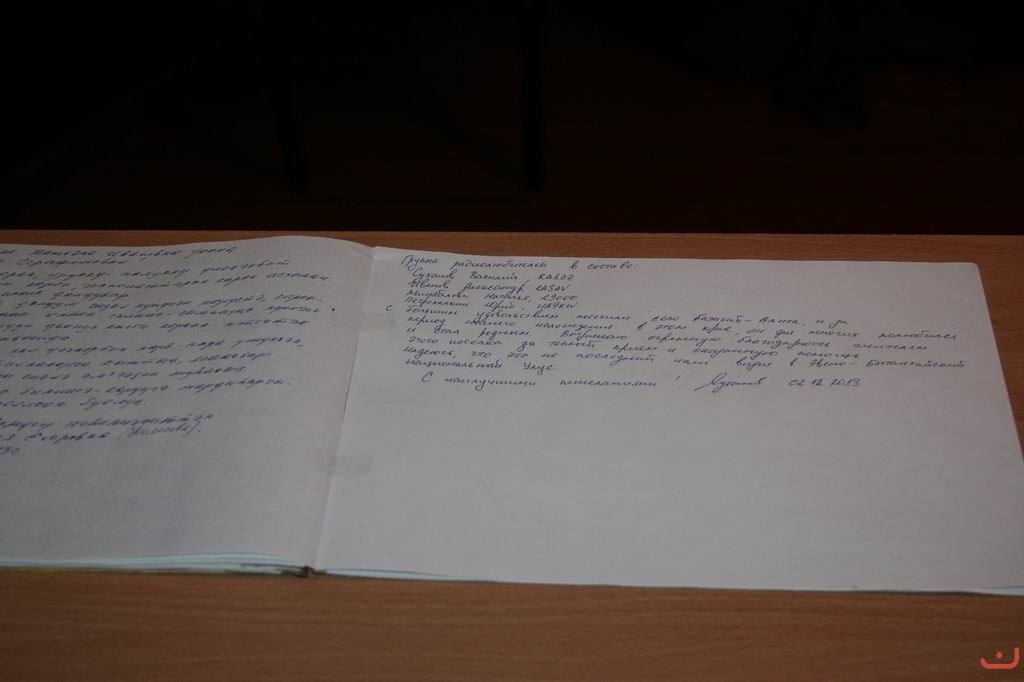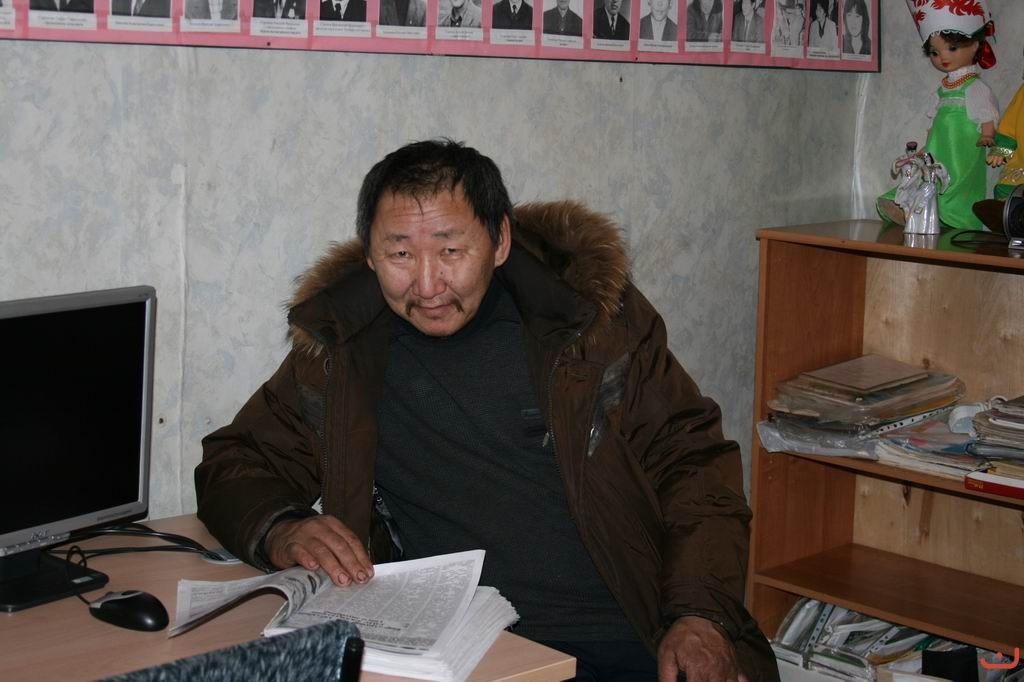 Most of the exhibits are personal items of remarkable natives and stories about them. We left a note in the Book of Guests.
Meanwhile the rest of our team kept actively operating on the air. The propagation became more or less good, all the aerials were installed, so we were trying to be on the air from all the three workplaces simultaneously. We managed quietly to get along together within one band, operating CW/PSK or CW/SSB.

We note the vertical Delta is operating very well for receiving, including at HF, but for transmission much worse comparing with Robinson. I noticed a friendly competition between the crew members for the right of operating at the main workplace with PA and more effective aerials.

Main part of work time we spent at LF bands, since after sunset the propagation at HF usually disappeared completely. Of course, sunset and sunrise were the best time for operating at 80 m. Sometimes at deep night a short-time aurora propagation appeared at 20 m for Europe. The signals of stations were weak having character fade, still even under those conditions we managed to make several tens of QSO. We knew the value of it, " we took a smell of the North…" as Yury said.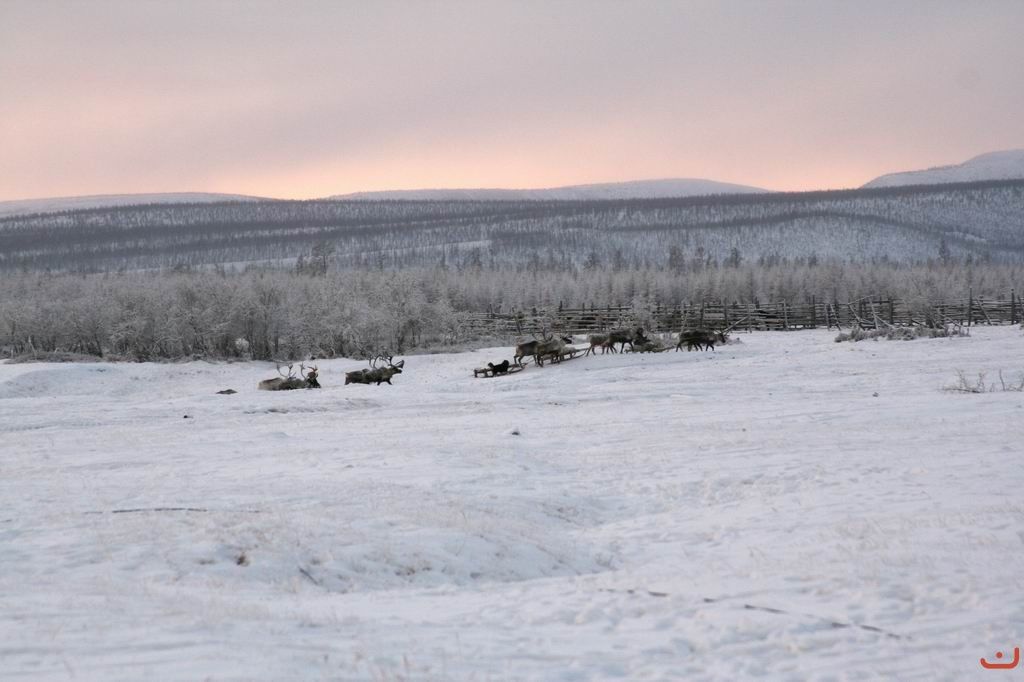 Deers .. Unfortunately, we could not ride on them this time
Speaking frankly I was very discouraged by a bad propagation at 30 m. It seemed during this time of the year the band must be open practically day and night. I was also of the same opinion and was pinning great hopes on the band in case low propagation at HF.
Unfortunately the band was either silent or only stations having good setup could be heard. First we blamed the DX77 aerial, but even after we installed vertical triangle the situation practically didn't change. The receiving became better, but for transmission the triangle was operating a bit worse comparing with the Vertical. Totally at this band a number of connections turned out to be much less comparing with 40 m, despite my forecast.

It should be noted, that apart from the particular features like distant location regarding the main part of correspondents, uncertain polar propagation and unfavorable conditions for this season, the region Batagaj-Alyta is closed almost from all sides by mountain ridges, which are additional barrier for the radio waves propagation. Of course the main part of QSO, we got during the expedition, were in telegraph. When having best propagation at HF, we moved to SSB area, since the pace QSO at that time by telephone was considerably higher.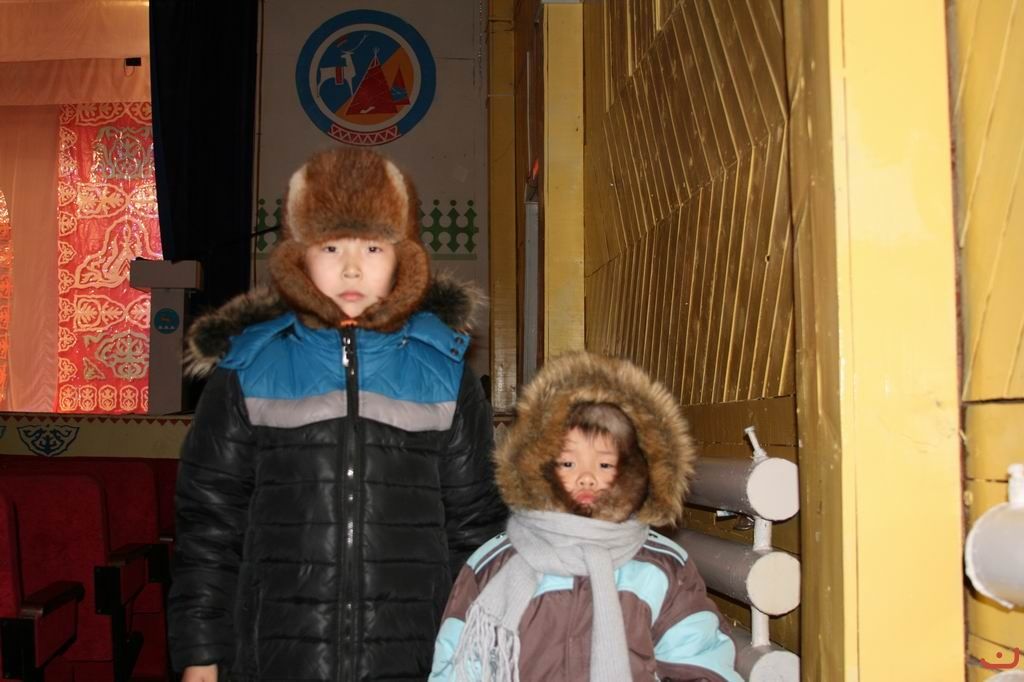 Small Yakuts
Sometimes in the evening a contaminating signal of unknown origin arose at 30-80 m, in this situation the Delta was very effective. In general the air was clean as a crystal and we could receive everybody, who was calling us, even with very low signal. It was a pleasure to read numerous comments in the cluster, reflector, forums and in our guest book at our web site regarding our "good ears" (meaning how we could manage to hear low signals).

I can't help saying the same about some correspondents, which were trying to call us without hearing us. In such situations we had to reply to them by sending three times them their call signs and reports. We did it several times hoping that at last the colleague will hear our answer and will give the desired 599 and CFM. Some time one QSO was lasting for several minutes and the proper connection did not take place.

Despite the announcement nobody was included in the " black list" and intentionally deleted from the log in order not to spoil good positive spirit to the people and ourselves, but believe, at that side of the pileup, the actions of some correspondents were causing, softly speaking, negative emotions. Still those who needed a connection with us, possessing patience and self-control, waiting for long time for improving of the propagation and our signals to come out of noise in the end were receiving the connections even at the simple aerials. I think experienced operators should agree with me, that sometimes it is enough to have one call for the connection to take place, but the call must come in the proper time. An ability to have patience and to catch the moment speaks for the operator's skill.

After hard night operation at LF, morning calls in SSB at 20 m from West Ñoast è JA improved the spirit very well. There was no pileup, but the calls were good and respectable (still not for long time) and many people were thanking for new RDA and GRID.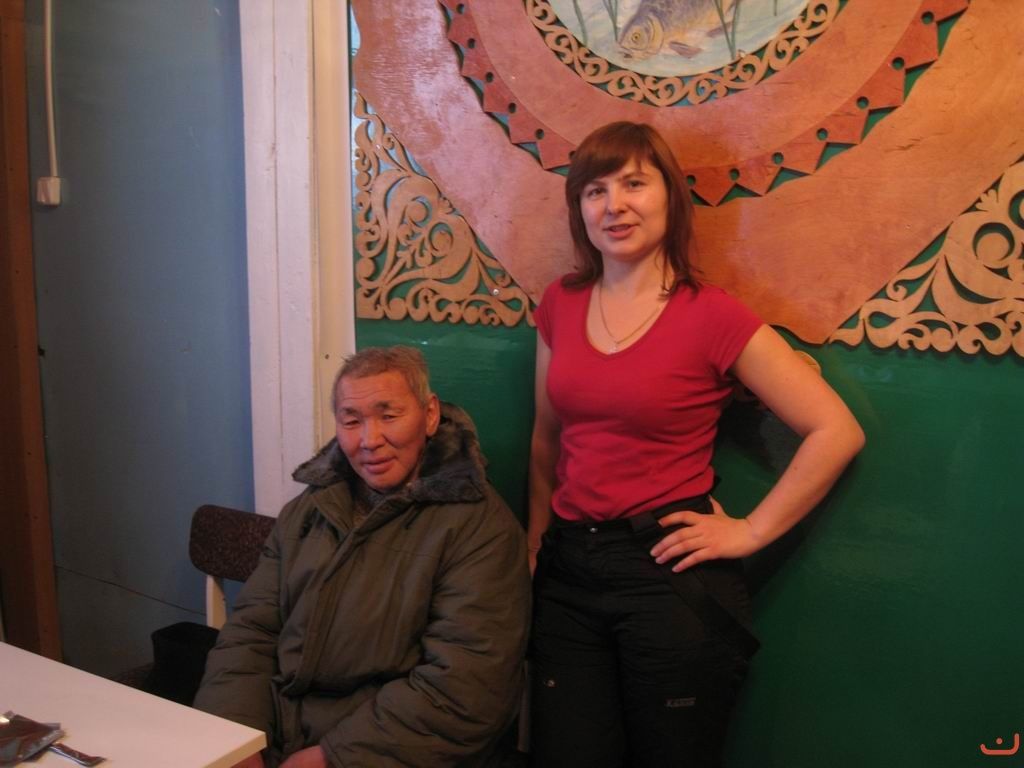 Natalya with a reindeer herder
Comparing with Europe, where we were having problems with propagation, we did not have those with Asia in particular with Far East and Japan. I was impressed by a number of correspondents from zero region. I think everybody of our expedition crew has very interesting connections in their logs, which he unlikely got operating from their home QTH. A QSO with Mikhail UA0ZDY/MM stick in my memory for long time. He was operating from Ust'-Kamchatka region (RDA KT-10) when sailing at a boat along the river Kamchatka and it was him to call me.

In due course we completely lost usual tempo of life "day-night" and forced our "biological watch" not to remind about themselves. We allowed ourselves to sleep 5-6 hours within the 24 hours, providing as minimum two workplaces always on the air and changing each other at the transceivers. Sometimes we were coming to the hotel to sleep, but as rule were sleeping at the shack's floor. In lines we were having meals in the café, bringing the food for those who was on the air.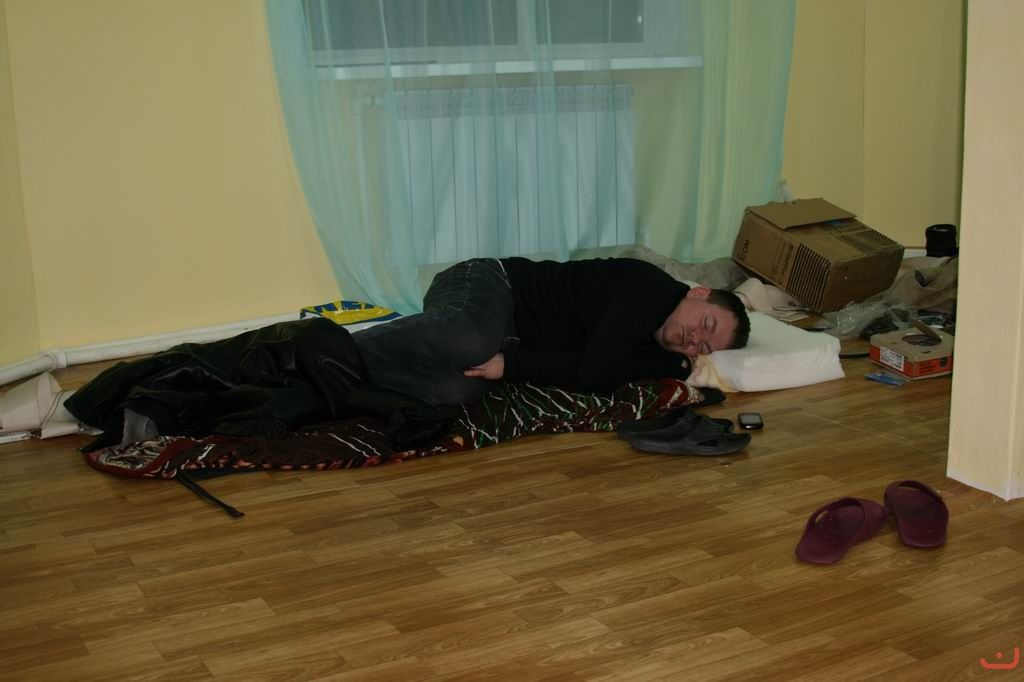 With the sounds of Morse code sleep very well
As I mentioned earlier there was mobile connection in the village and GPRS Internet, but very-very slow. It took several minutes to download a simple page, therefore we could not give quickly information and share the news. Besides there was neither time for that no spare computer. Mainly operators of the second workplace were using Internet during breaks between telegraph CQ.
Once we got a visit of correspondents of the local paper. We gave them a short interview and they took some pictures of us. We got a chance to capture the whole members of our crew together – it was the only picture of the expedition members together.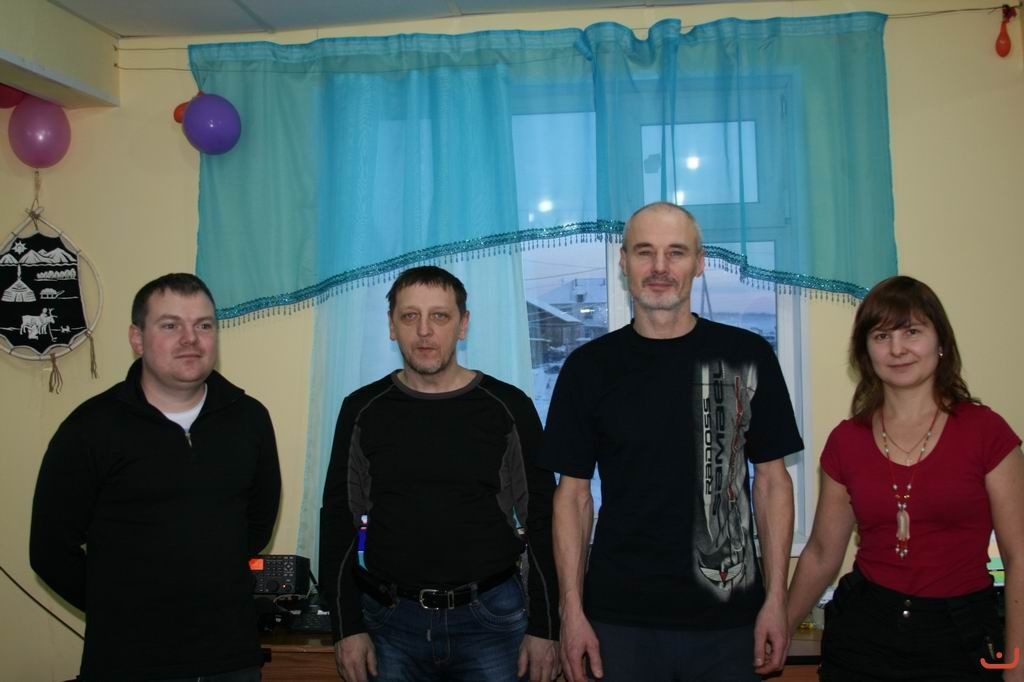 YA-38 team with its full complement
A Monday came – the last day of the expedition. To be more exact – the last day operatinf on the air from YA-38, because Tuesday morning we had to be ready to leave for airport.
We decided to work on the air till the end of the day, t.e. till the end of propagation at HF and to begin disassembling, leaving one aerial and one workplace till the early morning. The propagation during the last day was excellent and for everybody to enjoy by the pileup, we agreed to give 30 minutes to everybody in turn. Robinson was directed to Europe, there was 1 KWt in the aerial and there was a crowd on calling us at 20 m. We were operating in a rush pace, trying to connect with everybody who heard us.
The second workplace was also on the air, but having only 100 W and Delta. Natalia was doing her best in RSK at Vertical. But just in 1.5 hours the sun, having arose above the mountains, disappeared from the horizon, and propagation did also. Natalia kept operating on the air at 40 m, the rest went to disassemble the aerials.
Disassembling is not the same as construction, we rather quickly disassembled Robinson and DX-77, packed the equipment leaving only one workplace with an amplifier and Triangle.

UA9KW was the last who made a connection at 40 m in CW with OK1LZ. After making "OFF" at the transceiver, power unit and amplifier we began to pack the rest of the equipment. Yury and Natalia were disassembling the mast with Delta.
PART 6. Road home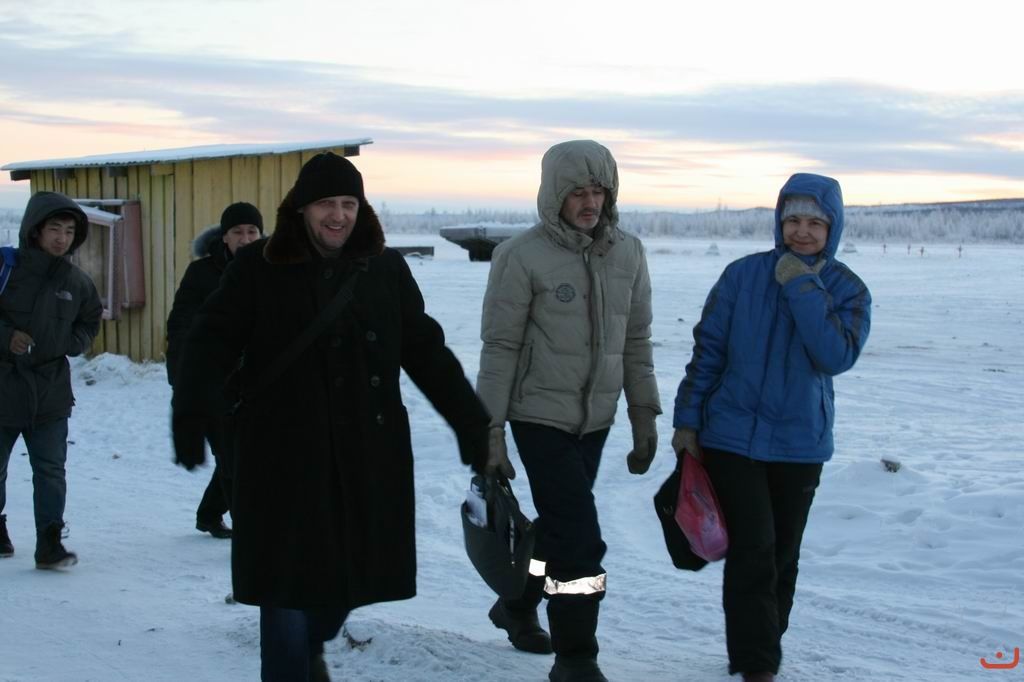 Go to the aircraft
The plane had come almost without a delay. The total weight of the equipment on the way back turned out to be 10 kg more comparing with the incoming one by unknown reason. When checking in we tried to request to "forgive" us the extra weight promising to write an article about it and place a picture but it brought no result. Therefore there is a picture of Yury UA9KW.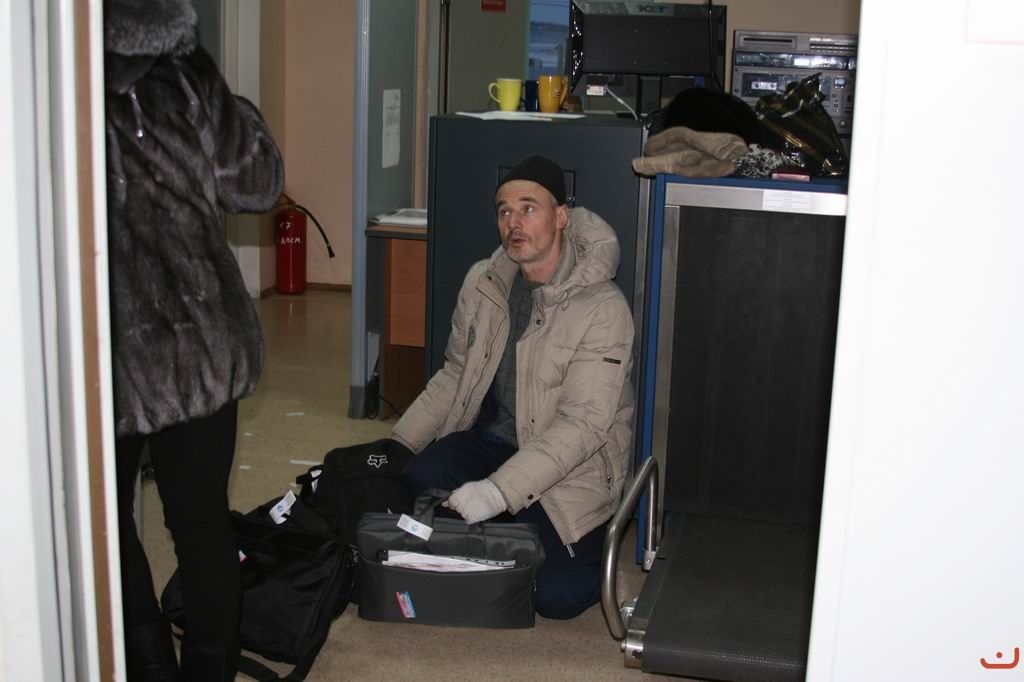 Yuri, UA9KW with hand luggage
We were thanking the local people for the warm reception and help rendered. The left alcohol was bartered to mutton and meat of the northern cows.

Speaking frankly it was lamentably to leave the region. While we were there despite a short time, we got used to it, to the local features, to good-natured and hospitable people. We got used to heavy frosts, to absence of conveniences, Internet and other delights of civilization.
We got used to the meat of deers for launch and dinner (apart from RA3AV). It was not a usual for most of us a way of life, which had to think once again about meaning of life and about what we need to get from the life nevertheless. Frankly, some members of our team were seriously thinking over the version of staying there constantly.
In Yukutsk, by request of Vadim, RT0Q, we were picked up by Roman, UA0QQE, with a minibus and we delivered a part of our equipment to a transport company to make our return home easier and to avoid the overweight.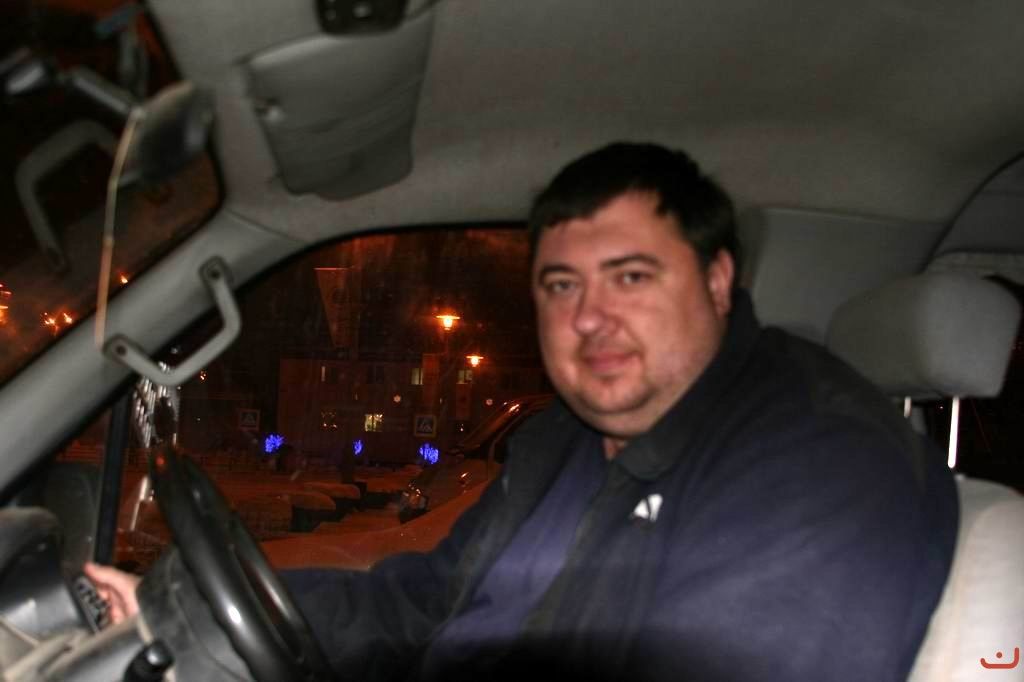 Roman, UA0QQE
On the way we bought some food for the dinner in the airport, famous Yukutsk balsam as souvenir and fish delicacy.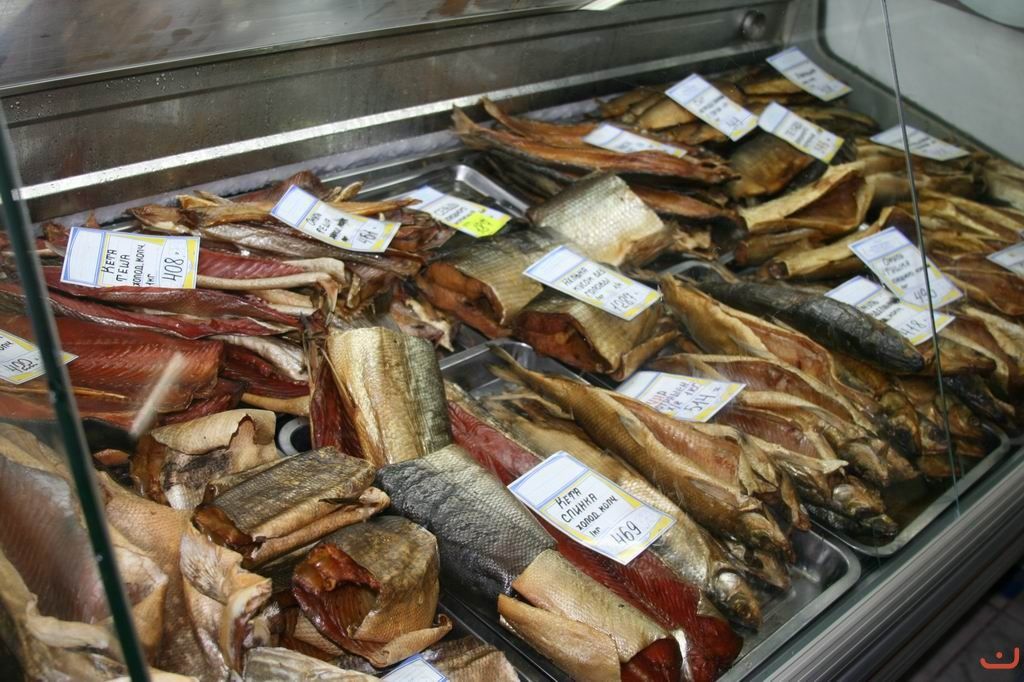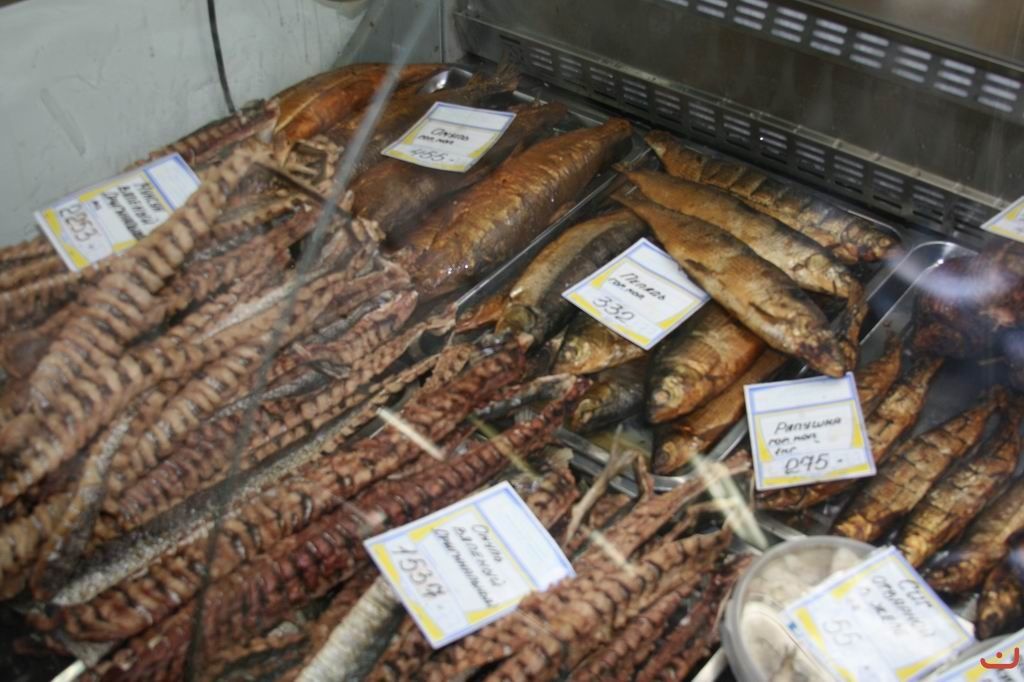 Shelves of local shops crowded fish delicacies.
After thanking Roman for the help we arranged in the familiar for us waiting hall of Yakutsk airport. Our flights home were due only in the morning of next day.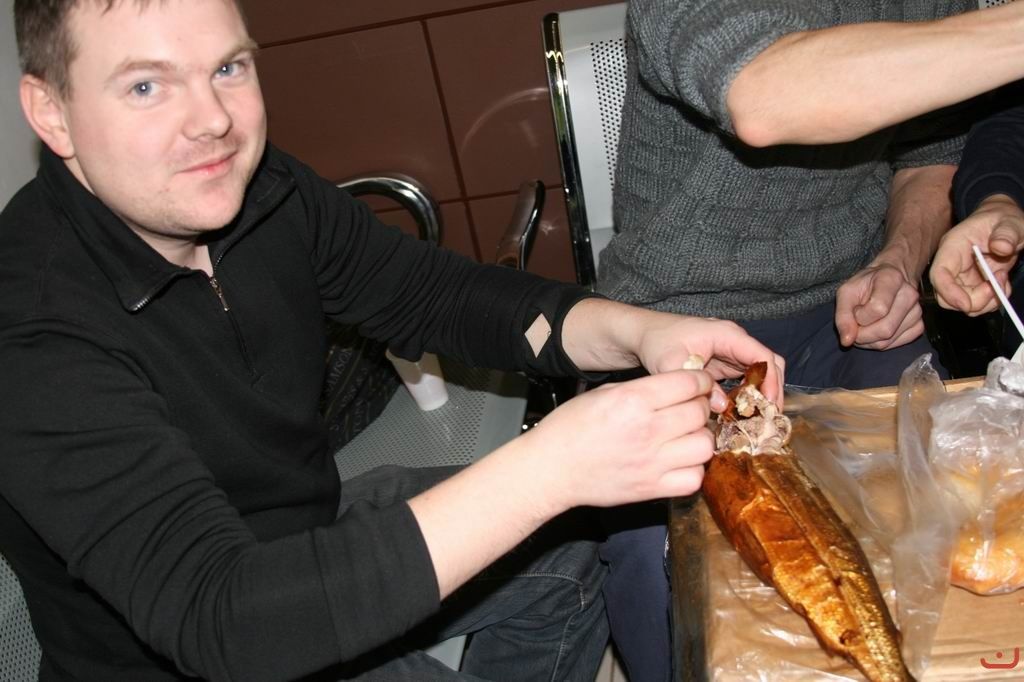 Dinner at Yakutsk airport. Smoked cisco directly melts in your mouth.
Despite all the problems, some gaps in the preparation from technical point of view and caprices of propagation, I must say for sure the expedition was a success. I am sure all the crew members and those who was hunting them, will support me in this opinion.
But it was a success resulted not only by our efforts, but thanks to very many radio hams, who was supporting us morally and could help us financially and technically. It gives me a great pleasure to realize that radio ham fellowship is very strong and many of us despite all, are ready to go towards and support a good idea!
Our special gratitude to our main sponsors:
Dmitry Pastukhov, RN3DHJ, and Thermocool company.
We thank also the sponsors, who made considerable financial input in this event:
- Avenir Sukhanov,, UA1ZZ
- Oleg Shishov, RC2A
- Segey Kislov, RJ3AA
- Igor Tolstosheev, RA3XDX
-Andrey Moiseev, UA0BA
- Club company Yang-Inform Ltd, RT9K,
and to many other, who categorically did not want their names to be mentioned in this list
Also we thank everybody who managed to make a financial support as they could.
Once again thank you for the support and trust!
We express gratitude also to all who helped us in organization, technical provision and to those who provided the equipment for the expedition:
- International club "ARCTIC"
- UT8LN QSL PRINT
- Maxim Zhuravle, RN3DDR
- Sergey Pavlov, RX3F
- Oleg Putkov, RK3AW
- Alexey Khamkin, RO5D
- Alexander Sukharev, RO9O
- Sergey Epifanov, RU3BT
- Vladimir Zlydnev, UA3A
- Vladimir Chepelkin, RD3BD
- Roman Miroshin, UB9OAR
- Maxim Pavlov, RA9OGA
- Eugeny Podnebesnov, R9OZ
- Vadim Rudchenko, RT0Q
- Vasily Chetvertakov, RN0QA
- Roman Tarabrin, UA0QQE
- Kristina Surchilova
- Alexander Pashkov, UA9OA
- Andrey Shalaev, UB9OBO
- Yury Kajgorodov.
A separate gratitude to those, without whom the expedition was unlikely to take place:
Roman Novikov, RX3RC – for the very interesting and popular diploma program RDA!
a to all citizens of the village Batagaj-Alyta for thei help and hospitality, in particular to Maxim Gorokhov and Semen Sleptsov!
In the end I want to say that after the expedition the interest of our crew members to similar events not only became smaller, but on the contrary, increased greatly, despite this was the last new one RDA. There are a lot of places on the earth, where no one radio ham ever sets foot on (I mean radio ham of our crew).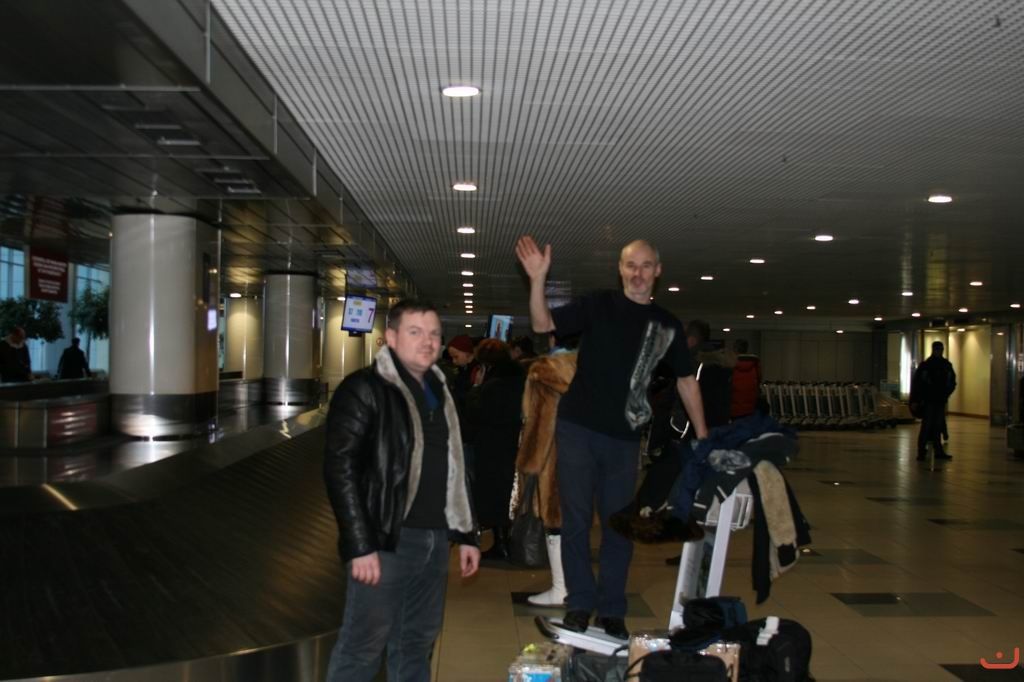 We're almost home! And Yuri again the next day to fly to his Salekhard.
Looking forward hearing you on the air!
P.S. Continent List (without DIGITAL MODE)
| | | | | | | | | | |
| --- | --- | --- | --- | --- | --- | --- | --- | --- | --- |
| Continent | 80 | 40 | 30 | 20 | 17 | 15 | 12 | 10 | ALL |
| USA | 4 | 82 | 0 | 84 | 0 | 1 | 0 | 0 | 171 |
| Canada | 0 | 5 | 0 | 8 | 0 | 0 | 0 | 0 | 13 |
| NA calls | 1 | 0 | 0 | 2 | 0 | 1 | 0 | 0 | 4 |
| SA calls | 0 | 1 | 0 | 0 | 0 | 0 | 0 | 0 | 1 |
| Europa | 76 | 668 | 63 | 1299 | 2 | 71 | 1 | 0 | 2180 |
| Africa | 0 | 0 | 0 | 0 | 0 | 0 | 0 | 0 | 0 |
| Asia | 136 | 370 | 29 | 899 | 3 | 107 | 1 | 36 | 1581 |
| Japan | 9 | 129 | 29 | 186 | 1 | 96 | 0 | 23 | 473 |
| Oceania | 2 | 5 | 0 | 7 | 0 | 6 | 0 | 0 | 20 |
73! Vasilly, RA1ZZ/3