The plan is following
It is necessary to mark that those elements and details being planned may be modified, changed and elaborated in the course of preparation and carrying on of the HAMfest on the go, what will be reported, indeed.
That is: what we have done is a kind of rough sketch of HAMfest events architecture, and on the basis of parameters and conditions available at a moment we shall collectively determine key elements. And let us watch with interest in the course of a play, with what details exactly each action will please us, and what common picture of the HAMfest shall we obtain.
So, same as last year no rock-solid structure of the HAMfest exists, and all we have is some common direction of the movement.
So everyone who will participate this holiday of a life – please offer and discuss without hesitations everything what in your opinion could complete, improve and correct the event. How will it all look exactly – we shall see. Your proposals and various external factors which will arise on the go will at last form final program of the HAMfest.
For example, it could appear that the HAMfest has canoe at hand. What shall we do with it and to where shall we sail? Any ideas? Well, we shall operate /mm, it's clear, but what else?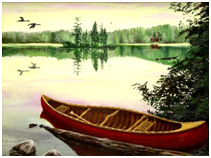 Artist Michael Cannoly. Photo by: Free HD wallpapers.