Sergio, PY3SB will be active from Haiti until December 2014 as HH2/PY3SB.
He is active on HF 40-6m CW, SSB.
QSL via home call direct, LOTW.
Haiti Country Information
Haiti, officially Republic of Haiti, is a country in Caribbean sea.
Motto- Freedom, Equality, Brotherhood.
Capital city- Port au Prince.
Official languages- french , creole.
Independence from France- 1 January 1804.
Currency- gourde HTG.
Time- UTC -5 Summer time UTC -4.
International Phone code- +509.
Internet domain- .ht
International Telecommunication Union callsigns/ prefixes- 4VA- 4VZ; HHA-HHZ.
HH2/PY3SB Haiti. Information for Radio Amateurs
DXCC country- Haiti.
WAC continent- North America.
WAZ zone- 8.
ITU zone- 11.
QTH locator- FK38.
RSGB IOTA reference:
IOTA NA-096 Hispaniola Haiti, Dominican Republic.
IOTA NA-149 Haitis Coastal Islands.
Amateur Radio organization- Radio Club d'Haiti RCH, member of International Amateur Radio Union IARU.
President: Victor Lemoine, HH2V
Secretary: Jean-Robert Gaillard, HH2JR
IARU liaison: Vice President Bernard Russo, HH2B
Haiti
A Caribbean nation, Haiti, dominates Hispaniola Island's one-third part. This Caribbean nation is defined by its distressed past. Till date Haiti's future remains uncertain to a great extend. Haiti has been thronged with years of political and environmental tension, poverty, coups, dictatorship and violence. It is amongst the poorest of Caribbean countries. Thus, visiting Haiti will help its tourism sector. Haiti might be defined by its troubled past and poverty, but those visiting the country will be in for surprises, because the country is embedded with a rich culture and history to explore and look forward to!
Haiti is a mountainous country, with flat plain on the northern region. Chaine de la Selle is its highest point, elevated at 2777 meters. Haiti is divided into 3 parts – Northern Haiti, Central Haiti and Southern Haiti. The Northern Haiti is made up of premier cities and beaches that are located close to Cape-Haitien. Central Haiti is the country's population center and Southern Haiti is a tranquil part of the country, comprising vital destinations for backpackers – Ile a Vache, Port Salut and Jacmel.
Haitian Cities
The important cities of Haiti are Labadie, North West, Mole Saint Nicolas, Citadelle Henri Christophe and Gibraltar of America or Canal du Vent.
What to see and do in Haiti?
The administration does not recommend a tour to Haiti. Currently, the country is plagued with political instability, which is causing its tourism sector a huge loss. The attractions that the country offer to those visiting it are the beaches, waterparks, Haitian Flea Market and Jacmel city, but today it has also become volatile. Haiti is defined by its French architecture, which is due to the French colonial period, its pristine and beautiful beaches, cultural carnivals that are colorful and vibrant and the warm and friendly Haitians!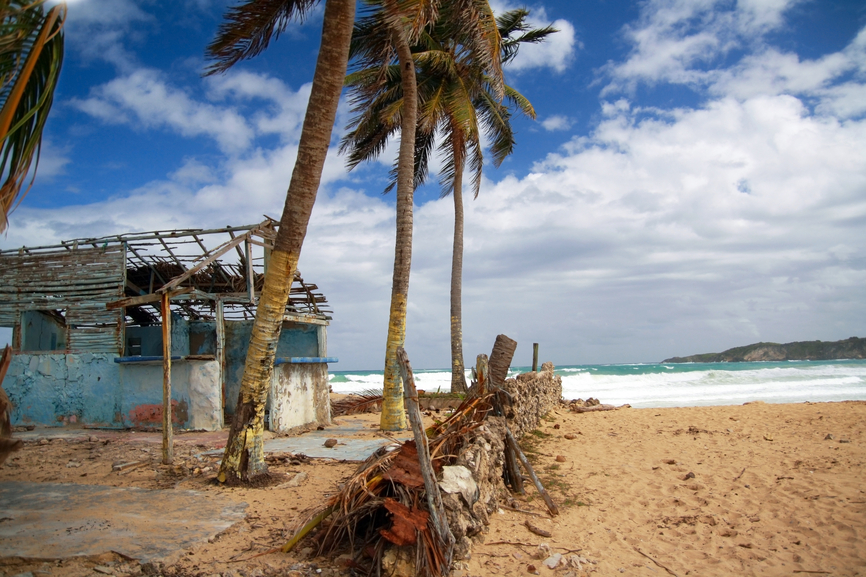 Bassins Bleu is made up of 3 pools that are cobalt blue in color and characterized by beautiful cascades. The cobalt blue color of the pools is due to the dissolution of minerals. Then there is Maison Cadet, which is a premier building made of red iron. Another sight of attraction in Haiti is Fort Jacques, which was constructed in 1804 during the fort-building era. Alexandre Petion had built the fort. Fort Jacques is the primary attraction of Fermathe. End your sightseeing in Haiti by visiting the northern part of Montrouis in Musee Colonial Ogier Fombrun. This is located in Moulin sur Mer and is a colonial sugar mill and plantation that has been restored till date. It contains a collection of items from the colonial era, for example, the room that exhibits slave shackles.
Haiti was shaken by the 2010 earthquake, which killed thousands and left many abandoned and homeless. The nation is getting further impoverished because of political turmoil. Despite all these tensions and hardships, Haiti and its people have kept their spirit alive and intact. Though officials, advice against travel to this country, we can only pray that situation smoothens and travellers get a chance to explore this strikingly beautiful country once again!
Video Haiti