Friends,
We are beginning a series of interviews with famous contesters. The opening of the series is an interview with Jim Neiger, N6TJ.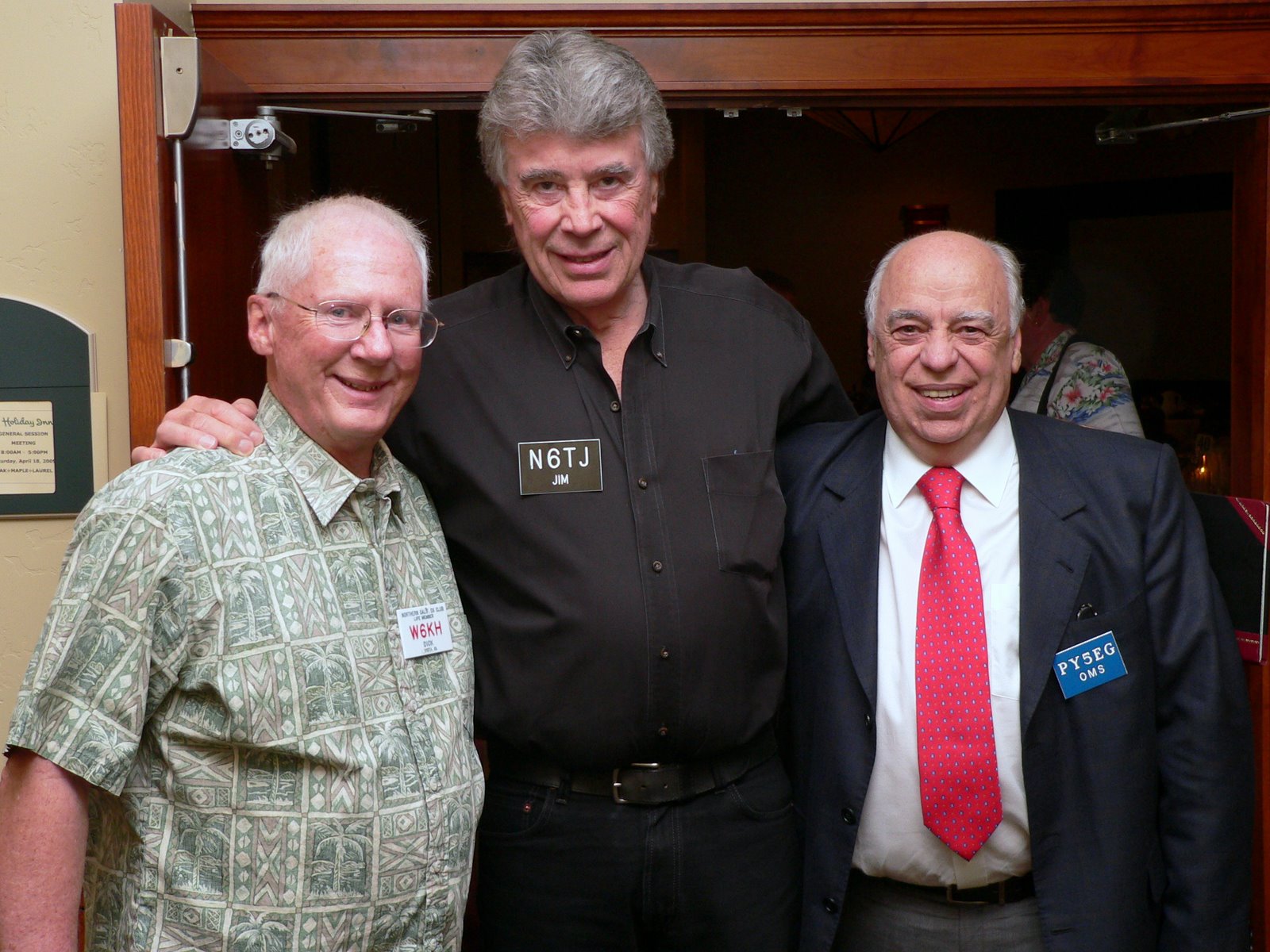 I know Jim for many years. We have been exchanging letters and talking on air since Cold War time.
I have learned a lot about contesting from Jim.
He helped me to grow up as a contester, sent some books and share precious know-how.
Our generation have read anything about Jim's operations from cover to cover, and listened to his fabulous key and voice in contests.
His active participating in CQ WW from 9Y4 was just fantastic.
Later he has operated from D4 and ZD8 given these territories as new ones for many hams.
Q: Please tell us about your ham radio and contest activity
A. I was first licensed in 1954 as WN7WJB in Salem, Oregon. My first contest was the Novice Roundup that year, followed by Field Day in 1955, and then the Sweepstakes, and CQ WW DX Contest in 1955. While at university in New York, I had a summer job on the ice-cap of Greenland in 1961, and signed KG1BA and KG1CC. My first DX contest from overseas was the 1967 CQ WW DX CW contest as KX6DB from Kwajalein Atoll, in the Marshall Islands. I could operate only 20-15-10, for about 27 hours, but still made the Top Ten. As I recall, one of my heroes - KH6IJ - was No. World. I moved to Ascension Island in early 1968, and spent about 15 months there as ZD8Z. From there, I moved to Trinidad in 1969, for one year, and signed 9Y4AA. Then I was back to USA, with work in the Phoenix Islands, and I operated the 1971 CQ WW CW DX contest as VR1W (British Phoenix Islands - now T31). From the same station I could change call signs to KB6DA (Canton Island, also American Phoenix Islands) - also a very rare DXCC country. In 1972, I operated 4M4UA in Venezuela in the CQ WW SSB DX contest, which was No 1 and a new world record. Over the decades, I have operated many more ARRL DX, CQ WPX, CQ WW, ARRL 10, IARU etc contests, signing D44BC, ZD8Z (many times since 1989), OJ2F, T77C, ZW5B, XE2SI, TI1C, 8P6J, V29J, ZF2TJ, 9Y4AA, 9Y4W, ZX5J, several KH6, SU1ER, JY7Z, etc etc.
Q: What contest result or results do you value as most important for you? Which contest was most significant and memorable for you? Please tell us in details.
A. Two special memories for me: in 1969, I was No. 1 World (+ world record) in ARRL DX CW, No. 1 World in CQ WW SSB DX, and No. 1 World in CQ WW CW (+ world record). Also, I think I'm the only one to win ARRL DX CW from 3 different continents.
Q: Are you ready to make an official statement why you left CQ WW contest committee or why has contest committee asked you to leave?
A. After five years of diligently checking logs, I quit the CQ WW Committee in 1978, primarily because K3EST did not want anyone to be DQed. I also believed that many of its rules were/are archaic, require updating, but the Committee seems to be opposed to most change.
Q: How do you feel about current situation in contesting?
A. On a world stage of competing for No. 1, SO/AB: TERRIBLE. The absolute cheating has left me with no interest to even try and compete against these cheaters. There's about a half dozen who I know to be the biggest of the cheaters, and they all seem to be from Eastern Europe or Russia.
Q: What solution can you offer to change the situation?
A. It will take a conscientious effort by all to change this, like referee's, DQ, etc. If a station is DQed once, they should be banned for the next 3 years. If they're DQed a second time, they should be banned for life. Station hosts who allow this cheating should have their station operations similarly banned.
Q: I have financially supported and provided N6TJ's "contest observer"idea. The results are known and I have commented these results many times. What is your opinion about this "observers"program?
A; It was a good idea, but required better management, so it didn't end up too good. Referee's work at WRTC, and I see no reason the observer program could not work.
Q: What do you wish to tell contest community?
A. Please try and restore some sanity to what contest operating was once. It's not all about technology. It's about human beings being able to communicate effectively and fast.