W5FJG will be active from Amundsen Scott South Pole Station Antarctica until November 2014 as KC4AAA.
He is active most sundays 00-03 UTC on 14243 or 7243 kHz.
Recent DX Spots KC4AAA
QSL via K1EID.
Information from manager
The e-mail address above is for the QSL Manager I CAN NO LONGER TAKE IRC'S---- IGNOR ANY LOGBOOK FILES. THEY GOT HERE IN ERROR
I HAVE LOGS FROM 1988 UNTIL THE PRESENT. IF YOU ARE ASKING FOR A CARD BETWEEN LATE FEB 2002 AND NOV 2009 CHECK WITH THE QSL MANAGER BY E-MAIL FIRST BECAUSE A LOT OF LOGS ARE MISSING.
PRESENT QSL CARD
KC4AAA Amundsen Scott South Pole Station Antarctica News 4 January 2023
Dr. George Worthley KJ4CHT will be the winter over Doctor at the South Pole. He is becoming familiar with the remote setup at KC4AAA and the Logbook in the HRD program. I look forward working with him during his winter over adventure at South Pole.
Bill K7MT
KC4AAA Amundsen Scott South Pole Station Antarctica News 3 January 2023
One of our club members , Dr. George Wortley KJ4CHT, is at the South Pole for the winter, and has been persuaded to get KC4AAA on the air. George is a relatively new ham, and has made only local FM QSO's in the past, but is excited to try HF operating. Little does he know what to expect! George will be operation on SSBover the next 7 - 10 days from South Pole KC4AAA on 20 meters and will try other bands depending on conditions K7MT US Antarctica Ham Stations QSL Manager
KC4AAA New QSL Manager
New QSL manager for KC4AAA is K7MT.
Ads for direct qsl:
WILLIAM ERHARDT, 2851 FESTIVAL, HELENA, MT, 59602, USA.

Amundsen Scott is US research station at the Geographic South Pole.
Its named in Honors of Roald Amundsen and Robert Scott.
Station is constructed in 1956-1957 and relocated and rebuild in 1975.
During summer population of the station is over 200 people.
Amateur radio call- KC4AAA, KC4USN.
WAC Award- South America, Australia, Oceania, Africa.
DXCC award- Antarctica.
WAZ award- count any one of zones- 12, 13, 29.30.32,38,39.
QTH locator- JA00aa.
Amundsen Scott South Pole Station
Amundsen Scott South Pole Station is not a tourist avenue. It is a located at the southernmost end of the Earth, at Geographic South Pole. Amundsen Scott South Pole is a scientific research station, present in Antarctica's highest plateau. The US government had built it initially in the month of November 1956. Originally, it was a section of IGY or International Geophysical Year. Prior to the foundation of Amundsen Scott South Pole Station, there was no human inhabitation or presence in South Pole. Whatever research centers were present, had their locations either near or on the seacoast.
The land of day
Amundsen Scott South Pole Station, as the name suggests, is present at the South Pole. Here in South Pole, the sun is up continuously for 6 months straight and down for another 6 months. So, the Amundsen Scott South Pole Station has to experience 6-month long day and another 6-month long night. During the 1st 6 months, the sun rises that on the equinox of September and then sets on equinox of March.
During the 6 months of continuous night, the region experiences an extreme bout of cold weather. The temperature is below 100 degree Fahrenheit. There is nothing but darkness, with blizzards and forceful winds. The atmosphere is dark and dry. It is during this time, when making astronomical observations from the station becomes easy and effective.
People occupying the Amundsen Scott South Pole Station include researchers and scientists. Their number varies as per the season. The summer operational season has at least 200 occupants and during the winters, there are only 50 or less occupants at the station.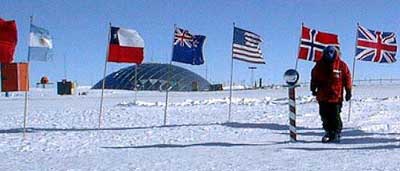 Original Station
Construction of the original station, which is known as, the Old Pole was done between 1956 and 1957, but 18 US navy members. Part of the station was constructed underground because of the harsh weather conditions. This was done as a mode of protection for the occupants from severe weather. The station experienced complete abandonment in 1975. It was buried deep, with only the roof visible.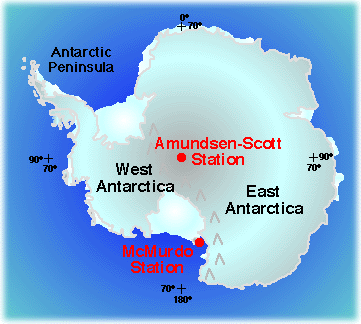 Supporting Science
Amundsen Scott South Pole Station includes Martin A Pomerantz Observatory, designed for astrophysics, Atmospheric Research Observatory and computer systems for the purpose communication and research. The station is renowned for collecting a continuous and longest set of meteorological data that from the vast interior of the Antarctic and its ice plateau.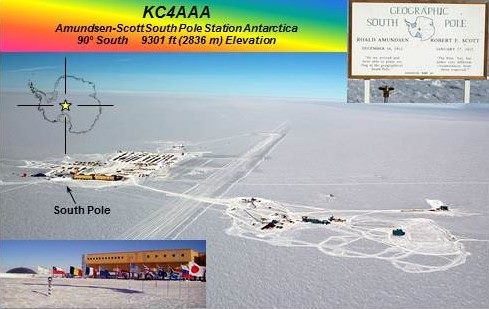 You can reach Amundsen Scott South Pole Station, when visiting the South Pole. The station is not a tourist destination, but Antarctica is. Numerous cruise ships start for this place from the month of November till the month of March. You will have to shell out thousands of dollars for your voyage to this extreme part of the world!
Video Amundsen Scott South Pole Station