Members of the North Country DX Association (NCDXA) will be active the entire month of March 2017 from several different locations in Alaska, Yukon, Northwest Territories, Nunavut and Greenland using all NCDXA "RST" fixed station calls KL7RST, VY1RST, VE8RST, VY0RST and OX7RST to further promote Amateur Radio in northern North America.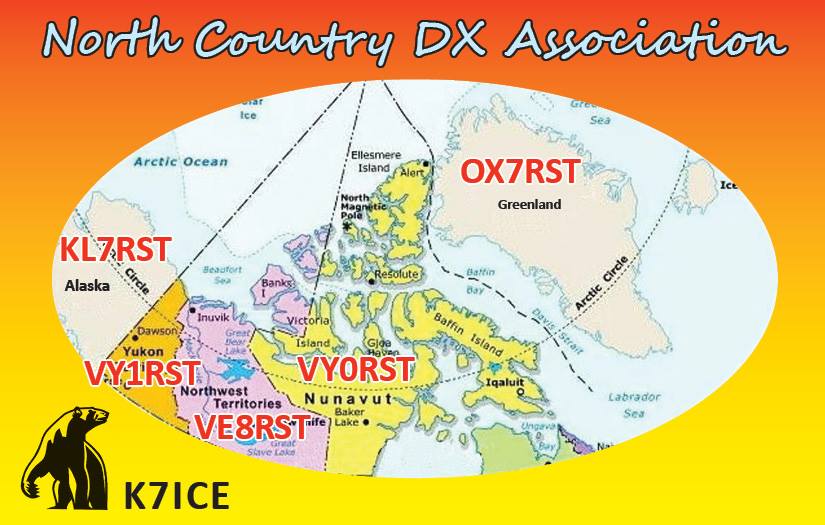 North Country DX Association. Logo.

This is our 2nd annual special event with the addition of OX7RST, more rovers and fixed stations, new QSLs and certificates!
All modes 6 - 160 meters and WARC bands are permissible.
SWLs are welcome to participate.
The object is to work or log (SWL) as many NCDXA "RST" stations as you can from their different locations. To participate you need to work each "RST" station only once per their QTH, band and mode.
No cross band, cross mode or remote operating allowed.
Portable rover "RST" Stations will also participate. Some of the portable stations are: KL7RST/KL7, VY1RST/VY1, VY1RST/KL7, VE8RST/KL7 and VE8RST/VY1 etc.
Watch the DX spots as we plan to have stations on from a Canadian research station near the North Pole on Ellesmere Island, a diamond mine in NWT, an Alaskan bush school, an OM/YL team from Nuuk, Greenland and many other cities up north large and small.
For your convenience, we'll upload our logs to ARRL's LotW.
Full color QSLs are available via K7ICE bio on QRZ.com.
Optional full color certificates are also available (email JohnKL7JR@gmail.com for details) for working/hearing any of the "RST" stations.
QSL manager K7ICE.
SPECIAL EVENT DURATION: March 1 through March 31, 2017. SPECIAL EVENT EXCHANGE: NCDXA "RST" stations send signal report and QTH (ie- 5x7 Anchorage, 5x9 Whitehorse etc.).
Receiving stations should send signal report and state, province or country.
SPECIAL EVENT CERTIFICATES: Beautiful full color certificates are available via K7ICE for:
Level 1… Work any of the NCDXA "RST" stations.
Level 2… Work all of the RST fixed stations (KL7RST, VY1RST, VE8RST, VY0RST and OX7RST).
Level 3… For RST operators and those stations contacting them. RST ops work as many stations as you can, and all others to work as many RST stations, fixed/rover or portable as they can.
Count 1 point for each QSO.
All certificates will be emailed in pdf format.
Thanks in advance for your DX spots!
73 de "Yukon John", KL7JR NCDXA "RST" stations are on Facebook.