A recent DX-pedition to the remote archipelago of Tokelau, halfway between New Zealand and Hawaii, had one worthwhile point on their agenda - introduction of Amateur Radio to a group of local youngsters. Obviously, these prospective radio operators are not likely to become DX chasers. They might find it useful to be able to communicate with the outside world using such simple means as shortwave radio. A hobby can be helpful in case of emergency, which most of Amateur Radio operators in the developed countries easily forget. Radio communications is still crucial for all agencies and organizations providing service in every society. We are privileged to have access to segments of the RF spectrum and some of us find it stimulating to contribute voluntarily to the local community. This approach gives a deeper meaning to this odd pastime.
A few days ago, large part of the state of California was deprived of electricity to prevent wild fires. Many Amateur Radio operators are equipped with radio equipment running on alternative power supply, and can relay vital information in such times. Generally, the potential of amateurs passing third party traffic is well recognized in the USA. Even the national organization's name highlights the original function of relaying messages, i.e. American Radio Relay League. The number of radio amateurs involved in emergency communications and their actions in the USA is huge; we can read about them almost daily.
It is different in Europe, but the wind of change is blowing over the Old Continent. More and more radio fanatics convince the governments of their aptitude to assist professionals in need. Groups of radio amateurs join search parties, create communications networks during natural disasters and power outages. I have met several members of the Emergency Communications Group in Poland, Central Europe, and even attended a gathering promoting their point of view, and Amateur Radio in general. The date was October 13, 2019, and the venue was a hideaway spot in an old forest south of Warsaw, the capital city. This autumn Sunday was a lucky day weatherwise, blue sky and well over 20°C/70°F. This was a radio-oriented family picnic.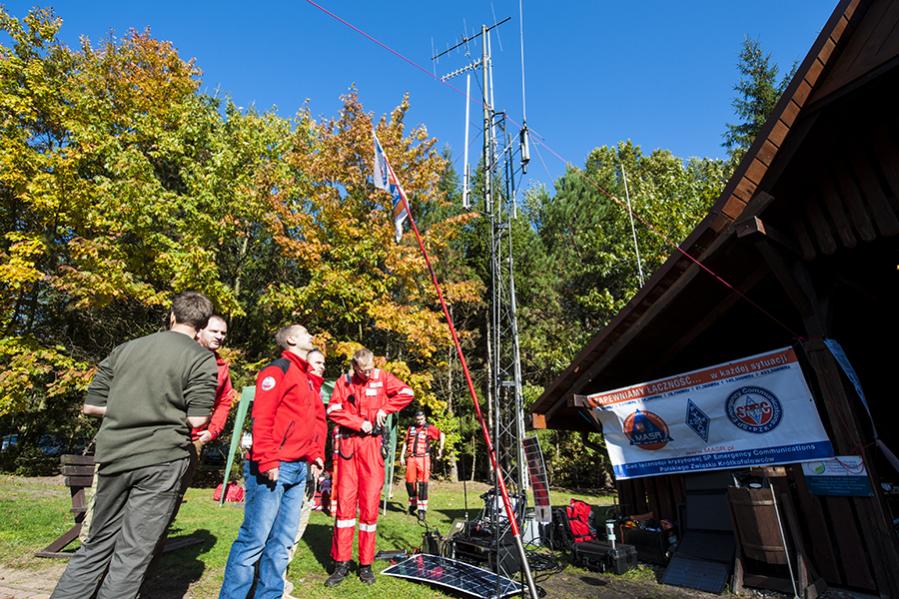 Antennas for HF/VHF/UHF in front of the wooden log shelter in the middle of a forest near Celestynow, south of Warsaw. Members of the Emergency Comm Group wear striking-red clothes. This place is run by the local Forestry Administration and the focus is on education and recreation.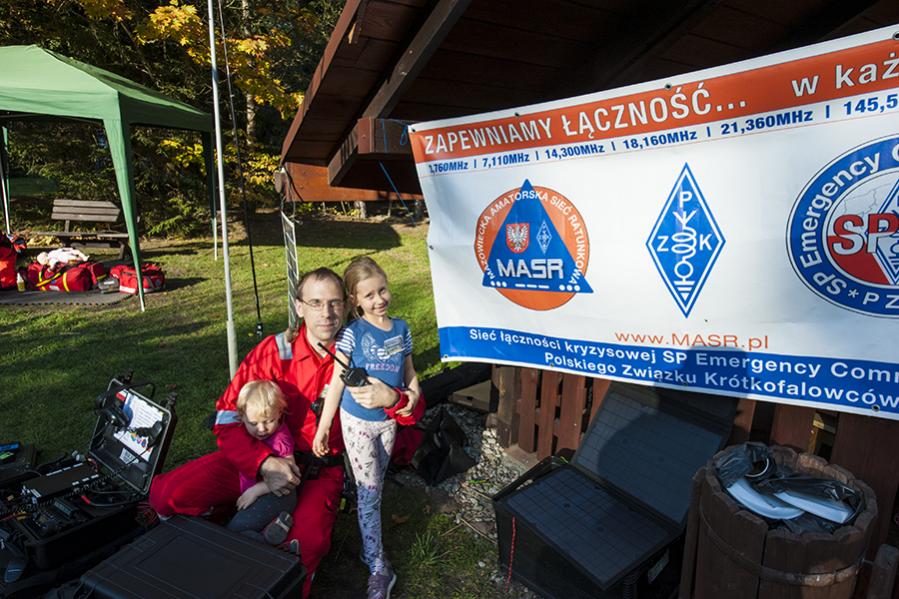 Boleslaw, SQ5PE, came here with his family, like many others. The banner posted outside the shelter says "We provide communications" and shows regular frequencies used.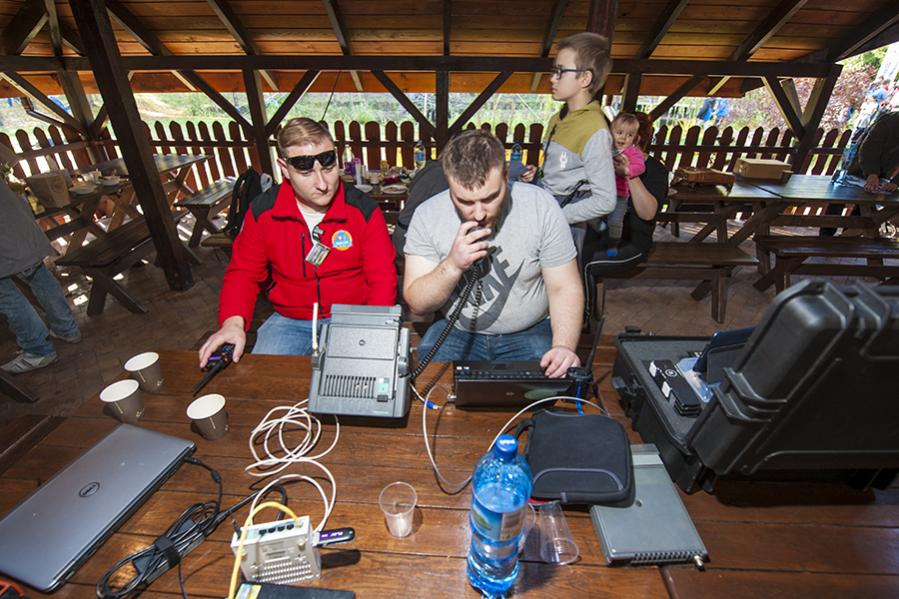 Inside the shelter, several operating positions were set up, using mostly VHF and UHF equipment, in order to demonstrate different modes and techniques.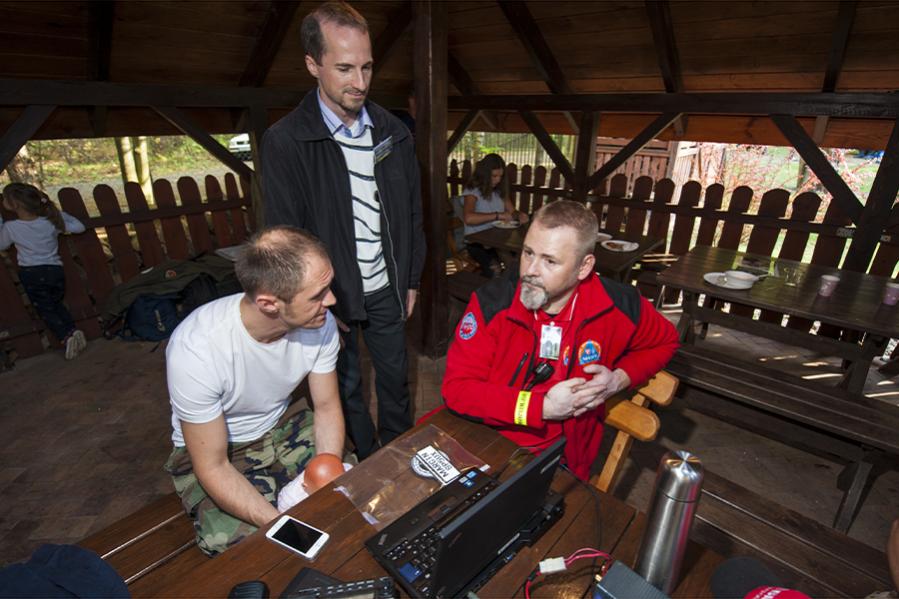 Maciek, SQ5EBM, in red, shares his knowledge and experience of setting up temporary and portable radio stations.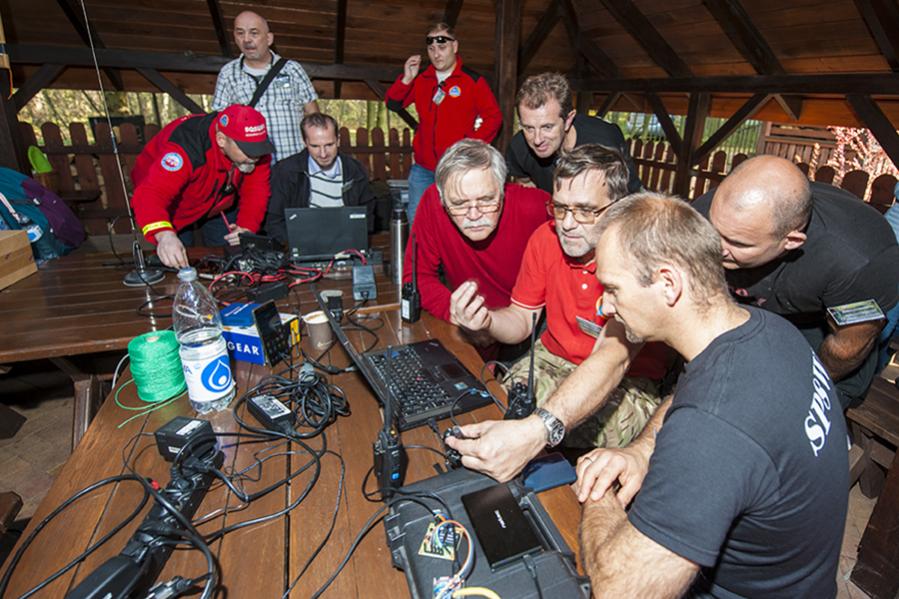 One of several groups of curious radio enthusiasts learning the latest in technology.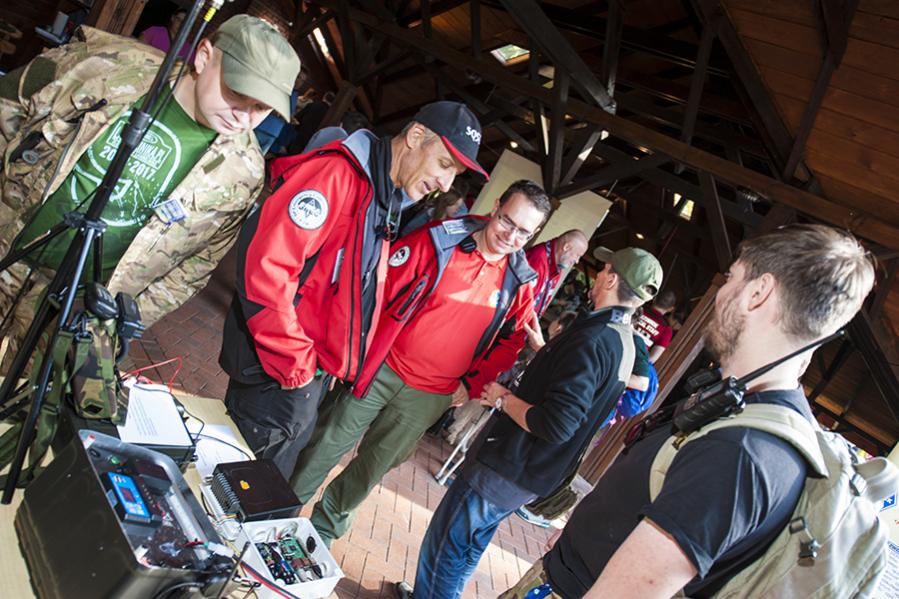 A group of members and visitors discuss one of the portable packages displayed at the meeting, a self-contained box with transceiver, power supply and computer interface.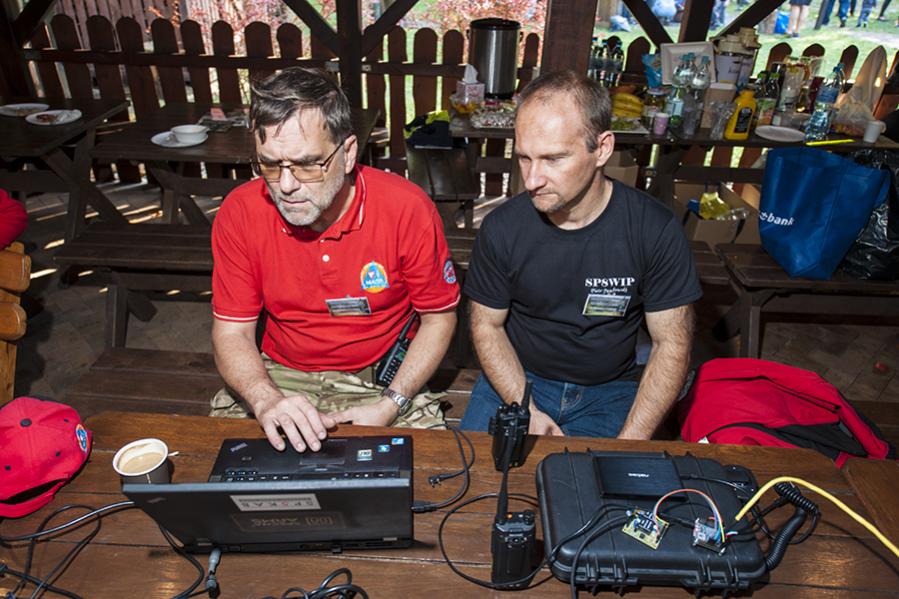 Jacek, SP5TA, (left) reveals some secrets of digital communications to Piotr, SP8WIP.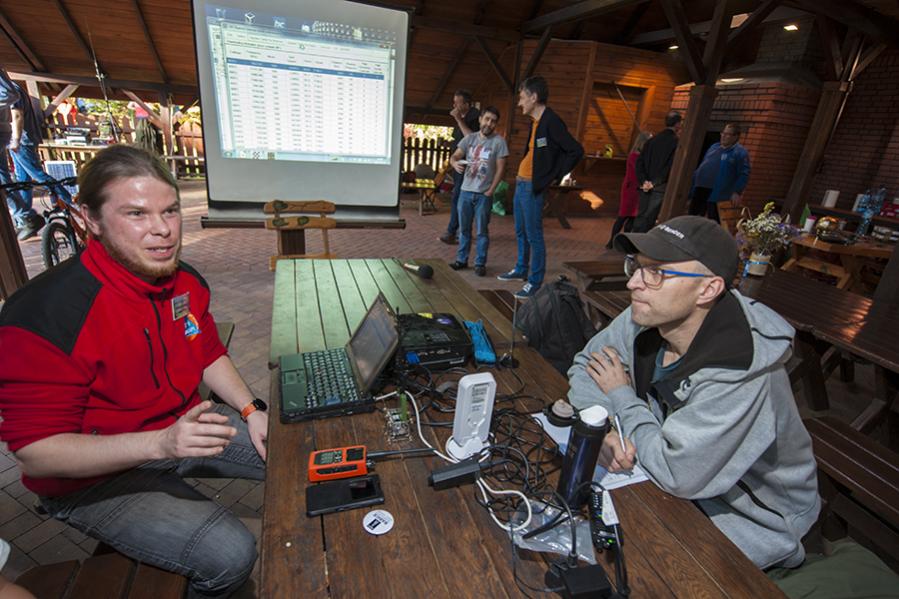 Tomek, SQ5T, at the computer, gives instructions on how to use WinkLink e-mail system. Jacek, SQ5GRJ, (right) listens attentively. The majority of contemporary radio amateurs are attracted by automated digital modes.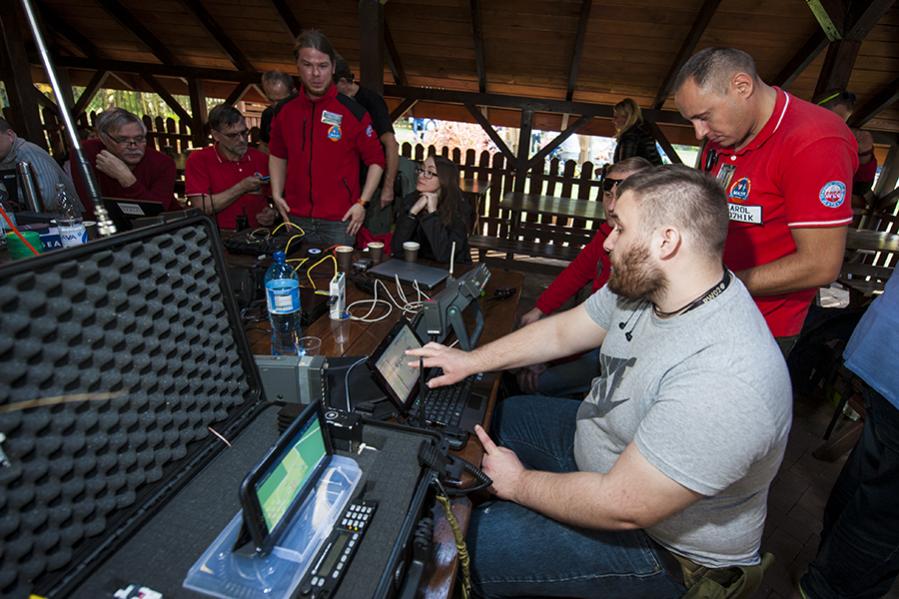 Mikolaj, SP5ME, handles one of those modern radios, while Karol, SQ7HIK. is trying to follow his instructions.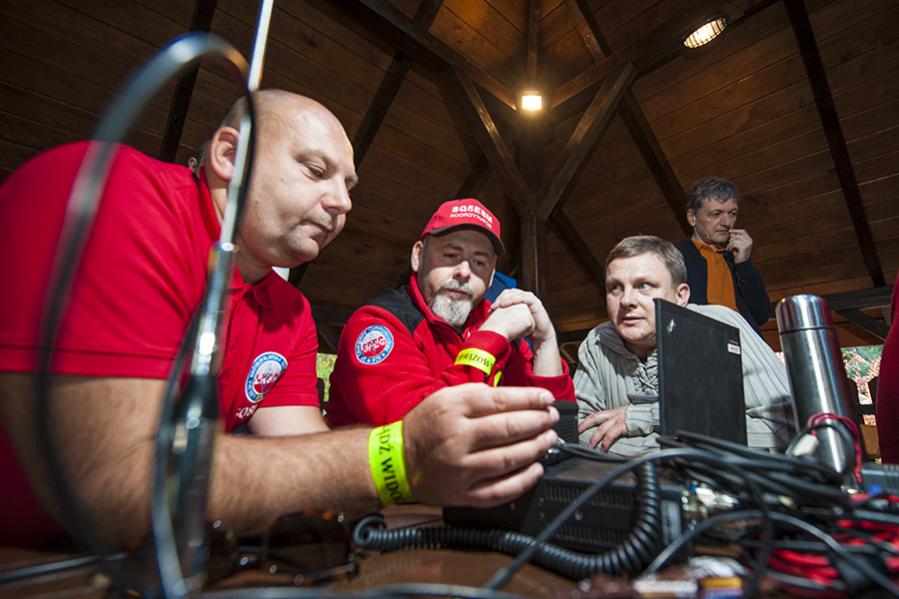 Personal advice and practical instructions are priceless.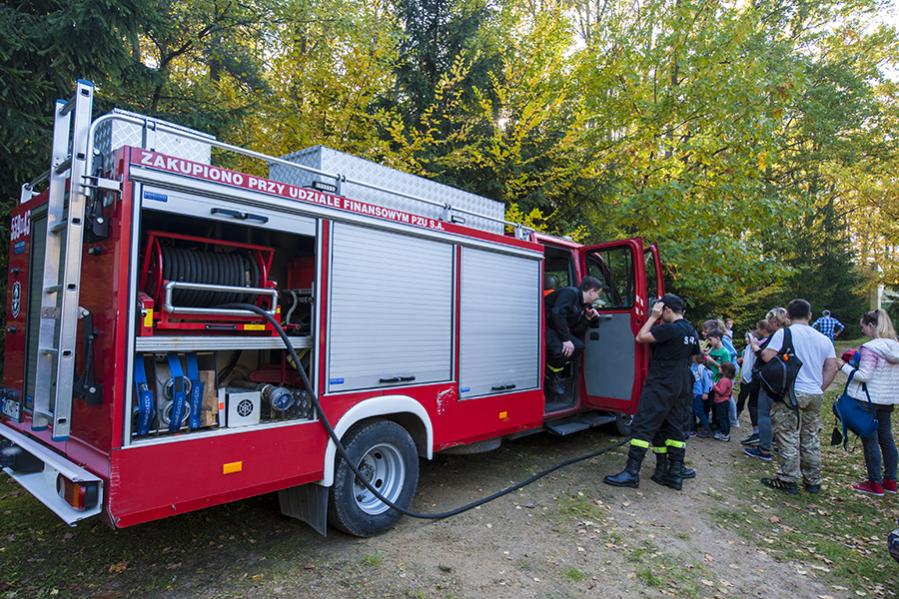 The local fire brigade were present and attracted both children and adults. Firefighters depend very much on radio communications and quite a few of them are also radio amateurs. They tend to deploy local range radios and repeaters, but some of them become interested in old-fashioned shortwaves.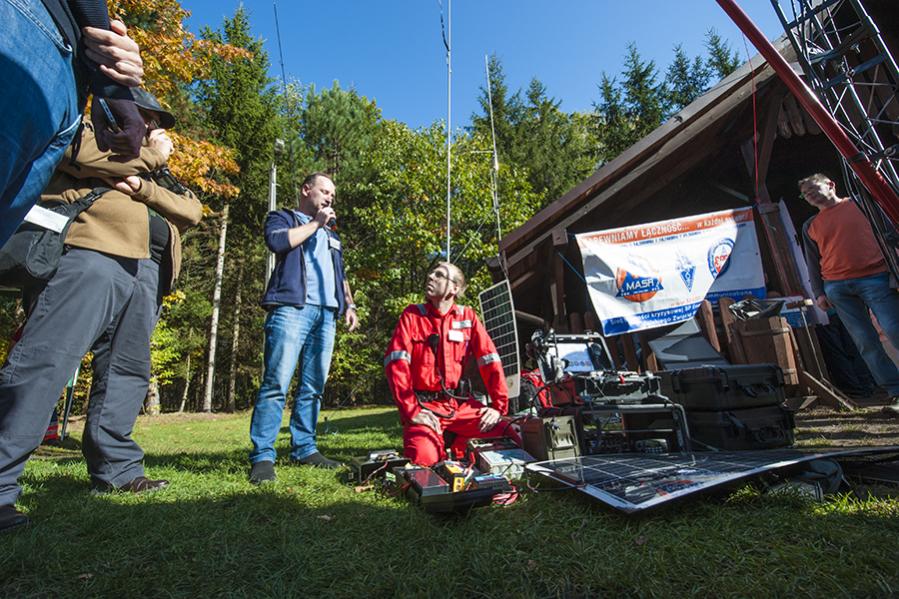 Boleslaw, SQ5PE, sitting, is a guru on batteries and solar cells. He shared his experience with different types of back-up power systems.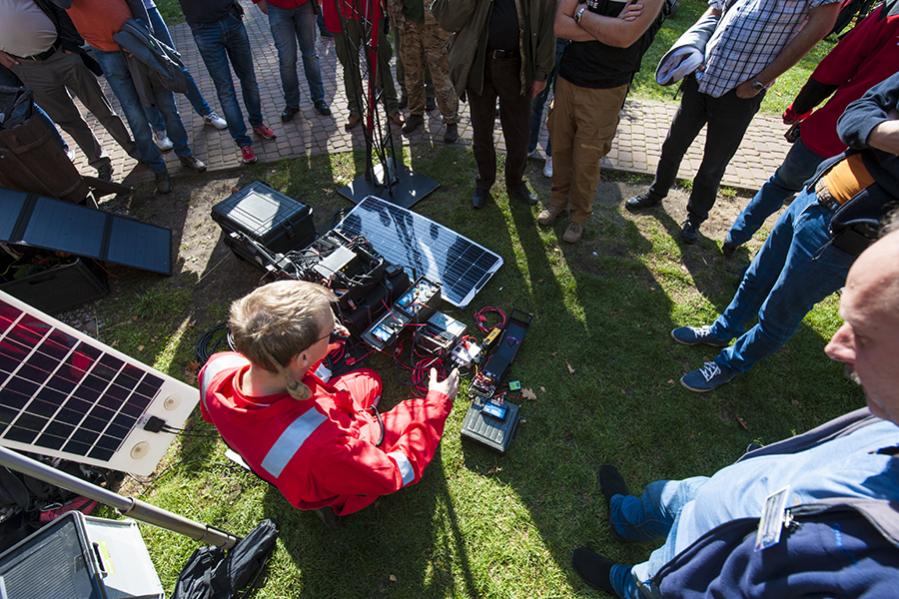 Boleslaw, SQ5PE, surrounded by a ring of listeners, who admire his collection of batteries and solar panels. Emergency communications depends very much on reliable electric power sources.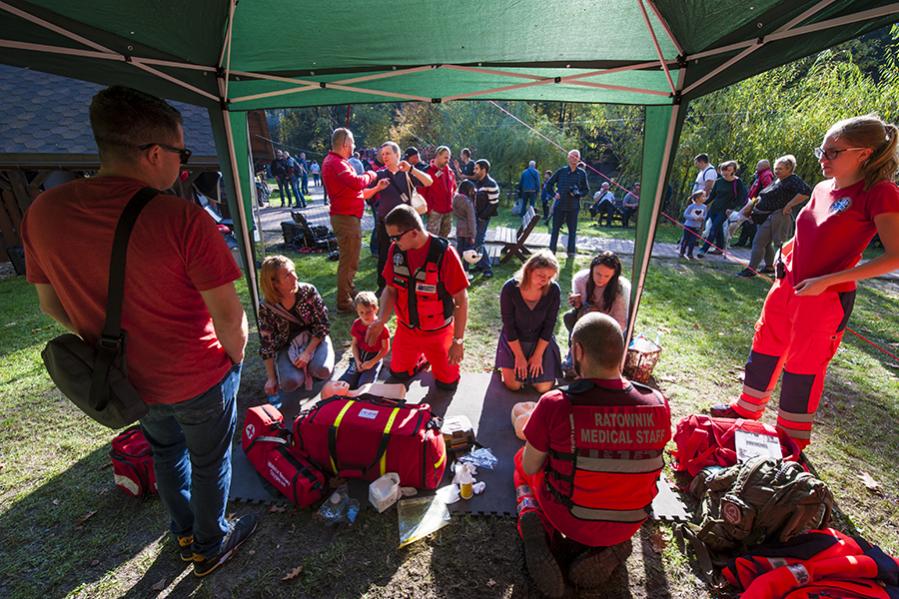 A paramedic team was also on the spot, providing information on first aid and life-saving basic procedures. Paramedics, like firemen, depend very much on radio communications and some of them are licensed radio amateurs.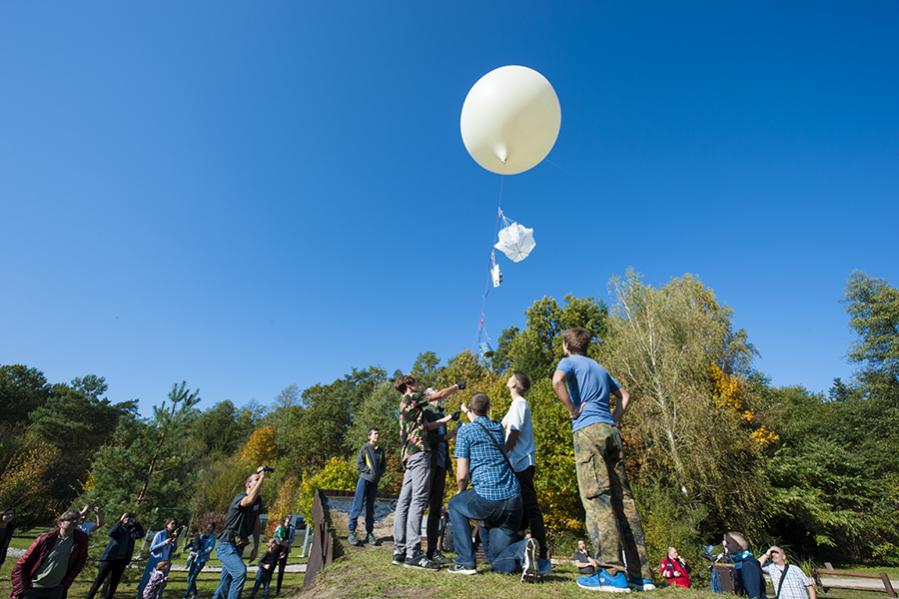 In recent years, balloons carrying VHF/UHF transmitters are popular and attract young people to Amateur Radio. These teenage boys, from a school near Warsaw, have already constructed a couple of sondes and transmitters. Some of them have already received Amateur Radio licenses. This particular helium-filled balloon traveled 195 km/120 miles and landed in a wooded area in Belarus. Most likely, the payload will not be recovered. The sonde reached the altitude of almost 27000 m/88000 ft. The APRS transmission was on 437 MHz, while SSTV images were sent on 144,500 MHz.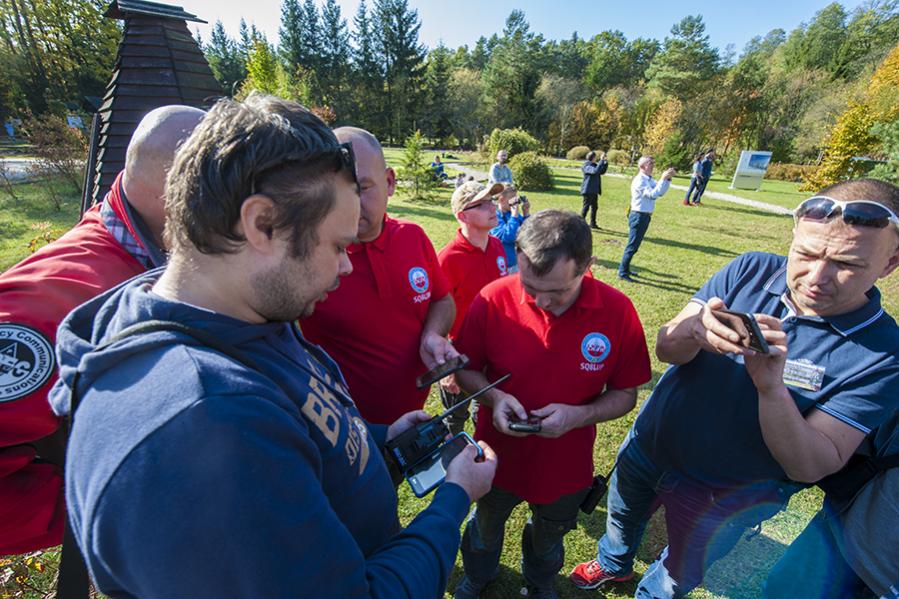 Everybody is tracking the balloon.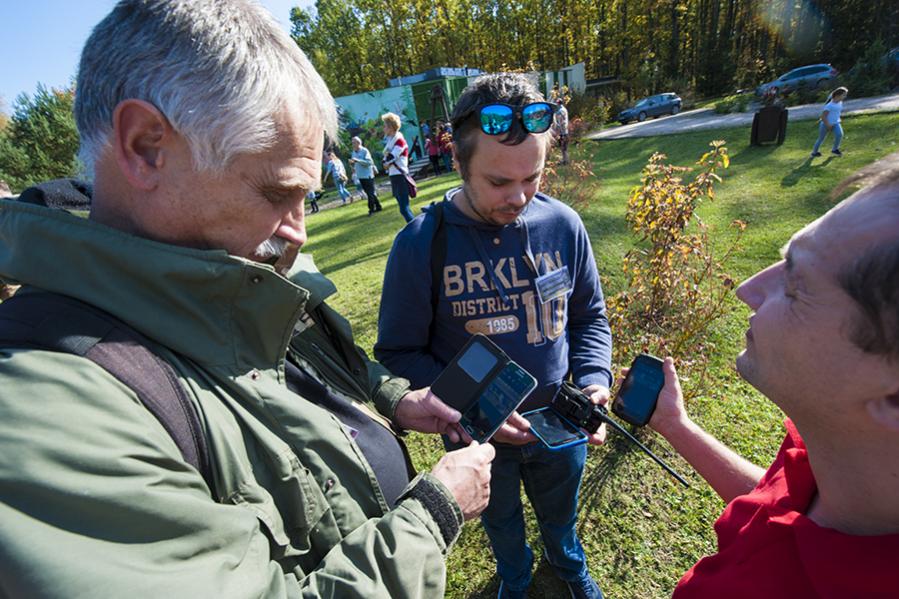 Marcin, SP5IOU, (left) decodes the SSTV images on 2 meters using an Android application.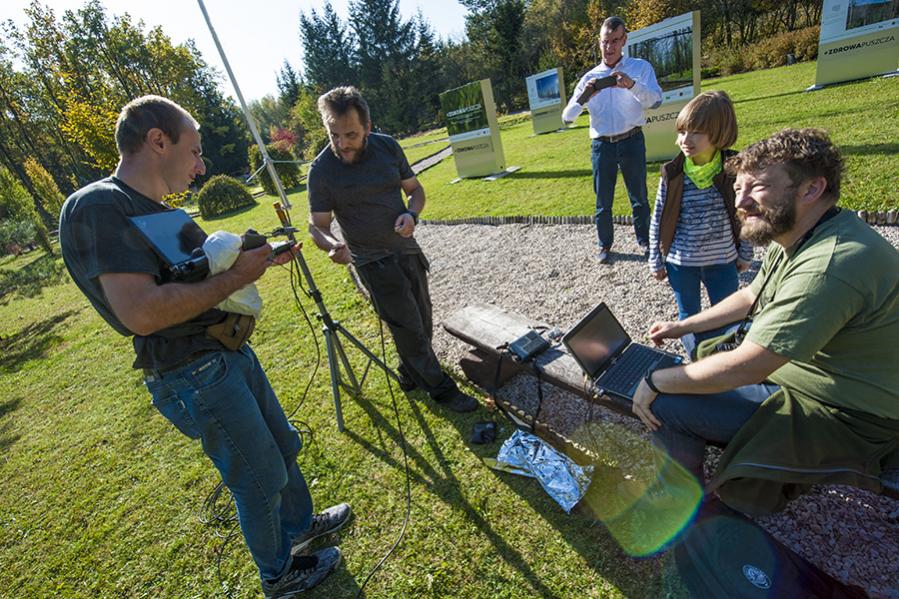 Another group follows the sonde on 70 cm using a vertical antenna and a small computer. The man in the middle is Grzegorz, SP5MGS, who is the teacher and mentor for the boys behind the balloon project.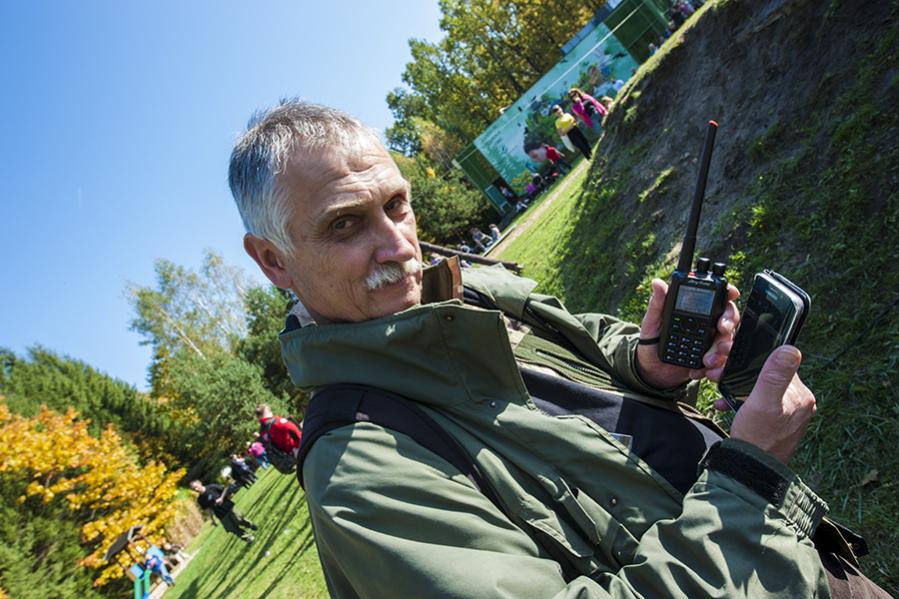 - How does it work? Simple, the SSTV FM signal from the loudspeaker of the handheld radio is picked up by the microphone of the smartphone with an appropriate application. The image is shown on the screen. Marcin, SP5IOU, demonstrates the old fashioned acoustic modem principle.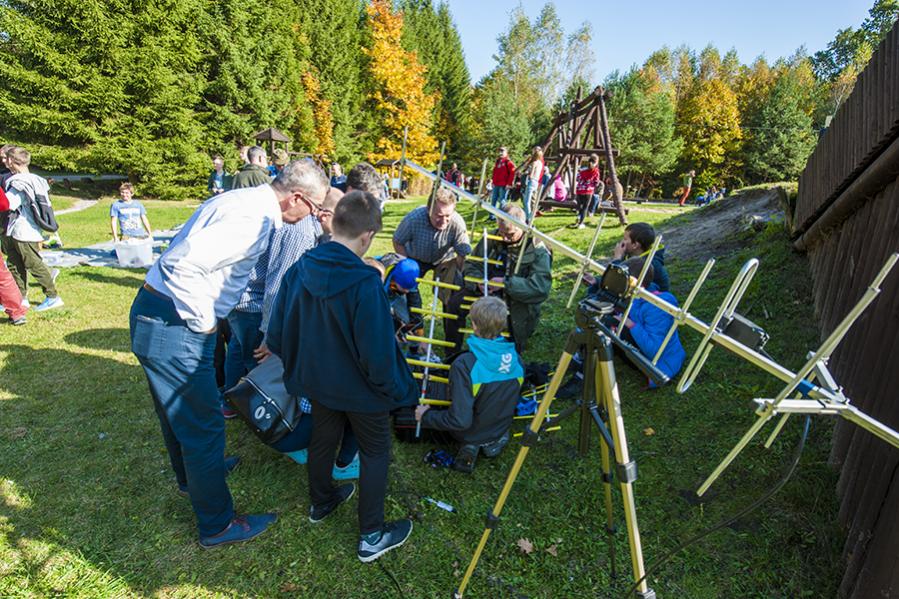 While the long Yagi antenna is still pointing to the balloon, the boys behind it are getting ready for finding a hidden transmitter competition.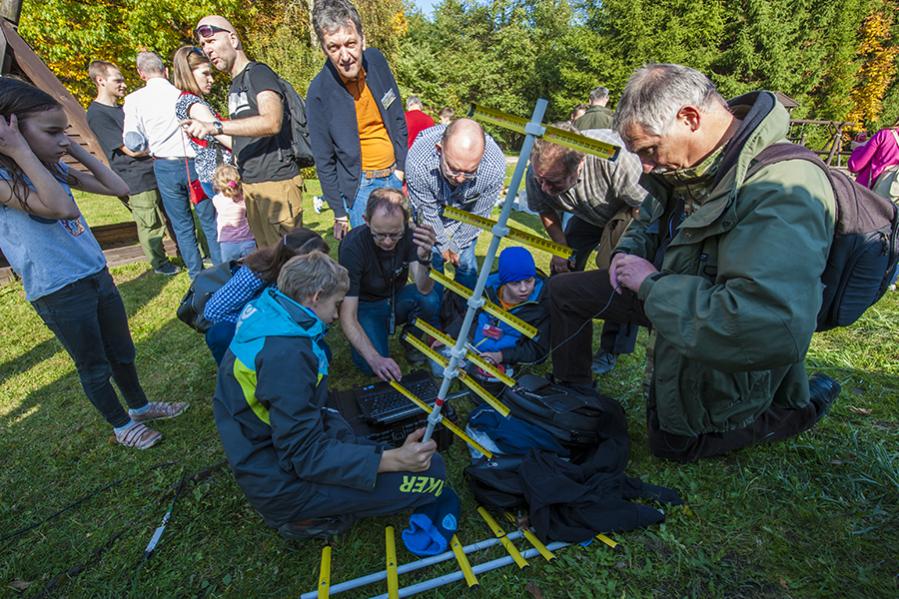 These boys are in their early teens and attend another school near Warsaw. The antennas are home-made of steel measuring tape. Amateur Radio Direction Finding is a popular way to get younger children attracted to learning the principles of radio.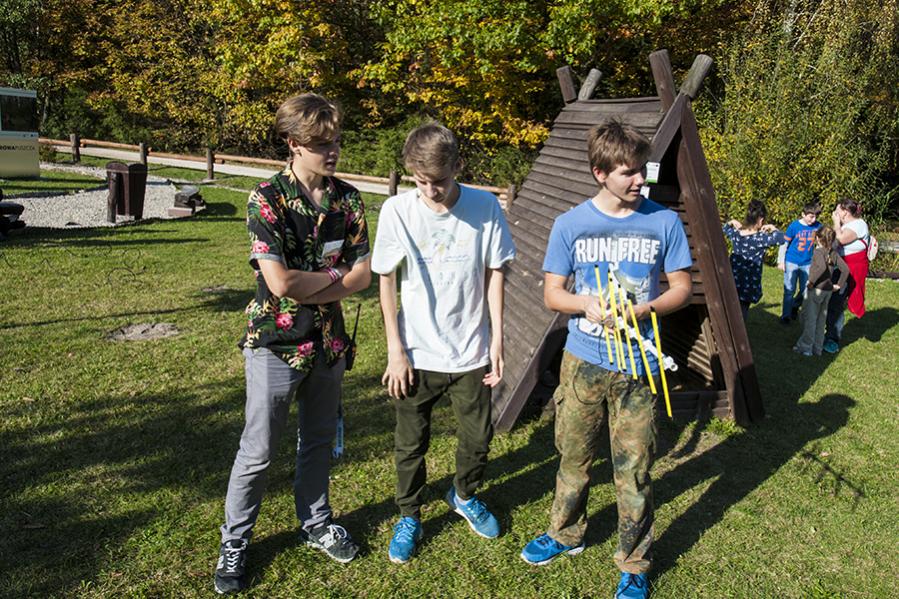 This is team#1 of the hidden transmitter competition, I think they won. These are the boys who had earlier released their balloon. Bartek, SP5WIB, is on the left, with a name badge.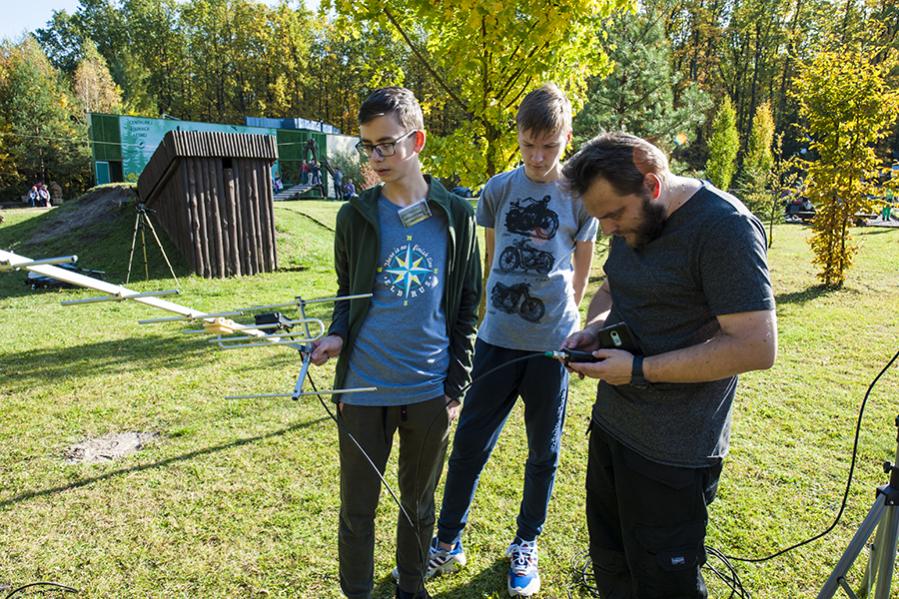 The second Fox Hunting team and Grzegorz, SP5MGS, their teacher. The long Yagi antenna is not really handy in ARDF.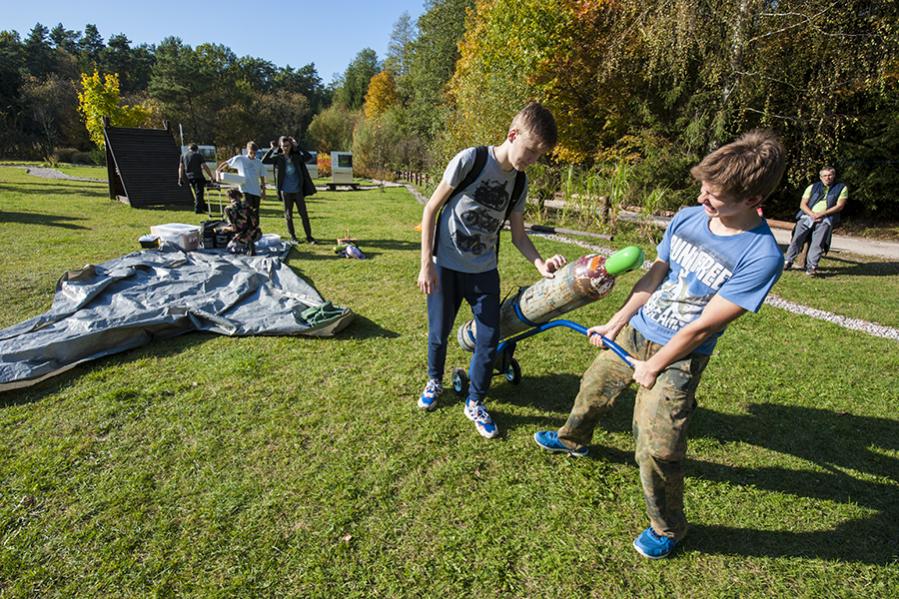 Time to pack up the stuff. Helium is very light, lighter than air, but the steel gas tube is bulky and heavy.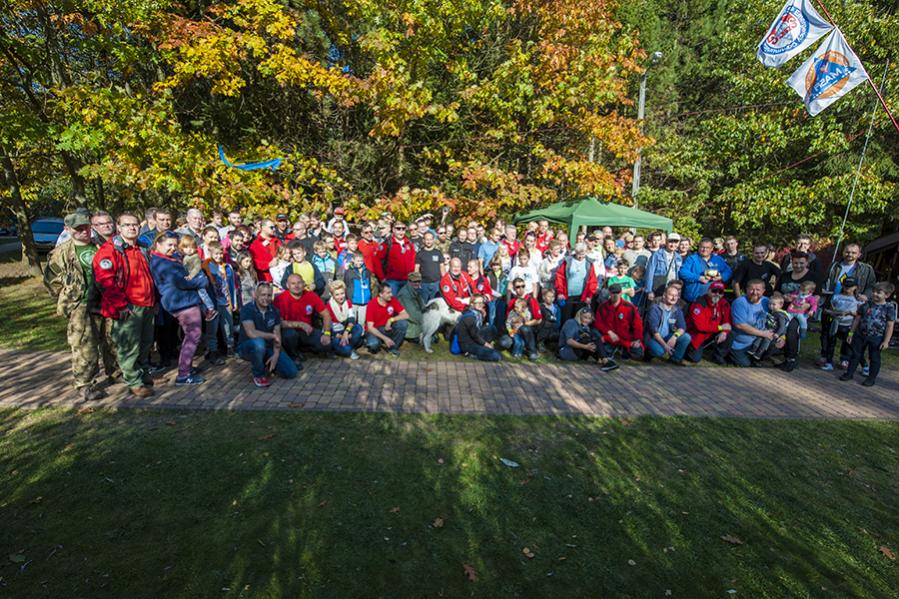 Almost everybody who attended this gathering is on this photograph. Well over 100 persons registered and many came with families.
The bottom line
The history of Amateur Radio goes back over one hundred years. The old fashioned radio, using short waves, Morse and voice was very charming and almost romantic. It is still a thrill to get a contact with distant station while using low power. However, the technical evolution has made this part of our hobby unattractive to young people. It is virtually impossible to explain the fun of shortwave radio to people who grow up with the Internet, WiFi and cell phones. Traditional DXing and contesting is very expensive, space demanding, requiring a lot of know-how. Not to mention the meaningless "five-nine". We no longer communicate, don't talk, don't pass any information. It is still fun for many of us, but the ranks are drastically ageing. For example, the average age of active radio amateurs in Sweden is about 70 years, many are 80 or so.
Younger people can become interested in Amateur Radio if it becomes more practical and useful. Connecting computers to the radio and actually passing information is appealing and can be a start of a hobby, which can grow and even become a profession. I noticed that many of the radio amateurs, who joined the community in recent decade or so, are professionally involved in computers and wireless, or cellular telephony. They have basic technical skills and find it stimulating to have such a hobby. Some of them will certainly advance to shortwave DXing and contesting.
This coming weekend, October 18-20, 2019, a global radio event is taking place for young people to get introduced to Amateur Radio and radio communications. It is called Jamboree On The Air-On The Internet, arranged for scouts on all continents. The website www.jotajoti.info shows full information. Active and experienced operators, who care about the future of Amateur Radio, should try to support such activities, either actively by giving a hand, or at least being on the air and talking to scouts on the air and encouraging them to get involved. Similar to the EmComm group that I have described here. Good promotion of Amateur Radio as a community service and a springboard for a career.

Henryk Kotowski, SM0JHF
15 October 2019