G0VJG will be active from Seychelles Islands 4 - 16 April 2013 as S79VJG.
He will be active on 80 - 10m SSB.
QSL via G4DFI.
Seychelles Islands: Where Nature is nurtured
A few Words about Seychelles Islands
Seychelles Islands are an archipelago of islands covering about 176 square miles in the Indian Ocean off of the coast of Africa. It has a population of 89,173 and its capital is called Victoria. The primary exports of the island are fish, coconut oils, and cinnamon.
The recognized languages are French, Creole, English, English, and Seselwa. The dominant religion on the islands is Roman Catholic, but Anglican, Protestant, Muslim, Hindu, and Bahai communities that all manage to worship in harmony.
The Seychelles Islands were settled first by the French in 1770. After the defeat of Napoleon and the Treaty of Paris in 1814, the island came under British control. In 1976, the Seychelle Islands would gain their independence from Britain, becoming a republic within the commonwealth.
Getting Around:
Bus and Tram: A bus service operates out of Mahe. The flat rate for any journey is RS 3. You play as you get on the bus. The schedules and routes are posted and available as photocopies at the Victoria terminal. Mahe services the whole Island from 6am to 7pm. Another service called Praslin is also reliable. It has one route that runs each direction every hour from 6am to 6:30pm. The flat rate is also Rs 3.
Air Travel: All non-domestic flights come into the Seychelles International Airport outside Victoria. Air Seychelles will take people to domestic locations. There are 20 flights per day between Mahe and Praslin. It costs 122 euros for a round trip 30 minute flight. Air Seychelles also flies to the following destinations: Alphonse, Bird, Denis, Desroches, Fregate, and North Island. But these flights must be chartered. You can book them through your hotel.
Driving: You can rent a car on the Islands. The roads are in good shape, but remember to drive on the left. Natives are known to speed, so it is recommended to take caution behind the wheel. The cheapest you will find a rental would be 50 euros a day on Mahe. Praslin tends to be 10 to 15 euro more expensive.
Boat: Traveling by boat allows easy access to Mahe, Praslin and La Digue. Several different ferries will take you between the three locations for varying prices.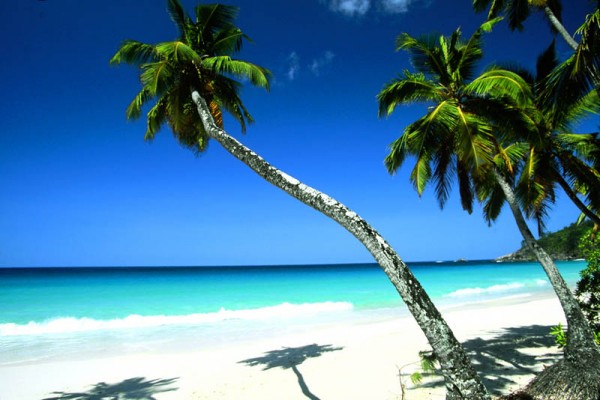 Culture:
The Music of the Seychelles Islands has a unique local music that blends English contredanse, polka, and mazurka, French folk and pop, and other local pan-Africa genres. A very popular form of percussion is called a Kanmtole when combined with reggae. Reggae taken many forms on the islands, from "seggae" (Sega and Reggae) to "Mouggae" (Moutya and Reggae). A famous musician from the Island is Jean Marc Volcy.
Schools in the Seychelles Islands are still improving and expanding. Education has only been free since 1981, and it is compulsory from age 5 until age 14. Nearly all 4 year old children attend nursery school in preparation for their school years. The literacy rate of school children is 90, and is 85 for adults. Beyond the public schools, families have a few choices for private schools. While still in the works, the government has plans to build its own university.
Food on the Seychelles Islands is based in sea food as a staple to its cuisine.Most common flavors in modern Seychelles cuisine include influences from India, China, France and England. Creole is a well-loved style of cooking as well. Tuna and King Fish are popular fish to be fried or grilled in butter sauce. Some fish are also made into stews or curries. The islands' delicacy is octopus. Spicy octopus coconut curry is a dish to die for. For those who are not a fan of seafood, there are other options, but they pale in comparison.
Nature:
The climate of the Seychelles Islands is mild, in that it is warm, but never has extreme heat or cold. Temperatures stay between 24C and 32C most of the time. November to March bring trade winds, which can sometimes cause cooler temperatures. Most of the rainfall occurs from December to February. Those months also usually have more cloud cover. Humidity can get above 80 % during the hot season from December to April. May to October is the ideal time to visit, as the weather is drier, cooler, and the seas are less calm and better for play.
Fifty percent of available Island space are national parks. The ecosystems on the islands are well preserved and protected. Some endemic species of plant include the coco-de-mer, the jellyfish tree, and the Seychelles paradise flycatcher. Animals of the Seychelles Islands include Aldabra Giant Land Tortoise, Seychelles Giant Tortoise, Arnold's Giant Tortoise, Seychelles Wolf Snake, and Giant Bronze Gecko.
Sports:
Seychelles Islands has a few national sports teams. They compete in basketball, soccer, cricket, and volleyball. Famous athletes from the Seychelles Islands include James Goddard, a swimmer; Anthony Delpech, a jockey; LissaLabiche, Olympic high jumper (20th place); Tony Lespoir, Olympic Canoer; and Dominic Guasse, Olympic Judo. While never having placed in the Olympics, they have participated consistently in the summer games since 1980.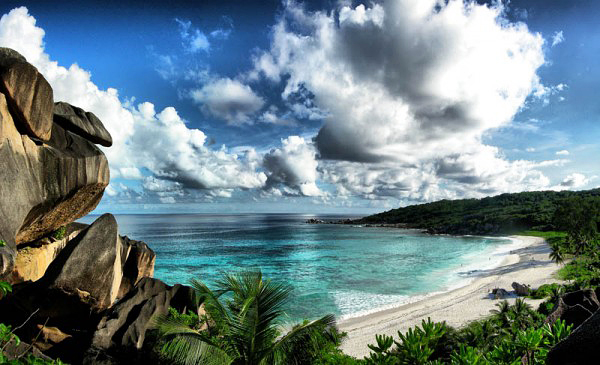 Where to Stay:
The Maia Luxury Resort and Spa, on west Mahe, is the most exclusive place to stay on the islands. Stay in one of 30 villas with your own pool and an expanse of white beach stretched out before you. You will have all modern conveniences including plasma TV, wifi, kitchenette, soaking tub, and air conditioning. This private getaway is perfect for honeymooners.
The Beachcomber on St Anne's Island offers 87 rooms' only minutes from the beach .Rooms are equipped with wireless, TV, mini bar, bathrobes, slippers, and air conditioning. There is an on-

Conclusion:

The Seychelles Islands are a gorgeous island escape in the Indian Ocean. With gorgeous and well preserved landscapes, there will be plenty of breathtaking memories to be made. Try spotting as many unique Seychelles' species as you can! Any Reggae lover will feel right at home, and don't forget to try the octopus!