2017 CQ WW CW SO4M Amateur Radio Contest Station Poland
A brief illustrated report from a collective effort by 4 operators and 1 station owner - hence the call sign SO4M - Single Owner 4 Men. The station is located near Olsztyn in NE Poland. This area of Poland is known for lousy propagation all year round and nasty weather during the cold months. There is a huge difference in HF propagation between SP6 or SP8 call areas in the south and the SP4 region in the north-eastern corner of the country. The difference of 500 km is distinct.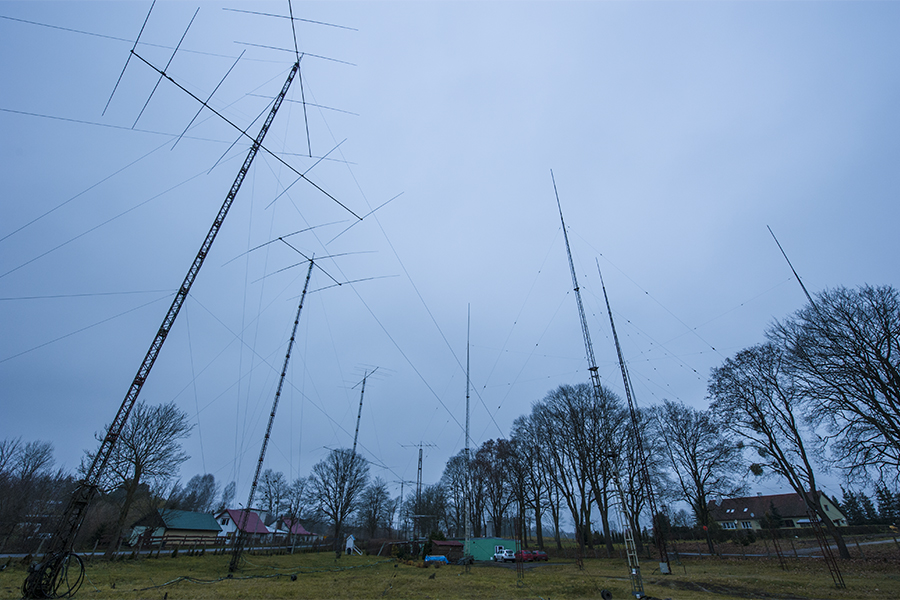 The SO4M contest site antenna farm. On the left 14 MHz tower, next a 3 L 40 m Yagi, further 15 and 10 meter antennas. A vertical directional array for 80 and 160 on the right.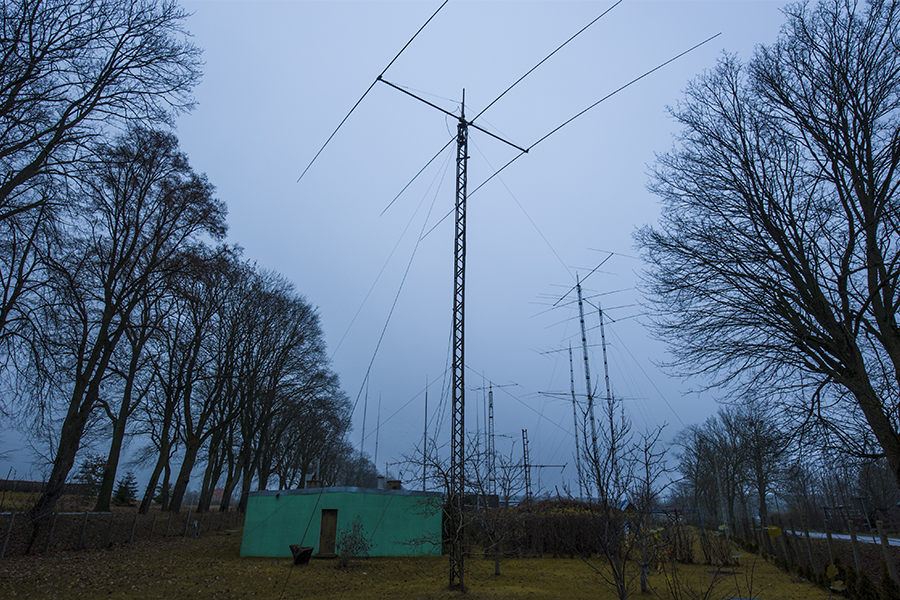 The green hut is the radio shack of SO4M. The view of the antenna farm from the other end.
It was clear and dry in Warsaw when I left the capital city on Saturday morning. At noon, when I reached Olsztyn, it was wet and grey, foggy and chilly. The propagation was not hopeless, though. These photographs of the antenna farm were taken around midday. The antennas are constructed by SP3GEM, a well established supplier of Amateur Radio radiators in Poland.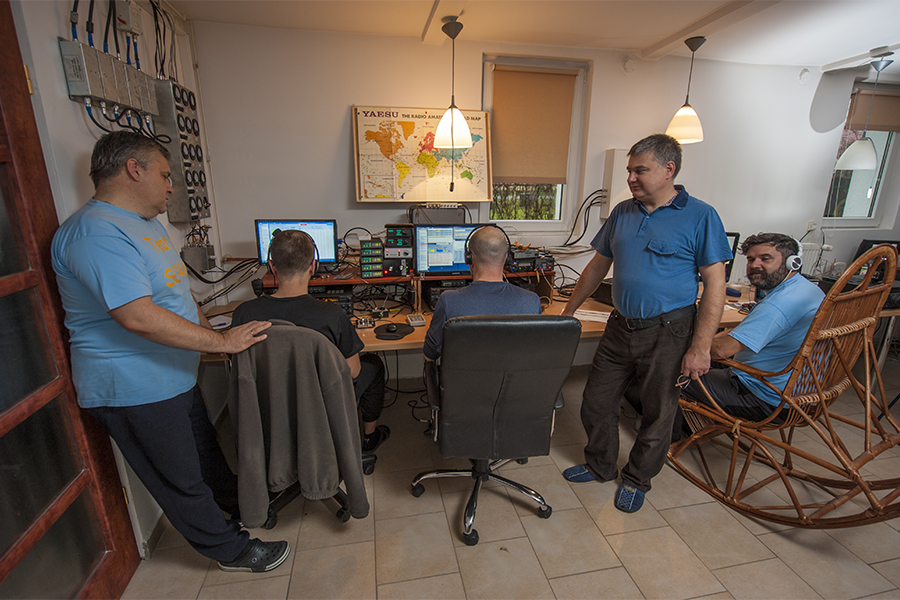 CQ WW DX CW 2017 SO4M Team. Left to right: Jacek, SP5OXJ - Maciek, SQ6MS - Tomek, SP5UAF - Mirek, SP4MPG - David, F5SDD
The whole team of 2017 CQ WW CW gathered in one photograph. The owner of the station is Mirek, SP4MPG. He was actually sick and went to bed soon after I arrived. Mirek keeps the antenna farm and his station in good condition, while guest operators do the easy work of running it in major contests. Mirek does some contesting himself, but he prefers digital modes. The SSB mode is rarely used at this location.
This year the team was partly international. David, F5SDD from Marseille in France came for the contest together with Maciek, SQ6MS, who is presently living in France. They do some contesting together in southern France. A trip to the cold country of Poland seemed to be attractive for David. Maciek, SQ6MS used to do most of his contesting in Poland from Big Gun stations before he moved to France. He had been to SO4M before.
Two stations were on the air all the time - a running station and a multiplier station checking other bands. While 15 meters was still hot, the Far East stations started appearing on lower bands. It is important not to miss the short openings on 80 and 40. In addition, a third operator could monitor the running band for multipliers on a third radio.
The two remaining operators of the team were the frequent guest operators of SO4M who live in Warsaw, the capital city of Poland. The distance is about 200 km or 125 miles. Tomek, SP5UAF and Jacek, SP5OXJ have been here many times for the past few years. Amateur Radio is restricted in towns because of the man-made noise and the antenna limits, so their activities at home are very cramped.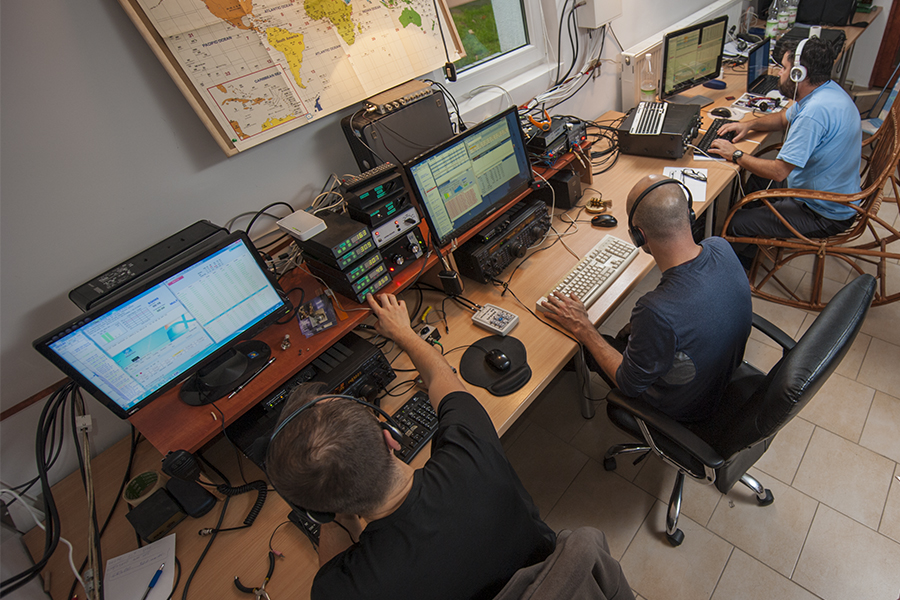 Maciek, SQ6MS on multiplier station - Tomek, SP5UAF running - David, F5SDD monitoring the running band.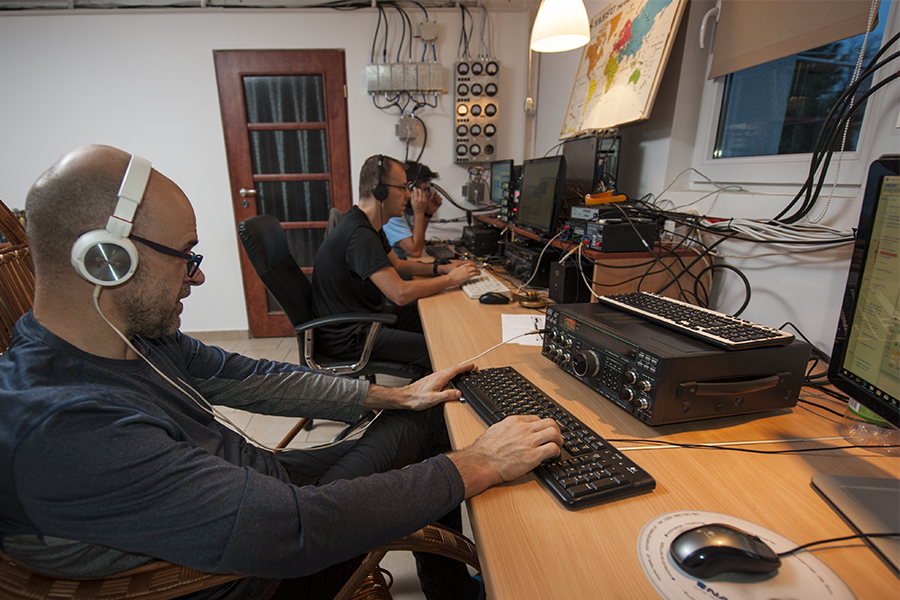 SO4M. CQ WW DX CW Contest 2017. Left: Tomek, SP5UAF scanning the running band, center Maciek, SQ6MS is running the main station while David, F5SDD is on multiplier station.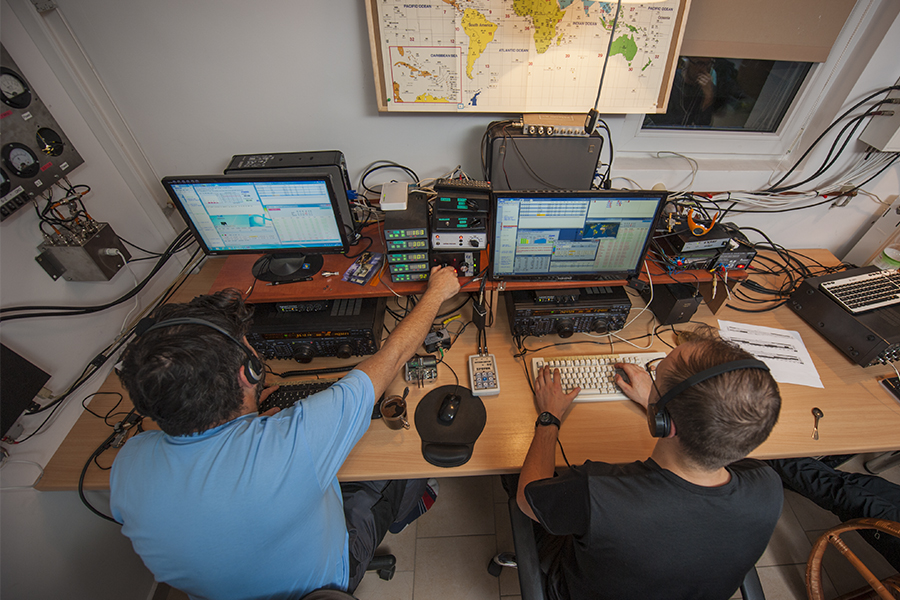 SO4M. CQ WW DX CW Contest 2017. Left: David, F5SDD and right: Maciek, SQ6MS.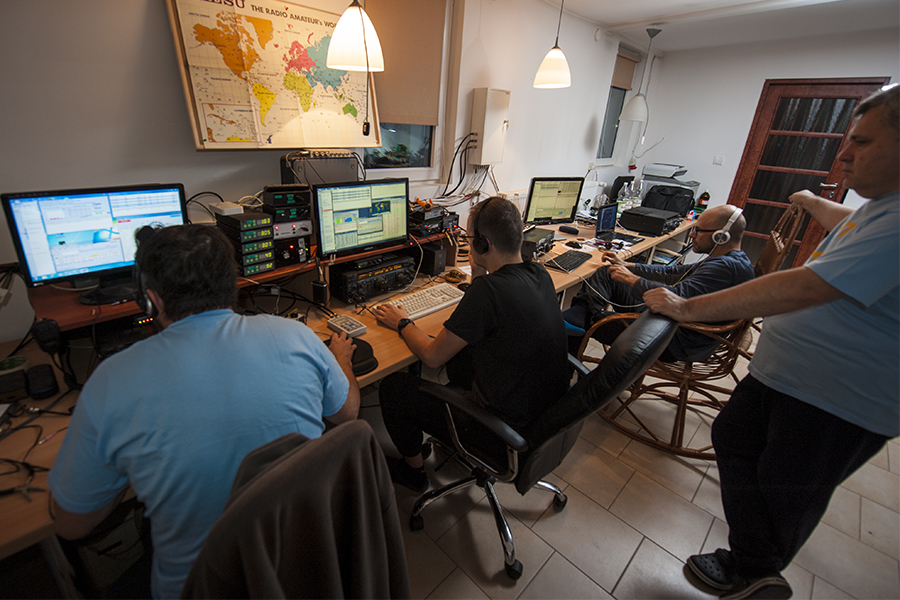 SO4M CQ WW DX CW Contest 2017. From left: David, F5SDD - Maciek, SQ6MS - Tomek, SP5UAF - standing Jacek, SP5OXJ.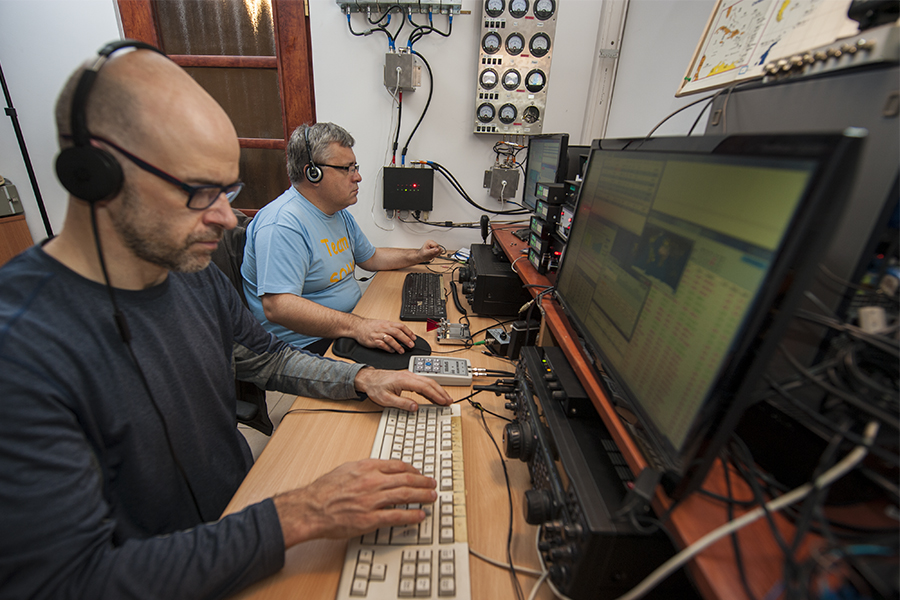 Tomek, SP5UAF running the main station while Jacek, SP5OXJ is picking multipliers on low bands.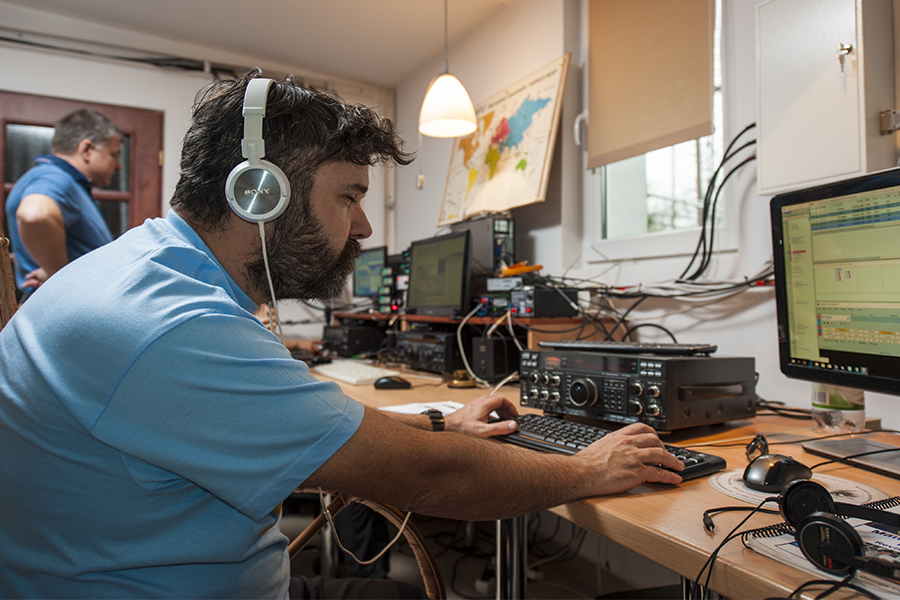 David, F5SDD is monitoring the main band for multipliers. He can disable the main station and transmit when necessary.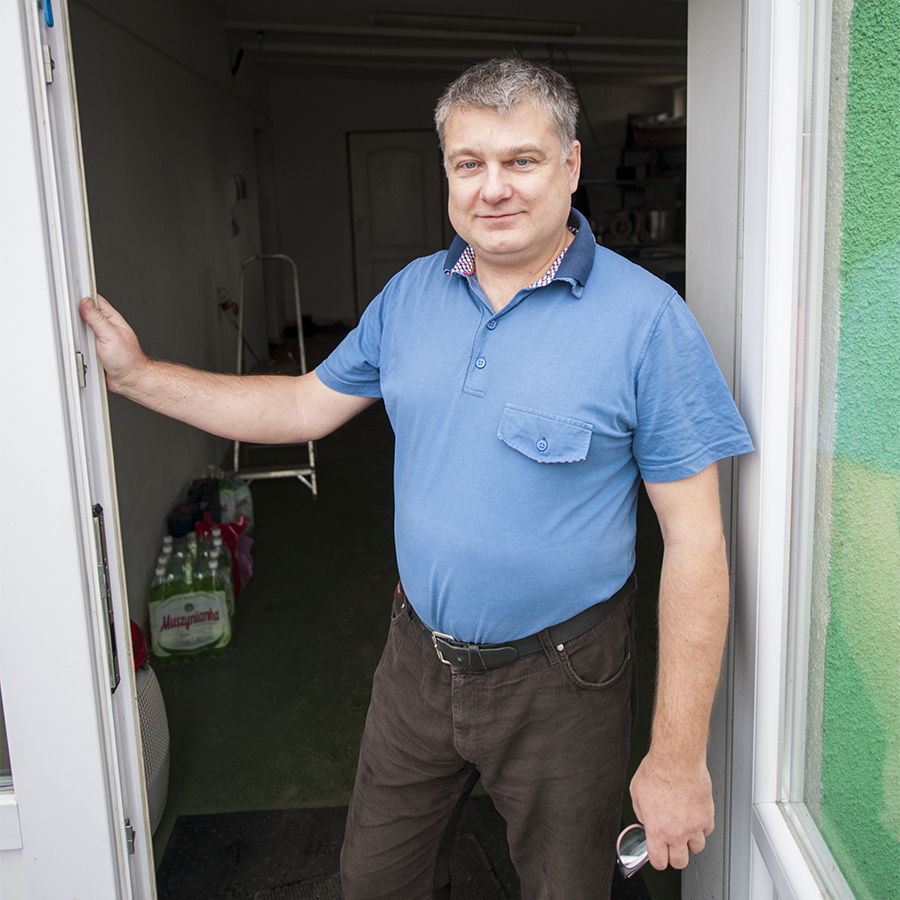 Mirek, SP4MPG lived in Olsztyn, a medium-size town, when he received his licence in 1981 at the age of 16. This was a difficult time to be interested in radio. Social unrest and a threat of total Russian invasion caused all such activities to be suspended for a couple of years in Poland. As usual, the early fascination rarely goes away and in year 2000 Mirek started building his antenna farm several kilometres from town.
His main interest today are the power amplifiers and the automation of the operating positions.
Radio clubs used to be the backbone of Amateur Radio training and how it functioned in Eastern Europe. There are very few clubs left today but the spirit of working together and helping each other is still strong. I also think it is more fun to share the antennas and installations with others. Mirek, SP4MPG is a perfect example of such approach to this demanding hobby. Team work is necessary today if we want to have fun, satisfaction and good results. Well, unless someone has a lot of money to spend on this non-profit hobby. Then, is it still a hobby and amateur?
Henryk Kotowski, SM0JHF
November 27, 2017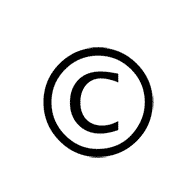 https://dxnews.com