Prologue

It was early October of 2021 when I thoroughly considered my plans for the upcoming SSB contest. I can't say by now when I first set a rule for myself - each CQ DX CONTEST I participate in must be done with a new record. Every once in a while I'd been looking at UA9/0 QRP records, but each time I would be doing something else in High or Low Power entries. Why?Because the QRP SOAB record set by RZ0SR in 1999 displays a respectful 834750 points score with nearly 1100 QSOs and good multiplier of 80 zones and 238 countries. I always knew it could only be broken under really nice band conditions which we haven't had here at 55degrees north of equator for quite some time now. The sun in the mean time started to show firm signs of sunspot cycle 25 fast approach. The SFI was getting higher on daily basis, so were the sunspot numbers. I decided I'd try my good luck at breaking the SOAB QRP Record of UA9/0 this year of 2021.
Working Conditions

My station is located 45 km South of downtown Chelyabinsk - major city of the Southern Ural Mountains region in the village of Karataban placed on the eastern shore of lake Karataban. My 0.4 hectare piece of land is right next to the lake. So, when beaming in the azimuthal sector of 220 - 270 - 305 degrees the radio waves see nothing but 1.5 km surface of salt water and farther beyond the lake only salt marshes and more lakes. Nobody resides there, so nobody makes any man made noise in the western direction from my antennas.So, the environment at my location works like a perfect natural notch filter of man-made noise.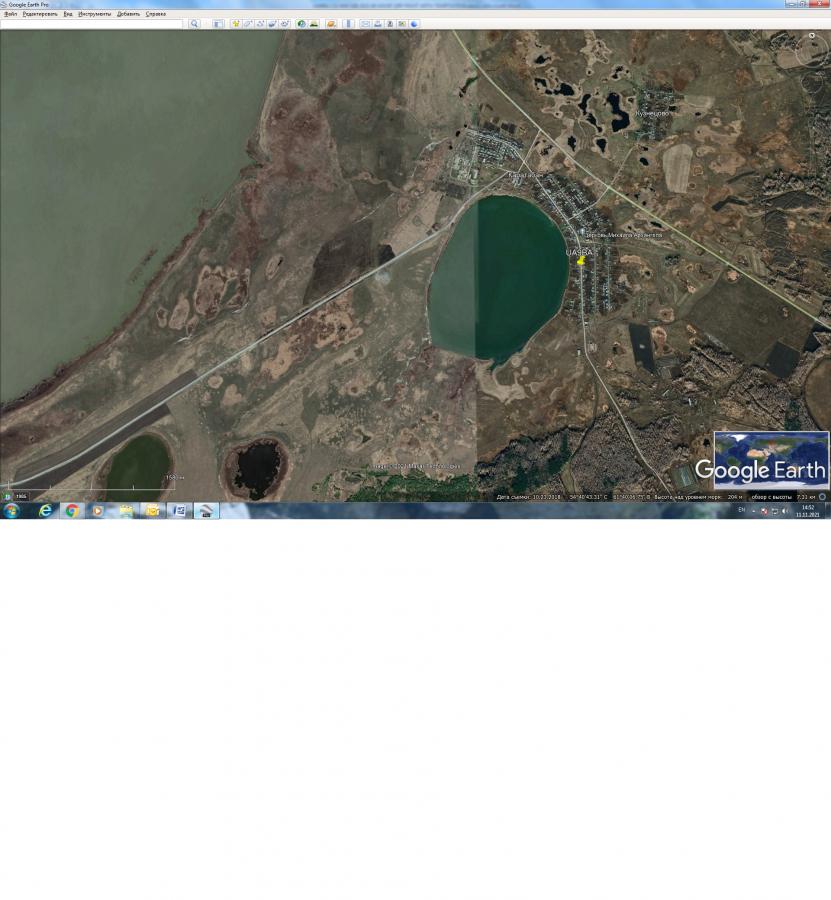 I have a rather modest setup. I only have ONE tower which is 31 meters tall. The tower's basement is about 60 meters from the lake and is 8 meters higher above lake's surface which is good for low angle enhancement of the vertical pattern of radiation. The tower carries two yagi antennas. In this contest I was only using the top one - a multibander which I designed in early 2000s.We used to manufacture such antennas and were selling them locally within Russia and Kazakhstan. The antenna has been put in place in summer of 2008 and has been in service all this time without a single malfunction. It has 2 full sized elements for 40m band with passive director, 5 20m elements, 6 15m elements, 6 10m elements. The 15.85 meter long boom of this antenna is extended on the director's side by 5.75 meter long whip and is gamma matched on 80 meters to serve as rotating dipole. Calculated gain (dBi) /Front-to-Back (dB) of the antenna is as follows: 40m - 12.45/18,20m - 15.3/23, 15m - 15.7/19, 10m -15.8/21.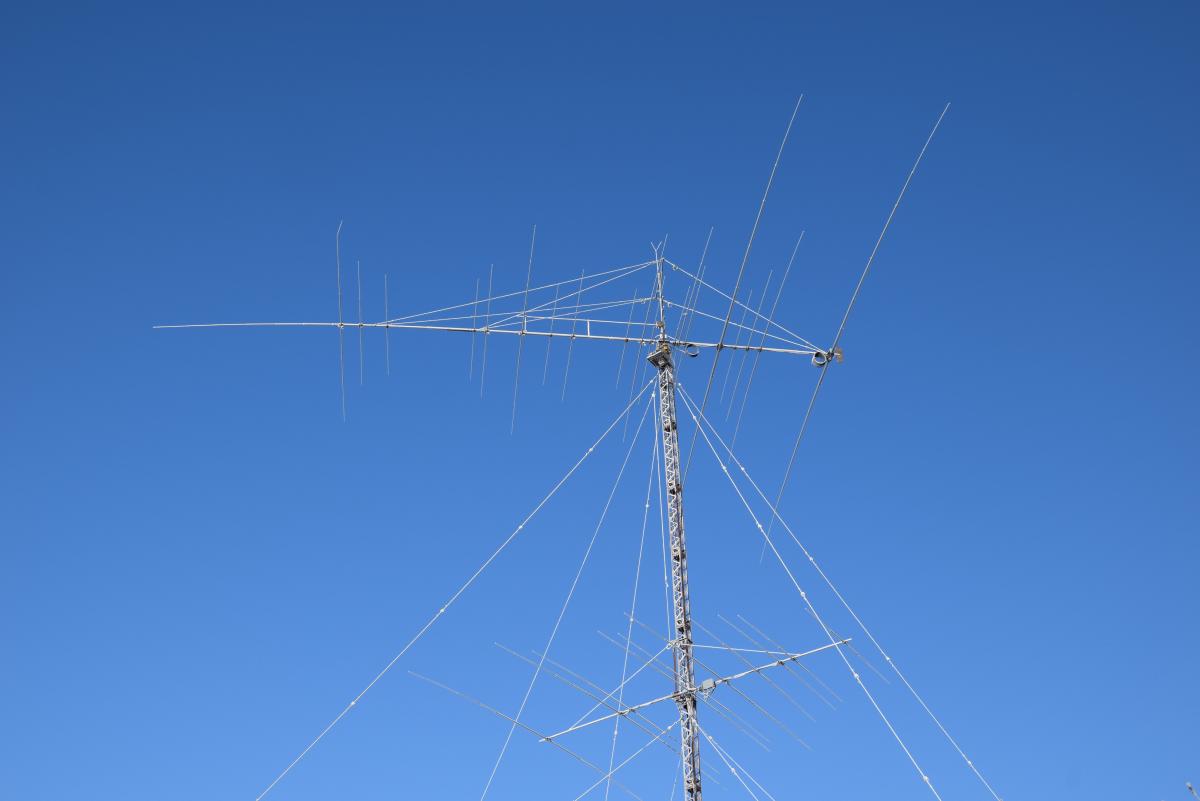 The 160 m band antenna is also using this tower as a support.It is described in details
https://dxnews.com/ua9ba-160m/
See down below just another view of the 160 m wires.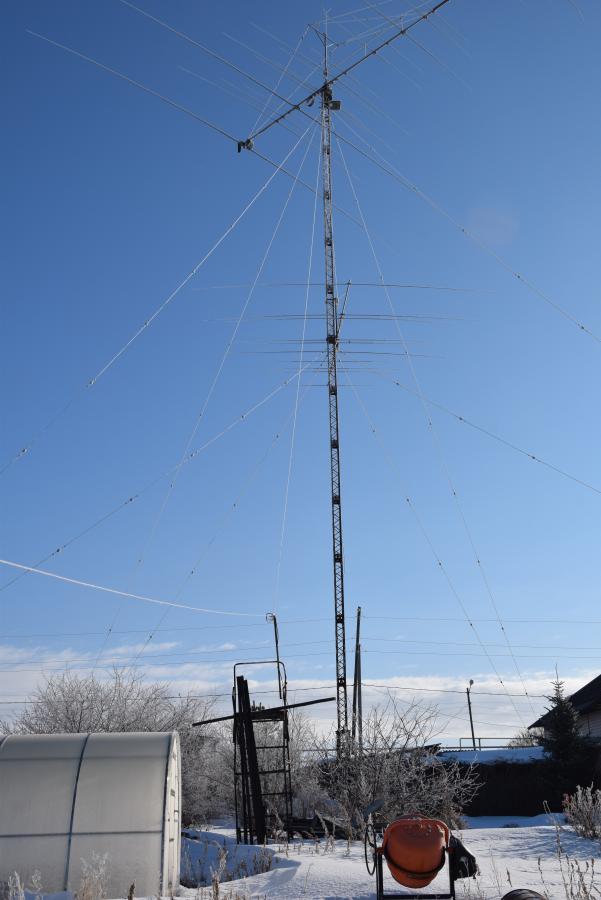 One more final touch on the station location. Down below see a picture taken from the top of the tower with camera looking due West. A whip next to the lake is a 26.5 m tall 160/80m ground plane that used to be in place before fire took it down in spring of 2007. One can see vast territory in western direction free of any obstacles for radio waves. Perfect for forming a good clean pattern.A UA9 contester's dream QTH.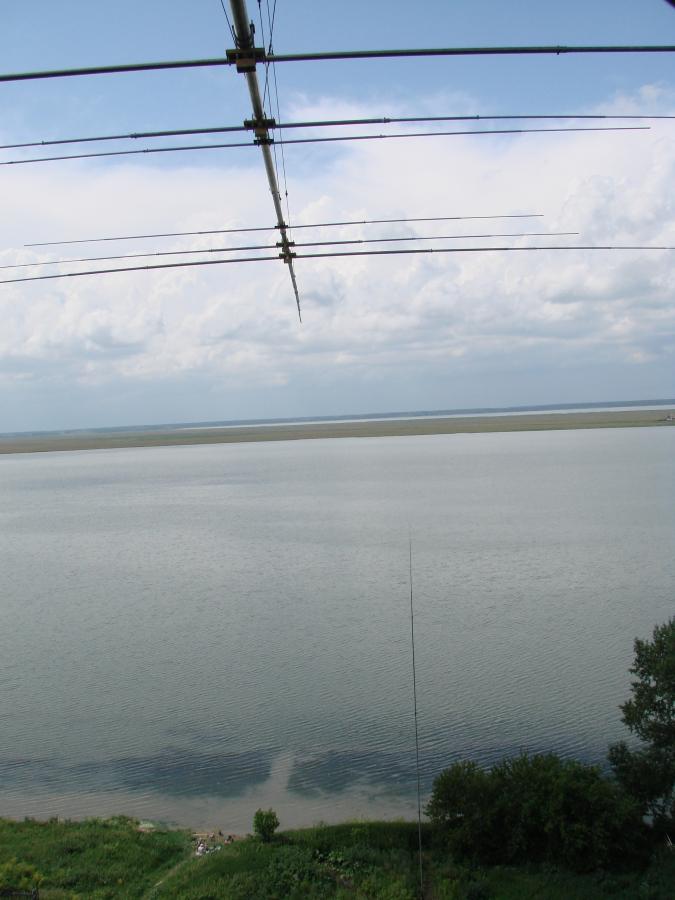 The radio I used was a K3 barefoot. Not only was it barefoot it was muted to 5.0 Watts measured by its internal power meter.
THE CONTEST, PREPARATION

Actually my preparation for the contest began in early October, when I decided to go in for QRP record of Asiatic Russia. I looked up the history of the SSB QRP operations. I studied many, many logs. The champion's logs were my prime interest. I was surprised when I learnt from those logs that most, often all, of operating was done in the Search & Pounce mode. I always knew that "If you're not running, you're not winning." I have had some experience in QRP operating on CW and l knew that running was a key to success not S&P! (Here I only talk about UNASSISTED mode of operation). Well, CW is so much different compared to SSB when we talk of QRP operations. So, I was sort of doubtful of whether or not it was possible at all to run on SSB with just 5 Watts, but determined to run. One other concern of mine was expected impact of major CME with earth. When will it occur? How bad will the disturbance be? How long will it last? Nobody had answers to these questions. Though, they predicted the time of the impact at 03 to 06 GMT on Saturday. Just a few hours after the contest start! Knowing that I still decided to go inand operate as if nothing bad was going to happen. And in case of bad geomagnetic disturbance act accordingly with band conditions. After all, I couldn't do much more about it. One doesn't have a lot to do before the contest, when QRP. I only had to do few minor adjustments with hardware of the station to be 100% ready for the contest.
As I always do, when planning serious operations, I asked my good friend Oleg R8AA to accompany me for the contest. Oleg's presence keeps me alert. He is my audience. I always turn on the loud speakers, so he can witness the operation in full. When it becomes slow we often have laughs about situations that occur on bands here and there all the time during major contests. It is much more fun to do Single Oping when there's someone besides who knows and appreciates what's going on. This time I wanted more witnesses, though. I knew, there would be questions about my operation if it is a success. I first called Igor UA9CDC my good trusted friend and asked if he could join us for the contest to witness my operation. Unfortunately, Igor denied my invitation. I called Mike R9AB another lifelong friend of mine and a well established DXer/contester. Mike couldn't come either. Too bad. But I at least tried to gain some extra protection for myself. Well, we went on with Oleg and my wife Larisa, who can at least say that she had never heard my single tube GU-74B amplifier pump the air during that weekend :-) The in shack preparation was mostly about recording the F1 through F5 buttons with my high pitched voice, sounding almost like a YL. You know, such voices penetrate better in QRM and pile ups. Aligning the recorder of operation also took some special efforts, but with help of Oleg we did it OKay as well.I excluded all extra connections between K3's antenna jack and cables to the antennas, to eliminate any extra losses in the coaxial runs. By Friday noon the station was ready, the operator and audience were excited to get into the heat of the contest, but it would only start at 5 AM Saturday local time. We had a nice dinner with some alcohol to release the heat in the brains, so we could fall asleep easily.
THE CONTEST OPERATION. QRP ROUTINE

On the slide below you can see how the contest went for me speed wise. The first 4 hours from 00 to 04 GMTwere very slow. I knew, it'd be so. I was mentally ready for such slow motion. It was happening on 160, 80 and 40 meter bands. Everybody in the world is beaming to North America at these small hours. On the other hand North Americans and Some South Americans are trying to run Europeans, and that's good news for UA9's in the Urals!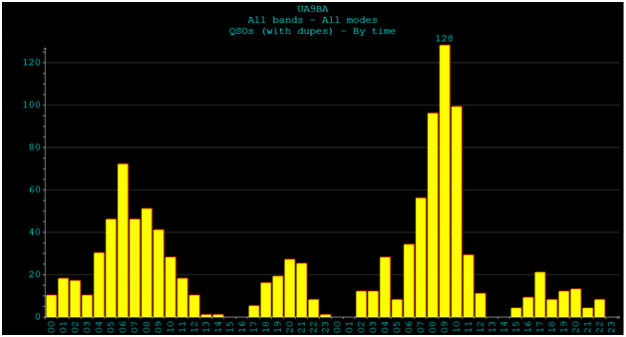 Being a small pistol like I was in this contest I didn't even think of trying to work Stateside or Canada on Low frequency bands over the tough polar path. Besides, the LF band conditions even on 40 meters were such, that I could barely hear the big guns like K3LR and K1LZ. At the same time I was hearing South Americans very well -a usual type of propagation conditions here. The great circle path to Central and South America from here isn't going over the auroral oval areas - a much easier path. Even under severe geomagnetic activities we can work Brazil, Argentina, Uruguay, Chile and zone 9 stations easily (with power o'cose) on 40m. So, over these 4 hours on LF I worked mostly Europeans, but a few blue DXs were logged too –KP3Z, PJ4G, PR1T, TO7T. My compliments to you guys! I've heard and called many, many more. The 3A3A was a nice surprise not only a strange and rare call but also how well they could hear! The same compliments off to MD4K. So, at 03:57 GMT I've scored 55 QSOs – 4 on 160m, 3 on 80m and 48 on 40 meter band. A discouraging beginning sort of speak, isn't it!? I knew it'd be hard at the small hours, so I wasn't disappointed at that point at all.
04 GMT. The sun has been up already for about an hour and it was time to check the South East Asians, Pacific long path on 20m and short path on 15 and 10, North and South Americas on 20m short path and long path to South America on 10m. You see, I was thinking in terms of a big gun station operator.One simply can't switch his brains to a completely different way of thinking when going from high power league to QRP. The 20 meter band was packed with DX signals and there were no European strong QRM! Loud ZM4T one call QSO over the long path, then a familiar high pitched voice of Alex HC2AO piloting HC2GRC with booming signal. We even had a short chat and I told him I was QRP and got a 55-56 report from Alex! A rare zone 10 mult!A few more loudS.Americans – PP4T, CE6TK. All very easy to work! And WOW(!) - a very loud zone 2 station VY0ERC lonely, soliciting QSOs by CQing. One call contact – what a blast! Few kHz away a lonely D4L.Very, very loud. One more one call DX QSO in the log! It took me 50 minutes to scan the 20m band just once. That's how much it was packed with DX signals! 24 QSOs in 50 minutes.

THE CONTEST. TEMPTATION

There were MANY more DX stations on the band that I was calling without a success. Especially, those from South East Asia. That's why so few QSOs in almost an hour of operation on a packed band with extraordinary propagation conditions. When I was calling SEA stations that were yelling CQ after CQ right into my face, the temptation to make a few turns of the PWR knob in the clockwise direction on the front panel of my K3 was so high, but I didn't let myself. I was thinking at such moments of other QRP guys and was wondering about their feelings in similar situations.
I'd seen it happen a few times through my contest career. It has been like this. You are running and you are hearing this Someone that keeps calling you almost unreadable and at one moment he'd pop up with a loud signal and next time he'd vanish into thin air when giving out a report. Yes! I'd seen it happen a few times. I even know some of these guys in person. And I remember what I was thinking of them after the contest when they turned out to be the QRP guys. So, I kept asking myself – Willy, you don't want to be one of those "QRPers", do you? And, heck! No, never in my life! But the temptation was always there waiting for my weakness. All the way throughout the entire contest. I had to fight it each time I wanted a double or single loud mult CQing in my face, and there were many of them, that never made it into my log…

THE CONTEST OPERATION. QRP ROUTINE

After 20 meters I went to 15 and then 10. Boy, was 10 meter band good! It was roaring with Pacific. They were all running JA guys and someone else but me. I was trying hard to work those double mults, wasting my time. I knew, I needed mults but I needed the QSO points too, so there would be some value to multiply those mult numbers by. The clock was displaying 05:30 GMT and the log was showing just 102 QSOs in it. Too few!!! I thought - does it look like a record breaking effort? No! Not at all! I need more QSOs at a higher speed. So, I concentrated on QSOs since then. I turned the antenna to Europe and started chasing Europeans for QSO points. It took me 40 minutes to scan the 20m from 14350 to the lower edge at 14121 and I logged 41 more QSOs. I went to 15 meters for the very same search and pounce European session. I've scanned the whole band once.Started at 06:10 and finished at 06:40 with 43 more QSOs in log. I needed more QSOs! I went to 10 and tried a CQ at the lower band edge on 28343 kHz. I did raise a dozen Qs on CQ but that was it. Honestly, the band wasn't sounding too good. It wasn't nearly as good as it turned out to be the next day on Sunday.

THE CONTEST OPERATION. QRP RUNNING

Man, were 10 meters good on Sunday! I was able to run since 07:00 through 11:10 GMT changing between 10 and 15 meters. I logged nearly 400 QSOs in those 4 hours. My best hour was 136 Qs! I was feeling like a happy camper during that run. Running on QRP is a tricky mastership. Especially if the QRP station isn't a rare DX multiplier.The problem with running when QRP is keeping the run frequency clear. One has to be very flexible and not hold on to the run frequency at any cost. Say, you get a big gun station from the skip zone or from the off-reflector direction start a CQ on your run frequency. There's no practical way of making them aware of your presence, so instead of fighting for the frequency one MUST find another good one. That's the wisdom I learnt from my previous QRP operations. When finding a good run frequency one must keep in mind that the trick is to stay away from the overcrowded portions of bands. Once you found a clear frequency at one of the band edges, make sure it isn't occupied by someone from your skip zone or from the off reflector direction and start a CQ. Yes! That easy! One must be running to be winning! Another trick of a phone running is to excite people and make them wanting to spot you. For instance, I kept telling my friends that I was QRP and was asking them for the real reports. I strongly believe such natural human behavior on my side led to numerous spots. I wasn't acting like a QSO machine. Instead I was like a normal human being. I was surprised at a number of spots on me after I checked the DX cluster's archives.By 11:00 GMT on Sunday I knew I was going to break the record with a good margin for the log checking losses.

THE IMPACT

At 11:10 I started collecting those mults from North and South Americas on HF. At first the bands were sounding Okay and I worked a few good ones like OX7AM, PJ4G, K1LZ, KQ2M on 20 meters. My compliments to all these guys! By 11:40 or so the bands started to produce much more noise, signals went down. Conditions over the North Pole ruined first. Then by 12 o'clock GMT the signals started to have aurora sounding. At 12:40 I decided to pull the switch down with 1013 QSOs in the log. I've only managed 13 Qs in between 11:42 and 12:43 GMT. Those are prime time minutes under undisturbed band conditions. It wasn't the case on Sunday evening of CQWW SSB 2021 DX CONTEST in UA9. I came back to operate some more at 15:51 and stayed up all night till 22:38 GMT. That is 6 hours and 47 minutes of constant operation which only yielded 79 more Qs. The remains of CME did hit our planet, but 30 hours later than predicted, though. That was the best news of the weekend, indeed!

AFTERMATH

The screen shots of what I did can be seen below. My logger data base didn't have TO7O and 4U24OCT in it. So, the claimed score is actually higher – 1.183 M and seems to be #1 in the world. I hope it will remain such. I thank all my 2nd parties in the QSOs we've made this weekend. I also thank Oleg for staying with me and keeping me alert. I thank my wife Larisa for her tolerance and assistance in keeping us well fed over the weekend. It was a great experience! I really liked it on QRP!!!
CU in contests!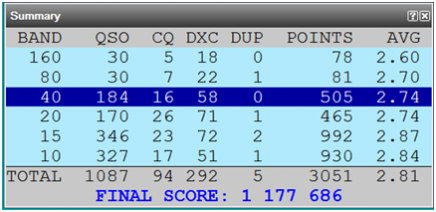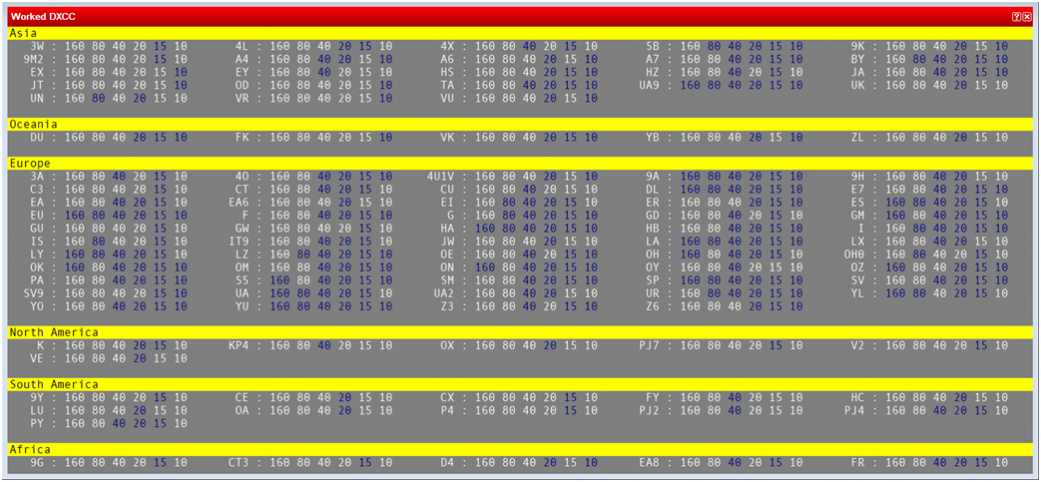 Willy (Vladimir) Umanets UA9BA
Karataban of Chelyabinsk oblast 12 November 2021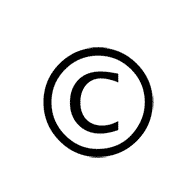 https://dxnews.com