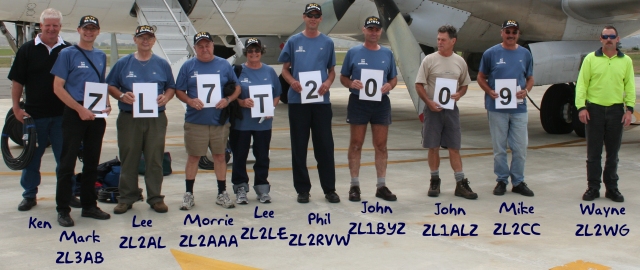 The ZL7T DXpedition Team will leave for Chatham Island Tomorrow around
0130 UTC and expect to be on the ground in ZL7 around 0400 UTC. The
schedule is as variable as Air Chatham is. Work will begin on assembling
the antennas Thursday night in the dark. We will do as much preliminary
work and preparation as we can before Friday morning.

We are hoping to have the two Yagis and 30M vertical up by lunch on
Friday and will work through the afternoon to get the 80M, 40M wire
antennas up in the trees. The 160M inverted "L" will be the last antenna
to go up. We should be on the air with two stations on the higher
frequencies sometime after 1200 UTC Friday and will probably activate
all four stations by the early evening.

Keep a watch on packet cluster and you will see us spotted for information on our active frequencies.
Don't be afraid to call. Our aim is to help all of you who want ZL7 to get it in your log over the next 5 days
of operation.

On behalf of the ZL7T DXpedition team please accept our heartfelt thanks
for your support, kind words of encouragement and donations which will
help defray some of the cost of this operation. It makes all the effort
required in mounting a DXpedition worthwhile when we receive your good
wishes.

73, Lee ZL2AL

See you in the pileups! DX IS!!