Atsuo, 5W1SA will be active from Suva, Fiji as 3D2SA.
He will be active on HF bands.
QSL via LOTW.
Information from Atsuo:
Not a DXpedition but QRV between some family matters from Suva, Fiji.
QTH is close to Central Suva City, antenna located below buildings.
KX3 (QRP) + KXPA100 + Windom (40m and above)
Hope you can hear me and I can hear you while I'm stay in Suva.
Back to Apia on 26th. Visit Fiji again on early December 2014.
73
Atsu

3D2SA/5W1SA
Fiji – your favorite island home
About Fiji Islands
Fiji islands are a natural result of volcanic activity about 150 million years ago. Fiji boasts a natural pristine environment tucked halfway between North America and Asia, nestled in the heart of the South Pacific with 333 tropical islands in all. Fiji has a population of 881,065 according to the World Bank in 2013. The official languages spoken in this intriguing island are English, Fijian and Fiji Hindi. The currency used is the Fijian dollar.
Fiji is an archipelago of 333 tropical islands, 110 of which are permanently inhabited. Viti Levu and Vanua Levu are the two main one and make of for 87% of the population. Suva is the largest City and also the capital and is on Viti Levu. Nadi is located in the urban centers and known for its tourism. Lautoka is a sugar cane industry. Fiji can boast the accolade of being one of the most developed economies in the Pacific Island due to their bounty of forest, mineral and fish resources. The country depends on its tourist and sugar exports.
Well known for their hospitality, Fijians will welcome you the moment you arrive with a hearty "Bula!"
Visiting Fiji Islands
Fiji Airways, Fiji's national carrier – has several flights from many international destinations so getting there is easy. Nadi International Airport is the main airport although there are several domestic airports. Visitors from most countries receive an automatic 4-month visa on arrival.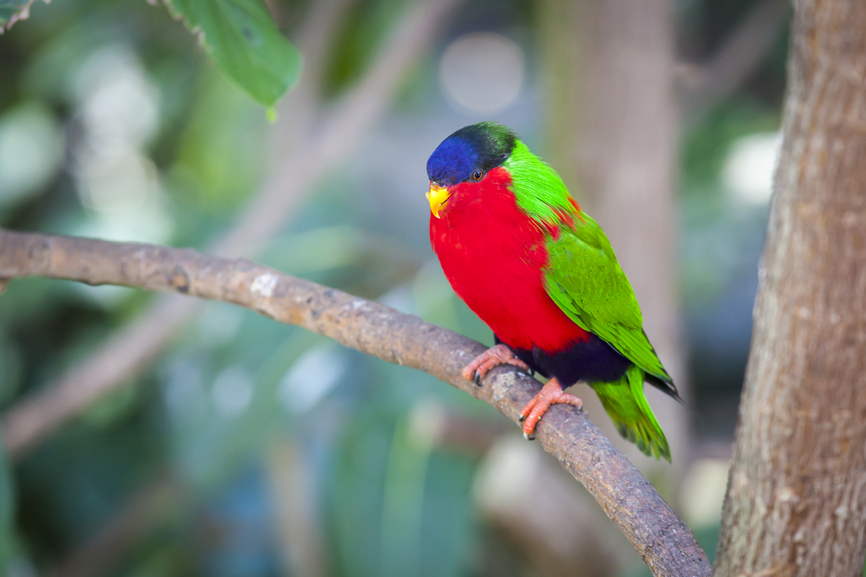 Collared Lory of the Fiji Islands
History of Fiji Islands
It is thought that Fiji was settled around 3500 to 1000 BC by voyaging traders as can be evidenced by pottery art found in Fijian towns. These pottery shards have been found throughout the country. It is widely believed that the Lapita (ancestors of the Polynesians) were the first inhabitants of this country but it is not for sure. Melanesians arrived soon after. Fijian culture is similar to Melanesian culture but has a stronger connection to the older Polynesian cultures.
The Fijian legend tells the story of the great chief Lutunasobasoba who led his people across the vast seas to the bountiful land of Fiji. Either way, this is where the cultures of the Melanesians and Polynesians blended to create a happy society.
European discoveries of Fiji were quite accidental. Abel Tasman, the Dutch explorer was the first in 1642. Captain James Cook sailed through in 1774 but major credit for discovery of Fiji was credited to Captain William Bligh who sailed through Fiji in 1789.
Interestingly enough, the first Europeans to embrace the land were runaway convicts from Australia and shipwrecked sailors. Missionaries and traders didn't appear until the mid 19th Century. The missionaries quickly put an end to the cannibalism that was practiced in Fiji then. In 1854, tribal chief RatuSeruCakobau accepted Christianity and the rest of the country soon followed suit.
The arrival of Indians in the region was from about 1879 to 1916. They came there – as to many colonies – as indentured laborers to toil the numerous sugar plantations. Many loved this land and stayed on as farmers and businessmen. Indians make up about 43.6% of the population.
As you can see, Fiji truly is a multi-racial, multi-cultural nation – represented by all the world's religions. The country is full of Christian churches, Sikh and Hindu temples, and Muslim Mosques. Half of Fiji's population is Christian while the rest is Hindu, Muslim, Sikh and others.
There are no race issues and the people live in harmony. The government makes it unlawful to discriminate on any basis and it is an offence to encourage or provoke racial disharmony.
English is the mode of instruction in schools but Fijian and Hindi are also taught as part of the school curriculum. The distinctive Fiji-Hindi is very unique to the Indians in Fiji – not sounding anything like the one spoken in India.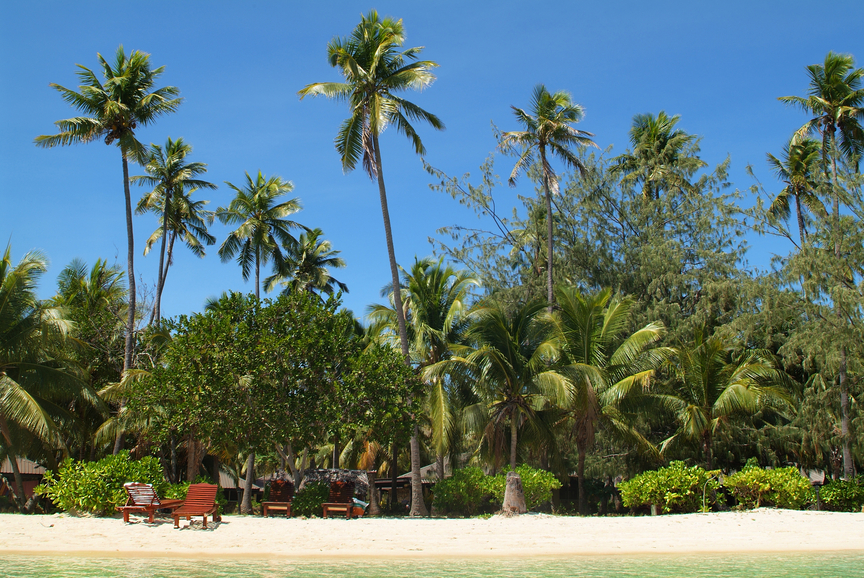 Government and Politics of Fiji Islands
In 2006, Commodore Frank Bainimarama seized power in a coup but the High Court ruled in 2009 that such military dictatorship was unlawful. In 2009 President RatuEpeliNailatikau was elected. The local government is executed via city and town councils and supervised carefully by the Ministry of Local Government and Urban Development to prevent the take-overs of the past.
Culture
Their culture is a blend of Oceanic, East Asian, South Asian and Eurpopean origins. The local name for the islands is "Viti" meaning "east" or "sunrise".
Weather
The weather can be tricky animal in Fiji and you need to go depending on what you want to do there. Fiji's winter months are best for those interested in diving or surfing as there are the biggest breaks. These drier winter months are also more pleasurable for land activities and sports. Summer months are best for snorkelers as the water is warm and the surf not as big. Fiji is blessed and not affected by monsoon seasons.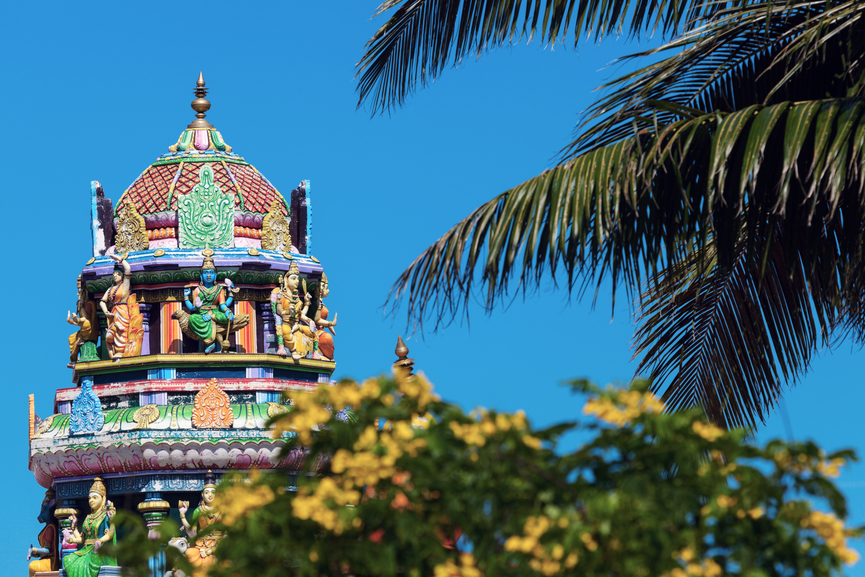 Sri Siva Subramaniya Swami Hindu Temple in Nadi
Travel & Tourism:
What to do:
There are many festivals and celebrations hosted by the Fijians. Fijian-Indian communities celebrate a lot of flamboyant Hindu festivals. Nadi boasts some carnival type festivals that last a whole week. Surfing, golf and rugby tournaments are very popular here. Be prepared for gastronomical wonders from the high end to off the beaten track favorites frequented by locals. You may be able to even sample a traditional Fijian fare if you take a village tour.
It's easy to get around Fiji and cheap with a good network of buses, trucks, and ferries. Taxis are common. You can even charter a boat or small plane to go between the islands. Fiji also has two domestic airlines that have flights to all the islands.
Where to stay:
Travelers arrive in many different sorts and have different accommodation requirements but Fiji can host all. From five star resorts, backpackers are also well taken care of with a range of affordable hostels. You can try to find a native village homestay if you're lucky and if you have the means you can even book a whole island for yourself.
Video Fiji