Markus, DJ4EL will be active from Lamu Island (IOTA AF-040), Kenya 4-19 October 2014 as 5Z4/DJ4EL.
He will be active on 40-10m SSB.
QSL via home call, LOTW.
Information Lamu Island Kenya
Lamu Island is part of Lamu Archipelago Kenya.
Official language- English, Swahili.
Currency- Kenyan shilling KES.
Time- UTC +3.
International phone code- +254.
Internet domain- .ke
Amateur Radio information Lamu Island 5Z4/DJ4EL
DXCC country- Kenya.
WAC continent- Africa.
WAZ zone- 37.
ITU zone- 48.
Lamu Island QTH Locator- LI07kr.
RSGB IOTA- IOTA AF-040 Coast Province North Group.


Lamu Island (Kenya) Paradise Incarnate
Lamu Island is part of the Lamu Archipelago of Kenya. Lamu Old Town is the most inhabited part of the island. This stunning getaway should be on everyone's list of destinations to visit in their lifetime. The Climate is divine, the views are beautifully vast. The shores are abundant and absolutely breathtaking. The majestic architecture will blow your mind. There is so much to experience,do, and see. Whether you want to relax on the beach, take in the local culture, or both. Lamu Island is the place to be for rest and relaxation. The best way to get to Lamu town is by air straight from Nairobi or from Mombasa or Malindi to the south. In order to arrive to the main village a brief boat ride is the best option. If you find yourself having to budget, you can also catch a bus from Mombasa via Malindi. Be sure to book in advance and sit on the front of the bus. The harsh terrain and muddy roads can be tough. Once you get there transportation is a non-issue because everything is a stone's throw away. Leave the Lous Vuitton, Gucci, or any other expensive shoes at home because Donkeys are the main source of transport and are allowed to "go" where they want literally; which unfortunately will be where you will have to walk as well. Make sure you pack more than one pair some sturdy, easy to clean sneakers. Light is limited at night so you will most definitely need flashlights and plenty batteries for the duration of your trip. Very few cars in Lamu, much of the travel occurs by boat, by foot, or by donkey.

Language:
The native language on Lamu Island is primarily English but; you will gain more respect if you are fluent in Swahili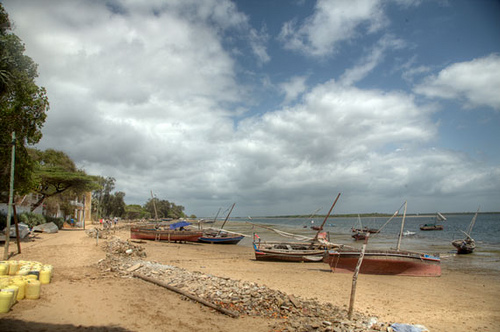 Lamu Island Facts:
Built in Coral stone
Founded in the 14th century
oldest living Swahili settlement in East Africa
In 1890 the island became a part of Zanzibar and remained that way until Kenya was granted independence from Great Britain in 1963
Consists of three Villages (Shela, Matondoni, and Kipungani)
Shela is a village approximately 3.2km south of Lamu the origin of the village is an unsolved mystery yet; is the Centre for tourism on the island
Suffered devastating damage during the 2004 Indian Ocean Earthquake where a number of people and their loved ones lost their lives during the tsunami. Since then they have rebuilt tremendously with the help of global charities and local authorities.
Matondoni is the location where the dhows are constructed and repaired and lies at the NW coast of the island 7.3. Km west of Lamu
The Airport is located on Manda Island. There are no roads on the island, just alleyways, and footpaths.
Not many motorized vehicles
Tourism to the island sparked in the 1970's
Has hosted Many Major Muslim religious festivals since the 19th century
Significant center of study Of Islamic and Swahili cultures
One of the few remaining old Swahili towns still intact
Made up of East African, Omani, Yemeni, Indian, Portuguese, and some Victorian influences.
Main Attractions:
Lamu museum (Home of the prized Siwa horns)
two centuries old Lamu Fort
Hotels/Accommodations:

Kizingo
The Majlis
Baytil Ajaib
Peponi
Kijani Hotel Lamu
Jannat House
Lamu Palace Hotel
Sunsail Hotel
The Moon Houses
Bahari hotel
Petey Island
Banana House & Wellness Centre
Manda bay
Andeavelo House
Jambo house
Fatuna's tower
Kipungani Explorer
Subira House
The Red Pepper House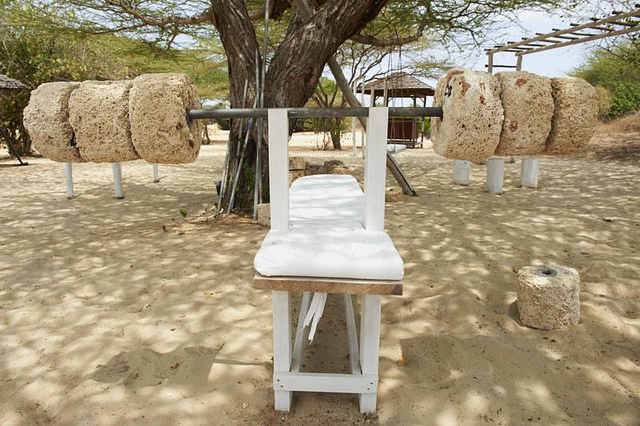 Scenery:
Many tour guides called Ahadi; happily await to show you around. They possess such in-depth knowledge about Lamu, its people, its history, and its culture. A Mired of places are available to explore using a Dhow, a dhow is a traditional Arab sailing vessel with one or more lateen sails. Dhow trips are the go-to experience while in Lamu. You can visit Manda Island, the mysterious Takaw Ruins or Matondoni. There is also an amazing biosphere in Kiwayu. Surprisingly; ecotourism is very popular there and the surrounding communities are involved with that process. The beaches are a marvel all their own. Crystal clear ocean, thriving sea life, an atmosphere few rarely get a chance to see is an experience to be had. Lamu Island is a bucket list destination for sure; perfect for destination weddings or if you want to take a sabbatical from all the ills of the outside world. Lamu is one of the few places on earth that has relatively remained unchanged.

Cuisine:

The native delicacy of choice in Lamu is mainly seafood, of course that makes sense because it is an island. Hint* Hint*the garlic crab and crab soup come highly recommended. Traditional Swahili dishes are available for the truly adventurous and brave. The Ali Hippi; a humble jovial man who resides in the village will extend an invitation to his home; it would behoove you to take him up on his gracious offer. His food is said to be sinfully delicious plus he and his family will entertain you by performing for you and your guest(s) A wide variety of cuisine is at the ready to tantalize your pallet; African, American, Asian, European, German, Italian, Japanese, Global/international. Your tummy will not be bored as you sample each one. Most if not all the restaurants are three to five star. And the accommodations are impeccable. You will truly feel as though you are in paradise when you visit Lamu Island. It's a world all its own and you will have access to all the rest and relaxation you desire.

Conventions are also held on Lamu Island as well. Annually The Architectural Association of Kenya who just turned 47 years old; gladly comes to Lamu Island every year to discuss the current state of the architecture and what they can improve upon or subsequently preserve without compromising the authenticity or rich history of this magical place. They have big plans to add on, restore, and reconstruct certain places on the Island. This will improve tourism and boost the economy of Lamu Island and the surrounding villages.

Video Lamu Island Kenya.