Knut, DK5AD will be active from Nepal 20 September - 4 October 2014 as 9N7AD.
He will be active on HF bands.
QSL via home call.
He will use KX3 transceiver and vertical antenna.
Nepal – The Summit of the Earth
The landlocked country of Nepal in South Asia is located in the Himalayan Mountains, which are home to 8 of the highest mountains in the world. The tallest of these is Mount Everest, famous for being an unconquerable peak until Sir Edmund Hillary, along with his Nepalese Sherpa guide, Tenzing Norgay, finally climbed to the summit in 1953. This heroic feat put Nepal in the news that year and people all over the world were focused on this small country, with China to its north and India to its south.
History
The first flourishing civilizations in Nepal were located in the fertile Kathmandu Valley around the 6th century B.C. Though the first settlers were thought to be the Gopalas, Mahispala, and Kirata, no archeological evidence exists as proof, other than later documentation that alludes to their settlement in this area. In 563 B.C. Prince Siddhartha Gautama was born into a noble family, but eschewed a life of wealth to follow the aesthetic life as the Buddha (the enlightened one). Many Nepalese followed the Buddhist religion, but Hinduism began to take over as the leading faith due to influence from India during the 12th century.
The Malla kings reigned from 1200-1768, after which it was unified by King Prithvi Narayan Shah, who signed a treaty with Britain in 1792 after years of wrangling with the British East India Company. In 1923, Britain recognized Nepal as an independent nation. The country was ruled by the Rana family between 1847 and 1951, but a constitutional monarchy was declared in 1951, and Mahendra Bir Bikram Shah became king in 1955. Prince Birendra succeeded him in 1972, but was forced to hold free elections in 1990. A Communist guerilla movement began to operate in the countryside in 1996.
King Birendra was shot and killed by his own son, Crown Prince Dipendra, on June 1, 2001. He also killed several other family members before shooting himself. Prince Gyanendra was crowned king, and dismissed the government in October 2002. After much political maneuvering and protests, Parliament abolished the monarchy at the end of 2007, and Nepal became a federal democratic republic. In 2008, Ram Baran Yadav was elected the first President. After a number of elections and resignations over several years, in 2014 Sushil Koirala became Prime Minister.
On April 18, 2014, a tragic avalanche occurred on Mount Everest killing 16 Sherpa guides. There was a protest and walkout by the remaining guides after the government failed to respond adequately to help the families of the guides who had been killed. This has caused the cancellation or delay of several mountaineering expeditions.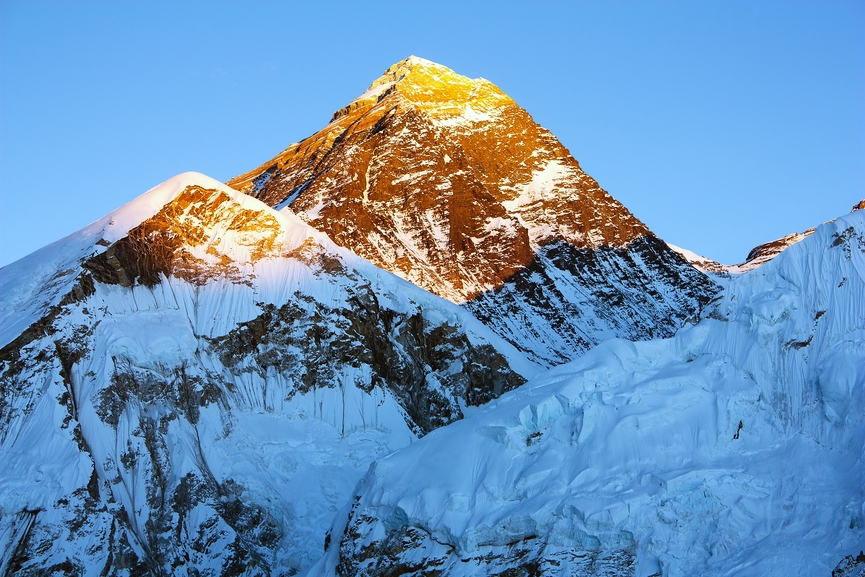 Terrain and Weather
The country is divided into 3 separate types of terrain, which run east to west and are intersected by a river system running north to south.
Mountain (Parbat) – This area exists within the Great Himalayan Range in the northern part of the country. Besides Mount Everest, the tallest mountain peak in the world, the 7 next highest are Lhotse, Makalu, Cho Oyu, Kanchenjunga, Dhaulagiri, Annapurna, and Manaslu.
Hill (Pahad) – This area of Nepal is composed of hills situated next to mountainous terrain. The climate varies from subtropical in the lower altitudes to a cold climate at higher altitudes, with a higher population in the more tropical areas.
Terai – These lowland plains on the southern border next to India were formed by the Kosi, Narayani, and Karnali Rivers; the climate of this part of Nepal is tropical.
Nepal has 5 different climate zones, which include tropical/subtropical, temperate, cold, sub-Arctic, and Arctic. These correspond to the different altitudes throughout the country. In addition to the traditional seasons, summer (June-August), autumn (September-November), winter (December-February), and spring (March-May), Nepal also experiences a monsoon season during the summer.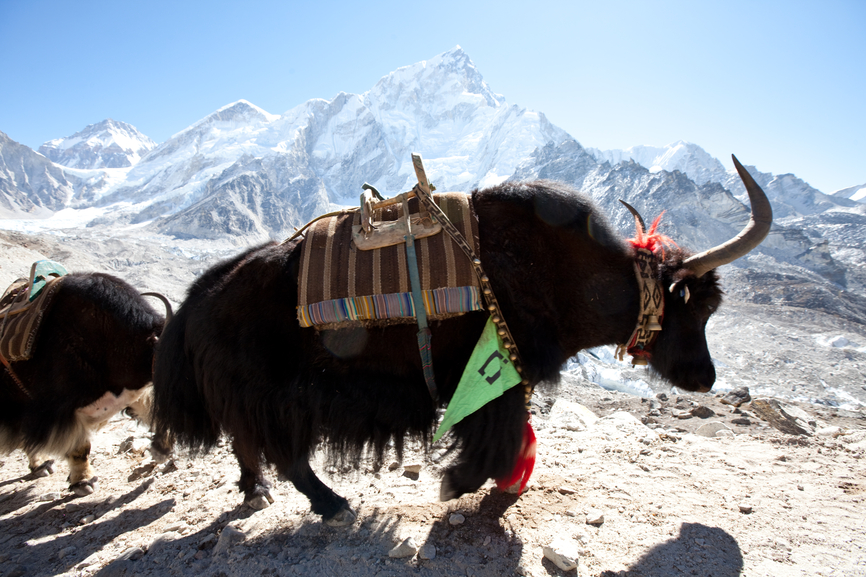 Accommodations
Hotel Mums Home – Located in Kathmandu, this hotel offers a custom-made itinerary for touring and activities, including sightseeing at World Heritage Sites in Kathmandu Valley, a mountain flight to the Everest region, mountain biking, and hiking. Hotel services include Internet, an on-site restaurant and bar/lounge, room service, and airport transportation.
Pokhara Grande – This 5-star hotel in the city of Pokhara offers luxury and efficiency with premium services. The hotel is situated in a natural setting, but delivers deluxe rooms with amenites including WiFi, minibar, cable TV, and daily newspapers. Large suites offer a fruit basket and bottled water for visitors.
Hotel Mi Casa – Decorated in traditional Nepalese décor, this secluded Kathmandu hotel offers free breakfast, Internet, kitchenette, on-site restaurant, room service, shuttle bus, and is pet friendly. Your home away from home in Nepal.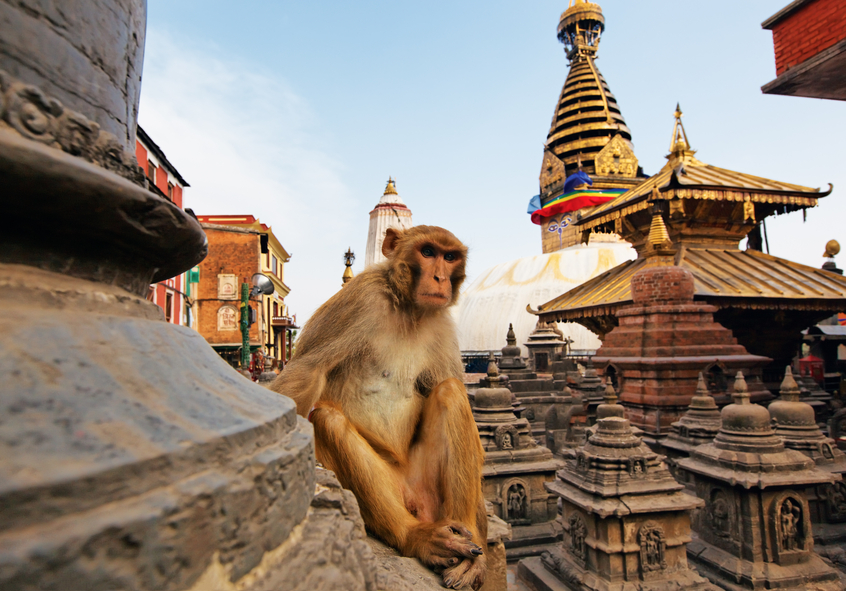 Cuisine
Kathmandu Grill Kitchen – With traditional Nepalese and Indian cuisine and a touch of Western-style fare, the relaxed atmosphere of this restaurant welcomes hungry guests. Reviewers have recommended the Nepali Thali, Poori-Bhaji, Nepali Chai, as well as the burgers, fried pies, and chicken momo. Vegetarian fare and organic salads are also available for the health conscious.
Pokhara Beach Club – Lounge under a green canopy of foliage at the water's edge and enjoy a freshly prepared breakfast, brunch, or late night dinner. With a view of the Peace Pagoda, this restaurant offers healthy cuisine, including the popular boar burger, fresh caught fish, crisp salads, and fruits and juices. The coconut ice cream with chocolate sauce is the perfect finish.
Café Soma – Billed as a "European deli with a Nepali twist," this meeting place for coffee, snacks, and gourmet sandwiches has a great selection of books to go along with your meal. Pause, refresh, and go out ready to meet the day after you stop in for breakfast, brunch, or lunch. With great baked goods, smoothies, and other selections, Café Soma offers superior Nepalese coffees and an array of fine teas. Try a vegetarian selection or their fantastic cheesecake.
Travelers to Nepal have a number of fascinating sights to visit: the Narayanhiti Palace Museum and Pashupatinath Temple in Kathmandu, and Boudhanath in the capital city is a sanctuary of Tibetan Buddhist culture. Years ago, Kathmandu was a tourist draw for visiting ancient trade routes and seeing the old traditions and customs of Nepal. It was also once the hippie mecca for young people all over the world. Today, Nepal faces the future and sets its sights on modernizing this once medieval trade center.
Video Nepal