Alain, F8FUA will be active from Reunion Island, IOTA AF - 016, 22 - 30 September 2017 as FR/F8FUA.
He will operate on HF Bands CW, SSB, Digital modes.
QSL via home call.
Ads for direct QSL:
ALAIN ESQUIROL, 3 RUE DU BOUT DE LA BAS, DEMOUVILLE, 14840, France.
Reunion Island: overseas department of France
Located to the east of Madagascar, lies an Island in the Indian Ocean called Reunion Island. Its population is approximately 850,000 and is a French Island. Its nearest neighbor is Mauritius, which is located 200 kilometers to the southwest.
Reunion Island is considered a French Dept. as it is one of twenty-seven regions of oversees France. It is considered an important part of the French Republic and shares the same statutes and rights as it would on the European mainland. Situated in the outermost region of the European Union and as an Island of France it is a Eurozone.
A melting pot of ethnicity the population is made up of ¼ whites, Indians make up roughly ¼, the Chinese population at 3% and the remainder of the population are mixed. In 1958, France banned the census taking of mixed households and Reunion falls under this charter.
The predominant religion in Reunion is Roman Catholic, while you can find eastern religions gathered about.
The only official language of Reunion is French. Though not an official language Reunion Creole is predominately spoken but not what is taught through the school systems.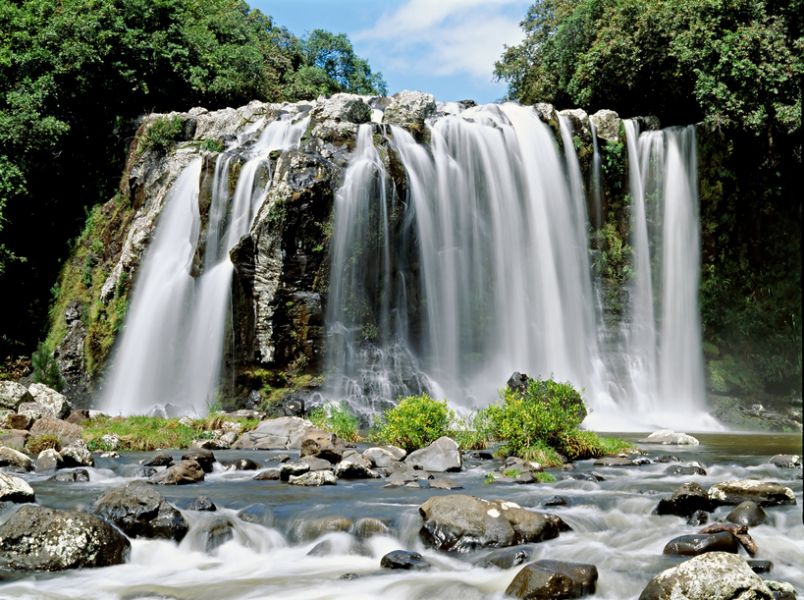 Waterfall in Reunion island
Geographically:
Geographically the Island is 63 Kilometers long, 45 Kilometers wide and 2,512 Sq. Kilometers.Much like the Island of Hawaii both Reunion and Hawaii share hotspots above the earths crust. Also like Hawaii its volcano Piton de la Fournaise located on the eastern end of Reunion 2, 631 meters above sea level. Having erupted over 100 times since 1640, most recently in 2010, this volcano is under constant watch.
The Piton Des Nieges is the highest point of the Island at 3,070 meters above sea level and is located south West of the Piton de la Fournaise is a collapsed and dead volcano. The French interpretation of it name means snow. Snow rarely falls on the summit.
The slopes of both of the volcanoes are heavily forested. Most cities and the capital are situated in the low lands and the offshore is a coral reef system.
The interior mountain range is rugged and is more than just volcano ash. Here you will find exotic birds, foliage as well as waterfalls, which can be crushing during the monsoon season and a trickle during the dry season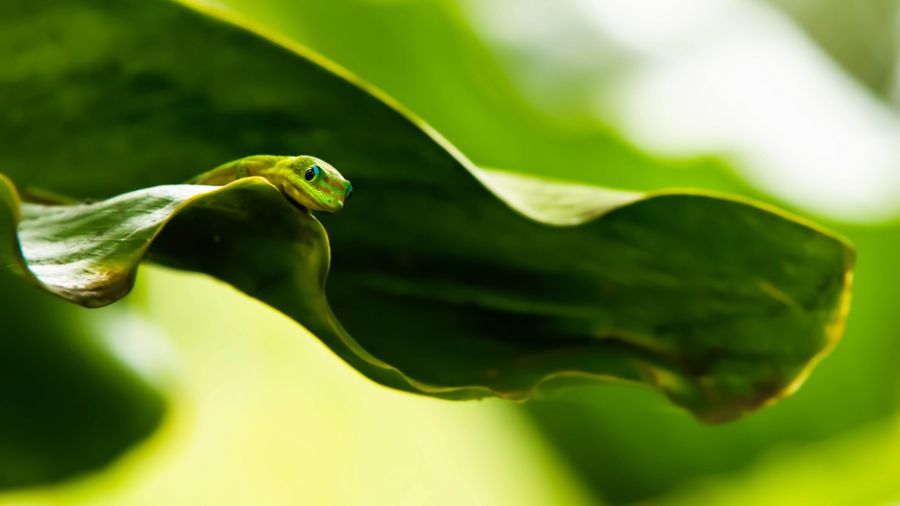 Gecko Reunion Island
Culture:
Reunionese culture is a diverse blend of Chinese, African, European and Indian. This mixture affects everything from food to music.
Economy:
Reunion at one time relied heavily on their sugar cane crops to support their economy. Sugar was once the primary agricultural crop and export. Tourism is now heavily depended upon.
42% of the population lives in poverty and of them, 60% are young people.
Things to do
Reunion is a splendid vacation spot with both 5 star restaurants and hotels. You can travel across Reunion by automobile as well as a bus system, which takes you too all the major cities.
There is also a system of bike and hiking trails to challenge you. The bike trails are tough and it is advised that you are in good physical shape. The mountain slopes to these trails are a splendid view. The Village of Cirque de Mafate, which reaches beyond cars and is the wild side of Reunion.
Almost each city has its own attractions. The city of Sainte-Gilles-Les-Bain offers such attractions as an aquarium, The Blue Marine Reunion, Jet Ski and the Jarden of Eden. The La Villa Club is only one club in the Night Life experience.
The west coast towns offer beaches and water sports of all kinds. Sainte-Gilles-Les-Bain next to the coral reef invites the scuba diver, while St. Leu offers some of the best surfing anywhere. The tourist mecca is the capital city of St. Denis. Here you will find very friendly people, galleries, original architecture and the finest dining on the Island. East coast towns have rugged seas and are not appropriate for swimming or surfing. Along this coast however you will find sugar cane and vanilla farms. There are also majestic waterfalls as well as exciting architecture. During the months of June – September, the Humpback Whale comes from the Atlantic for both feeding and breeding.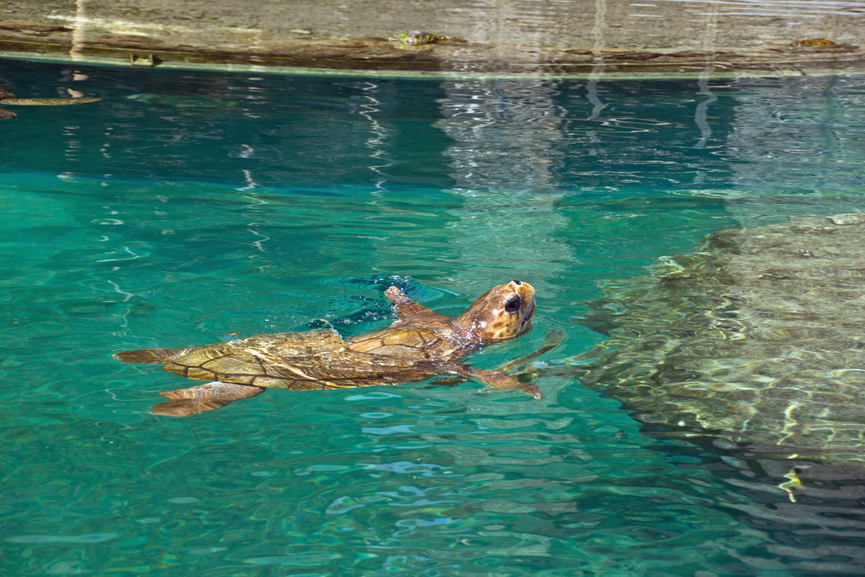 Sea Turtle Reunion Island
Where to stay:
There is a wide selection of hotels and resorts to stay at. You will find that there is a place to capture every imagination. There is something located in every town and every city. For those who are interested in vacation rentals there are also plenty to be had from apartments to small houses. This isa small listing of Hotels:
Lux lle de la Reunion
Palm Hotel and Spa
Mercure Creolia Sainte Denis La Reunion
La Archipel
Tama Hotel
Iloha Seaview Hotel
Getting To Reunion:
There direct flights that leave from NYC, Paris, and London to St. Denis via Air France regularly.
Summary:
Despite its total amount of hotel and rental accommodations, Reunion is not well recognized on the international tourist radar. Each town or village offers something new to find in Reunion. The home of some of the world's most exotic birds inland and to the sea urchins and conger eels on the coast adds to the diversity of the already diverse Island.
With such a diverse population the influences are reflected in towns and cities throughout the Island of Reunion. The blending of ethnicities does not have the same reaction culturally as it might in many other parts of the world.
Reunion is deeply dependent on the tourist trade and because of this the offerings of activities and the amount of 5 star hotels are overwhelming.
One can go to Reunion and relax, have adventures, party with the people or do anything offered by any beach or a mountain resort. While French is the formal language, French Creole is the language you will find mostly spoken. It would be best to pack up your French books prior to leaving for this Island.
Volcano, wildlife, friendly people and food from China, India, Africa and France can't help but promise you a special vacation in a special location.
Video Reunion Island


FR/F8FUA. Where is Reunion Island located. Map.
FR/F8FUA Reunion Island. Sunrise 10-02-2023 at 01:57 GMT sunset at 14:17 GMT