Yasuo, JA2SWH will be active from Guatemala 16 - 19 September 2014 as AB0FU/TG9.
He will be active on HF Bands.
QSL via JA2SWH.
Guatemala – Land of the Eternal Spring
As one of the most beautiful countries in Central America, and the most populous, the landscape of Guatemala ranges from mountainous and waterfront vistas to pristine white or volcanic black sand beaches. It is bordered by Mexico to the north and west, Belize to the northeast, El Salvador and Honduras to the southeast, the Pacific Ocean in the southwest, and to the east the Caribbean Sea. Millions of plants and animals make their homes among the diverse ecosystems to be found in the rain and cloud forests, dry valleys, swamps and ocean shores. Crocodiles, pumas, jaguars, quetzals, toucans, and tapirs live among the 8,000 species of flowers, trees, and other plants. A true tropical paradise, unfortunately, Guatemala's political and cultural history has been a sad and conflicted one.
History and Culture
As a Mesoamerican region, and pre-Columbian society, there is archeological evidence that humans inhabited Guatemala as long ago as 12,000 BC, and possibly as far back as 18,000 BC. These hunter-gatherers have left evidence that they were cultivating maize, beans, squash, and chili around 7000 BC, as well as domesticating turkeys and dogs. They had also developed numeric and calendar systems, games, and had perfected a successful agricultural style. They were a thriving culture known as the Maya. For unknown reasons, however, this flourishing civilization collapsed. Recently, there was a great deal of publicity about the Mayan calendar and its prediction of world apocalypse. Though nothing has been conclusively proven, there has been much speculation among scientists as to the reason for the demise of the Maya. The most popular theory to date is prolonged draught. However, the Mayans left many archeological structures and artifacts that support the theory that theirs was a highly advanced civilization for its time.
Years after the collapse of the Mayan civilization, Guatemala was invaded by several Spanish expeditions. Once again, catastrophe struck the native population; many died in an epidemic that ravaged the country. The Spanish then proceeded to conquer the entire region and Guatemala was subjugated until 1821, when Guatemala, along with several other countries in the region, proclaimed their independence. Under the leadership of Justo Rufino Barrios, the country began to become more modernized and coffee became an important crop. It was a few years after this that the United Fruit Company came to Guatemala and began to dominate the politics of the region.
The political climate in Guatemala became more unstable during the 20th century, and it fluctuated between democracy and dictatorship. During the 1960s through the mid to late 1990s, there was civil war between the government and leftist rebels. The government has now stabilized and more recently democratic elections were held. There has been a new economic resurgence and the economy and tourism are on the upswing.
The name Guatemala is derived from several sources, variously Nahuatl Cuauhtemallan (place of many trees), Quauhtemellan (land of the eagle), and Uhatzmalha (mountain where water gushes). But the name it is today known by is the "land of eternal spring." And visitors to this country are always amazed by its temperate climate and varied plant and animal life. There are a number of archaeological sites to visit colonial plazas, and churches, volcanic beaches along the Pacific or white sand along the Caribbean, Mayan art, underground rivers, and a mixture of cultural history which includes pre-Columbian, Mayan, and Spanish.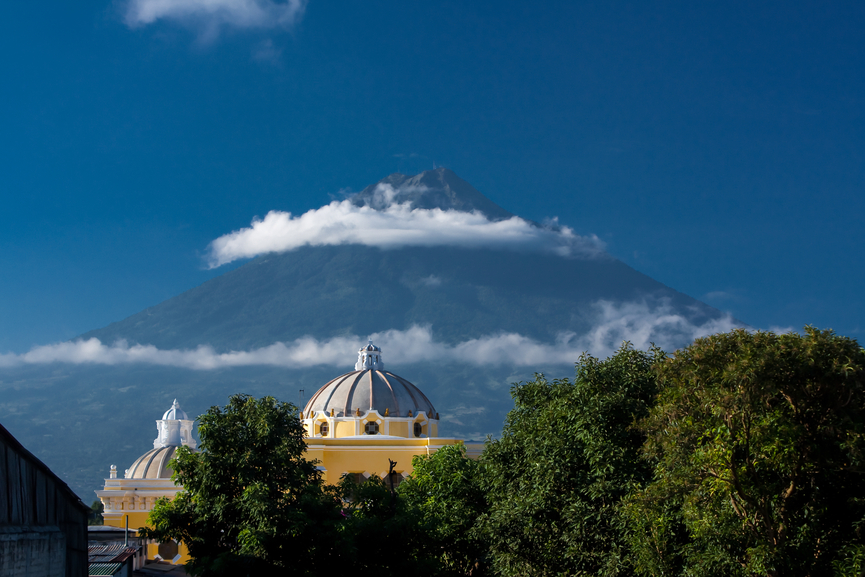 Accommodations
Real Intercontinental Guatemala – For business or pleasure, this hotel is equipped to serve its visitors with luxury suites and conference venues. It boasts 4 restaurants and a trendy lounge, together with premium services. Visit their rejuvenating spa and fitness center, or take a swim in the pool or a dip in the Jacuzzi. There is even a solarium for relaxing the day away. A 24-hour front desk will cater to your every need.
Barceló Guatemala City – Close to the airport and in the main business area, this 5-star hotel offers elegant rooms, exercise and spa facilities, massages, and a beauty salon. Gourmet restaurants and meeting rooms for conducting business top off the numerous facilities available to travelers.
Hotel La Reunion Golf Resort and Residences – For the vacationer who is looking for the ultimate golf resort, this hotel located in Antigua, Guatemala, is a golfer's paradise. Located in a mountain setting, near volcanic attractions and ancient ruins, Hotel La Reunion features 2 pools, 2 restaurants, a golf course, and lounge. Jetted tubs and Internet access are included with this family-friendly vacation package.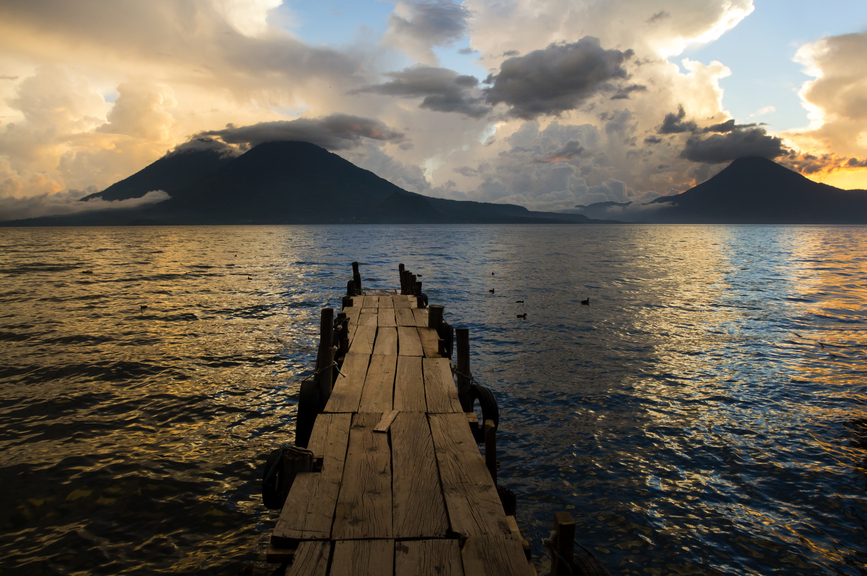 Cuisine
Garcia Cocina de Autor – Located in Guatemala City, this restaurant specializes in Guatemalan and international cuisine prepared with the freshest ingredients. Guests rave about the foie gras, tuna tartare, shrimp and mushroom ravioli, and robalo with chorizo and tomato crust. Just the right touch to make your Guatemalan vacation authentic.
Café Sky – This restaurant truly lives up to its name, offering a climb via a winding staircase to a terrace overlooking the mountains and volcanoes in Antigua. The restaurant features Tex-Mex cuisine such as fajitas, gallo pinto, nachos, and burritos. Especially popular is the chicken vegetable soup, ribs, and beef shish kabob. Friendly service at reasonable prices.
El Rincon de Alex – This restaurant/bar features Spanish Tapas, wines, and authentic Spanish cuisine. Located in Guatemala City, there is outside seating and great music. Recommendations include the Pepito Steak Sandwich, Huevos de Alex, Tortilla de Patata, camarones en caserola al ajo, and the crispy, flavorful paella.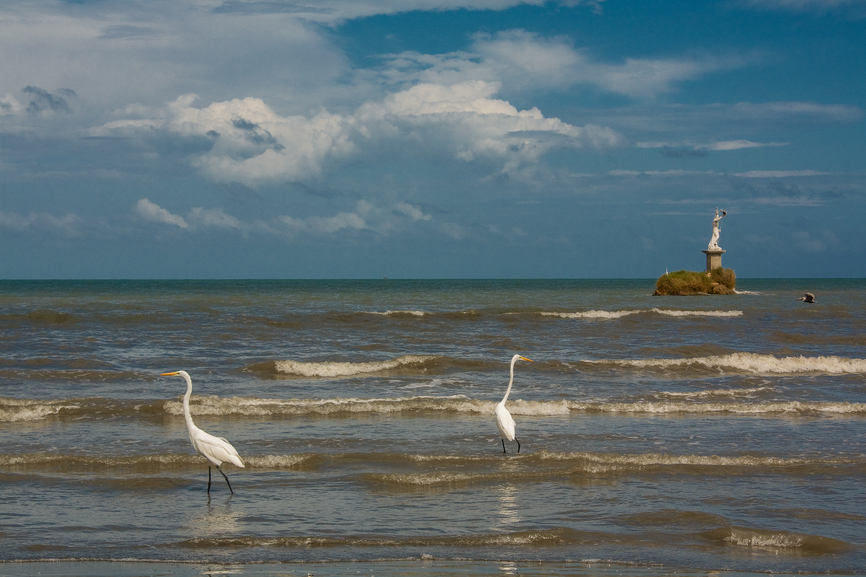 A fascinating blend of ancient Mayan culture mixed with Spanish and a number of native Indian tribes, Guatemala is as varied in its population as it is in its terrain, plant and animal life. From waterfront vistas encompassing the Pacific Ocean to the Caribbean Sea, to views of majestic mountains and volcanoes, this incredibly variable land is a vacation paradise that tests all the senses. Bright woven textiles echoing the brilliant Mayan culture can be seen everywhere, together with colorful and utilitarian pottery and ceramic art. Cantaloupe colored clay buildings contrast with Baroque-style churches in an array of architectural styles, while bright color-splashed paintings depicting scenes from the iconic Mayan history hang on their walls. And the warm, welcoming Guatemalan people do their utmost to make the traveler feel at home.
Video Guatemala