Franck F4DTO and Patrick F4GFE will be active from Albania 18 - 27 October 2014 as ZA/F4DTO and ZA/F4GFE.
They will be active on 40 - 10m SSB.
QSL via home calls.
Albania- a country of natural beauty and splendor
Albania, also known as Republic of Albania is located in South-Eastern part of Europe, and it is bordered by Macedonia, Montenegro, Kosovo and Greece at the East, Northwest, and North east and south respectively. As at the year 2013, the country has a population of about 2.8 million people, and it is a country that has witnessed several economic and political reforms especially from the end of the World War II era.
Albania- The people and Culture
Majority of Albanians have some Islamic religious background, there are however some minority groups with Christian backgrounds, including the orthodox, and Catholics while many can also be agnostic in their beliefs. Recent polls reveal that more than 35% of Albanians are observant when it comes to religious beliefs, and marriages among people with different religious backgrounds are quite common in the country. Most Albanians are friendly, they are fond of enjoying long walks in the city streets and taking coffees, most young Albanians enjoy night life activities. Most Albanians speak the native Albanian language; however Italian and Greek are also widely spoken in many regions of the country.
Climate and weather conditions in Albania
The coastal lowlands of Albania has a Mediterranean kind of weather, however , weather conditions may vary in the country during the summer and winter seasons because of the latitudinal position Albania has found itself. The highland regions have continental climate weather, therefore there can exist a wide difference in weather between the North and the South. The lowlands of Albania are characterized by mild winters with temperatures getting to 7 degrees Celsius while summer temperatures can reach 27 degrees Celsius or higher. The southern lowlands may be characterized by temperatures as low as 5 degrees Celsius throughout the year.
The differences in elevation may affect the Inland temperatures of Albania, with the continental air mass from Eastern Europe causing low winter temperatures. The central uplands of Albania normally have the heaviest temperatures in Albania, and you should expect between 4 to 8 months of rain in the country within a year.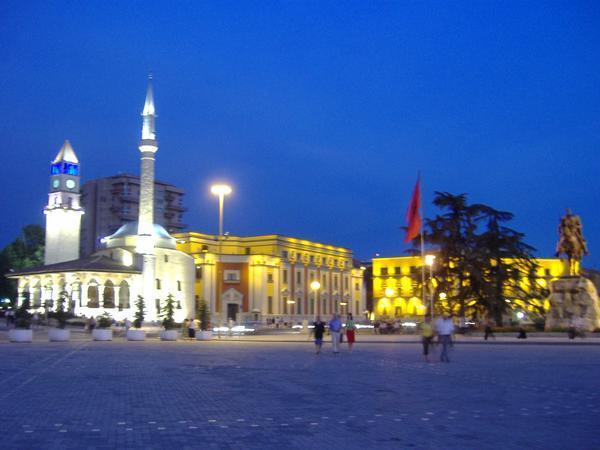 Travelling to Albania
Albania can be accessed by the Air or bus only, it is almost impossible to enter or move out of Albania by a train.
▪Travelling to Albania by Air is the main and most popular way to get to the country. The country's main international airport- Mother Theresa International Airport is located some 15 minutes from the city of Tirana, and it is served by various popular European airlines including; British Airways, Lufthansa, and Alitalia. There are several taxis that are always ready to take you anywhere within and outside the city with fares starting at 15 euros. If you plan to visit the famous Skanderbeg square, you can simply wait for the "Rinas express" a shuttle bus that patrols the square from the airport every hour- this trip should take between 20 to 30 minutes.
▪By train- You can't travel to Albania through the train, however you can make use of the train when travelling within the country. Moving around Albania by Train is very cheap however such service is limited. The city capital – Tirana's rail road station, has been closed temporarily, therefore you may not find a train go there.
▪By bus- Tirana, the capital city can be accessed by bus from a number of countries such as Turkey, Greece, Macedonia and Kosovo. You can take a bus to Tirana from Istanbul Turkey, Sofia Bulgaria, Athens Greece, and Tetovo in Macedonia. Though there are daily bus links between Albania and several countries, you still have to make bookings.
▪ by boat- Thecoastal region of Durres in Albania can be accessed by boat from Bari and Ancona , while night ferry services are also offered by Skanderbeg lines.
Things you can enjoy doing in Albania
Albania offers locals and tourists lots of attractions and activities to do. If you are adventurous in nature, you can visit the Peaks and the Balkans and enjoy some Hiking. You may also enjoy Kayaking, and Rafting in the rough waters within the inland coasts. Albania also offers lots of cycling , Paragliding, and Snowshoeing activities.
If you enjoy relaxing during the holidays, then you should visit the clean and beautiful Ionians and Adriatic beaches. You can combine this with the Mediterranean weather and fresh sea foods offered around the region. Albania is filled with historical places and monuments to visit, you can simply join different tours such as; Gjirokaster, Berat, Butrint, or Durres where you can find lots of wonderful historical artifacts and landmarks in the country.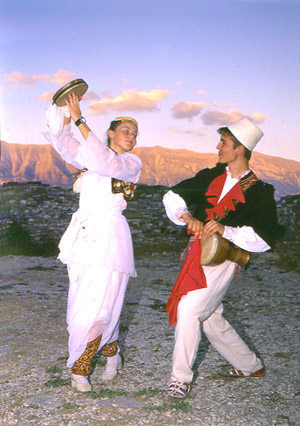 Eating out in Albania
Albania is a country that offers something delicious and tasty for everyone, regardless of where you come from. Albania has lots of Turkish influence in its cuisine, likewise the 400 years of Ottoman rule has also great influence in its traditional cuisines. It's quite common to see many Albanians growing fruits and vegetables around their houses, and because of its mountainous regions, Olive trees have become major components of Albanian dishes. Many Albanian dishes have some hearty stews made from onions, potatoes and rice and other delicious foods and drinks you can east here include;
▪ The Byrek- A savory pie that contains feta cheese and Spinach , though you may also find ingredients such as ground meat, and onion inside.
▪ Feta cheese-Lots of cheese are made in Albania but the Feta cheese is the most common one. The "Girofarma" feta cheese is one of the most delicious cheeses you can find at supermarkets in Albania and the Greek Feta cheese is quite common in restaurants, though it's more expensive than other cheese products.
▪ Raki- If you want some alcoholic drinks, the commonest you can find in Albania is the "Raki", and it is produced with Mulberry and Plum. You must be 18 years or older before you can take alcohol in Albania. There are several other home-made and Internationally-brewed beers made in Albania , likewise there are varieties of soft drinks, energy drinks and mineral water sold at supermarkets, and restaurants across the country.
Video Albania