Bud, AA3B will be active as V26K from Antigua Island, IOTA NA - 100, 19 - 27 November 2023.
He will operate on HF Bands, including activity in CQ WW DX CW Contest, 25 - 26 November 2023 in SOAB LP Category.
Recent DX Spots V26K
V26K Log search QSL via AA3B, LOTW, ClubLog OQRS.
Ads for direct QSL:
JOSEPH TRENCH, 10 SENIA LN, BOYERTOWN, PA, 19512, USA.
Antigua – A Sparkling Gem in the Caribbean
Located in the Leeward Islands of the West Indies, in the romantic Caribbean, Antigua is a relaxing destination for any traveler looking for tranquil beachfront elegance. Called Waladli (our own) by the Indians native to the island, it was renamed Antigua (ancient in Spanish) by the first European to set foot on the island paradise, Christopher Columbus. The name was bestowed in honor of the "Virgin of the Old Cathedral" (La Virgen de la Antigua) in southern Spain.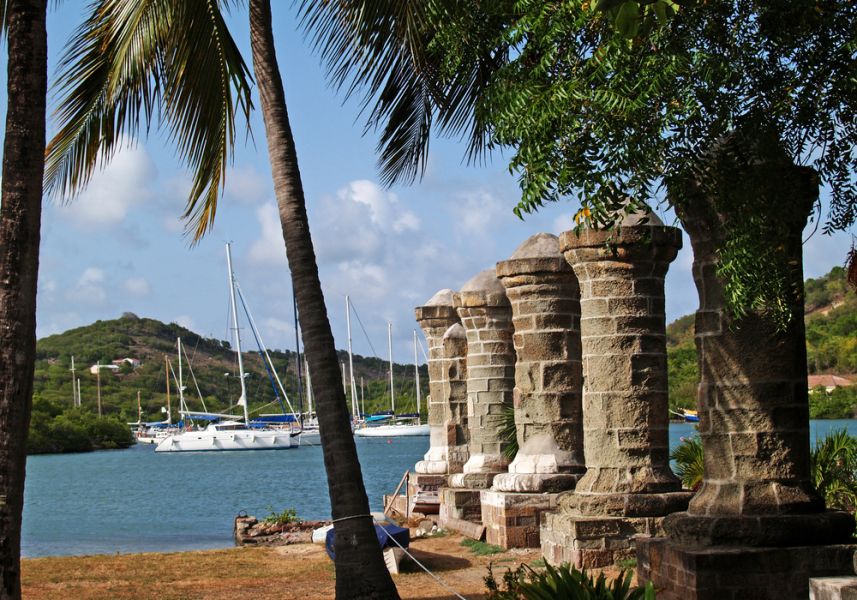 History and Culture
Antigua was originally inhabited by the Ciboney Indians, followed by the Arawaks, who sailed from what is now Venezuela. The Arawaks we later driven out by the fierce Carib Indians, who enslaved some of the Arawaks and cannibalized others. No Europeans had ever seen the island until Christopher Columbus landed there is 1493, followed by Englishman Sir Christopher Codrington in 1632. Codrington established the first European settlement and developed a successful sugar plantation (Betty's Hope). Lord Horatio Nelson later developed a strong commercial shipping industry in the 18th century, and Nelson's Dockyard still survives to this day.
The Antiguan economy relies on the tourist trade, and there are a number of fine hotels and smaller cottages to be found all over the island. There are two thriving medical hospitals, the University Of Health Sciences Antigua (UHSA) and the American University of Antigua (AUA). These institutions teach aspiring doctors and contribute significantly to the island's economy. The population of Antigua is only 80,161 (according to the 2011 census), with its capital city, St. John's, home to 31,000 of those citizens. The East Caribbean dollar is the legal tender of the island (2.70 East Caribbean dollars equal one U.S. dollar).
The major sport in Antigua is cricket, no doubt due to the British influence on the island. Antigua was host to the 2007 Cricket World Cup. Antigua Sailing Week and the Antigua Classic Yacht Regatta are important events on the island, and a number of prestigious yachts and sailing vessels jam the ports during the events. Sport fishing, windsurfing, football (soccer), golf, and basketball are becoming all popular sports in Antigua. And visitors can now climb to the highest peak on the island in the Shekerly Mountains, Mount Obama. Formerly Boggy Peak, in the southwest part of the island, it was once a congregating place for runaway slaves. In honor of the 44th President of the United States, the Prime Minister of Antigua and Barbuda, Baldwin Spencer, renamed it Mount Obama on August 4, 2009, President Obama's birthday.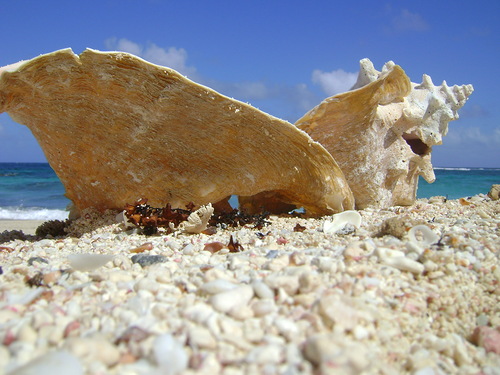 Accommodations
Cocobay Resort – Overlooking Ffryes Bay, this array of 49 colorful wooden cottages and 4 plantation houses is a picturesque, private getaway. Each has a private balcony and all modern amenities, including a restaurant, bar, and Internet access. There are even private plunge pools included for all beachfront rooms. Easy chairs, hammocks, and beautiful sea views complete this rustic, romantic scene.
Hermitage Bay – This 5-star boutique hotel, only 10 minutes from the Jolly Harbour Marina, boast 25 individual suites (hillside, beachfront, or garden). For visitors who enjoy being pampered, there are organic treatments in the Garden Spa, as well as yoga, meditation, and Pilates classes.
Nonsuch Bay Resort – Sheer luxury is the specialty of this sprawling complex of 1-, 2-, and 3-bedroom apartments, spacious, well-appointed 2-bedroom beach cottages, hilltop villas (each with 5 en-suite bedrooms and walk-in showers), and Ayers Creek residences (3-bedroom homes on 2 levels). The villas are perched 150 feet above beautiful Nonsuch Bay. All modern amenities, and then some.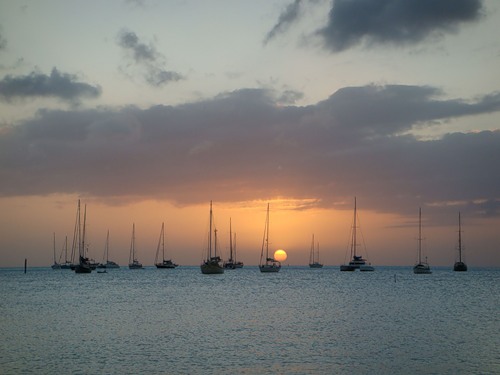 Cuisine
Catherine's Café La Plage – French cuisine with a Caribbean flair, this restaurant can be found on Pigeon Point Beach in English Harbour, and serves breakfast/brunch, lunch, and dinner. It gets rave reviews from diners for the lobster risotto, croque monsieur, tuna tartare, beef Carpaccio, and rack of lamb. The homemade sorbets are excellent and the wine list superb.
The Hideout – Located in Mamora Bay, this gem of a restaurant gets virtually unanimous positive ratings from diners. The mouthwatering steaks, saffron scallops, and herb crusted rack of lamb were particular stand-outs. Diners couldn't say enough about the Portabella en-croute or the mushroom and Stilton in puff pastry. Top it off with a luscious crème brûlée and your evening is complete. Reservations are imperative, as the place is extremely popular.
The Bay at Nonsuch – Set above a cascading series of terraces along the edge of a hillside, the restaurant overlooks the sparkling waters of Nonsuch Bay. Boasting an award-winning chef, the menu is heavy with fresh Caribbean and international dishes, from simple wraps, salads, sandwiches, and Panini to hors d'oeuvres, seafood, steak, and fresh lobster. There is a superb list of wines selected personally by the restaurant's Master of Wine and a chic cocktail lounge and fully staffed bar in which guests can relax.
Though the main draws of Antigua are its stunning beaches, there are a number of other attractions to visit.
Geological formations – Devil's Bridge was caused by the erosion of seawater on limestone, leaving arches that form a bridge that is rumored to have been the site of mass suicides during the era of slavery. Other unique sites include Hell's Gate, another limestone formation, and the Pillars of Hercules, naturally formed geologic pillars.
Stingray City – An unusual snorkeling adventure swimming with stingrays and colorful tropical fish along coral reefs.
Fort Barrington – A British fort built in 1779 in St. John's to protect the island from the French.
Tourists can also visit the Springhill Riding Club at English Harbour, the pink sand beaches of Half Moon Bay, and the rustic Museum of Antigua and Barbuda. Betty's Hope, that original sugar plantation established in 1674 by Sir Christopher Codrington can still be seen in St. John's, preserved as a museum and monument to the slaves who were so cruelly exploited. With a rich history and incredibly beautiful scenery, Antigua is a popular stop for travelers, as well as a destination for those seeking peace and tranquility in the modern world.
V26K. Where is Antigua Island located. Map.
V26K Antigua Island. Sunrise 12-02-2023 at 10:20 GMT sunset at 21:33 GMT