JW0X - JW100QO Svalbard DX-Expedition - 19 - 26 April 2022.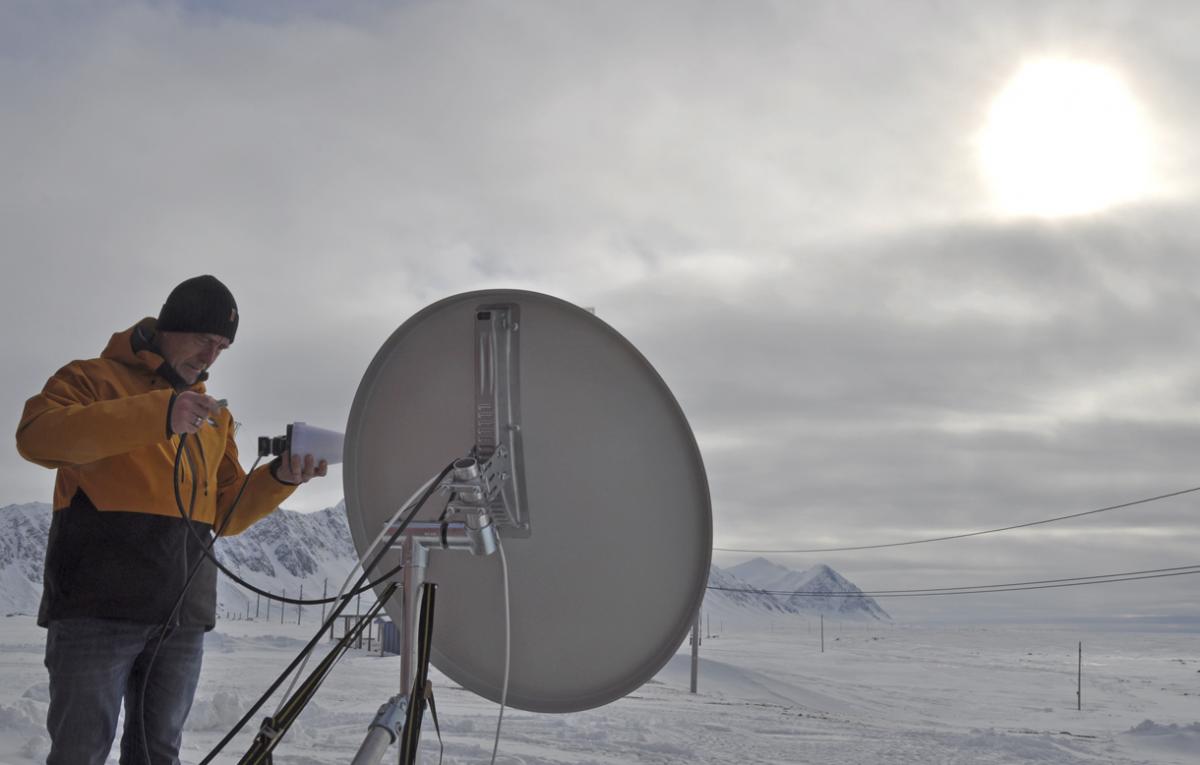 After almost 16 months of hard working, the countdown began !
We were well prepared to head for the Arctic - Svalbard.
Two months before our departure we became a bit worried when a new Covid climax showed up in Europe. First of all we hoped that we didn't
get infected ourselves and that all the borders would remain open.
On top of that, we had also read in the newspapers that SAS (Scandinavian Airlines) was in big financial troubles because of the Covid situation. We could better not think too hard about these 'news' and wanted to suppress these thoughts a bit because we had already spent 10.000 Euro on airline tickets.
Less than 3 weeks before our departure, we received an e-mail from SAS with bad news. Due to the poor financial condition of the company they were forced to cancel 2 of our 6 flights. There was a lot of emailing back and forth to find a good solution but there was no ideal proposal available.
Considering all our preparations we did not want to jeopardize the continuation of this DX-pedition. After consultation with the whole team we decided to be on the safe side and not to take any extra unnecessary risks and leave for Oslo on time. Because of that, we were stuck in Oslo for 3 days. All the equipment was not allowed to stay in the airport and therefore we had to find a solution.
There was no time to waste, it was short day and the search for accommodation could start. Hello madam, do you have any rooms available for fifteen people within three weeks? Small detail, we also have
36 suitcases of luggage with us, 2 ski-bags and a box of satellite antennas. The luck was briefly on our side and in a few days we had found a location just a few kilometers from the airport.
Either Marc ON4MA was not spared and was urgently admitted to the hospital. A surgery was necessary. Pretty soon Marc received a "no go" message from the professor. A big disappointment because we were all looking forward to the start of the DX-pedition with the whole team. However unfortunate as it was, we could not sit back and a few hours later we had a new candidate who wanted to travel with us. Mike ON2MVH joined our team at the last minute.
The team was again complete and consisted of: ON4ANN Erik, ON5UR Max, DJ5MO Jelmer, ON2BDJ Willy, ON2MVH Mike, ON4BR Carlo, ON4CKM Cedric, ON4DCU Patrick, ON4DTO André, ON4EC Erik, ON5RA Pascal, ON6CC Marc, ON7RU Franky, ON8AZ Francis and ON8AK Marc.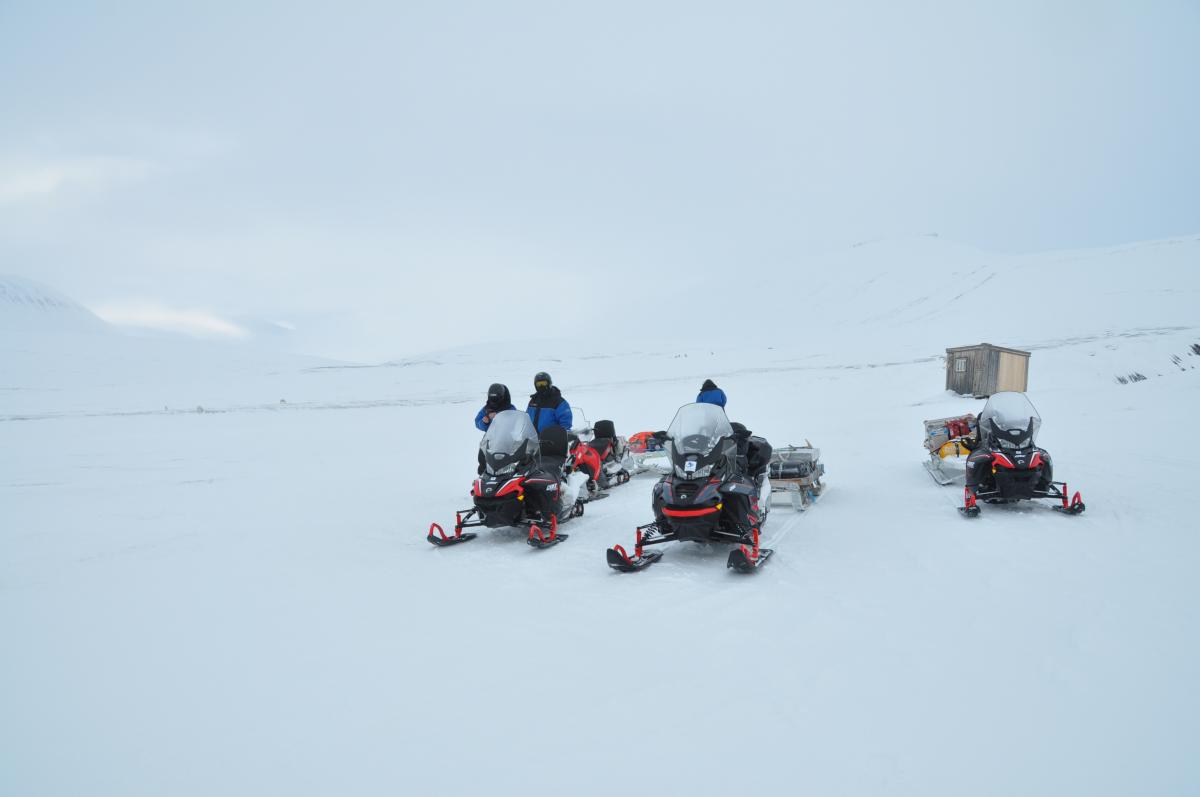 Easter Sunday April 17, 2022 was the day, our adventure could finally start. We flew from Zaventem (Brussels) to Oslo (Norway). From Oslo we continued to Tromso in the north of Norway and so further towards
Longyearbyen (Svalbard).
Tuesday afternoon, April 19, we landed safely in Svalbard. After we gathered all our luggage we very quickly noticed that one suitcase was
was missing. Just the suitcase with our high power bandpass filters. After sending our complaint to SAS, they promised us that the suitcase would arrive with one of the next flights.
The weather gods welcomed us just fine, the sun was out in full force and the temperature was only a few degrees below freezing.
We cleared the 4X4 jeep of snow and so we could take all the equipment away to the different locations. We stayed at 3 locations and could also use the location of JW5E.
After all the material was distributed over the various locations everyone had his duty and the building up could start. We were in good courage and wanted to get JW0X on the air as soon as possible. The early evening arrived, it was already getting considerably colder and the ice was very slippery. Fate struck very quickly, while placing the DX-commander Willy ON2BDJ fell seriously with his head and back on the ice and even lost consciousness a couple of times. We had to get Willy out of here as quickly as possible but couldn't because of the severe pain in his back and notified the emergency services. A helpful man had already provided us with a foil to keep his body warm. Together we continued to rub the arms and legs of Willy hoping he would not cool down too much.
Where were those emergency services ... After half an hour we got a call
asking if it was still necessary for them to come by? What we did not
knew is that the emergency services there only work with volunteers and they had to go to the hospital before they could leave. Some time later they were at the scene. Afterwards we could laugh about it.
But seeing someone suffering on the cold ice takes long, very long...
But luckily, Willy was able to leave the hospital later that evening.
That same evening the first two stations were ready and we could start.
The first connection was made with Marc ON4MA.
This way we wanted to encourage Marc, because he had to drop out at the last minute. That evening we made a total of 1390 contacts.
Not all stations were operational yet and we also missed the suitcase
with the high power bandpass filters. Still, the pile-ups were much better than we expected, you never know in advance what to expect in the far
north. Svalbard is almost constantly in the Aurora zone. When we were
there it was daylight 24 hours a day.
160 mtr was totally hopeless, 80 mtr was very difficult. 40 mtr was sometimes very good, but during the day there was very little to do.
20 mtr was open 24 hours a day. 17 mtr was open about 20 hours a day. 15 mtr went during the evening completely closed. 12 mtr opened very sporadically and 10 mtr opened little to very rarely open.
Despite the fact that some bands remained completely closed we were able on the second day to make 4.090 contacts and on day three 5.219 contacts.
On Thursday afternoon we visited Poli Arctici to discuss the final details with Stefano Poli, an Italian who is living already for 27 years in Svalbard. He and his team provided the transport to Kapp Linné for the QO-100 DX Expedition. They were also responsible for our safety, since you can't travel outside Longyearbyen without a weapon. No one can predict in what situation you may end up because in Svalbard it is estimated that there are still living about 300 polar bears.
Every day Jelmer visited the airport, but each time he returned with the
bad news that the suitcase was still in Oslo. Only on Friday afternoon (four days later) there was good news. The missing suitcase arrived in Longyearbyen. The filters could be installed and that was much more comfortable to work. That day we could finish with 6.725 QSO's.
That same morning ON5UR Max, ON4CKM Cedric and ON4DCU Patrick left very early for Kapp Linné for the QO-100 DX-pedition.
Stefano gave us final instructions before departure, what we possibly had to do during the trip in emergency situations, etc. With four snowmobiles, each equipped with a sled with our equipment, extra fuel, emergency equipment and coffee we left for a 6-hour trip.
At the departure it was very cold and foggy, but with the right clothing it wasn't too bad. The beautiful scenery, the adventure and the experience dominated the cold. This was pure enjoyment. In reality, everything was
much more beautiful and intense than the images we had already seen in documentaries. During our trip we sometimes had to brave some mountains. Sometimes the slope was so steep that Stefano had to bring the sleds up one by one. Our snowmobiles were 650cc, his snowmobile 950cc and so much more powerful to bring everything safely uphill. Each sled was allowed a maximum weight of 120kg.
In Kapp Linné we stayed at Isfjord Radio, a radio station that had been very important during the world war and later for communication to the mainland. The station is no longer in use but the masts with antennas are still there. Basecamp Explorer has turned it into an overnight stay for people doing a roundtrip in Svalbard.
After months of research we had found this location, this would be the
only place where we could have a line-of-sight connection with
the QO-100 satellite far away over Africa. Remember, we are 78° North at the end of the QO-100 footprint and an elevation angle of only 3°.
Even though we had absolutely no guarantee of success, but we knew it was possible, so we just did it.
After a 6-hour snowmobile ride, we arrived safely in Kapp Linné where Maaike Groeneveld and her team immediately welcomed us with a delicious meal...
Then it was time to unpack everything and build the stations.
The feet for the Triax-dishes were storm-proofed and that was really necessary in that open plain. The wind was very fierce sometimes and with those cold temperatures, it just takes a little bit longer to construct everything than we are used to in Belgium.
Never before anyone had attempted to reach the QO-100 satellite from Svalbard. The pressure on our shoulders was enormous... that weekend the world was watching the high North wondering if we would succeed in our endeavor. None of the other team members in Longyearbyen dared to contact us to ask if everything was going well. They too continued to wait in suspense and kept an eye on the DX-cluster. When we saw the first QO-100 signals appear on our screens the adrenaline raced through our body and the discharge was enormous. 16 months of preparation and all the efforts for this trip had not been in vain after all. How many times didn't we say before to each other that we did not dare to imagine how great the disappointment would be, in case we would not succeed.
After adjusting our antennas properly we had good strong signals.
During the first audio tests we had only pronounced a few words in Dutch and the world really went crazy....
Several stations immediately started calling us. Other stations immediately started shouting back that they should keep quiet. When we ourselves urged them to be patient for a little while and to let us perform to carry out a few more tests, it was silent again. Our thanks and respect for the discipline that was shown.
We were ready and could start. The first QO-100 QSO ever from Svalbard was made with ON6AJ Alex. In this way we also wanted to thank Alex for his tremendous effort in this challenge. Thanks a million Alex!
To give as many people as possible a chance to work us we had decided to put two stations on the air simultaneously. So we were active as JW0X and JW100QO. We succeeded, the craziness erupted on social media. We were getting compliments and pictures of people celebrating with a good glass of Whisky. They sent us images of the pile-ups. Seeing the world of hamradio enjoying itself, it was a great pleasure for us.
Maaike of Bascamp Explorer came around to listen in now and then, she was fully enjoying it, because for a very long time signals were sent once again into the world from the location of Isfjord Radio. She realized only too good that these were very special moments for us and that those three Belgians were no longer interested in her food, but just their radio. So she decided to bring the food and a few cans of beer to us, so we could continue to enjoy what was happening. Thanks Maaike!
Peter DB2OS (President of Amsat DL) asked us if we wanted to make an attempt to make a connection with the German base in Antarctica.
This also succeeded on Saturday afternoon and we had a QSO with Karsten (DM2KX) DP0GVN who was wintering at the "German Antarctic Neumayer Station III." So the first QO-100 connection ever between North and South Pole, was in the name of the Belgians.
With thanks for the cooperation of Felix DL5XL.
In total, we made 1.229 QO-100 QSOs in 68 countries.
We recorded 743 unique callsigns in the logbook, including 38 Belgians. More than 50% of these contacts were made on the first evening.
On Sunday evening, Stefano picked us up to bring us safely back to Longyearbyen. Once again it was a trip never to forget, the sky was blue and the sun was shining brightly. This gave us a very good visibility and at some moments we even reached speeds of 70 - 80km/hour. This is really fast on a snowmobile, when you land on ice it makes a hell of a noise and makes it very special. On our return trip we only met one person.
The expression of feeling alone in the world certainly comes from the North Pole. A little after midnight we arrived well in Longyearbyen and were welcomed by the HF crew with the necessary congratulations.
Without the cooperation of Basecamp Explorer (Birgitte Tautra Vegsund - Maaike Groeneveld) and Poli Arctici (Stefano Poli) none of this would have been possible. Thank you for your cooperation, answering
of many emails and above all your patience.
Stefano once wrote to me "My dream is, that your dreams come true" and he has fulfilled it. Thank you!
The HF crew in Longyearbyen had not been idle either. On day five they suffered from Aurora but still made 5.797 connections. Day six was completed with 6.730 connections.
We were starting our last night and had decided to stop early in the morning so that we could dismantle all antennas and setups in time.
All 36 cases also had to be remade for the return trip.
Another 2.272 connections were made that night.
To our great surprise, on Monday morning (Day 7) when we stopped,
the pile-ups were still as fierce as on day one. We could have go on some days more… Breaking down and packing up went smoothly. So we still had time left in the evening to get something to eat. Many of us tasted whale for the first time in their lives.
It was a long evening with amusing anecdotes and the requisite pots of beer. Fortunately we did not be home before dark...
In total we made 32.223 contacts.
Most QSOs were made in CW (13.041) followed by SSB (10.115) and FT8 (9.067).
We made the most connections on 20 mtr. (12.996).
Most worked countries:
1: United States (21.8%)
2: Germany (9.7%)
3: Japan (8.5%)
4: Italy (7.7%)
5: European Russia (6%)
Belgium followed in seventh place with 4.7% of contacts.
The expenses for just the QO-100 DXpedition amounted to over 10.000 Euro. But we received a lot of donations from you. Thanks for your support, together we made this DXpedition possible. Merci!
Thanks to all commercial sponsors for the contributions and for the donations of equipment.
Thank you 32.223 times for calling us, together you gave us a time never to forget !
Best 73'
JW0X | JW100QO DX-Adventure Crew.
A nice summary can be found on Youtube: JW0X

A few more fun facts about Svalbard:
Nowhere else in the world do people live as northerly as in Svalbard.
The country has about 2.500 inhabitants. Of which about 1.700 inhabitants from 50 different countries live in Longyearbyen.
From the beginning of November, the days begin to shorten seriously. Then one long night is starting that lasts for months. It is dark 24 hours a day. In March the sun reappears above the horizon. From then on, the days lengthen by 45 minutes a day.
When we were there at the end of April there was 24 hours of daylight.
Svalbard has an area of 61.000 km². It is said that there are more polar bears than inhabitants. It is suspected that about 300 polar bears still live on the island of Svalbard. Most of the polar bears live east of
Spitsbergen on the other islands. As there are almost no roads, the country also counts more snowmobiles than inhabitants.
The largest global seed vault is located in Svalbard. The seed vault is located on the outskirts of Longyearbyen, close to the airport, and was opened in 2008. The seed vault is located in a former coal mine and
contains copies of all the world's seeds to avoid them from being lost in the event of a global crisis. You can see where the nickname "The Doomsday Vault" comes from.
It is highly unlikely you will ever meet anyone there who was born on Svalbard. Svalbard has no indigenous population.
Everyone who lives there is from outside and women are not allowed to give birth there. Because of its remote location, women are required to travel a few weeks before their date of delivery to the mainland Norway to
give birth to their baby.