K7K Team will be active from Kiska Island, IOTA NA - 070, 23 - 30 July 2022.
Team - W8HC, KL5CX, NL8F, KB2FMH, KO8SCA, N3QQ.
Recent DX Spots K7K
K7K Log search They will operate on HF Bands, CW, SSB, FT8.
QSL via N7RO.
Ads for direct QSL:
RICHARD MOEN, 2935 PLYMOUTH DR, BELLINGHAM, WA, 98225, USA.
K7K Kiska Island News 19 June 2022
Six operators from across North America have joined together to journey to one the furthest specs of land in the United States, almost 1,500 miles West of Anchorage, Alaska, in the Aleutian Island chain. This Volcanic rock is called Kiska Island in the Bering Sea just a few miles from the Eastern coast of Siberia.
It is also a registered IOTA and POTA entity as well as a National Historic site where 80 years ago the US battled with the Japanese over the Aleutian Islands for close to two years to prevent them from making headway towards the US Mainland during WW2.
The Island is not only beautiful, but dangerous. It is rife with downed planes, half sunken ships, abandoned tunnels and weaponry and, un-exploded ordinance and pieces of remains from the thousands who fought and died in fierce battles. It is also home to many unique species of wildlife found nowhere else on the planet classifying it as a National Wildlife Reserve restricted to extremely limited access usually given only to scientific studies.
Please join us in commemorating this anniversary while getting what will likely be a One Time Only ATNO for POTA (K-0143) and IOTA (NA-070 - AK197S) and Grid chasers (RO81sw).
The intrepid group of Hams will be there July 23rd through August 1 this summer and QRV July 25 ~ 31.
Information received from KB2FMH.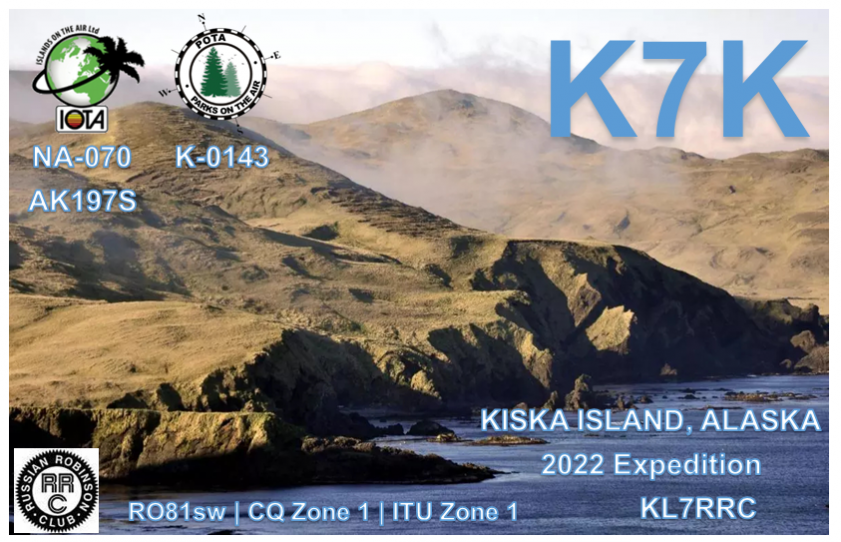 K7K News Kiska Island Alaska
KL7RRC Team receive special call and will be active as K7K from Kiska Island.
KL7RRC Kiska Island News 14 June 2022
Commemorative IOTA Expedition Announced for Kiska Island NA-070
Members of the KL7RRC team who tried unsuccessfully to activate rare Kiska Island NA-070 the past two years are hoping their third attempt in July will be the charm. In 2020, it was Covid-19 that forced cancellation, while last year, the team's chartered vessel experienced a medical emergency that scuttled plans just as the vessel was to arrive at Dutch Harbor, AK. This team did operate 6 days from Adak Island NA-039 and made over 10K QSOs.
This year's team has chartered a very capable, but expensive ($43K) vessel, the "April Lane," that will make the 675 mile Aleutian Island journey from Dutch Harbor to Adak to Kiska, an uninhabited island that is part of the Alaska Maritime National Wildlife Refuge. The group has secured the necessary permissions from the USFWS to visit the island. Kiska is also designated a National Historic Landmark and is part of the Aleutian Islands World War II National Monument. This year's IOTA activation will be a commemorative operation honoring the 80th anniversary of the historic events taking place on Kiska during WWII... more information to follow.
They will operate 3 stations from July 25 to July 31, tentatively using the KL7RRC callsign 40-6m and during the 2022 IOTA Contest.
Current operators are: KB2FMH, James; KL5CX, Alex; KO8SCA, Adrian; Yuri, N3QQ; Tim, NL8F and Hal, W8HC.
Information received from Hal, W8HC.
KL7RRC/P Kiska Island News 2 April 2021
KL7RRC/P Kiska Island Team planning to be active from Kiska Island during July 2021.
KL7RRC/P News Kisska Island, Alaska 25 June 2020
DX Pedition postponed and Team hope it will happen in June 2021.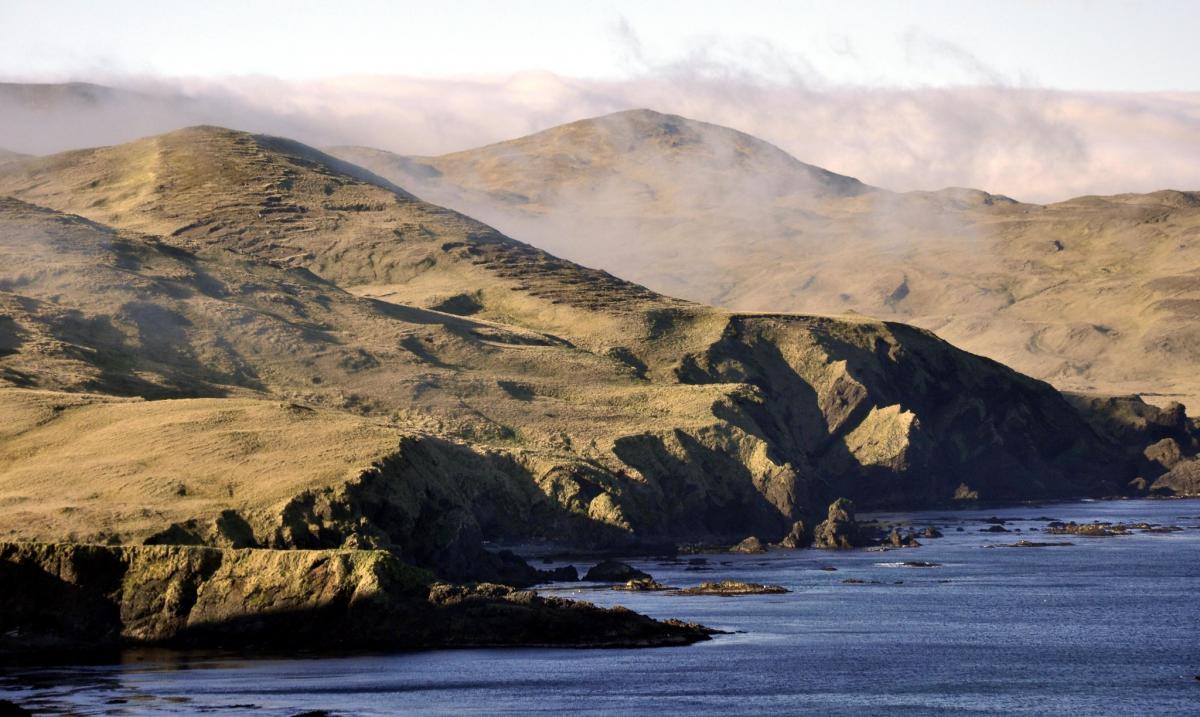 Kiska Island, Alaska. Author - Brian Hoffman.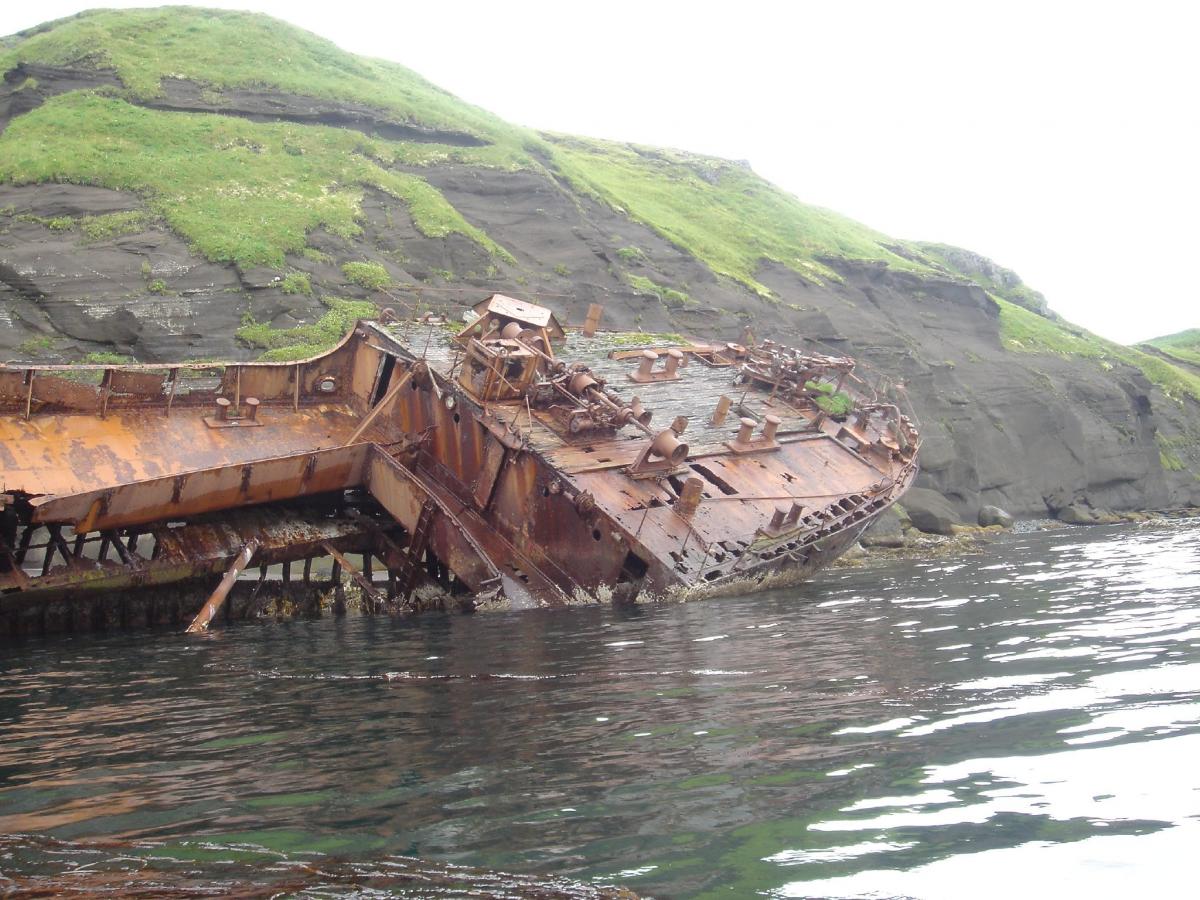 Kiska Island, Alaska. Author - Ron Page.
K7K. Where is Kiska Island located. Map.
K7K Kiska Island Alaska. Sunrise 10-01-2023 at 18:07 GMT sunset at 05:51 GMT