Midway and Kure Islands reinstated as DXCC Entities
ARRL News 11 May 2017
05/11/2017
On March 31, 2017, the DXCC desk announced the deletion of Midway Island and Kure Island from the DXCC entities list. The stated reason for this action was because of changes in the administration resulting from changes in Papahānaumokuākea Marine National Monument, formerly known as the Northwestern Hawaiian Islands Marine National Monument, of which the Midway Atoll National Wildlife Refuge and the Battle of Midway National Memorial, the Hawaii State Seabird Sanctuary at Kure Atoll, and the Northwestern Hawaiian Islands State Marine Refuge, of which they are all included.
After further review it has been found that the deletion of these two entities is not supported by the changes that were made to the relevant administrations. Therefore, the deletions from the DXCC list should not have occurred and the two entities, Midway Island KH4 and Kure Island KH7K, will return to the DXCC list as separate entities.
ARRL News 31 March 2017
Midway and Kure Islands are Now Deleted DXCC Entities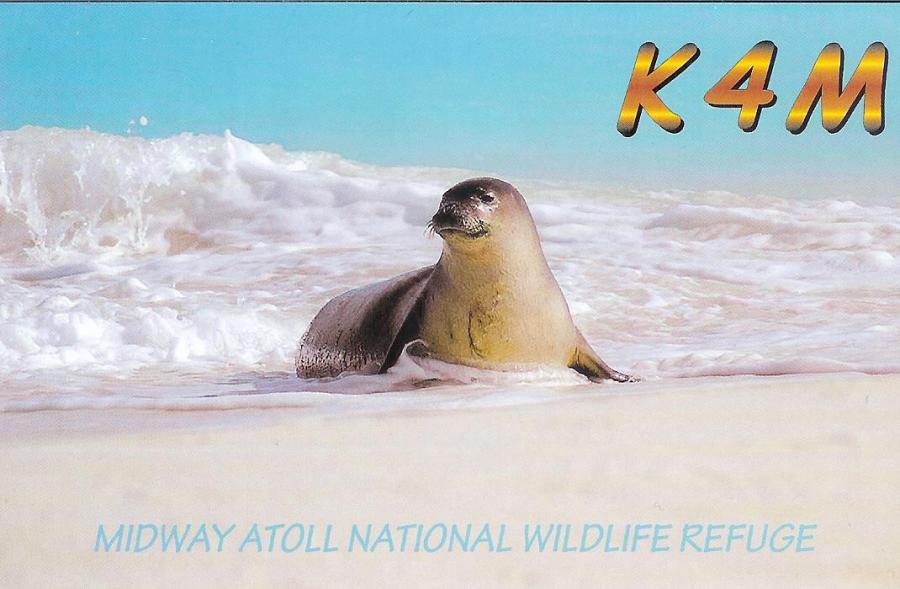 Midway Island. K4M DX Expedition QSL.
Midway and Kure Islands have been placed on the list of DXCC deleted entities, effective August 26, 2016. This came about as an unintended consequence of action last summer by then-President Barack Obama that expanded the Papahānaumokuākea Marine National Monument to include the northwestern Hawaiian Islands west of Ni'ihau Island, making it the largest contiguous protected conservation area under the US flag.

Midway (KH4) had qualified for DXCC status by virtue of its being governed by a separate administration. Because it is now under the administration of Papahānaumokuākea Marine National Monument, however, it becomes a deleted entity. Approximately 50 people live on Midway, including US Fish and Wildlife Service staffers and contractors. The Battle of Midway, a turning point in the Allied World War II Pacific Campaign, took place in June 1942.
Now uninhabited, Kure Island (KH7K), a part of Hawaii, is separated from the rest of the state by Midway; because of that, it qualified for DXCC status under Section II, 2 (b) (iii) of the DXCC Rules — separation from its "parent" Hawaii. Midway Island's change in DXCC status in turn made Kure Island no longer eligible for DXCC status, since Kure no longer is separated from the rest of Hawaii by intervening land or islands that are part of another DXCC entity.
Kure Island once was home to a US Coast Guard LORAN station, remnants of which are still evident. It has been a state wildlife sanctuary since 1981.
The relevant parts of Section II of the DXCC Rules follow:
A Geographic Separation Entity may result when a single Political Entity is physically separated into two or more parts. The part of such a Political Entity that contains the capital city is considered the Parent for tests under these criteria. One or more of the remaining parts resulting from the separation may then qualify for separate status as a DXCC Entity if they satisfy paragraph a) or b) of the Geographic Separation Criteria, as follows.
b) Island Areas (Separation by Water):
A new entity results in the case of an island under any of the following conditions:
iii) The island is separated from its Parent by intervening land or islands that are part of another DXCC entity, such that a line drawn along a great circle in any direction, from any part of the island, does not touch the Parent before touching the intervening DXCC entity. There is no minimum separation distance for the first island entity created under this rule. Additional island entities may be created under this rule, provided that they are similarly separated from the Parent by a different DXCC entity and separated from any other islands associated with the Parent by at least 800 km.
Neither Midway nor Kure was able to be activated without prior permission and only for a planned DXpedition. Only contacts made on August 25, 2016, or earlier will count for these two entities.
From arrl.org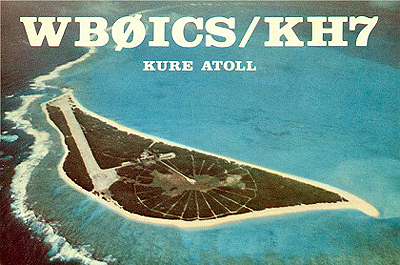 Kure Island. WB0ICS/KH7 QSL.