Christian, HB9LCA will be active from Seychelles Islands 7 - 27 September 2014 as S79LCA.
He will be active on 40-6m CW.
QSL via home call.
Seychelles and idyllic paradise adventure
A Few Words about Seychelles
Seychelles is a series of islands in the Indian Ocean, off of the coast of Africa. The country comprises of 155 islands. The capital of the nation is Victoria, which lies approximately 930 miles east of the southeastern region of Africa. Other neighboring countries, also islands, include Comoros, Madagascar, Réunion, Zanzibar, Mauritius, and Mayotte.
The population of Seychelles has been noted to be 90,024 people. This, as a result, makes them the African Nation with the smallest population. The country is a part of the African Union.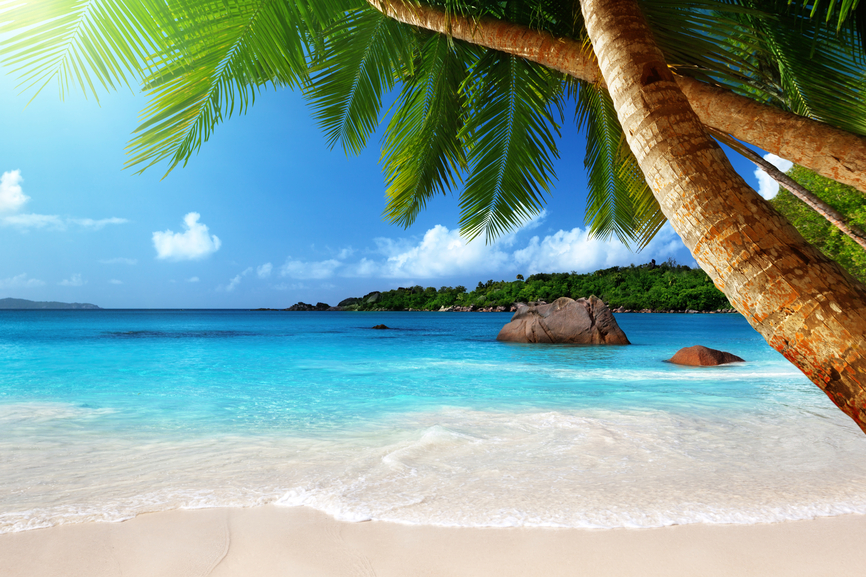 Anse Lazio beach at Praslin island, Seychelles
Getting To and Around Seychelles
Getting to the islands of Seychelles is quite specific. The most frequented international airport is found on the island on Mahé, the largest in the nation. The island can be reached from the United Kingdom, France, and the Emirates.
Once visitors reach the airport, there are many ways to get around. Those who work at the airport are very friendly and offer schedules for buses, and numbers for a taxi service they can use to take them to the destination they wish.
Taxis – Taxis are a great way to get around the islands. There are many taxi drivers will drive tourists around for a set price.
Car rentals – Tourists can also have the luxury of renting their own car on any of the islands, although it is wisest to rent the car of choice on the island they plan on spending the most time on, or near the location of the hotel at which they are staying.
Travel guides – On Seychelles, there are many sites that are off the road. Many sites are in the nature, and when this is the case, it is best to consult a travel guide service. Travel guides give you the best means of travel, and a protection against getting lost, as well as the best ways to travel, and insights on the most fun walking paths to take.
Bicycles – Bicycles are also available for rent, and are a more mobile and flexible means of transports for visitors.
Air and Sea: Island Hopping Network – As Seychelles comprises of many different islands, an air and island hopping network has been formed to make travel in between islands possible and easy.
Air Seychelles – Air Seychelles is a shuttle service, which makes travel between the islands of Mahé and Praslin possible. This flight is only 15 minutes long, and is repeated approximately 20 times every single day.
Ferries – Ferries may also be taken from island to island. These ferries vary in size, and some operate traveling between some islands, while the others allow visitors to travel to other islands.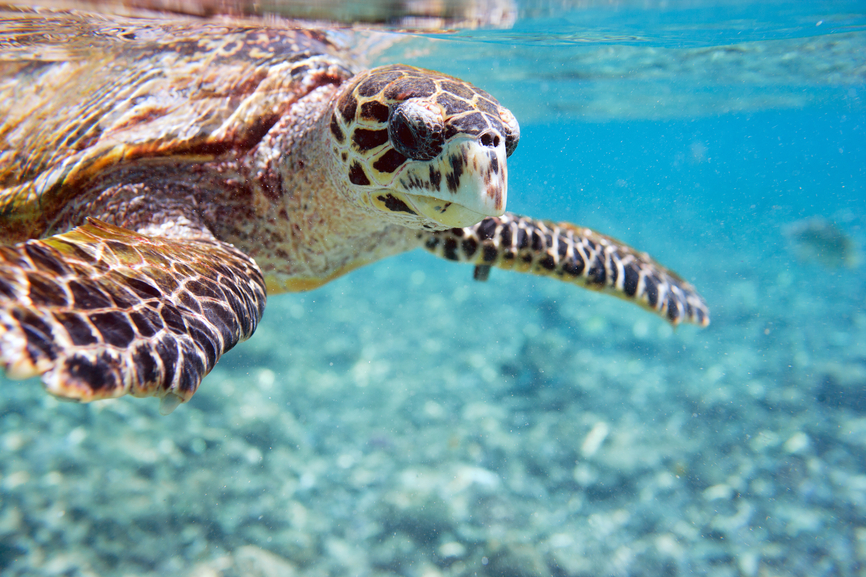 Hawksbill sea turtle
Culture
The culture in Seychelles is unique to most locations in the world due to its matriarchal nature. As such, mothers are the dominant ones in the household. It is common to see mothers who are not married. Men who are married and have children are expected, by law, to take care of the children. Men often make money in the household, but they are otherwise domestic.
Music is popular on Seychelles. The folk music on the island comprises of interesting elements, including traditional African rhythms, and syncretic manner. They are also influenced by outside music, French pop and folk music included. Other European music types such as the mazurka, polka, and contredans are also integral. Polynesian, Arcadian, and Indian music are also evident in the music.
One particular type of music that is popular in Seychelles is called Contombley, an intricate type of percussion music. Music and dancing often occurs at beach plazas.
Nature
Seychelles is not just a nation of beautiful locations, but of significant geological matter. Almost a third of the islands are made of granite. Geologists consider these types of landforms to be the oldest found on earth. As such, these lands are preserved, and excavation is kept to an absolute minimum.
Seychelles is also the home of two coral sand cays. Cays are low, flat sandy islands that often lay on top of coral reefs. These in Seychelles have been named Bird and Denis. There are also coral islands, two of which go by the names of Platte and Coëtivy.
The climate of the nation is humid, and the temperatures range from the mid 70's to late 80s. Rain is extremely common in the nation as more than 100 inches falls every year.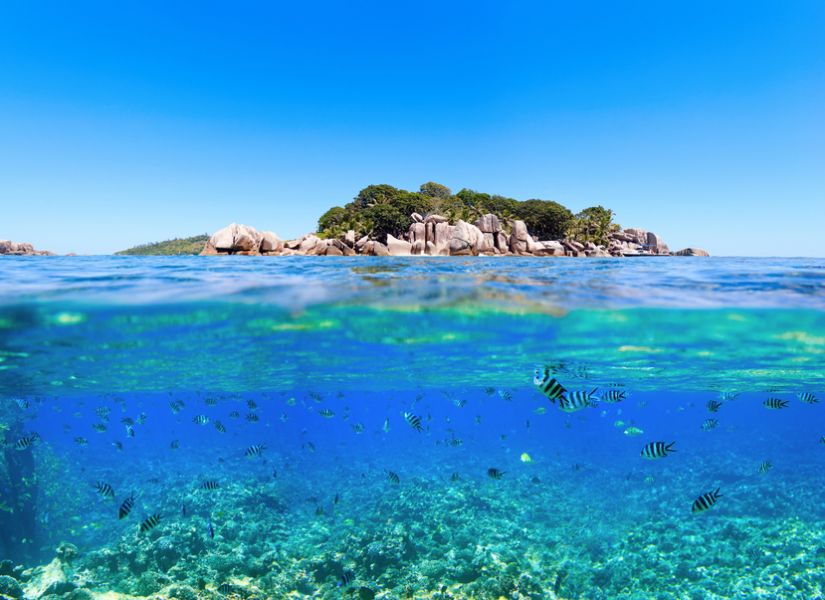 Under and above water
Sports and Activities
The sports and activities one gets to partake in at Seychelles is one of the main reasons that one should visit.
Street Basketball – Seychelles is famous for its street basketball. Many visitors find themselves in the middle of a street basketball game with the residents.
Snorkeling – Many tourists also find that the snorkeling in the nation to be evident of one of the most greatest coral reefs that are guaranteed to inspire awe.
Fishing – Many locations on the island allow visitors to fish. These places also allow you to rent the boats they offer.
Scuba Diving – Scuba diving is already a popular activity for tropical island tourists, but in Seychelles, it is even more remarkable. Look at ocean wildlife first hand.
Where to Stay
On Seychelles, most hotels are going to give you excellent ocean views, but these are the best any curious-to-visit tourist should highly consider:
Le Lemuria Resort of Praslin – Le LemuriaResport of Praslin is a hotel that is no short of luxury. For visitors that are looking for the best, this is the hotel. The hotel has a restaurant, a fitness center, a bar and lounge, swimming pool, a continental breakfast, and excellent service. They are also kid friendly, have amazing suites, and offer free Wifi. The grounds of the hotel are just as luxurious as the inside, with marvelous sand walkways, and palm trees that offer the nicest of shade.
Sainte Anne Resort and Spa – Similar to the above resort, the Sainte Anne Resort and Spa offers wonderful luxurious such as spa treatment, spacious rooms, fantastic views, and a shuttle service. The grounds of this hotel offer tamer outdoors, and house-like spaces with grass lawns.
Fregate Island Private – For visitors that are visiting the nation on more of a business level, the Fregate Island is definitely recommended. This hotel offers wonderful luxury fit for kings and queens, with a great customer service to match. Wildlife has never been closer! Giant, friendly tortoises roam the land.
Conclusion
It is not an exaggeration to say that Seychelles anything short of paradise. Its many islands and granite foundation make it both fun and extremely admirable. For visitors looking for a calming utopia or an exotic adventure can, and should, book a flight today.
Video Seychelles