Pekka, OH1TV will be active from Bhutan 26 September - 1 October 2014 as A52O.
He wil be active on 40,20,17,15,12,10, 6m CW ,SSB.
QSL via OH2YY, LOTW.
Bhutan
Bhutan is sandwiched between China and India – the most densely populated countries in the world – but itself has the lowest population. Located on the eastern parts of Himalayas that on the southern slopes, Bhutan is landlocked that between Sikkim, Arunachal Pradesh and West Bengal in India in the south and west and in the north by the Tibetan Autonomous Region. It is the only Himalayan Buddhist nation. The country has low population because of its isolated past and the government's effort to conserve the culture of Bhutan. The country is historically and culturally enriched. Here you will find numerous Buddhist monasteries and temples that are century old and few even housed amidst ruins. 72% of Bhutan is covered with forest. Thus, the country is also rich in flora and fauna.
Bhutan is nature's gift to the world, which has not been ruined by the modernization and advancement of the world. It is made up of four zones of administration or dzongdey, popularly called, which are further divided into numerous districts. The four dzongdeys of Bhutan are Eastern Bhutan, Central Bhutan that covers Bumthang 'Sacred' Valleys and Jigme Singye Wangchuk National Park, Western Bhutan, where Thimphu – the capital city is located and Southern Bhutan. The important cities of Bhutan are Paro, Thimphu, its capital, Tashigang, Tongsa, Gasa Dzong, Geylegphug, Phuntsholing, and Samdrup Jongkhar.
Bhutan and its attractions
Bhutan is like a heaven on earth. It is one place that has been truly blessed by Mother Nature. A sheer combination of flora and fauna is what makes up Bhutan and attracts travellers from around the world.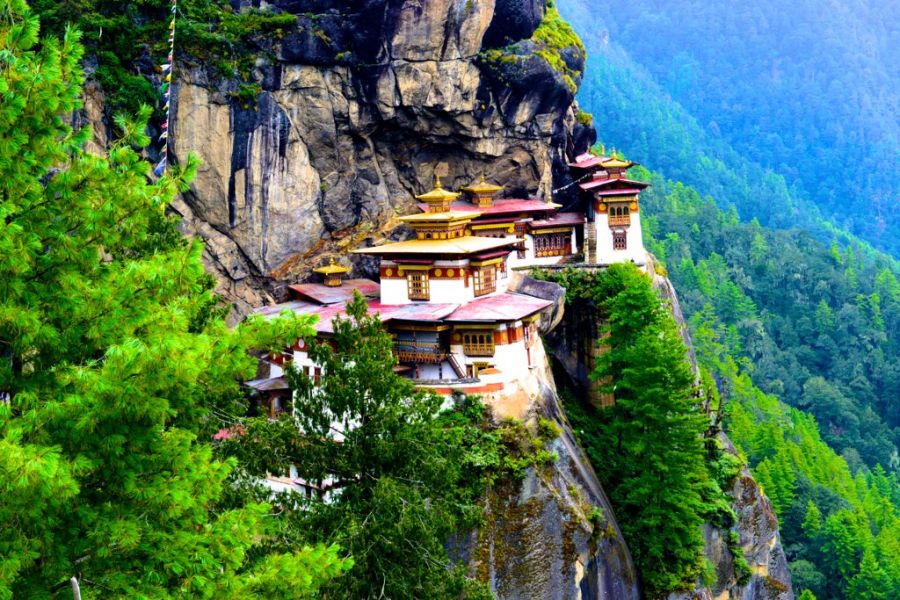 Dochu La pass is adorned with prayer flags, offering a majestic view of the Himalayas. The temple of Drukwangyal or Drukwangyal Lhakhang is elaborate to the core. Made of 108 stupas, Ashi Dorji Wangmo Wangchuck – The Queen Mother had built this temple for honoring the soldiers of Bhutan, who fought the Indian rebels and were killed in 2003.
Gangtey is a stunning glacial valley that is set above 2900 meters. In order to reach the valley, you have to climb and walk via wide, dense forests of lychen and bamboo trees. The valley is adorned with Gay Chhu and Nakay Chhu – majestic meandering rivers. Gangtey is a monastery and village, housed on a flat valley. Here you can sight red fox, wild boar, Himalayan black bear, leopard and barking deer.
Bhutan's capital – Thimpu – is another must visit place of this quaint and mystical country. It's here when the weekend market is arranged, lined up with quirky and colorful shops, stores, landmarks, museums and more, similar to the National Memorial Chorten. The city is a small sized one, which was established and formed in the year 1961. Thimpu is renowned for not having any traffic lights.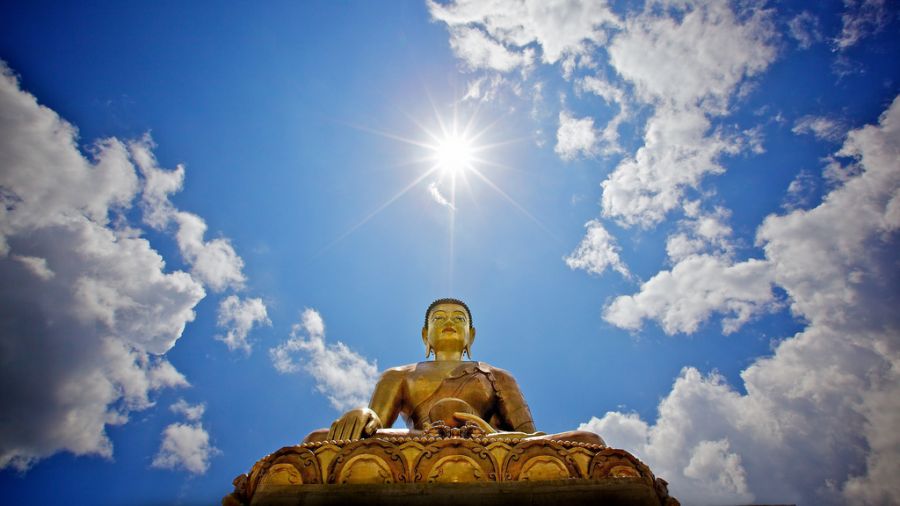 Chime Lhakhang is known as a fertility temple. A 16th century temple, Chime Lhakhang is dedicated to the Divine Madman or Lama Drukpa Kunley. It is adorned with phalluses. Couples, who wish for children, visit this temple to seek blessings for becoming capable of giving birth to children.
Tiger's Nest is perched on top of the Paro Valley. It is a monastery and set atop 3000 meters on a rocky mountain. It is an 8th century monastery and as far as legends are concerned, it is believed that Guru Rimpoche – the 2nd Buddha – had meditated in this spot by flying on one of his consorts (flying tigress) from the Kurtoe valley. It is amongst the most sacred sites here in the Himalayan region and thousands of Buddhist pilgrims pay a visit to this monastery all year round.
Kurje Lhakhang is set on the Bumthang valley, which is a sacred site. It is significant monastery because the Buddhists believe that while meditating, Guru Rinpoche had left his mark or imprint on a particular rock.
Tashicho Dzhong is renowned as Fortress of Glorious Religion. It was first built in the year 1641 and in 1952 was rebuilt by Bhutan's 3rd King. Today, this dzhong is used as a center of the Royal Bhutanese Government. Tashicho Dzhong is set in beautiful and stunning gardens.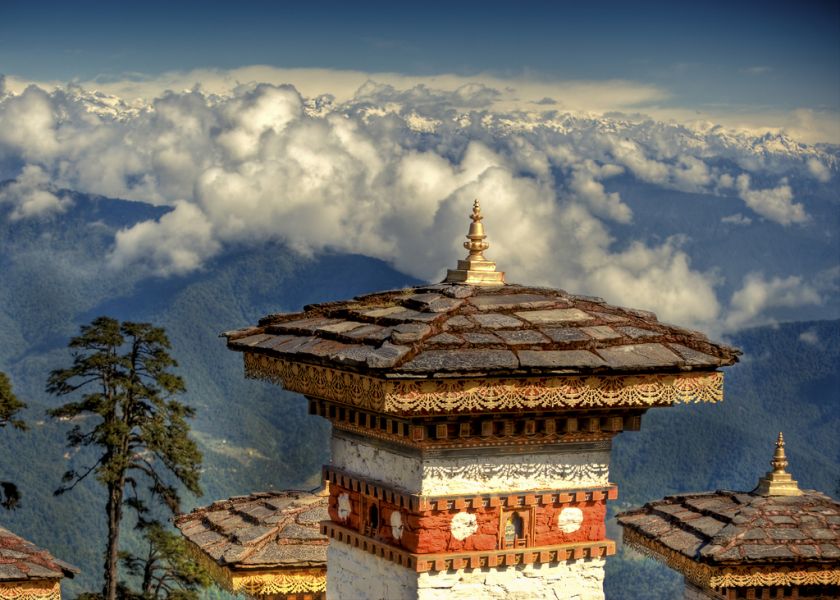 A hidden jewel – Rukha is located in Jigme Dorje Wangchuk's remote village and is accessible via only a rope bridge, which is a risky process all together. The entire place is dotted with 20 houses that surrounding the hillside. These houses are built in a traditional manner and style, characterized by steep steps that lead to the kitchen on the first floor. Here you can get a chance to connect with a rural and close knit community, who are truly warm and friendly.
The best time to visit Bhutan
If you are planning to visit Bhutan, then make sure to do so keeping the season in consideration. For adventurous travellers, with the primary goal to visit the place for trekking and hiking purposes, must ensure to plan according to the season. The altitude range of Bhutan – alpine peaks to subtropical valleys, along with its numerous festivals taking place all year round, make it ideal for visitors to visit the country every season only.
Autumn season is the best time to visit Bhutan, if you plan to go for trekking. It's also during this season the dance festival of Bhutan takes place, known as the Thimphu tsechu. Between the months of September and November, tourists from all over the world throng the country. So, if you want to avoid the crowd of travellers, don't plan your trip to Bhutan between these months.
Bhutan – An Extraordinary Place on Earth
An extraordinary place on earth, Bhutan a reputed Himalayan kingdom, a kingdom made of magic and mystery. It is the seat of Buddhist culture and a pride of Bhutanese. The country is full of surprises, from its red rice to the fact that chilies are used as a primary ingredient in their cuisines. Bhutan is a deep-set Buddhist land, made of temples and monasteries, with natives who are vibrant and fun loving in nature, but highly educated at the same time too. Visit Bhutan if you want to experience the majestic and amazing landscape of Himalaya and its snowcapped peaks, which are cloaked with dense forests at the same time. From its dzongs that are nothing less than fortresses to culturally and traditionally enriched monasteries, Bhutan has lots to offer to those visiting it. Visiting Bhutan means like walking into a live photo album!
Video Bhutan