Jim, N6TQ will be active from Botswana 11 - 18 September 2014 as A25TQ.
He will be operate on HF bands.
QSL via home call direct.
Information from Jim:
I will be traveling with Frosty (K5LBU) and operating from Botswana's prestigious Lotsane Game Lodge from approximately Sept 11th - 18th, 2014.
Please note: If you do need a QSL, please QSL direct only.
For US/CAN, please send a SASE and any donations are accepted and are greatly appreciated !!!
For All Others, please send a SAE and $2USD or 1 valid IRC.
Anyone may request a QSL directly, via my PayPal account (jim.colletto@hotmail.com), by including their QSO details and $2 USD.
73 de A25TQ
Get to Know Botswana
A Few Words about Botswana
Botswana is a Southern African country, which is landlocked by Angola, Zambia, Zimbabwe, Namibia, and South Africa. The country used to be named the British protectorate of Bechuanaland. When Botswana became independent from Britain, they changed their name to Botswana.
The country has a population of about 2 million people, and is one of the scarcest in the world. The country's capital is called Gaborone. Although only ten percent of its population resides in this city, and the rest of the population is so sparse, the country has actually risen to be one of the fastest growing economies, from one of the worlds poorest. Unfortunately, although their economy has been growing, the HIV/AIDS epidemic blew them an absolutely horrible blow. Nearly one fourth of the population is said to be infected with at least one of the illnesses.
The country of Botswana is part of the African Union, the Commonwealth of Nations, the United Nations, and the Southern African Development Community.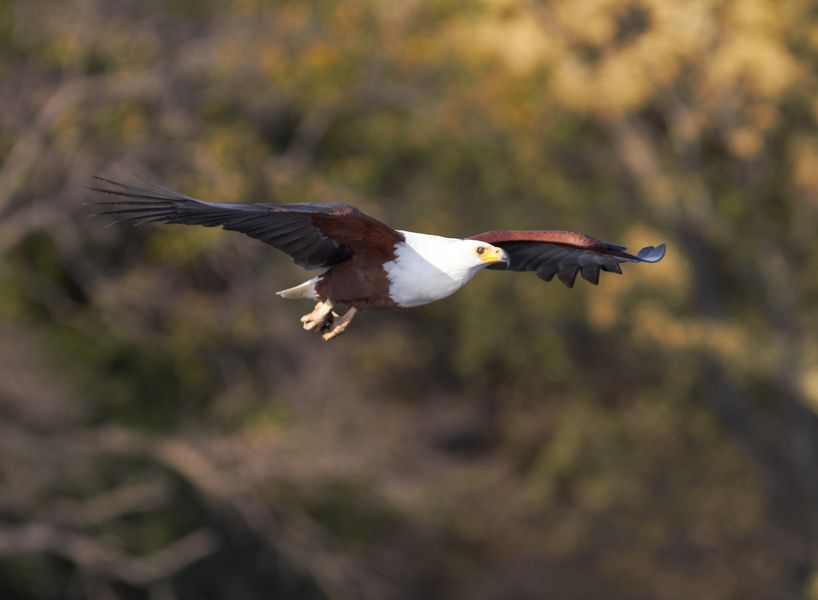 Fish eagle attempting to catch a fish in the Chobe river in Botswana
Getting Around Botswana
To reach Botswana, most major airlines will require some sort of connecting flight from South Africa. Once there, tourists can travel using various methods:
Railways – In Botswana, there are more than 400 miles of railway, which are used to connect multiple towns as well as outside of the country. Unfortunately, these passenger services hardly used anymore. Only one has remained, and this is an international service connecting Zimbabwe from Francistown.
Freight trains – As opposed to railways, freight trains are still in use in Botswana, and are used quite often by visitors and residents.
Highways – Botswana is no stranger to highways. In fact, there are about 16,000 miles of highway in the nation, and over half are paved. Considering how sparse the population is in this country, this is quite the accomplishment.
Airports – Botswana has a government-owned airport that is called Air Botswana, which offers national flights to these cities in Botswana: Gaborone, Maun, Francistown, and Selebi-Phike. They also fly out of the country to South Africa, Swaziland, and Zimbabwe.
Culture
The culture in Botswana is a dominant culture. They like to perform vocal music, which heavily utilize strings, but often discard the use of drums. Specific instruments include the Setinkane, Moropa, Phala, and Segankure. When making music, people often clap and do other things for sound. All instruments and voices work together to produce a wonderful rhythm and musical dynamic. Many of these musical performances occur at celebrations, which often result, or deal with intrinsically, with dancing. Age group or gender does not limit these celebrations. Their national anthem is known as the Fatshe leno la Rona.
In northern Botswana, people are famous for producing dyes and beautifully woven baskets. Many of these are used in wedding ceremonies as gifts. Their pottery is also high noted as being quite artistic and unique.
The food in Botswana include items such as samp, Mopani worms, vetkoek, pap, boerewors, and seswaa, which is a heavily salted, mashed up meat.

African nature concept
Nature
Most of Botswana is covered in savanna, and is flat. Although the climate is very hot and dry, many species still thrive under the conditions, including a wide variety of trees, and over 2,500 species of plants. These plants prove time and time again to be very important to the human population as means of food and medicine.
National Parks – Botswana is the home to quite a number of national parks, including the Nxai Pan National Park, the Makgadikgadi Nation Park, the Chobe National Park, and the Kgalagadi Transfrontier Park. There are also game reserves to preserve endangered species, and these include the Moremi Game Reserve, the Gaborone Game Reserve, the Central Kalahari Game Reserve, the Khutse Game Reserve, and the Mannyelanong Game Reserve. These are very important to not only Botswana, but to the world as well.
The Kalahari Desert – TheKalahari Desert takes up about 85 percent of Botswana, and is known by locals as "thirstland". Ironically, there are many shrubs, trees, grasses, bushes, and dunes that fill up with water during the rainy reason.
Sports
Sports are a very large part of Botswanan culture. Football is an extremely popular sport, and their national team has made immense progress in the most recent of years. Two years ago, they even qualified for the 2012 Africa Cup of Nations.
Football is not the only sport that is big Botswana. Botswanans also love rugby, tennis, cricket, softball, golf, track and field, and badminton.
In 2012, the nation of Botswana had won their first Olympic medal: a silver award in the 800-meter dash, by the beloved Nijel Amos. Other well-noted athletes in this field are Amantle Montscho and Kabelo Kgnosiemany who won the world champion in the 400-meter dash in 2011, and the three-time African Champion for high jumping, respectively.
Botswanans also like to play card games, and are known for enjoying bridge.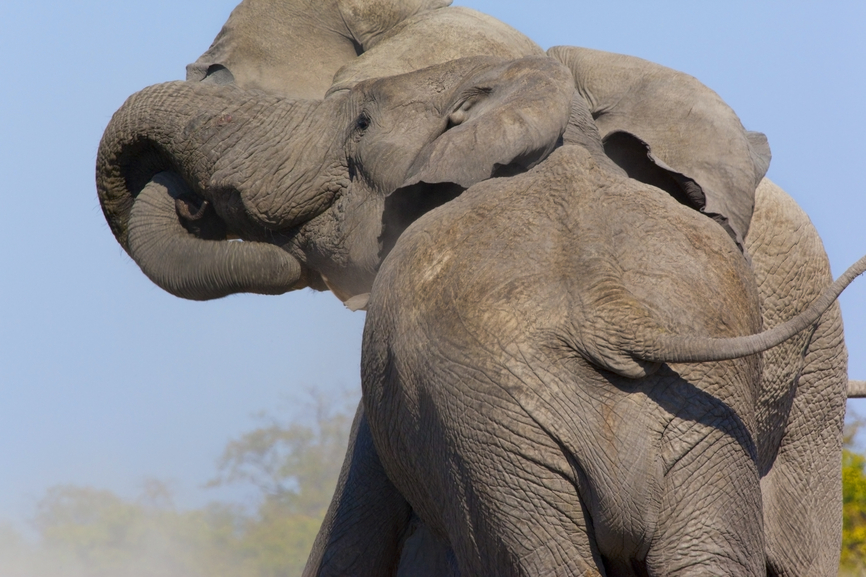 Two Bull Elephants Fighting - Botswana
Where to Stay
As the economy in Botswana rose, so did the accommodations. Dozens of hotels have formed during its boom, and here are the best three:
Baborone Sun Hotel – the Baborone Sun Hotel is possibly the finest in all of Botswana. This cozy hotel takes customer service seriously and does everything they can to please their guests. The bar has been claimed to be amazing by many guests, and the rooms are absolutely luxurious.
PeermontWalmont at The Grand Palm – the PeermontWalmont at The Grand Palm is a comfortable hotel with delicious buffets and consistent service. This hotel has perfect room service, and workers tend to visitors' every need. This hotel also has a fun casino everyone should look into when visiting.
LansmoreMasa Square – The LansmoreMasa Square hotel is highly praised for its great customer service that makes sure every customer feels welcome among arrival. Wifi is fast and reliable, and the rooms are spacious and luxurious.
Conclusion
Botswana is a growing economy, which has truly risen in recent years. HIV/AIDS epidemic aside, this nation is truly beginning to beam. Its nature and animal preserves make it especially stunning and respectable. Its high-class accommodations make anyone feel welcome. Botswana could be just the vacation spot you have been looking for.