V6J Team will be active from Ta Island, Mortlock (Nomoi) Islands, IOTA OC - 254, 19 - 31 July 2018.
Prevous activity:
Recent DX Spots V6J
Radio Amateurs from Japan will be active from Mokil Atoll, (Mwoakilloa), IOTA OC - 226, 29 June - 2 July 2017 as V6J.
They will operate on HF Bands.
QSL via JP3AYQ.
Ads for direct QSL:
Mayumi Sanada, 9-20-1203 Kourinishinocho, Neyagawa City, Osaka 572-0089, Japan.
Mokil Atoll previusly named Wellington Island or Duperrey Island.
Mokil (Mwoakilloa) Atoll is located 153 km East from Pohnpei.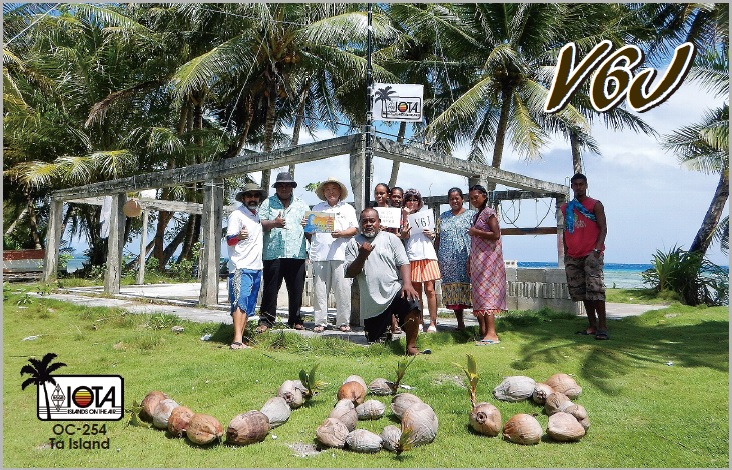 V6J IOTA Expedition QSL Card. Ta Island, Mortlock Nomoi Islands.
V6J News 27 April 2017
Ant: 2EL VDA for 20m, 17m and 15m. GP for 30m and 40m (All is full size)
Mode: CW, SSB, RTTY, PSK and JT65
Call sign: V6J (only for IOTA OC-226 Mokil island)
Members: Almost all of the members belong to Nara DX Association in Japan.
V63GJ (Tosy, JA3FGJ), V63GF (Hid, JA3KGF), V63SS (Sanny, JJ3CIG), V63YL (Mami, JP3AYQ)
and a coordinator Kenny who lives in Pohnpei.
* We will use our individual V6 call sign in Pohnpei island. (IOTA OC-010)
Our pilot: JJ3PRT Joe who is the president of Nara DX Association.
Please contact him if you have any requests or questions with regards to V6J IOTA pedition.
His e-mail address is as follows. joeaoki@hi-ho.ne.jp
QSL information: QSL Manager is JP3AYQ. OQRS 3USD(recommended), SASE 2USD with SAE, No Buro
If you are not in the log, just contact our QSL Manager.
* We do not have internet and phone access in Mokil island.(OC-226)
* We will upload our log to the Club log when we get internet access either in Pohnpei island or Japan. We cannot upload our log to the Club log during our IOTA pedition. (OC-226)
* We are going to use two generators for electric power.
* This is IOTA pedition, so please make only one QSO in one band.
Your donation will be greatly appreciated. Thanks for your help.
PayPal address: jp3ayq@jarl.com
Please do not forget to put your call sign and the IOTA number (OC-226) when you make
donation through PayPal.
Best regards.
73/88
V6J team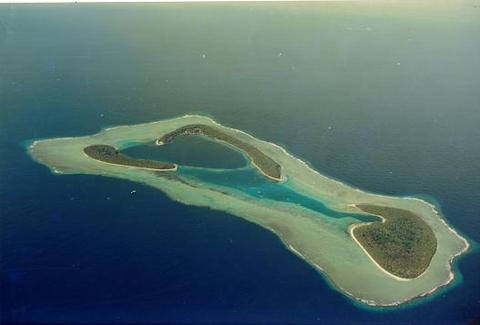 Mokil Mwoakilloa Atoll. V6J IOTA.
V6J. Where is Ta Island, Mortolock Nomoi Islands located. Map.
V6J Ta Island, Nomoi Islands. Sunrise 09-21-2023 at 19:33 GMT sunset at 07:43 GMT