DJ9RR, HA5AO, HA5UK, IV3YER, K3EL, K5GS, KE4KY, VK3HJ, W2LK will be active from Mellish Reef (Heralds Beacon Islet ) 28 March - 9 April 2014 as VK9MT.
They will operate on 160 - 10m CW, SSB, RTTY.
QSL via M0URX, OQRS.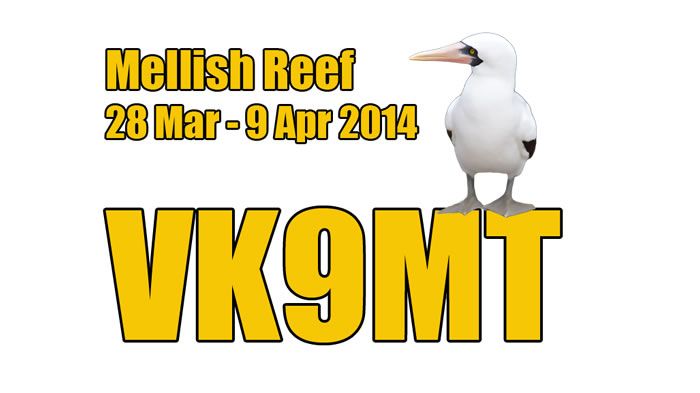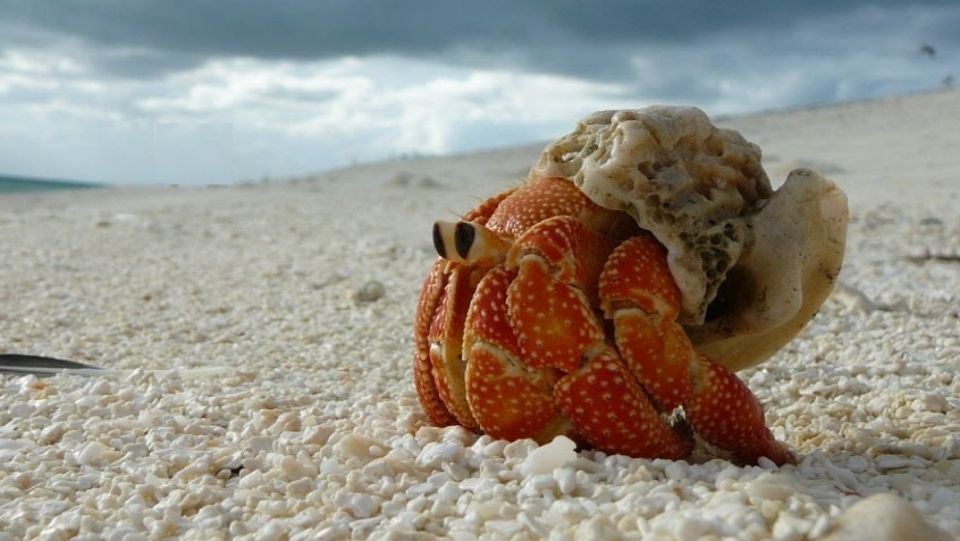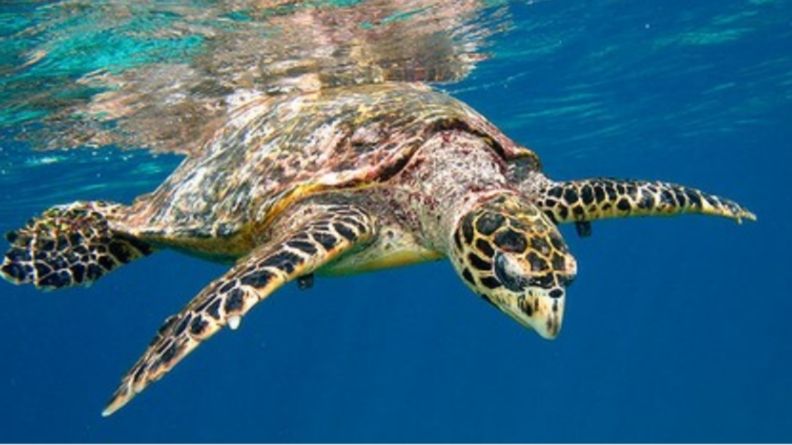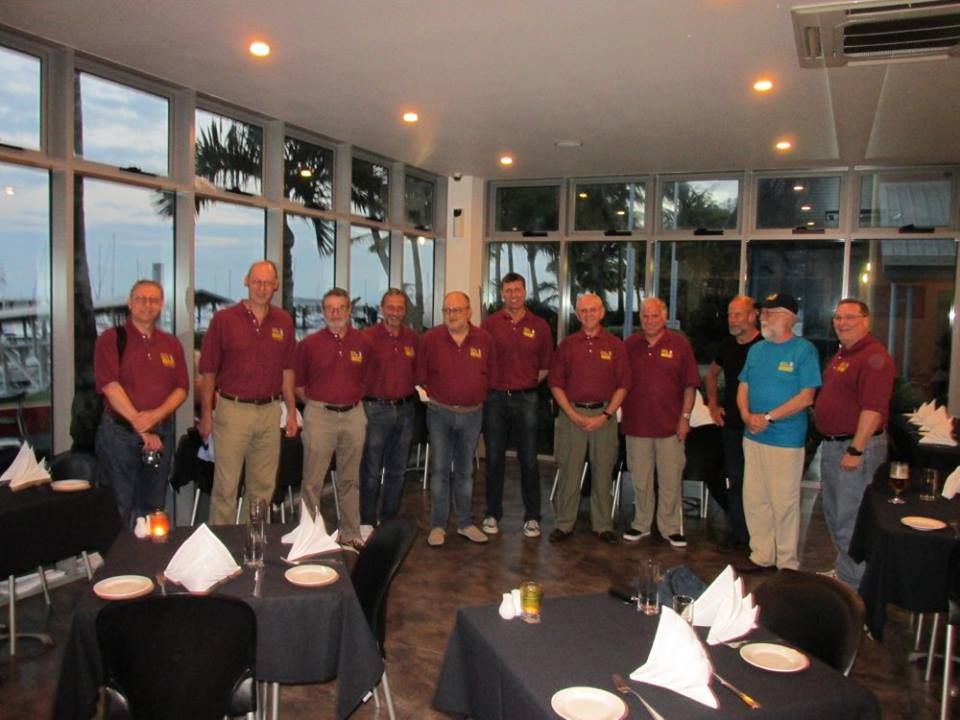 MELLISH REEF (Update #3):
Mellish Reef 2014 DX-pedition Update #3
March 24, 2014
From Mackay, Australia
1. The full team assembled in Mackay and has been busy with assigned
tasks and making preparations for sailing. The boat will have a
crew of 5 experienced sailors and 11 passengers.
2. After several days of continuous rain, the boat is loaded with all
our radio equipment, stocked with food and other essentials. The
humidity has been excessive and very uncomfortable to those of us
unaccustomed to such conditions.
3. Our equipment arrived in Australia in excellent condition. We assembled
the CrankIR antennas and made final tuning adjustment to the folding
hex beams. All antennas tuned to specification.
4. On Sunday we met with the Mackay Boy/Girl Scout Council who will
receive some of our surplus equipment.
5. Current plan is to take on fuel for the boat and petrol for the
generators at about 1000 (local) on March 25th - immediately after
fueling we will set sail for Mellish Reef, as scheduled.
6. The team is in good spirits and eager to get underway, seasickness
medication in hand.
7. We ask that everyone please listen for the operators directions and
we will do our best to get you in the log.
News 3 April 2014
The skipper is monitoring a tropical depression several days north of Mellish Reef. This severe weather has the potential to disrupt operations. We have at least 24 hours before any decision is made on how to proceed, we have plans to deal with the situation.

At 0700, April 3rd (local) we plan the following:

1. All unnecessary equipment will be removed from the island, leaving just the operating tents, radio equipment, generators and antennas.

2. Depending on the intensity of the weather we may be forced to terminate the operation early. Another alternative is to temporarily leave the island and return when safe.

3. Any decision to modify or terminate the operation is at least 24 hours away. The safety of the DX-pedition team and the crew is the first priority.

4. To better use the time on the island we ask that band fills be suspended and only people that need Mellish Reef for and All Time New One call us.

5. For at least the next 24 hours we will focus our attention to those bands that drive highest rates to maximize ATNOs.

As news develops we will send out additional information. The only source for VK9MT Mellish Reef information will be these bulletins

Team Mellish 2014

April 3, 1535 (local)
The weather continues to change. Last night there were torrential downpours and high winds.
The antennas survived with no damage, the break tent took on some water through an open window. The operating tents maintained their integrity and no equipment was damaged. Today it has been hot and humid, with high winds.
We removed non essential equipment and several antennas, including the 160 antenna, from the island. Tonight we will try to keep at least 3 stations on the air. Tomorrow morning we will remove all remaining equipment from the island and head towards Australia.
We do not yet have a destination identified, it will depend on the winds and sea conditions. Eventually, we will return to Mackay.
Even if the storm subsides it is unlikely we will have enough time to return to the island.
Team Mellish Reef 2014


04.04.2014
The weather continues to be extremely windy, with occasional heavy rain.
The antennas are taking a severe beating in the wind but they are still working.
The operating tents are shaking and very noisy so the op might have trouble hearing your call.
Today at noon (local) the skipper will decide if we stay until tomorrow or leave today. He would like to keep us transmitting as long as possible, yet maintain a margin of safety.
Team Mellish 2014

Due to the ever worsening weather associated with an impending tropical storm, the team decided in the interest of safety to end the operation early.
The last night on the island was extremely difficult. With continued heavy rain and wind, radio operations were nearly impossible. We have set sail for the Australian coast and seek a course to keep ahead of the storm that caused us to leave the reef. Expect 2.5 - 3 days of sailing prior to reaching our port destination.
While the team is disappointed, we realize that you are even more disappointed.
We gave one elderly ZS amateur his last one for Top of the Honor Roll, a PP1 his Honor Roll position and many all time new ones. Based on the logs there were many band fills.
We would like to acknowledge the generosity of the clubs, foundations, individual donors and our corporate sponsors. And a special thanks to Steve Kafka and the Evohe crew for their endless runs to the island, help with every logistical task during the trip, and the strong backs of his young crew doing the heavy lifting.

Video Mellish Reef

VK9MT - Mellish Reef 2014 Video