VP2V/K6TOP will be active again from Tortola Island, British Virgin Islands, IOTA NA - 023,
5 - 13 July 2019.
He will operate on 40, 30, 20, 17, 15, 10m.
Recent DX Spots VP2V/K6TOPRecent DX Spots VP2VGG
QSL via NR6M, LOTW.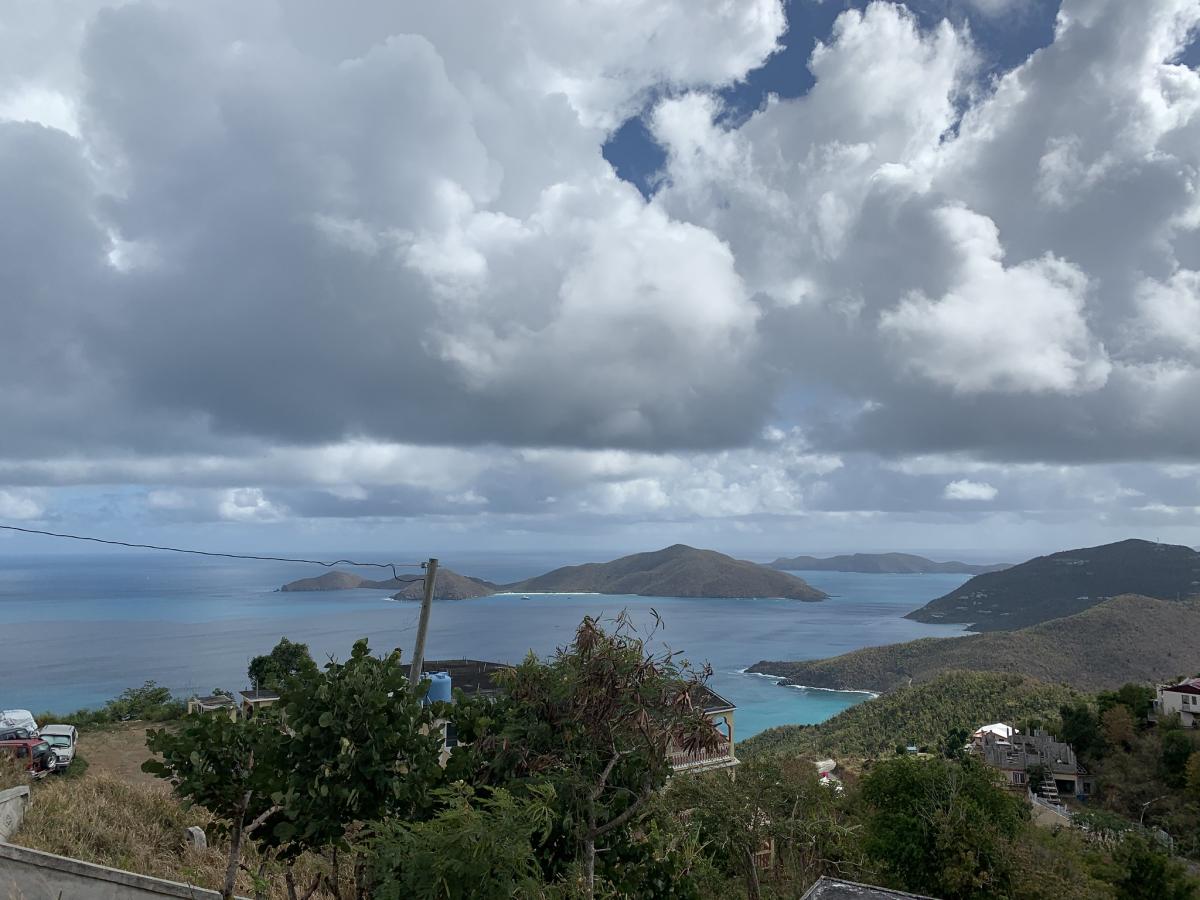 Tortola Island, British Virgin Islands. Author - Jeff Christiansen.

Previous activity:
Kevin, K6TOP will be active again from Tortola Island , British Virgin Islands, 23 May - 1 June 2018 as VP2V/K6TOP.
He will operate on 40, 30, 20, 17m CW.
QSL via NR6M direct, LOTW.
Ads for direct QSL:
Rex A Turvin, 18040 W. Banning ST., Casa Grande, AZ, 85193, USA.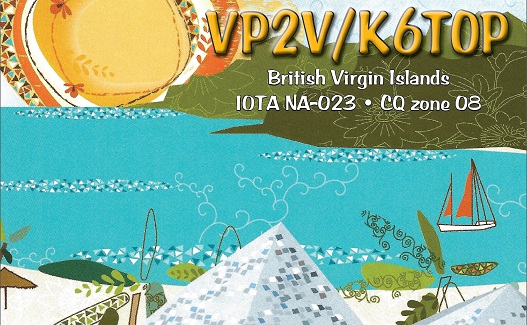 Tortola Island, British Virgin Islands. VP2V/K6TOP QSL.
Tortola Island. British Virgin Islands. Information.
Tortola is largest island of the British Virgin Islands.
Motto- Be Vigilant.
Capital- Road Town.
Official language- English.
Currency- United States dollar USD.
Time- UTC-4.
International Phone code- + 1-284.
Internet domain- .vg
British Virgin Islands comprise about 60 islands.
Tortola island is 20km long and 5km wide.
Climate- tropical.
British Virgin islands is divided into 9 districts.
VP2V/K6TOP Tortola Island British Virgin Islands. Information for Radio Amateurs.
DXCC country- British Virgin Islands VP2V.
WAC continent- North America.
WAZ zone- 8.
ITU zone- 11.
QTH locator- FK78.
Amateur Radio organization- British Virgin Islands Radio League BVIRL, member of International Amateur Radio Union IARU.
Vice President: Arthur Swain, VP2VA
British Virgin Islands
The British Virgin Islands, famous among sailors, fishermen and independent travelers, are the perfect stop on any tour of the Caribbean. Comprised of over 60 small islands, they range from steep volcanic islands such as Tortola and beautiful Virgin Gorda, to small coral islets that barely poke out of the sea.
The main attraction of this group of islands is definitely nature; coral reefs, white sandy beaches and a huge variety of vistas and scenery await intrepid island-hopping adventurers. With the islands steeped in history, there are also beautiful seaside villages and pretty churches as a major draw.
Even by Caribbean standards, the beaches on the British Virgin Islands are of an extremely high quality – and their size and abundance mean that, even in high season, you can spend an afternoon on a beach and call it your own.
Ahoy There, Sailor
The British Virgin Islands are one of the top places to sail in the world. With their calm, deep-water seas and a multitude of islands all within line-of-sight navigation, getting around on a charter-boat couldn't be easier. The perfect way to get the most out of these islands, and the best way to see some of the 40+ uninhabited getaways.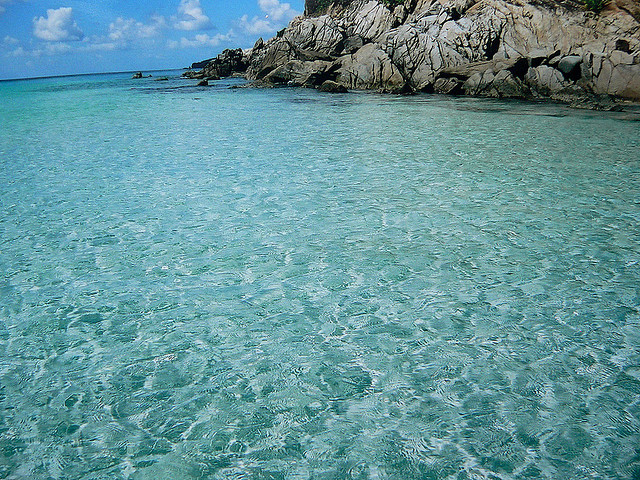 Baths
The seawater-flooded grottoes formed by ancient lava-blocks are one of the must-see sites of the islands. This unique swimming experience is surreal and would be even better if it wasn't for the superlative Devil's Bay national park – a stunning walk along some of the best trails in the Caribbean.
Sage Mountain
If the beach is getting too hot, then a stroll through the Sage Mountain National Park is the perfect way to cool off. Wander among the fantastic trails of this national park in the shade of 20ft fern trees, mahogany and other flora from a by-gone age. As the highest point in the islands, at 1761ft, enjoy the beautiful panoramas you can get of both the British Virgin Islands and the US Virgin Islands.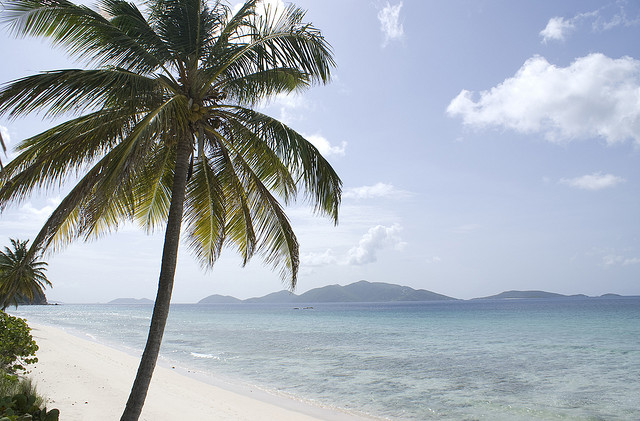 Wreck Diving
Okay, so walking and lazing on the beach haven't cooled you off. Then why not dive into the calm, warm seas and enjoy some of the most intriguing dive sites of the whole Caribbean? Explore the RMS Rhone, a three-part dive site of a 19th Century Royal Mail steamer, which sank in a hurricane in 1867. Or, for something memorable, why not explore the sunken aircraft off Great Dog Island – everywhere you turn there is seemingly a story to be told!
Rum!
During any stay in the Caribbean, rum is sure to be a part of that trip. Well, here's the best spot to see it made – the Callwood Rum Distillery. This is the oldest continuously operated distillery in the Eastern Caribbean, where it has been brewed non-stop for the past 300 years! A tour through this atmospheric structure is a must-do on any tour.

There's much more to be seen than can fit in 500 or even 50000 words! So hop on a boat, and go exploring!
Video Tortola Island. British Virgin Islands
VP2V/K6TOP. Where is Tortola Island located. Map.
VP2V/K6TOP VP2VGG Tortola Island British Virgin Islands. Sunrise 12-04-2023 at 10:34 GMT sunset at 21:42 GMT