Members of the KH8RRC Team will be active as W1AW/KH8 from American Samoa, 12 - 18 July 2023.
They will operate on HF Bands, CW, SSB, FT4, FT8.
Recent DX Spots W1AW/KH8
American Samoa: far from civilization

American Samoa is a secluded island and atoll in the Pacific Ocean, almost untouched by civilization. Only 4,500 people live in the capital city of Pago Pago, on the island of Tutuila. It is the largest population center and one of the most picturesque and deepest harbors of strategic importance. The rest of the small island nation is occupied by villages and hamlets. The lack of fashionable hotels in local resorts is compensated by cozy small hotels of open type, rich flora and fauna.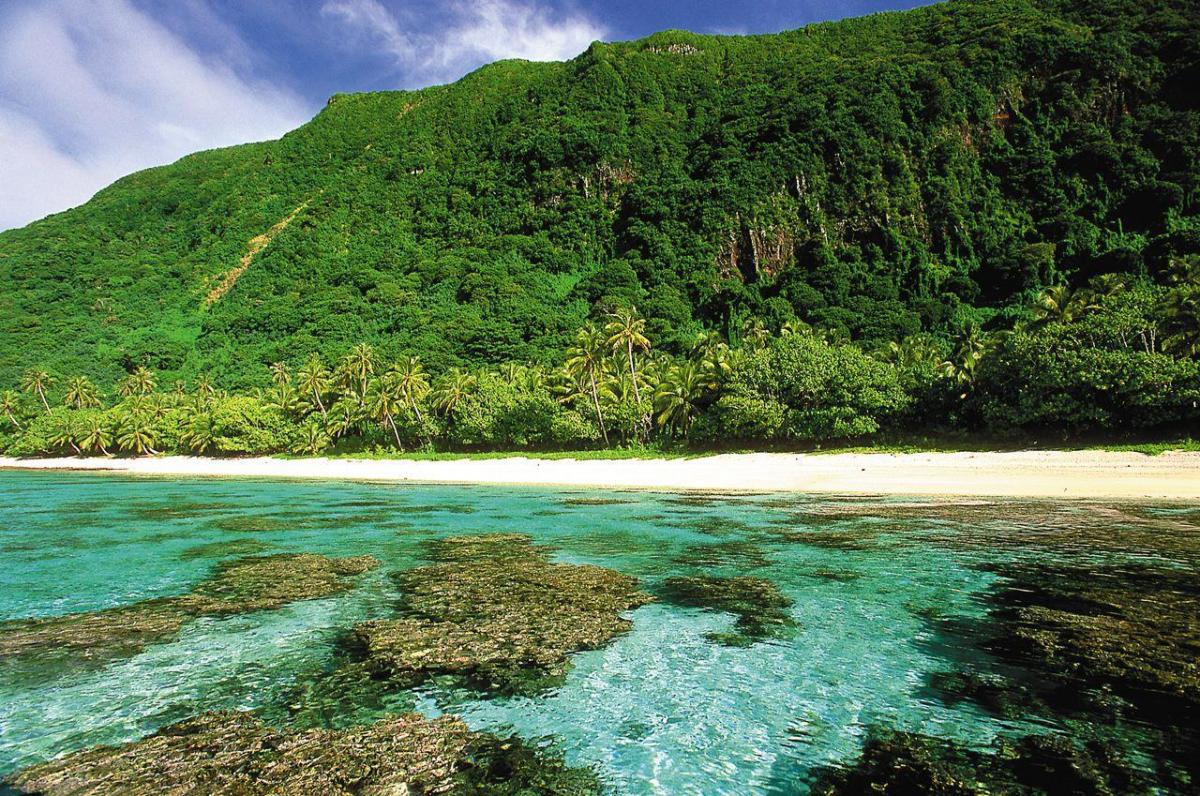 American Samoa. Author - Roderick Eime.
What do I need to know about American Samoa?
American Samoa consists of seven islands located between Hawaii and New Zealand. Although the first settlements in the area date back to 1000 B.C., it was not until the 18th century that European navigators discovered the land. The archipelago was discovered by the Dutch exploration expedition of Jacob Roggeveen. In the 19th century British missionaries landed on the islands. The United States also began to actively explore the territory and made a treaty with the kingdom of Samoa on the right to use the convenient bay of Pago Pago to accommodate its fleet.
Later, in the late 19th century, Samoa was divided into the Western and Eastern parts because of the clash of U.S. and German interests. It was not until 1962 that the independent state of Western Samoa was formed, the first constitution was adopted, and gubernatorial elections were held. Today the country is administered by the United States Government, but is not part of it. Five volcanic islands with mountainous terrain (Aunuu, Tau, Tutuila, Ofu, Olosega) and coral atolls (Rose and Swains) are American.
Way of life of the islanders
An important role for Samoans is played by "saigai", a clan or family community consisting of relatives of all generations. Traditionally, a head is chosen to uphold the interests of the family and be responsible for preserving traditions. During walks around the islands you can notice numerous buildings with colored roofs and columns - this is the place where the community gathers. Together, clan members work, celebrate holidays, and discuss problems. It is believed that you can address the elders and important issues only by sitting - so you show your respect and seriousness of intentions.
Tourists can watch the distinctive rituals of the Samoans with dancing and singing. Also on the islands in the evening (from 18 to 19 hours) there are prayers. Interestingly, most of the locals are Protestants. On Sundays they regularly attend church.
The American Samoan public transportation system deserves special attention: passenger buses converted from passenger cars. The body is made of wood. Painted in different colors, these buses look very colorful, and smoking is allowed in them.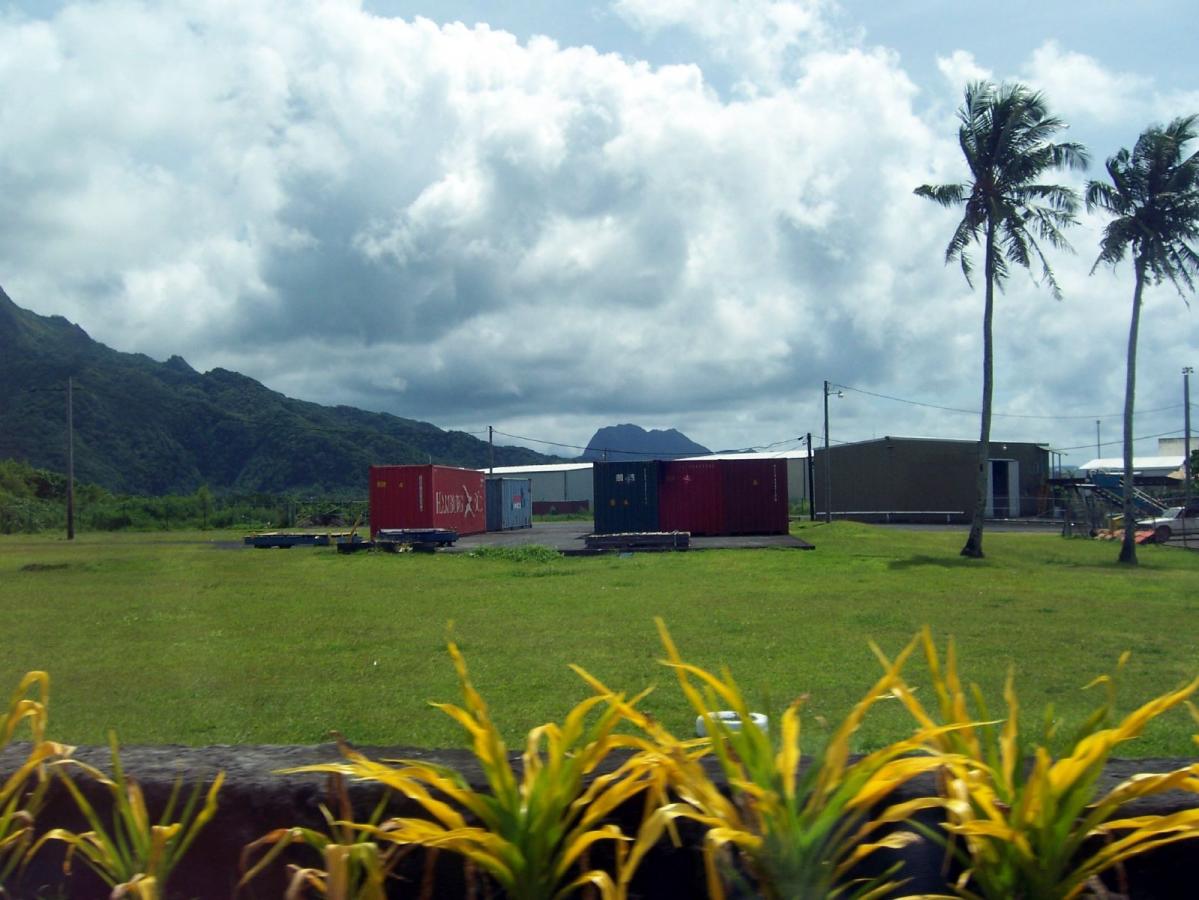 American Samoa. Author - Ben Miller.
A Tropical Paradise
Life in Samoa is measured and smooth, many people come here to enjoy a relaxing vacation on the beach, escape from the bustle of the city and lie in the shade of coconut palms, sipping a cocktail and listening to the sound of the ocean. The coastline stretches for 116 kilometers, and the sandy beaches are pleasing to the lack of people. If you want to get an even tan, you should go to the village of Alega on the main island of Tutuila. This is a true tropical paradise!
Active tourists can explore the islands by bike, rent a boat or canoe for a short trip to the uninhabited atolls, go snorkeling or diving, visit the marine reserves. There are also excellent hiking trails across the islands. One of them runs along the mountain Alava a little over 490 meters high. You can also climb the highest point of Tutuila Island, Matafao Peak, near which the Nuuili waterfall rumbles. Fans of windsurfing come to the famous Carter Beach. You can also catch waves in Leone Bay and Alofay, and migrating dolphins can be seen in Fagasa Strait in season.
Interesting places to visit
When you come to American Samoa, you are unlikely to be able to admire outstanding architecture and monuments. Everything here that attracts attention is created by nature and carefully protected by the local authorities. A visit to the National Park, spread over three islands at once, is a chance to see the wild tropical nature in its pristine state. It is home to rare species of birds and animals. Also protected are the underwater inhabitants of the coastal zone: there are almost 900 species of coral fish. Sometimes migrating whales swim into the surrounding waters. You can get here only by special permission.
In the capital of Pago Pago is an interesting museum Haydon, which collected objects of Samoan households. In the nearby villages of Waitoga and Aolowu Fo can learn more about the culture, customs and life of local people. In the city of Leon there are ancient ruins with a burial altar, dating back to the time of the Polynesian tribes.
From trips to this exotic country tourists take a variety of souvenirs made by local craftsmen - weapons made of wood, jewelry made from coconut shells, mats and baskets woven from pandanus fibers, clothing. Market stalls can be found in any village, the most extensive area where artisans display their work for sale is in Fagatogo.
In mid-spring, Samoans celebrate Flag Day in a noisy and fun way. Guests canoe races, music and dance festivals, sports competitions, and fishermen's contests for the best catch.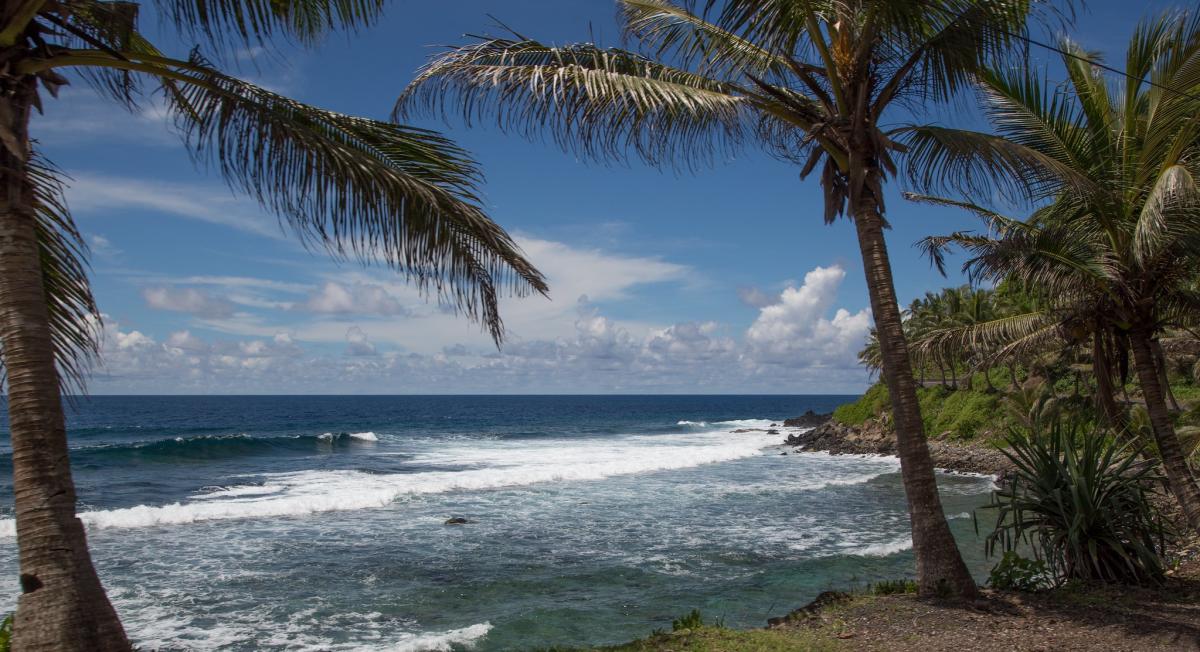 American Samoa. Author - Harold Moses.
Local food specialties
As in many other regions of Oceania, the Samoan islands have an acute food problem. The local cuisine is dominated by seafood and fish, which are eaten raw, spiced or simply salted. For example, finely sliced fish is often marinated in lemon juice, coconut milk, and onions, after which it is considered ready. The same recipe is used to make "faiai fee" - octopus in coconut milk, an exotic delicacy "si" - sea cucumber. This method is also used for marinating shellfish, sea snakes, crustaceans and even shark meat.
Traditionally, Polynesian peoples cook meat and fish in special earthen ovens "umu". Additional ingredients are breadfruit, colocasia and green bananas, which give the dishes a distinctive flavor. Many dishes use coconut, which is eaten almost whole, and unripe fruits are also consumed in Samoa.
Samoan dishes are usually not too spicy. Products are simply sliced and served separately, all components are mixed during meals. They are usually made with colocasia, yams, tropical fruits and vegetables, and rice. Samoans adore baked goods, the table is often filled with the traditional dessert "fausi" made of pumpkin baked in coconut milk and caramel sauce.
The popular drink is nui, a green coconut juice. Here you can try strong cocoa, which has a tonic effect. But do not joke with non-alcoholic tincture "cava", the effect of which is similar to tranquilizers.
W1AW/KH8. Where is American Samoa located. Map.
W1AW/KH8 American Samoa. Sunrise 10-04-2023 at 16:59 GMT sunset at 05:18 GMT