Zoltan, HA5PP will be active as 5B/HA5PP from Cyprus, IOTA AS - 004, in CQ WW DX SSB Contest, 28 - 29 October 2023.
He will operate in SOAB HP Category.
Recent DX Spots 5B/HA5PP
QSL via home call.
Ads for direct QSL:
ZOLTAN SZOKE, Szel utca 10. I/5., BUDAPEST 1035, Hungary.
Holidays in Cyprus: profitable, interesting and comfortable

Cyprus is particularly popular among many tourists due to the fact that the island has safe yarns, clear azure of the Mediterranean Sea, amazing landscapes, as well as a developed tourist sphere. Cyprus has a Mediterranean subtropical climate, which is characterised by being very hot and dry in summer and warm in winter.
In the summer period the temperature starts from 25 and reaches 40 degrees, and in winter time the temperature drops to 10-20 degrees. Cyprus has quite mild winters, with snow to be seen if you visit the Troodos Mountains.
Culture and customs in Cyprus
Greek Cypriot life resembles the way of life in mainland Greece. However, Cypriots are the most organised. After all, the English brought not only the English education system to the island, but also the ability to run a business. In Cyprus, you can notice that people here are less fussy and their lives are more measured.
Cypriots have rather conservative views. Women are more involved in household chores and childcare. There are very few women among entrepreneurs and managers. But a woman is an important part of the family.
In Cyprus there are still men's coffee shops, where Cypriot women are not allowed to enter. However, women in Cyprus often drive cars. Greek Cypriots are very friendly, cheerful and hardworking, but they also know how to have a good rest.
At the end of the day, when the heat is off, Cypriots prefer to go to taverns in the evenings with the whole family, even with children. It's always noisy, yet safe and decent. In Cyprus you can often hear Greek music and see beautiful Greek dances, as people love them very much.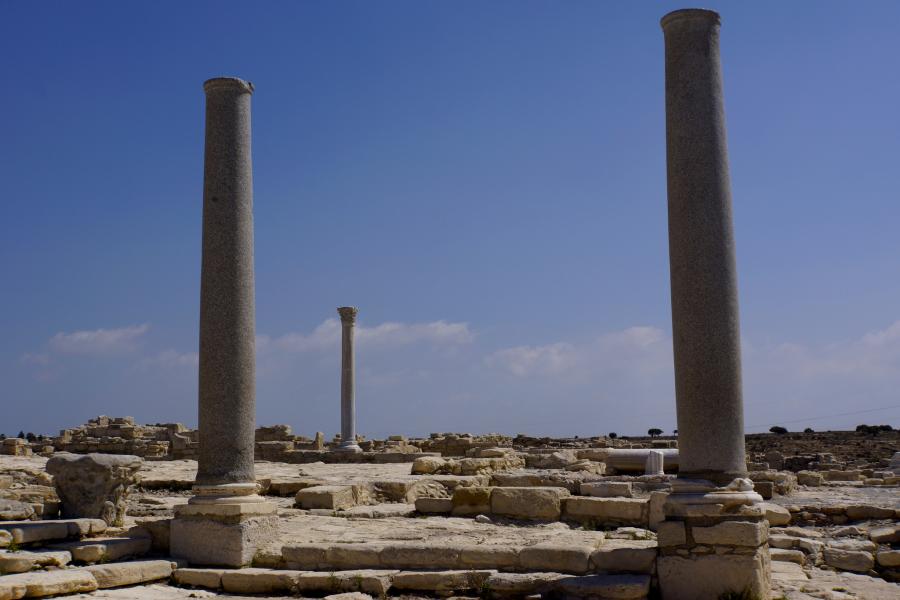 Cyprus. Author - Rita Edwards.
What sights can I see in Cyprus?
Cyprus is a veritable museum that is popular with many tourists as well as scholars and archaeologists. In Palae Paphos, which was the capital of Cyprus in the 10th century BC, ancient ruins of the sanctuaries of Apollo and Aphrodite have been found destroyed.
Since around the end of the 19th century, archaeological excavations of the city of Kourion have been taking place on the coast, of which only the large complex of the "Villa Eustolios" and the old antique theatre have survived.
Ayia Napa
One of the main historical attractions of the city, apart from the tourist beaches, is the old dilapidated Venetian monastery, which was built during the Renaissance. Here you can also find a water car park, which is one of the main forms of entertainment.
Larnaca
Apart from its sandy beaches, Larnaca is home to many other attractions. These include the church dedicated to St Lazarus, the old small mosque of Sultan Tekke, which is recognised as the fourth holiest shrine in Islam, the old monastery of Stavrovouni, the Phoenician city of Kition and others.
Limassol
If you visit Cyprus, you will definitely pay your attention to a few of the city's main attractions - the perfectly preserved Limassol Fortress, the Gothic castle of Kolossi and the sanctuary of the god Apollo. The ruins of the ruined cities of Kourion and Amathus can also be found here, which have managed to survive to this day.
Paphos
Paphos boasts a large number of historical sites and several tourist beach areas. Here you can find the villa of the god Dionysus, several Royal Tombs, the Monastery of Neophytos, and the ancient catacombs of Solomonia.
In addition to the sights in Paphos there are several interesting museums, each dedicated to a different era. Paphos also has a very beautiful green Akamas Park, which is located on the peninsula. This place is ideal for walking and seeing the beauty of the ocean. You will not be disturbed by the large number of tourists who usually do not go here, preferring to stay on the beach.
Nicosia
Nicosia is a rather ancient city that contains a lot of attractions. It was built a long time ago, but only the surviving monuments have survived to this day, including: the Famagusta Gate, Selimiye Mosque, Mahmud II Library, Venetian Column and a small number of churches.
Famagusta
If you will be in Famagusta, you should definitely visit the cultural historical monuments: the cathedral built in honour of Saint Nicholas, the dilapidated fortress of Othello and the surviving old monastery of Saint Barnabas.
Kyrenia
Here you will find beautiful beaches and many historical sights. Among them are the ancient fortress of Kyrenia, the abbey of the monks of Bellapais, the preserved castle of St Hilarion and a very interesting museum, which is dedicated to a shipwreck.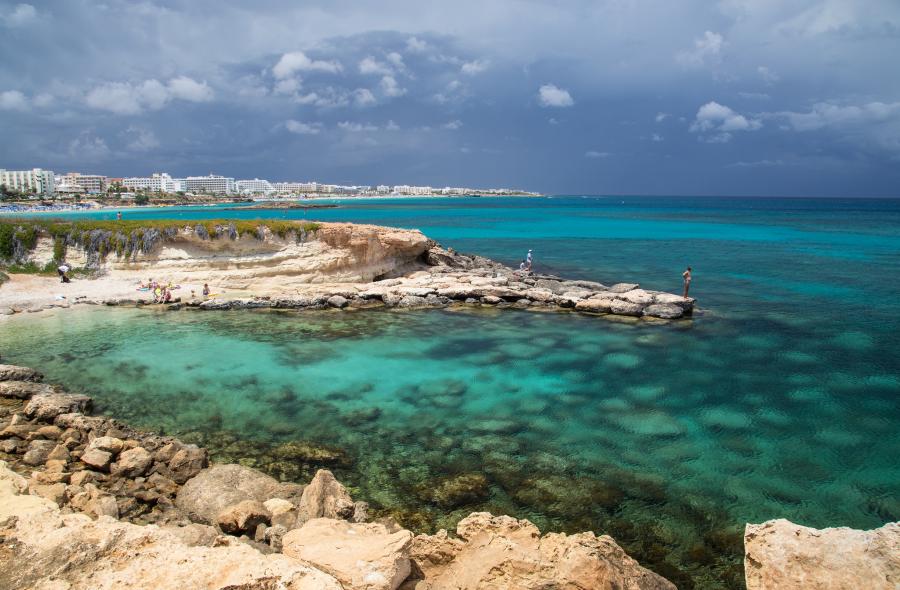 Protaras, Cyprus. Author - Lefteris Katsouromallis.
Shopping in Cyprus
Nowadays Cyprus is a place that concentrates a lot of historical sights. Of course, here you can also find shops and stalls where you can buy yourself some traditional items. Popular purchases include:
jewellery made by local craftsmen;
natural olive oils;
rare alcoholic beverages;
leather goods;
porcelain products.
Many people probably do not know, but in Cyprus it is not customary to bargain, unlike in Turkey. There are fixed prices for all goods, so you can only claim a small discount.
National cuisine
Greek cuisine is the main cuisine in Cyprus, but it is the only one that often utilises seafood, which is present in many dishes.
The most common dish is meze, which is offered in every restaurant on the island. This dish is an array of different cold and hot appetisers. The number can reach up to 20 dishes, but mostly the number is 8-10. This is the best way to get to know Cypriot cuisine better, as meze is considered the most national dish.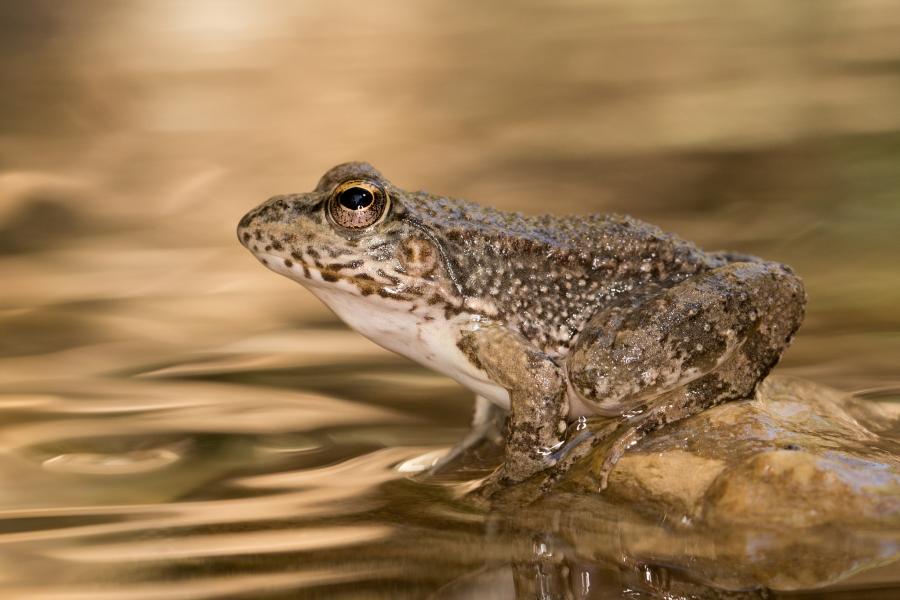 Marsh frog, Cyprus. Author - Carl Taylor.
Holidays with children
Many people come to Cyprus with children for the reason that here the most ideal conditions. First of all, it should be noted the favourable climate, which promotes recovery.
In the case of a goal not only to have a good rest, but also to fill with fresh forces, to recover the body, it is better to choose the months of September-October or May-June. After all, in these periods there is no debilitating heat, and the sea temperature is perfect for children to spend a lot of time in the water. It is also easier to adjust to a different climate in autumn and spring.
There are many beaches on the island that provide for easy access to the sea. Since there are three water parks located near the major resorts, adults and children will be able to have fun, as there is a wide range of entertainment for all tastes.
Another advantage of a family holiday in Cyprus is that the weather allows sunbathing as early as May, and swimming is possible from June until the end of October. With the help of local fruits you can perfectly diversify ready-made dishes or completely replace them.
Only when choosing a hotel you should take into account that they are not all designed for holidays with children. However, there are hotels that provide children's clubs, playrooms and swimming pools. In other cases, each hotel offers comfortable and cosy conditions for staying in rooms with children.
As for the children's menu, the problem is solved by the fact that in restaurants and taverns you can taste dishes not only Cypriot, but also European cuisine. In any case, it is possible to buy in a shop or at the market what the child needs.
5B/HA5PP. Where is Cyprus located. Map.
5B/HA5PP Cyprus. Sunrise 12-10-2023 at 04:41 GMT sunset at 14:35 GMT