VE3NE and HG9MAT will be active from Jamaica in CQ WW DX SSB Contest 25 - 26 October 2014 as 6Y4K.
They will be in M/S category.
QSL via VE3NE, LOTW.
Get to Know Jamaica
A Few Words About Jamaica
The country of Jamaica is an island located in the Caribbean Sea. The landmass comprises of over 4,200 square miles, and lies approximately 90 miles south of Cuba. It is the fifth largest country in the Caribbean area.
Before it was called Jamaica, it was actually owned by Spain. In its day, it was called the Santiago, but in 1655, it became owned by England, where the name was changed. It wasn't until 300 years later that the island became completely independent from the United Kingdom. The capital of Jamaica is Kingston.
Even though Jamaica is independent from The United Kingdom, it is still considered to be part of the Commonwealth, and is lead by British monarchy.
Getting Around Jamaica
Jamaica is quite advanced when it comes to transport. If you want to find a way to travel to and in Jamaica, there are many options to choose from. Top commercial air flights such as Blue Jet and Southwest have travel paths you can choose from. Once in Jamaica, you can travel using their roads, trains, and planes.
Roadways – the roadways alone are very advanced. In the entirety of Jamaica, there exist over 13 thousand roads to travel on, with over 65% of these roadways being paved.
Freeways – there are not as many freeways as there are roadways in Jamaica as they are a relatively new transportation method. Still, the Jamaican Government has implemented more and more for the last 20 years. So far, there are approximately 21 miles of freeways that one can travel on when they visit Jamaica.
Railways – While the popularity of railways in Jamaica has dwindled since the rise of roadways and freeways, there are still 35 miles of railways still being actively used. Still, visitors and residents alike do not use this kind of system, as they are mainly used as bauxite transport.
Air Transport – While many airlines over the world come to Jamaica, there are also three very prominent international airports that reside in Jamaica, including Norman Manley International Airport in Kingston, Sir Donald Sangster International Airport, and Ian Fleming International Airport. These airports are the official home to Jamaica's national airline called Air Jamaica. If visitors which to travel more quickly within the country, they can use Port Antonio, Negril, and Tinson Pen airports.
Car Rentals – like most often visited countries, Jamaica offers many car rental services for visitors who wish to have greater and more convenient control over their transportation.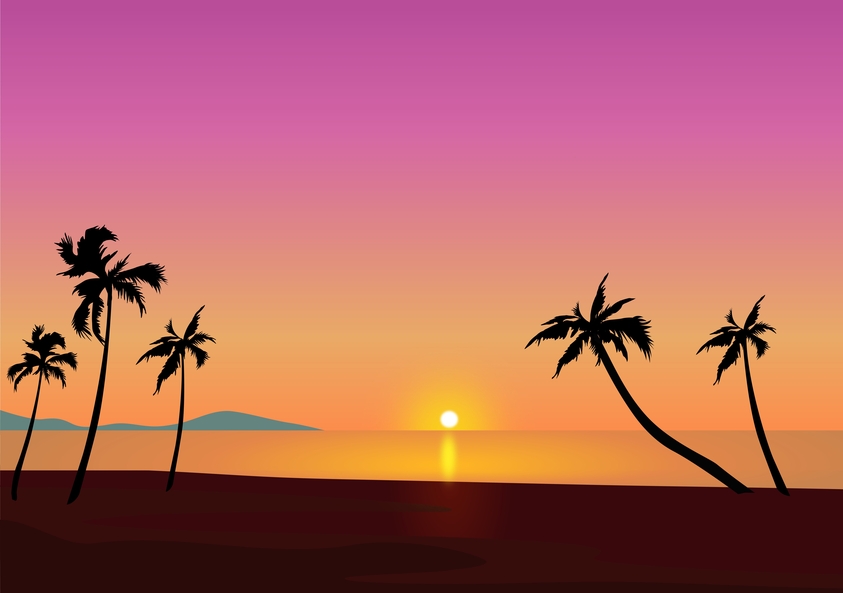 Culture
Jamaica has a rich culture that focuses on the love of family, friends, and music. Famous figures often have these basic values that follow them in their careers and personal life. One important Jamaican figure is a man named Marcus Garvey, who has become Jamaica's first National Hero due to his work in the "Back to Africa Movement". One of the most internationally known people to come out of Jamaica is Bob Marley, who is particularly famous for his reggae, ska, and rock steady music. A wide range of literature and films has also originated in Jamaica that adds to its rich culture.
Nature
The beautiful island of Jamaica has a tropical climate with rainfall that comes in seasons. The range of this weather pattern includes humid conditions at sea level, with cool temperatures in higher altitudes. The average temperature of the island is in the low 80's (Fahrenheit).
Blue Mountain Range – the gorgeous Blue Mountain Range is quite visible in Jamaica's capital, Kingston, and is a great place for visitors to go. There are an array of hiking trails and camping sites for travelers who wish to truly be in the nature.
Beaches – Just as magnificent as the Blue Mountain Range are the beaches, which are full of pristine white and black sand. Visitors can snorkel in the water to view the beautiful sea life below.The Western Negril shores offer the best coral reefs.
Wildlife – In typical tropical fashion, Jamaica is the home to many different species, including over 200 bird species, crocodiles (deeper into the wild) and trees. Take a river raft ride to see more exotic species.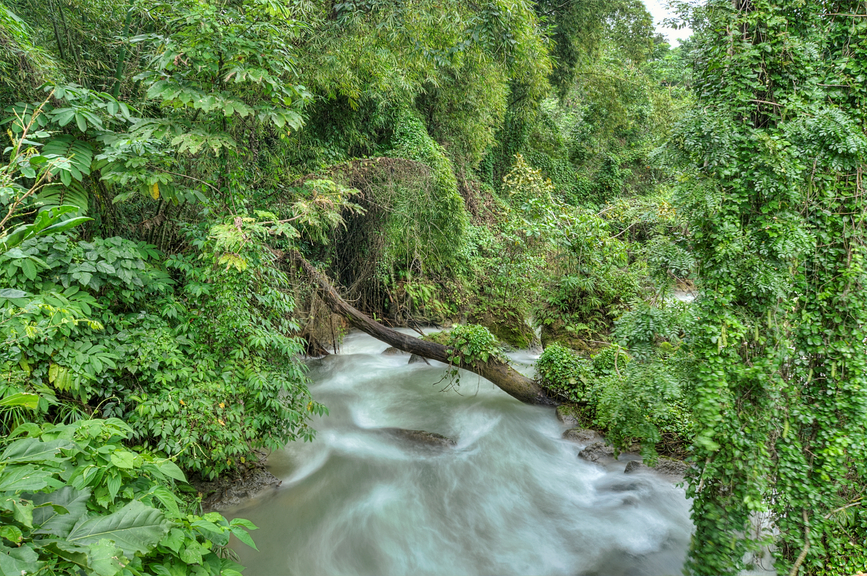 Rapid river in Jamaica
Sports
Sports are a major part of the Jamaican culture. They are famous for performing extremely well at the Olympics; the track and field athletic competitions in particular. A most popular sport in Jamaica is cricket.
Athletes in Jamaica begin their training at a very young age. Their dedication and hard work often gets them press coverage even before they reach such high accomplishments as making it to the Olympic games. These are some of the most successful sprinters:
Usain Bolt
Arthur Wint
Donald Quarrie
Roy Anthony Bridge
Deon Hemmings
Sherone Simpson
Aleen Bailey
Juliet Cuthbert
Veronica Cambell-Brown
George Rhoden
Asafa Powell
Yohan Blake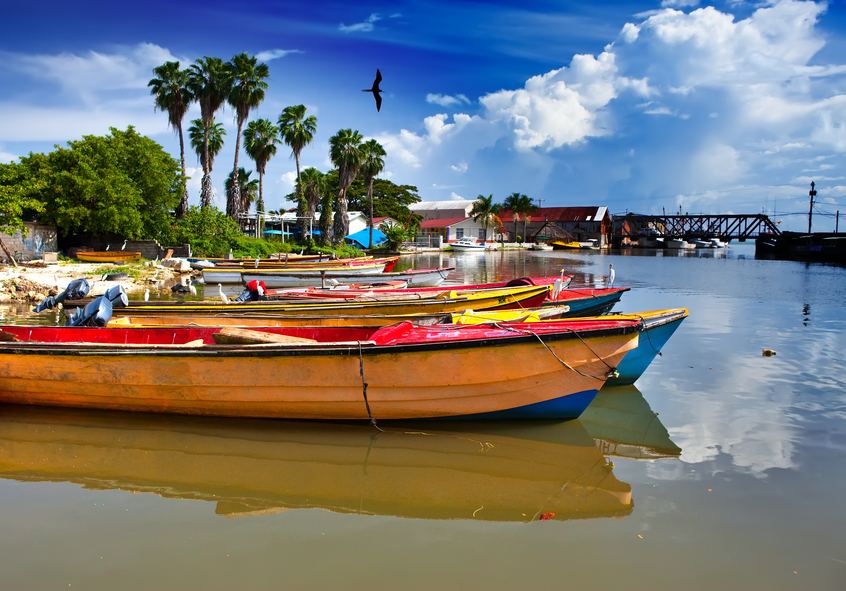 Jamaica. National boats on the Black river.
Here are some of their most famous boxers:
Trevor Berbick
Mile McCallum
Lloyd Honeyghan
Frank Bruno
Audley Harrison
Chris Eubank
Jamaica has also ventured into bobsledding and rugby. The highest paid athlete in Jamaica is Justin Masterson, who was starting pitcher for the Cleveland Indians.
Where to Stay in Jamaica
Jamaica is one of the most beautiful places in the world, with some of the most beautiful places to stay. Here are some of the best places that have extremely reasonable prices.
The Rockhouse – The Rockhouse is situated in the West End of the country, and has the perfect combination of high class hoteling and laid-back vibes. It has a top-of-the-notch spa, wonderful bed sheets, and fantastic food everyone will love and remember. The double rooms for from 125 dollars a night.
Palms Resort – Palms Resort in Negril sports natural wood aesthetics that give this place particular charm. The hotel is right near the fantastic night life that is just a walk away. The carnival is a hit among visitors and residents alike. The double rooms are 80 dollars a night.
Jake's – Jake's hotel is a fun- down-to-earth way to spend time in Jamaica. The rooms are cottages, and privacy is a big-time thing. The environment surrounding this hotel is chic, but avoids heavy tourism and gimmicks. This hotel is just 95 dollars a night.
Conclusion
Jamaica is a wonderful location that everyone should visit in a lifetime. The tropical nature, fun and loving culture, and relaxing recreational stays are easy reasons why it often becomes the most memorable vacation spot for visitors.
Video Jamaica