Sven, DJ2CW will be active from Reunion island 30 September- 8 October 2014 as FR/DJ2CW.
He will be active on HF bands.
QSL via home call.
Reunion Island: Multiculturalism Born From Volcanos
A Few Words About Reunion Island
Reunion Island is one of the youngest Islands in the world. Born in the Indian Ocean 3 million years ago, it is 2500 km square. It is made up mainly of three mountains: Cilaos, Salazie, Mafate, all three still active volcanoes. The capital of Reunion Island is Saint Denis. One of the main exports from Reunion Island is sugar.
The national language is French and the population is made up of many different people of mixed races. All kinds of people from Madagascar, Africa, France, China, and the Middle East call the Reunion Islands home. Most people on Reunion Island are Roman Catholics, but some are also practicing Muslims, Hindus, and Buddhists.
Reunion Island was discovered at the beginning of the 16th century, ans when they arrived in 1643, the island was uninhabited. The first inhabitants were 12 French exiles, and they officially claimed the country in 1649. At the time, it was called Bourbon. It got it's official name, "La Reunion" in 1792.

Getting Around Reunion Island
Air Travel: Flights to Reunion Island are routed through Paris by Air France. It is an 11 hour flight from Paris. There are up to 12 flights per week.
Driving: It is suggested to rent a car during your stay. Many of the good hiking areas are accessible by car, and there is car rental in the airport as well as around the island, but booking in advance is suggested so your car will be waiting for you when you arrive.
Coach: Coach is a way to travel without having to worry about a car. There are many coaches available in Reunion Island. Some of the coaches include: Allon Bat A Pat Rando, Moutoussamy et Fils, and Groupe Transports Mooland.
Sea Transport: There are trips that will take you out to sea, as well as ferries that will take you to Madagascar and Mauritius. On the island there is boating and fishing as well. Popular companies include: Reunion Fishing Club, Cata Passion, and Thim Nautique.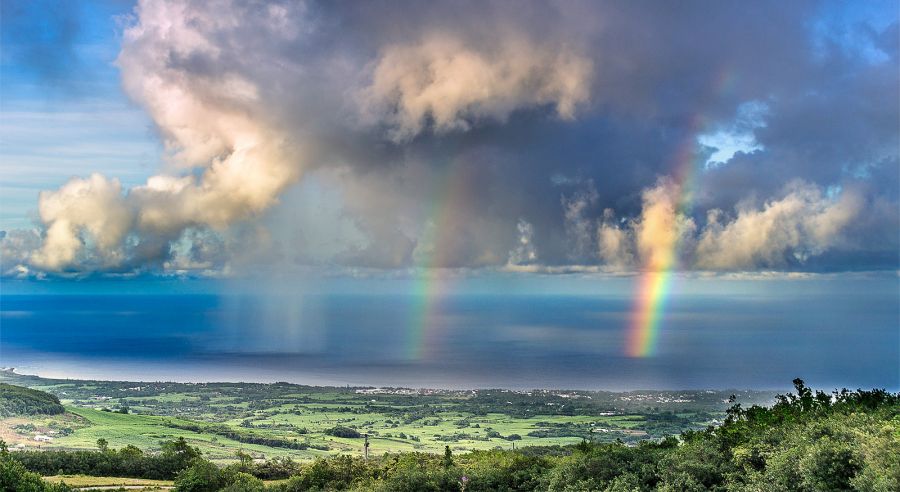 Culture
The food on Reunion Island is based in French Cuisine. There is a bit of the Malagasy and Chinese influence as well. Reunion cuisine is known for its use of chili peppers. They are widely used to accompany achards (raw vegetables cut into thin strips). Most notably is the "piment-zoiseau" a tiny pepper that packs a big punch. It is most often used in a spicy sauce called rougail. There are endless ways to make rougail. Some popular ways are with tomato, green mango, lemon, or peanut, which is then paired with a bean or lentil. Often this sauce is put into one of Reunion Island's staple dishes, curry.
The music in Reunion Island is defined by one festival: Sakifo. Lasting three days toward the end of May, Reunion Island hosts the World Music Festival, known as Safiko (translated as "satisfied" in French Creole). 40 artists from all around the world play at the festival, representing all types of music from Pop and Rock, to Blues, Reggae and Funk. La Reunion is said to be the perfect place for such a multicultural festival because of their own roots in multiculturalism and the six cultures they represent on their one island. It has become one of the most famous Indian Ocean festivals.
It is not surprising that their school systems mimic those in France. The school year is divided into three terms of 7 weeks, with a 2 week break in between each one. Summer break is December and January. School days start at 8, and can last until 6, with a 1 to 2 hour break for lunch. There are 33 schools in La Reunion, 4 of which are private. High school lasts 3 years, and is made to build up to their final exam, "le Baccalaureat".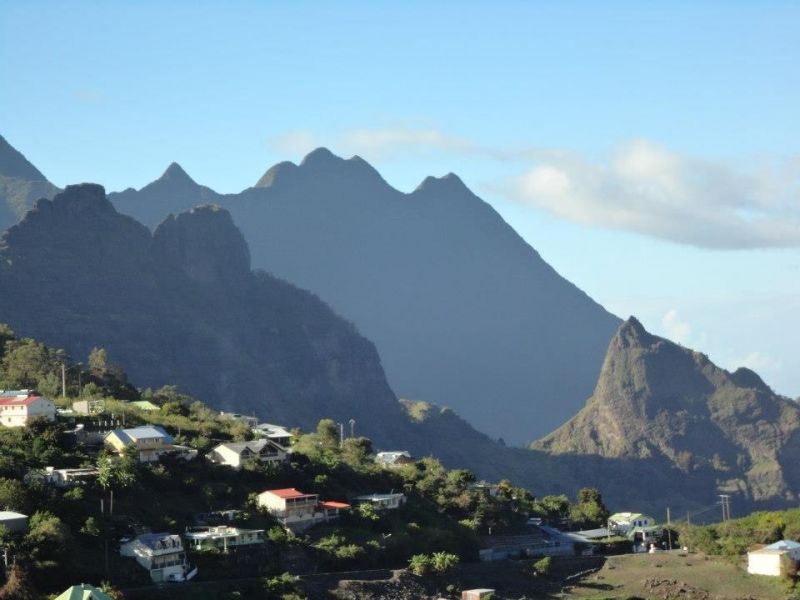 Nature
The climate of Reunion Island is tropical and humid during the summer. During the winter months (April to November) temperatures will drop as low as 20 C (68 F) on the coast, but the further inland and up someone goes, it will get colder. If you plan to hike at all during those months, it is suggested to bring warm clothes.
There are many chances to have unique experiences with animals on Reunion Island. From July to October, many are wowed by the return of the Humpback whales, who come to Reunion Island each year to give birth to their young. In Etang-Sale there is a crocodile sanctuary. In Kelonia, the research and protection center for sea turtles, they have a beloved albino turtle they call Blanche. There are also many birds on the island. Keep your eyes open for a chance to see the tropic bird, the harrier, or the Reunion stonechat.
The plants of Reunion Island are exceptional in that, as an island that was never attached to the mainland, many of its plants are only found to Reunion Island. It has 232 types of flowering plants that do not grow anywhere else, including types of orchids and wood drum. Even today, there are still discoveries of new plants on the island.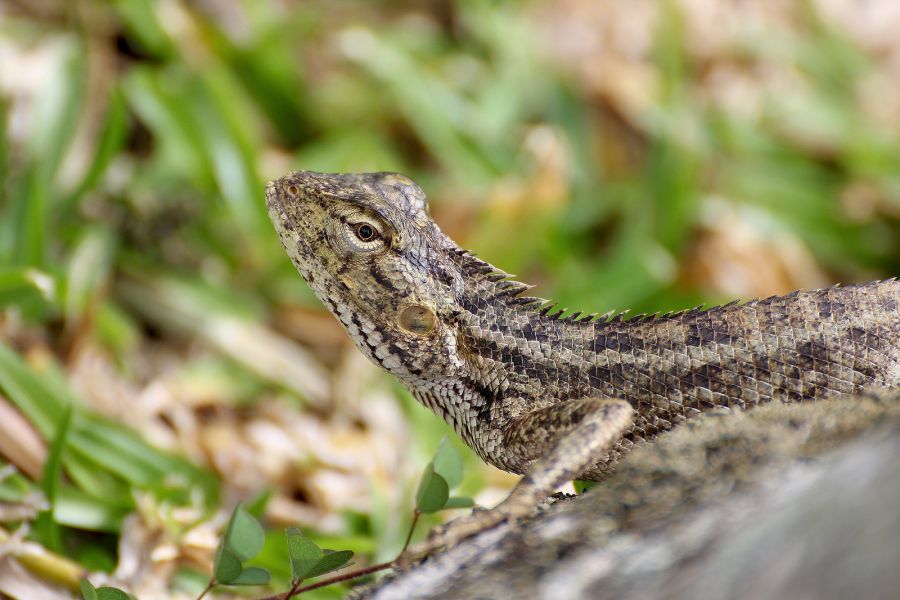 Sports
Popular sports in Reunion Island seem to revolve around hiking and extreme sports like paragliding. The more mainstream sports are football and French handball. In recent years, they've had two athletes stand out: Guillaume Hoarau, who started his professional football career at 20, and Daniel Narcisse who has been on the Olympic French handball team twice since 2000.
Where to Stay
La Case Nyala is a sweet bed and breakfast in Cilaos. It has three bedrooms of varying sizes, a full kitchen (breakfast of jams, yougurt, and cakes included in room fee), a conservatory, games, and a payphone card. It is a short distance from the center of the village, which offers many different kinds of activities to enjoy during your stay.
Tsilaosa Hotel is located in the city center of Cilaos. It has 15 rooms, 10 designed for couples, 5 for families. All rooms have a phone, 19 tv channels (including one in English and 1 in German); king sized bed, heating/cooling, mini bar, and hair dryer. Each room also has its own spa like bath that will soothe your feet after a day of hiking.

Conclusion
La Reunion is a melting pot of different cultures with dramatic sights and cozy accommodations. With influences from the French, Malagasy, and Chinese, the food is always good, albeit spicy, and the weather is the perfect setting for a tropical getaway. If you're looking to explore a land created from the mouths of volcanos, with hundreds of plants you'll never see anywhere else, then take yourself, your family, and your hiking boots to Reunion Island.
Video Reunion Island