Bogdan, SP2FUD will be active from Dominica Island (IOTA NA-101) 18 - 26 October 2014 as J79F.
He will be active with Janusz, SP9FIH/J79L and Kazik, SP6AXW/J79X.
Planning to be active in CQ WW DX SSB Contest in SOSB category as J79F.
QSL via SP2FUD.
Dominica –"Nature Isle" of the Caribbean
An island of pristine natural beauty, Dominica is part of the Lesser Antilles in the Caribbean Sea, northwest of Martinique and south-southeast of Guadeloupe. Home to the world's second largest hot spring, Boiling Lake, and to a number of rare plant, animal, and bird species, this volcanic island of 72,293 people boasts 365 rivers and is the habitat of the Sisserou parrot, a rare species found only on Dominica. It is the national bird and appears on the country's flag.
History and Culture
Ruled at various times by the Spanish, French, and British, Dominica wasthe Latin name for Sunday (November 3, 1493), the day the island was discovered by Christopher Columbus. The island, inhabited by the Carib Indians (or Kalinagos), was briefly explored by the Spanish, but they deemed it too isolated and the Indians too ferocious. Next came the French who brought slaves to work their plantations. The Antillean Creole language evolved from this occupation, but the French eventually ceded control of the island to the British in 1763.
When all slaves within the British Empire were freed in 1834, the island quickly came under the control of the African ethnic majority. Though it was declared a Crown colony of the United Kingdom in 1896, and briefly a member of the West Indies Federation, it achieved its independence on November 3, 1978, ironically 485 years to the day from its discovery by Christopher Columbus.
Although English is considered the official language of Dominica, Spanish, French, and Antillean Creole are spoken by many of its citizens. Dominica is a land of multiple ethnic cultures, and the Antillean Creole language is a combination of French with West African and Carib influences. Dominica's chief economic industry revolves around the growing, harvesting, and exportation of bananas. Since the island has few beaches, due to its volcanic origins, the economy relies quite heavily on agriculture in addition to its trade in tourism. It has sought to extend the agricultural trade by promoting production of coffee, aloe-vera, patchouli, exotic fruits (guava, papaya, and mango), flowers, and a burgeoning market in soap. Dominica's terrain makes it attractive to eco-tourists because it is such unspoiled territory and not over-developed with hotels, construction, and commerce.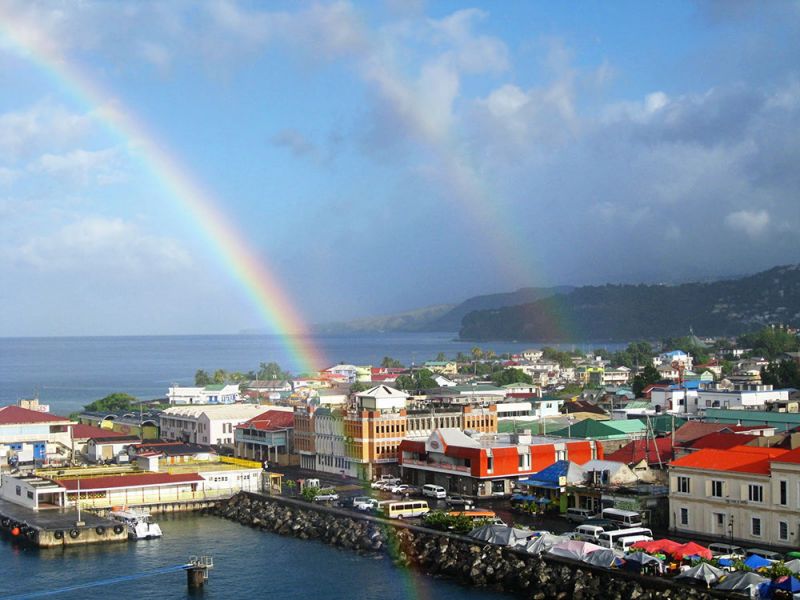 Accommodations
Secret Bay – This secluded but luxurious hotel in Portsmouth presents a cliff-top view with access to two pristine beaches, Tibay Beach and Secret Beach (formerly Anse Quarre). Guests can visit nearby Prince Rupert Bay and the hidden sea-cliff cave to view an incredible array of marine life. The Secret Bay resort was designed by Latin American architect Fruto Vivas to feature the natural environment and pristine beauty of the area. It boasts eco-luxury villas and bungalows that afford spectacular views of the Caribbean, the local rain forest, and mountains. Guests can utilize kitchen facilities and have fresh fruits and vegetables delivered to their residence, request the services of a private chef, or have the concierge make reservations at one of the local Portsmouth restaurants. Truly laid-back luxury.
Pagua Bay House Oceanfront Cabanas – This elegant boutique hotel in Marigot has a modern yet rustic atmosphere and overlooks beautiful Pagua Bay. The cool breezes and undisturbed ambience of tranquility make your stay a pure pleasure. Pagua Bay has an excellent restaurant with French and Caribbean cuisine, and the rooms feature all modern amenities, including walnut platform beds, Brazilian tiger wood floors, ceiling fans, luxury bedding, and imported furnishings. There is laundry service offered, massage and manicure services, with yoga classes and other activities available.
Beau Rive – This hotel has the look of a colonial plantation house with French doors opening onto open-air terraces which offer a sweeping view of the ocean, the cliffs, and the lush vegetation. There is an outdoor pool for guest use, a library, and a restaurant and bar. Visitors will share a lounge and TV area, and receive daily housekeeping services. Elegance combined with natural beauty.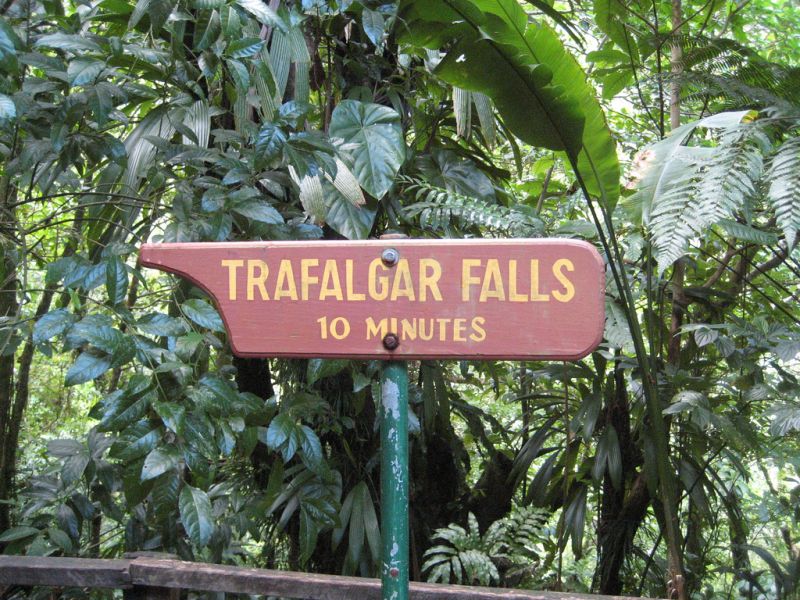 Cuisine
Rainbow Beach Bar Restaurant – Located in Calibishie, this restaurant serves Caribbean and French dishes, including octopus salad, chicken curry, and lobster displayed on a banana leaf platter, huge crayfish, and a delicious lion fish dish. Service is friendly and there is a stunning ocean view of the ocean to enjoy as you sip your rum cocktail.
Pagua Bay Bar & Grill – Located in the Pagua Bay House in Marigot, this restaurant with incredible ocean views is high on the list of must-see locations for great food and excellent service. Diners recommend the ceviche, shrimp fritters, tacos, nachos (with the Bello hot sauce), and the fantastic rum punch. The Callaloo soup was a special favorite, along with the coconut curry shrimp, chili mahi mahi, and the homemade breakfast bagels and Pagua Bay Skillet.
Sunshine Cottage - This vegetarian restaurant, located in Roseau, is highly recommended for its fresh vegetables and delicious pizzas. Hosts Marco and Sabina prepare their cuisine using the freshest ingredients. Salads are crisp with fresh vegetables and homemade dressings, and the pizza is prepared in a wood fire brick oven until the cheese is bubbling and the crust is crispy golden. Reviewers, both vegetarian and non-vegetarian, had high marks for the diablo pizza and the sunshine salad, as well as for other meatless dishes. Outdoor seating and wonderful views of the ocean are part of the beautiful atmosphere at the Sunshine Cottage. Reservations are recommended.
As a mecca for nature lovers, Dominica's virtually untouched beauty attracts ecology-minded travelers who prefer the peace and quiet of the area and its natural environment, as opposed to the casinos and high-rise hotels of some of the other islands. Over 3000 Carib Amerindians live in the Carib territory, an area on the East coast which was set aside for the island's indigenous peoples. The Dominican culture includes a rich musical history, with native Creole genres such as "Jing-ping" and "Cadence." The "Jump Up" festival during Carnival features music and dance exhibitions, and the World Creole Music Festival takes place during the celebration of Dominica's independence at the end of October. With its natural beauty and pristine atmosphere, the island of Dominica truly lives up to its name as the "Nature Island."