Allan, W6HGF will be active from Aruba 24 September - 1 October 2014 as P4/W6HGF or P40HF.
He will be also in CQ WW RTTY Contest.
QSL via home call, LOTW, eQSL.
Aruba – A Dutch Island in the Caribbean
The island of Aruba, together with other islands in the Caribbean, is part of the Netherlands Antilles (or the Dutch Caribbean). Aruba, Bonaire, and Curacao are referred to as the ABC islands. Aruba is located west of the Lesser Antilles (an arc of islands forming the eastern boundary of the Caribbean with the Atlantic Ocean) and north of Venezuela. Aruba is part of the Kingdom of the Netherlands and its capital city is Oranjestad.
History and Culture
The original inhabitants of the island of Aruba were the Caquetios Amerinds (from the Arawak tribe), immigrant from Venezuela. Their settlements date back to 1000 AD. Though Amerigo Vespucci claimed to have been the first European to set foot on Aruba, it is thought that it was probably Alonso de Ojeda in 1499. The Spanish had soon colonized Aruba, and Ojeda was declared its first governor in 1508. Another governor was appointed in 1525, but by 1528, the island came under the auspice of the House of Welser (a German banking family).
By 1636, Aruba was under Dutch control, governed by Peter Stuyvesant. The Dutch continued to administer the island and appointed a Commandeur in 1667. They left the Arawaks to farm and raise livestock. It was not until 1947 that Aruba petitioned for its independence, but the issue was not again addressed until 1972 that Betico Croes, an Aruban politician, petitioned for separate nationality. Full independence was projected for the year 1996. In 1986, Croes died and was proclaimed liberator of Aruba, however the idea was postponed in 1990 and in 1995 the article scheduling complete independence was rescinded. The issue can be revived through referendum at a future date.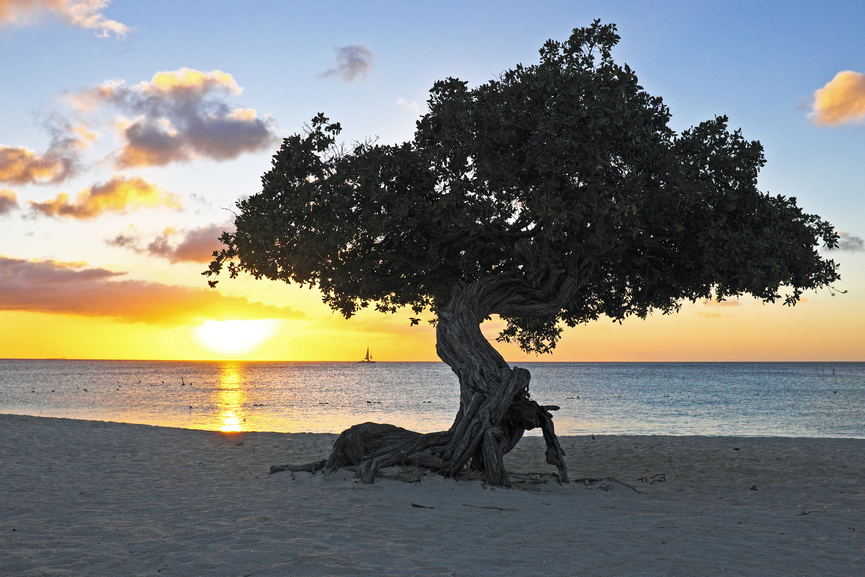 Dividivi tree Aruba
Aruba has a dry climate, a condition conducive to tourism, which represents about three-quarters of the island's gross national product. It lies outside the hurricane belt, and the beaches on the western and southern coasts are fairly sheltered from strong ocean currents. This is where most of the development on the island has occurred. The northern and eastern coasts are relatively untouched. The island's population was 102,911 as of the 2013 census and the languages spoken are Dutch and Papiamento. Its currency is the Aruban florin ($1 US to 1.79000 Aruban florins).
There are a number of natural attractions to see on the island, including monolithic rock formations and land bridges. Sadly, one of the most famous attractions, the Natural Land Bridge, a naturally formed limestone bridge situated on the north shore of the island, collapsed in 2005. But tourists can still view the Ayo Rocks, a spot in which the ancient Arawak people performed their religious rites and carved their petro glyphs (rock engravings). Visitors can also see the Casibari Boulders, huge reddish-brown tonalite rocks in the dessert north of the city of Hooiberg.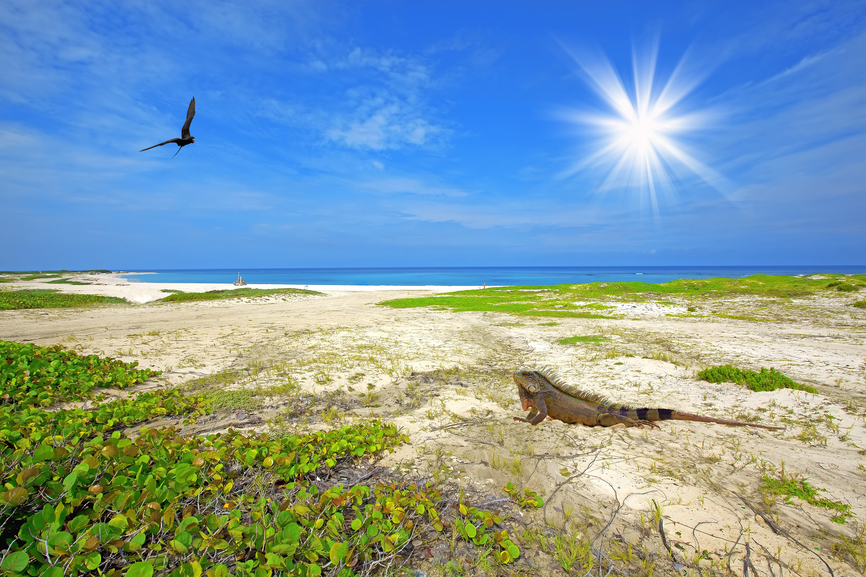 Iguana Aruba
Accommodations
Boardwalk Small Hotel Aruba – A group of 14 brightly colored Caribbean "casitas" on a former coconut planation, this family-owned hotel is a picturesque gem nestled alongside Eagle Beach. Guests can have breakfast in their casita, or if you've purchased the Romance Package, a champagne breakfast. There is laundry service, fresh beach towels, on-site spa service, and it's pet-friendly.
Ritz-Carlton, Aruba, Dutch Caribbean – These lavish guest rooms and suites come complete with private balconies overlooking the Caribbean and are all beautifully appointed. The hotel includes a full service spa, fitness classes, and yoga, and there are four restaurants. There is also a 15,000 square foot 24-hour casino and two swimming pools. An elegant hotel on Aruba's famed Palm Beach.
Bucuti & Tara Beach Resorts – Located on Eagle Beach, this resort with a focus on wellness and relaxation earns high marks for providing a full-service atmosphere that leaves the visitor free to indulge in the many activities available. Call the concierge to assist you in booking a jeep safari tour of Aruba, diving and sailing trips, golf and horseback riding, a day at the spa, or just step out to the nearby Alhambra Casino or take a dip in the freshwater infinity pool. You may just want to flop down on a comfy sunbed by the beach. So much to do, so little time.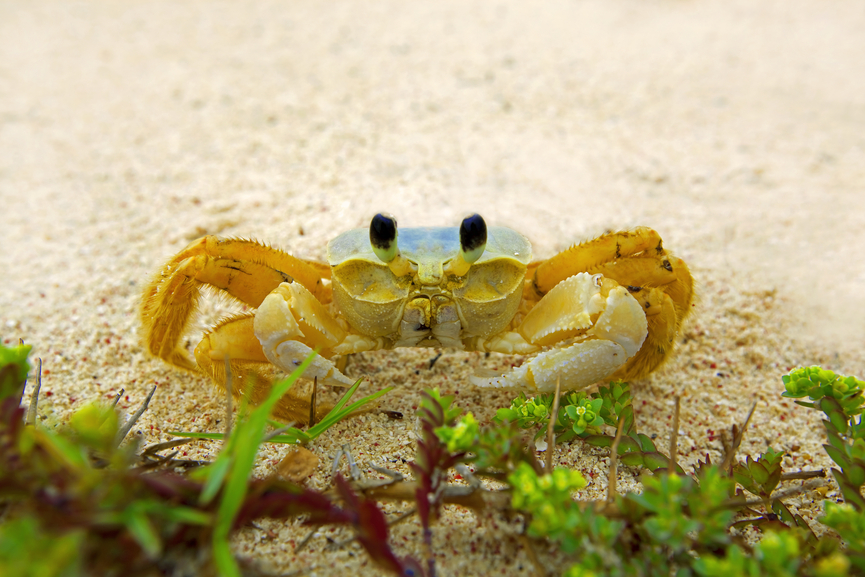 Ghost crab Aruba
Cuisine
2 Fools and a Bull – Strange name, but great gourmet food; that's the consensus of reviewers who have visited this fine dining restaurant in Noord, Aruba. From the chef's 5-course surprise dinner to the profiterole with banana mousse, this place is earning raves from reviewers. Recommendations include the baby Dover sole, halibut with shrimp over risotto, veal ravioli in mushroom sauce with truffles, and for the finale, a dessert trio, chocolate mousse, crème brûlée, and brownie sundae.
Carte Blanche Restaurant – Located in the Bucuti Beach Resort on Eagle Beach, the Carte Blanche serves local cuisine for dinner and late night patrons seeking a gastronomic experience. The Maître d' suggests elegant wine pairings to go with an array of options, including grouper ceviche, a creamy leek and potato soup, salad with beef Carpaccio, sea bass and lobster with a delicate pumpkin sauce, a hearty veal osso bucco, and several tempting desserts.
Elements – This oceanfront restaurant serves breakfast and brunch, and late night guests will find a menu catering to healthy dining with fresh ingredients, organic/natural foods, vegetarian/vegan, and gluten-free offerings with a definite culinary flair. Reviewers recommend the portabella Carpaccio, arugula risotto, pan-fried grouper with sweet chutney, and the hazelnut ice cream. Although Elements is adults only, there is a delivery service for guests with families partial to organic cuisine.
The beautiful beaches are, of course, the major draw for tourists from around the world, particularly Eagle Beach and Palm Beach. Those who want to see the real Caribbean flavor might want to visit between the beginning of January and the Tuesday before Ash Wednesday when the holiday of Carnaval will be in full swing. Like Mardi gras, it goes on for weeks, with a large parade on the last Sunday of the festivities. Aruba also plays host to the Caribbean Sea Jazz Festival in October which takes place at the Renaissance Plaza in Oranjestad and features international jazz, Latin, soul, and funk music on three separate stages. It also hosts the Divi Aruba International Beach Tennis Tournament in November at Eagle Beach. Something for everyone, with stunning views included.

Video Aruba