F6CTW will be active again from Cambodia until 19 August 2016 as XU7AEX.
He is working on HF Bands.
QSL via home call direct only.
Ads for direct QSL:
Rene CAMUS, Chemin des Terres Rouges, Pavillon Terres Rouges, PALAISEAU, F91120, France.
Cambodia. Country Information
Cambodia, officially Kingdom of Cambodia ( Khmer: ព្រះរាជាណាចក្រកម្ពុជា) is country in Southeast Asia.
Motto- Nation, Religion, King.
Capital city- Phnom Penh.
Official religion- Buddhism.
Area- 181035 sq km.
Currency- riel KHR.
International phone code- +855.
Internet domain- .kh
Time- UTC +7.
Cambodia is divided into 25 provinces.
Popular sport- football.
National tree- Borassus flabellifer.
National flower- Mitrella mesnyi.
National fruit- Lady finger banana.
National fish- Giant barb.
National reptile- Giant turtle.
National bird- Giant ibis.
National animal- Kouprey.
XU7AEX Cambodia. Information for radio amateurs
Amateur Radio prefix- XU.
DXCC country- Cambodia.
WAC continent- Asia.
WAZ zone- 26.
ITU zone- 49.
QTH locator- OK21.
Cambodia
Cambodia, also known as the Kingdom of Cambodia is located in Southeast Asia. Thailand borders it from the northwest, Laos from the north, Vietnam from the east and from the southwestern side by the Gulf of Thailand. Cambodia is a historically culturally enriched nation that offers intoxicating source of adventure to those visiting this nation of Gods. Cambodia is a nation of temples. Modern Cambodia is Khmer empire's descendent and it ruled modern day, Vietnam, Thailand and Laos, during the period of Angkor. You can experience the era of this empire through the ruins of Angkor temples, stunning monuments and Southeast Asia's sheer grandeur. And if you really want to experience the ultimate, then don't miss out on viewing Angkor Wat.
Cambodia is beyond its temples
Cambodia is not limited to its temples only. Visit its capital – Phnom Penh – a charismatic hub of entertainment, adventure and economy. This capital city of Cambodia is a city of vitality. Its beauty is further enhanced by its location, which is embedded by beautiful rivers. Phnom Penh and Siem Reap are completely different from the countryside of the nation. These places are characterized by their rural elements, as well as, ancient landscapes, beach huts, majestic sugar palms and mesmerizing rice paddies.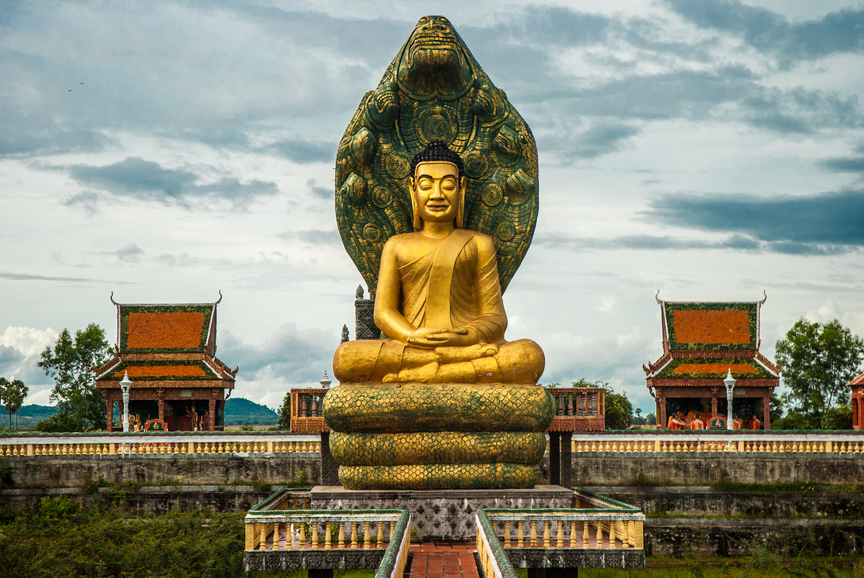 Golden Dommed Buddha statue in Cambodia
Tropical Settings
The south coast of Cambodia comprises of tropical islands and beach huts. The Cardamom Mountains is located in the inland and is home to subtle source of wildlife. This part of Cambodia is also a developing platform for adventure and ecotourism. For getting a glimpse of dolphins, do make sure to visit the Mekong River, which flows via the country and contains freshwater dolphins that are amongst the last of the species. The northeastern parts of Cambodia are defined by their landscapes, which are mountainous and wild. The ethnic minorities of the country also inhabit these parts.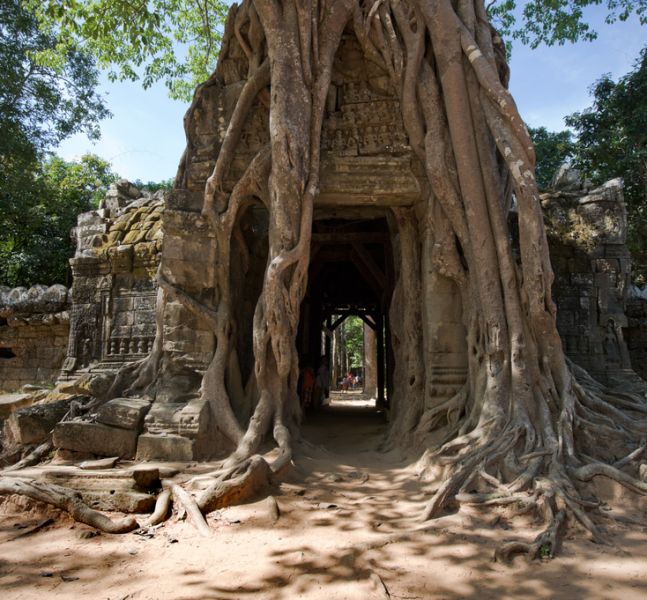 Ta Som Temple, Angkor, Cambodia
Lively and warm natives of Cambodia
Cambodia is known as World's eighth wonder. However, what truly makes the nation one in the world, is its warm and hospitable people. The natives of Cambodia or the Khmers are known for their spirit of 'do or die' and a strong-willed attitude. In spite of all the hardship and stress they've gone through generations, they are still able to keep their spirit alive, all donned with a smile!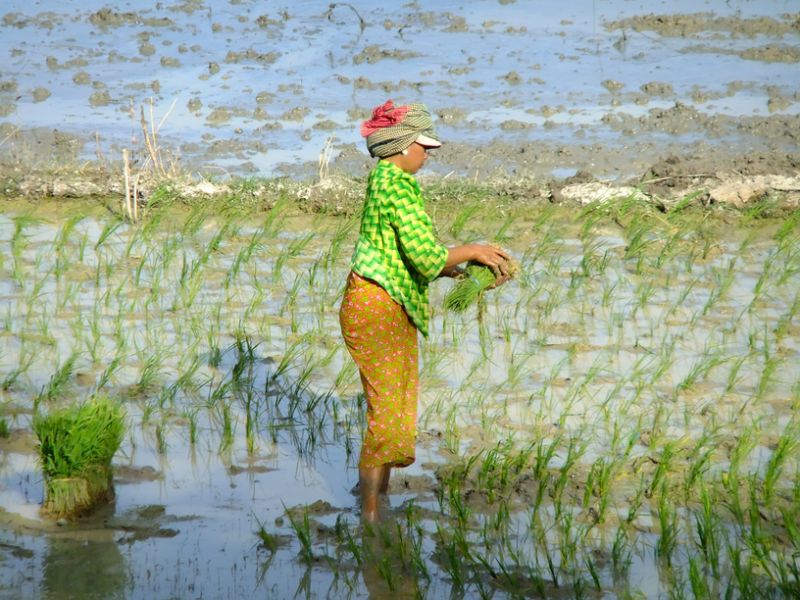 Woman planting rice Cambodia
Get a glimpse of paradise in Cambodia
Cambodia, the temple nation, definitely offers majestic views of temples. If you are planning to pay your visit to one of the temples, then do keep in mind to dress properly, without exposing your knees and shoulders. This is part of the Cambodian tradition and respect for their culture and religion. Once done with temple visits, go for trekking in the jungle of Cardamom Mountains, explore it and splash in the waterfalls. You can also walk the mangrove forest, which is amongst the largest one in the whole of Southeast Asia. Then there are the white sandy beaches of Koh Kong, to relax and kick your heels. Sihanoukville also offers a beautiful beach to laze around. After this, you can walk down the river in Kampot and delve into an atmosphere of peace and tranquility.
Where is Cambodia located. Map.
XU7AEX Cambodia. Sunrise 06-09-2023 at 22:32 GMT sunset at 11:25 GMT