Steve, KG4LJB will be active as C6AJB from Eleuthera Island, IOTA NA-001, Bahamas, 11 - 24 March 2023.
He will operate on HF bands, SSB, FT8.
Recent DX Spots C6AJB
QSL via home call.
Ads for direct QSL:
Steven Senft, 5415 16th St West, Bradenton, FL, 34207, USA.
Eleuthera Island General info
Eleuthera is an island that is part of the Bahamas Islands. Bahamas contain around 700 islands and are inevitable destination when cruising through Caribbeans. Official language in Bahamas is English, currency is Bahamian dollar which is equivalent to American dollar.
Eleuthera is typical tropic island also known as Paradise Island, just as every other Bahamas island. When visiting Bahamas, it is interesting to stop in Nassau, its capital. It has well preserved colonial architecture, with elegant Victorian church and picturesque wooden buildings with its attractive open balconies and porches. When speaking about historic monuments, one should visit Fort Charlotte and Fort Fincastle, as well as Queen's Staircase that provides breath-taking view to islands and ocean. Make sure to stop by at local market and buy one of many authentic souvenirs.
More about Eleuthera Island
Eleuthera is one of Bahamas Islands in the group of New Providence; it covers 425 km2 or 9000 square feet. It is 130 kilometers long and very narrow: just 3–5 kilometers. Locals are active in agriculture (producing pineapples, vegetables, cattle and poultry). Tourism is very important part of their income. There are three airports on the island: Dunmore Town, James Cistern, Rock Sound. Its interesting fact is that it is earliest inhabited Bahamian island-there are records of colonization as early as 1649.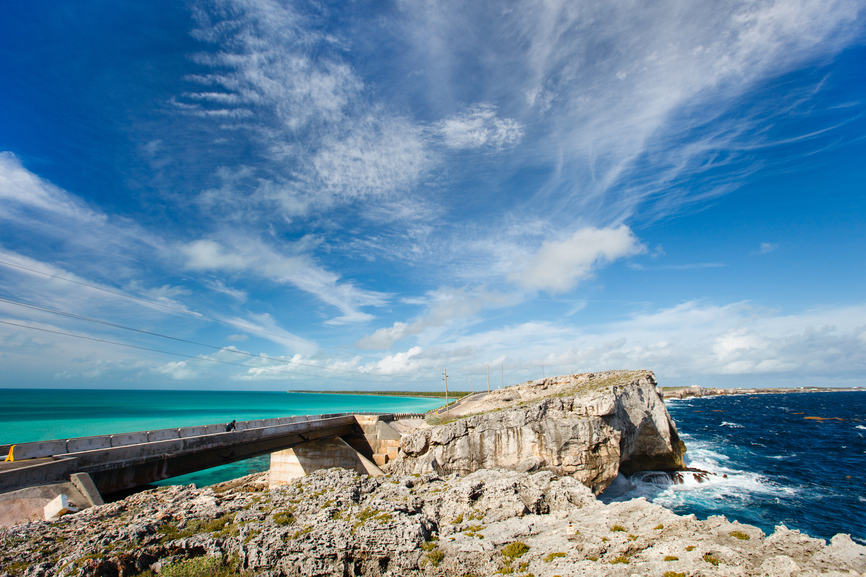 Beauty of Eleuthera Island
Eleuthera is beautiful island, one of Bahamas islands located on its outer ring. This is place where emerald-green waters of Caribbean see meet deep blue waters of Atlantic Ocean, creating amazing natural effect called Glass Window Bridge. This »bridge«, approximately 10 meters wide and is becoming more and more interesting among tourists, and as well as a subject of local interest and efforts to try to preserve it in its original form that is under threat due to numerous ships and cruisers messing with natural currents.
Eleuthera Island is a perfect choice if you don't like classic, hectic holidays resort locations and resorts. Eluthera is about 60 miles away from Bahamas capital Nassau, and it is still pretty undeveloped and original, thanks to the fact that it still quite undiscovered. If you choose to come to Eleuthera, you can reach it either by airplane or by a ferry from Nasau.
If you come to Eleuthera, you will find wide variety of beaches that are perfect choice for every time of beach relaxation or sports fun. If you come with family, and want to avoid surfing crowd, we recommend you visit one of dozen Bay beaches, popular among families and local fishermen. Bay beaches are located at approximately middle part of the island. Thanks to conveniently shallow waters, these beaches are one of safest Eleuthera beaches for children.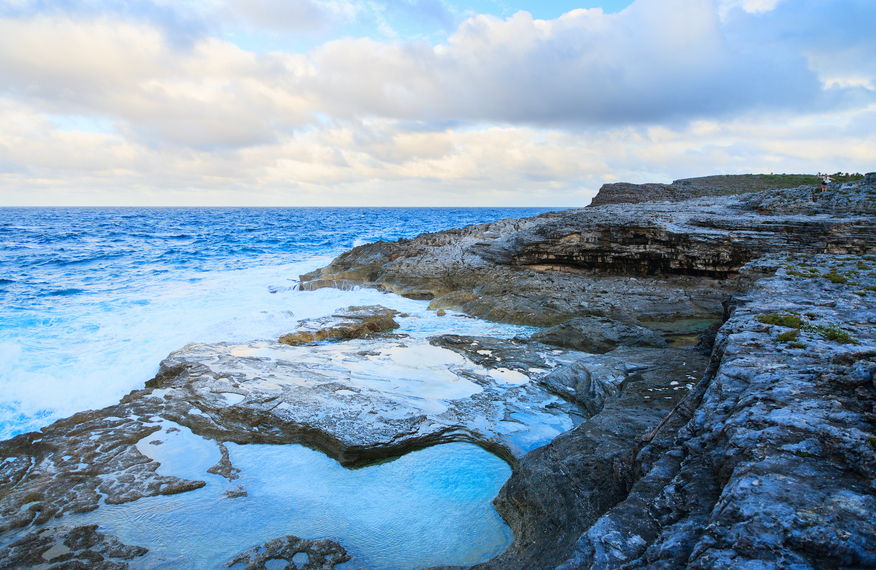 Culture
As we have already mentioned, official language on Bahamas is English. However, local slang is dificult to understand for westerns and Europeans because locals speak fast and use lot of local expressions. However, they are very friendly and open for any help or assistance. Except for capital Nassau, there is no crime here, so Eleuthera is a great island to visit. Locals are very open-minded and approach moral issues very friendly and freely.
Music
Calipso and Junkanoo are most popular music forms in Bahamas culture. Local music is passionate, light, warm and presents local's free and positive spirit.
Locals usually play lots of music, but one can call it a festive day when it is New year and Boxing Day. If you wander what does local music sound like, search for groups such as: Ronnie Butler, Kirkland Bodie and Baha Men. They are local Bahamas groups that have become very popular in USA, Japan and other western countries.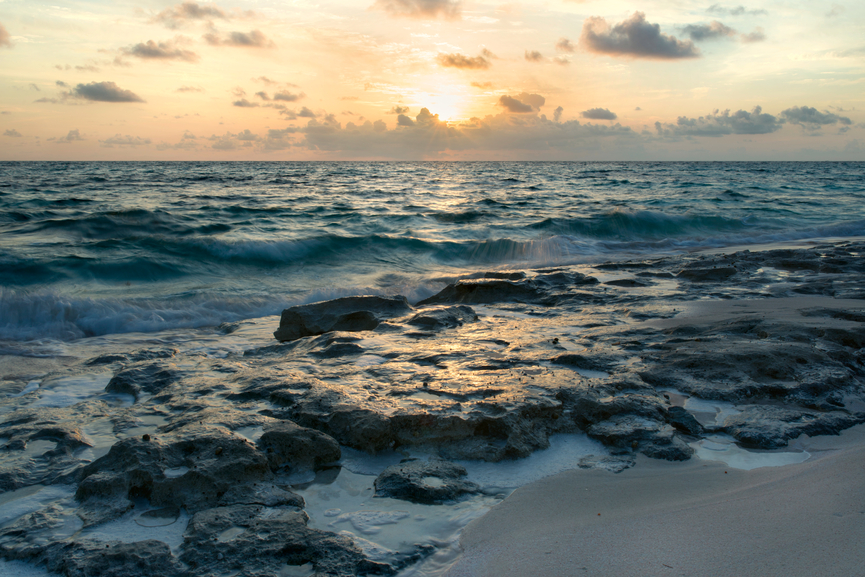 How to move around Bahamas
If you wonder what is the best way to discover Eleuthera Island, here are some suggestions.
Decorated carriages
Bahamas decorated carriages will take you for a festive and picturesque sightseeing of local spots of interest. This colorful transportation option is definitely most interesting way of gettingf around and exploring energy of local villages and beautiful scenery.
Atlantis Resort Shuttles
Atlantis Resort shuttle offers free service for Atlantis guests. It operates every 30 minutes from 7 am to midnight, going over Beach & Corral towers, Bay, Ocean Club Golf Course, Reef, Ocean Club and Marina Village.
Cable Beach transport
This type of transportation is free of charge and operates every 60 minutes since 6 am till 2 am. It goes from casino and then by every hotel on Cable Beach.
Paradise Island – Nassau
There are many ways to explore Paradise Island Nassau and its back. This area is just half an hour from downtown Nassau.
Ferry
Ferries live from Paradise Island Nassau from 9 – 6 pm daily. It costs $6 per person for round trip that involves historic journey that will take next to homes of celebrities, Tower waters, to Downtown Wharf on Paradise Dock.
Eleuthera Island is known for its pineapple fields and appropriately enough, one of the best beaches to get a good view of island hot spots is beach called Pineapple Fields. Tourist can sit in a nearby restaurant and enjoy beautiful island scenery.
If you would like to get even more dramatic view, we recommend a visit to south of the island, where you will find Light Bay that is particularly beautiful because it is covered in pink sand, virgin clean and untouched by classic tourism.

Surfing
If you are a fan of riding waves, there are several options available starting from the James Cistern beach that benefit of southern winds that can create waves up to near Gregory gate, located toward northern part of the island, where you will enjoy warm sea and company of local surfing expert called "Surfer Pete".
se vožnje na valovima ? Postoji nekoliko opcija na Eleuthera za vas , kao i plaže James cisterne, na primjer , koji ima koristi od južni vjetar koji je povremeno pomaže valovi do 10 metara visok

Snorkelling
Snorkel fans should visit James Cistern beaches, where many wreckages sleep in shallow bay waters. If water isn't too tumultuous, this beach is a perfect diving spot. Alternatively, snorkelers can choose to visit one of Twin bay beaches where offshore riff present many opportunities for a whole day of diving. Twin bay beaches are location where movie Three with Billy Zane has been shot.
Around Eleuthera
If you want to visit even more of beautiful beaches known around the world for their divine beauty then we recommend you take taxi from Eleuthera to Harbour Island. There you will find beach called Pink Sands --- named after its amazing sand, no wonder --- this beach is generally considered to be one of the most beautiful beaches that Bahamas can offer to tourists.
Local legends and stories
Almost every seaside culture has stories and legends of lovely mermaids that swim across the seas with their fish-like bodies. Some believe that they help ships to escape perils, but majority claim that they are temptresses that seduce sailors with their songs and sunk their ships. It is believed that mermaids still live on Eleuthera Island. Locals claim that if you just get up early enough, you will be able to get a glimpse of mermaids washing their golden locks on Whale Point. Eleuthera children firmly believe that their parents have seen mermaids and that they will also have a chance to see them one day. If it turns out that your early get up wasn't useful, then go for early swimming andenjoy in crystal clear waters full of colorful corals, dolphins and octopus. Eleuthera is also on the path of whales.
Spend interesting night in Elbina's tavern in Gregory Town, where locals sing and dance along lively local music.
C6AJB. Where is Eleuthera Island located. Map.
C6AJB Eleuthera Island. Sunrise 09-29-2023 at 10:54 GMT sunset at 22:55 GMT