Fathers and Sons
The well-known saying claims that every man should build a house, plant a tree and have a son. I would extend this list, in case the man is a radio amateur, with one more goal – make certain that your son becomes interested in Amateur Radio. Last summer I visited a few experienced radio amateurs who have already complied with my modified aphorism.
Organized Amateur Radio is celebrating its centenary these days. It is certainly one of the fastest evolving pastimes and every generation of radio enthusiasts is faced with new techniques and technology to learn and practise. Some parts of wireless communication by means of electromagnetic radiation change faster, others remain basically the same. The spark transmitter is a museum piece, but the Morse code is still widely used and actually loved by many. The aerials have become elaborate and efficient, but they are basically the same conductors in free space. However, the gap between a crystal detector and a Software Defined Radio is astronomical. Close co-operation between generations of radio hobbyists is good for both the old and the young. The good old days of many active radio clubs are gone, so opportunities for practical learning are scarce. However, having a father who is an experienced radio amateur, or professional, is a valuable asset. It is natural for a father to guide his son and pass to him as much of the accumulated experience and wisdom as possible. If you don't have a son to follow in your steps, try with a daughter or a nephew. Reciprocally, younger people, who grow up in digital world, can make interfacing computers with radios easier to tackle for those who are older. The Internet is no threat to Amateur Radio, on the contrary, fast information channels can boost the level of knowledge and proficiency.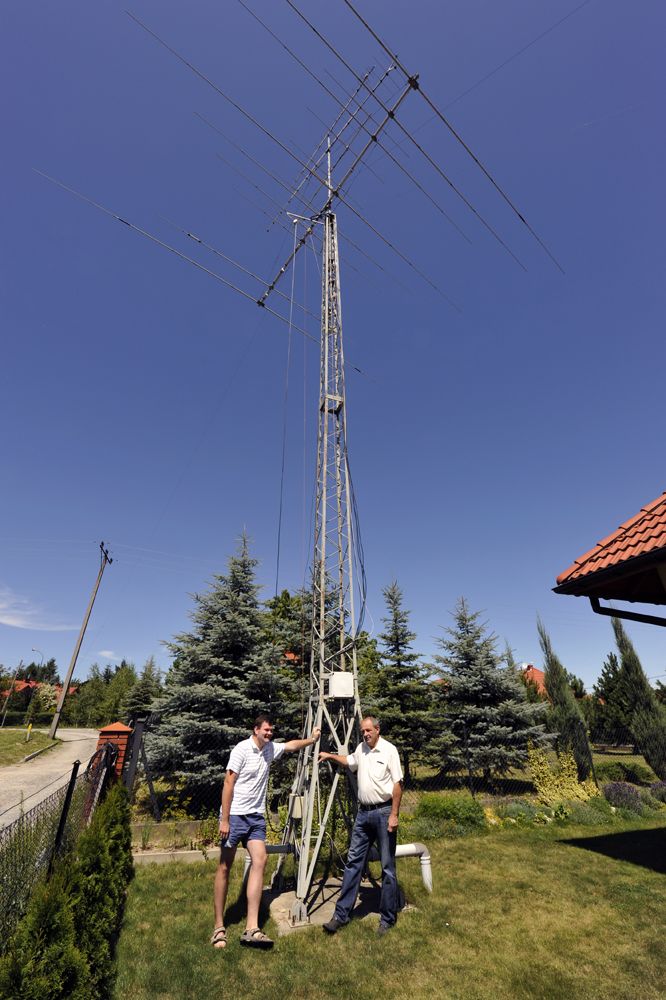 Lukasz, SP8CUR with his father, Marek, SP8CUW, at home.
Lukasz, SP8CUR is 27 years old now but long time ago, when he was 10, his father used to take him to the radio club at the local high school in Lancut, south-eastern Poland. His interest in radio was so profound that he passed the entry-level licence test at the age of 11 and got full privileges a year later. When the family moved to a suburb, a free-standing lattice tower was immediately erected next to the house. Lukasz, SP8CUR started serious contesting and became more and more involved in the hobby. Today, a dedicated contesting site some 2 miles away from home is under construction. It is going to be a very competitive set-up with stacked yagis on 100-ft towers. The secret of Lukasz's progress is his father Marek, SP8CUW. He has been encouraging and helping his son in every way; getting the hardware, installing the antennas and equipment, repairing them. It is a team in which Lukasz does most of the on-air operating and Marek is the engineer-in-chief.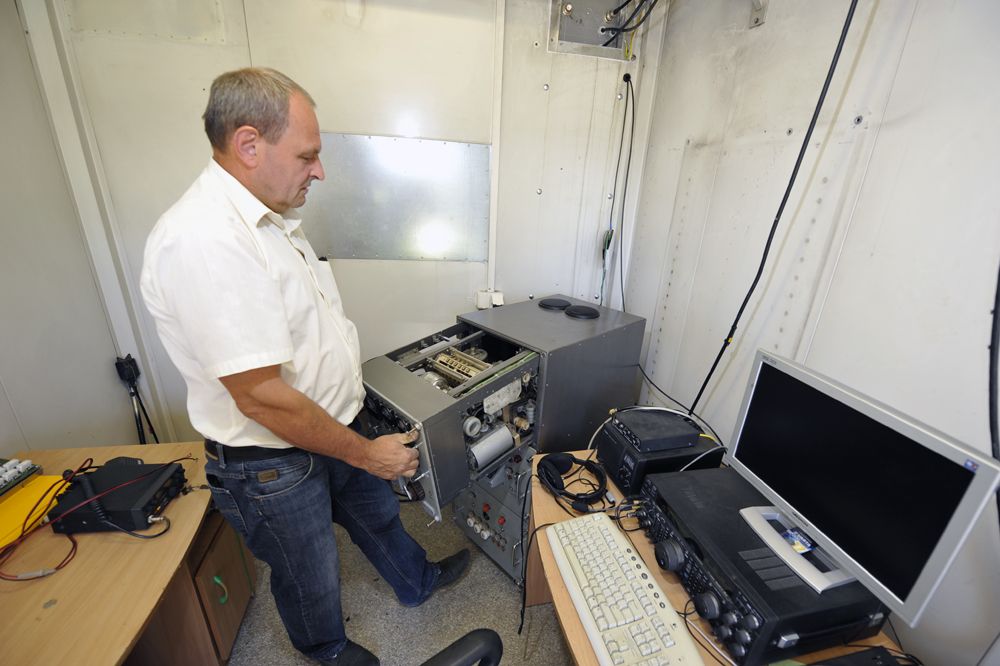 Marek, SP8CUW, inspects a power amplifier in the radio shack.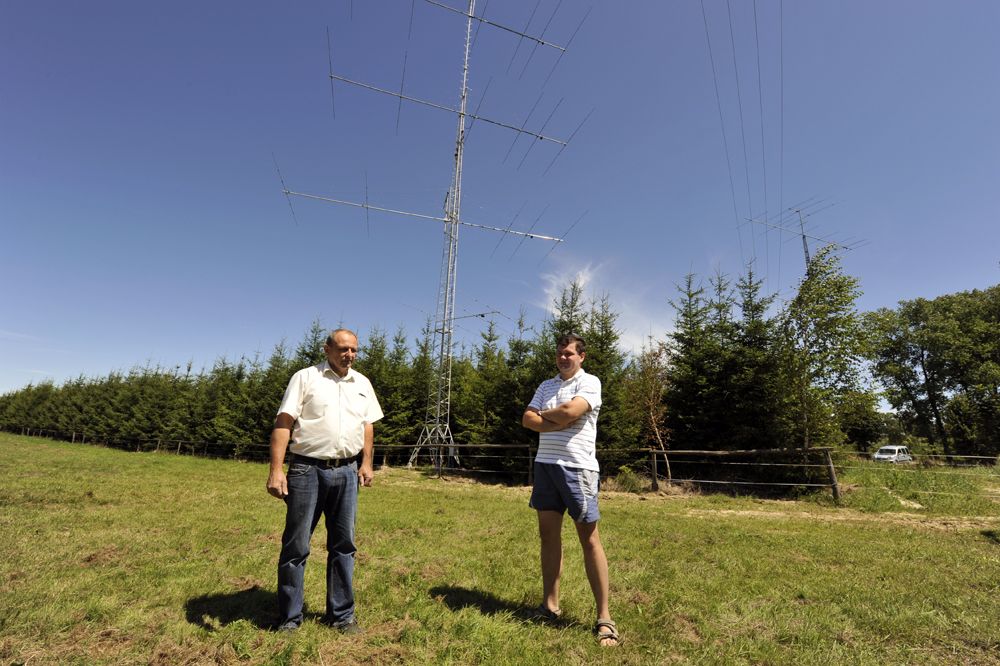 Father – Marek, SP8CUW, and his son Lukasz, SP8CUR, at their contest station under construction
Another team I visited this summer follows the same pattern. Tomek, SP7UWL does most of the operating, while his father Zbigniew, SP7EWL prefers to act as ground personnel. Literally, to avoid climbing the towers when the son is away, both antennas are lowered for maintainace and adjustment. The station they share is up the country, several miles away from Kielce, a medium size town in south-central Poland. While they lived in Kielce, the father used to take his 9-year-old son to the local radio club. Tomek became then a registered Short Wave Listener, but had to wait until he turned 15 to take the licence test. The year was 1990, the time of significant changes in East Europe. One of the noticeable changes, from the point of view of a radio fan, was the access to commercially made equipment. The art of home-brewing slowly died out here and Tomek never got involved in the technical side of the hobby. Luckily, his father is professionally engaged in radio communication and can solve all problems they encounter. The station is both modern and advanced, including remote control. Tomek, SP7UWL joined the SN0HQ contest team in 2012, as he is a brilliant operator on both CW and SSB.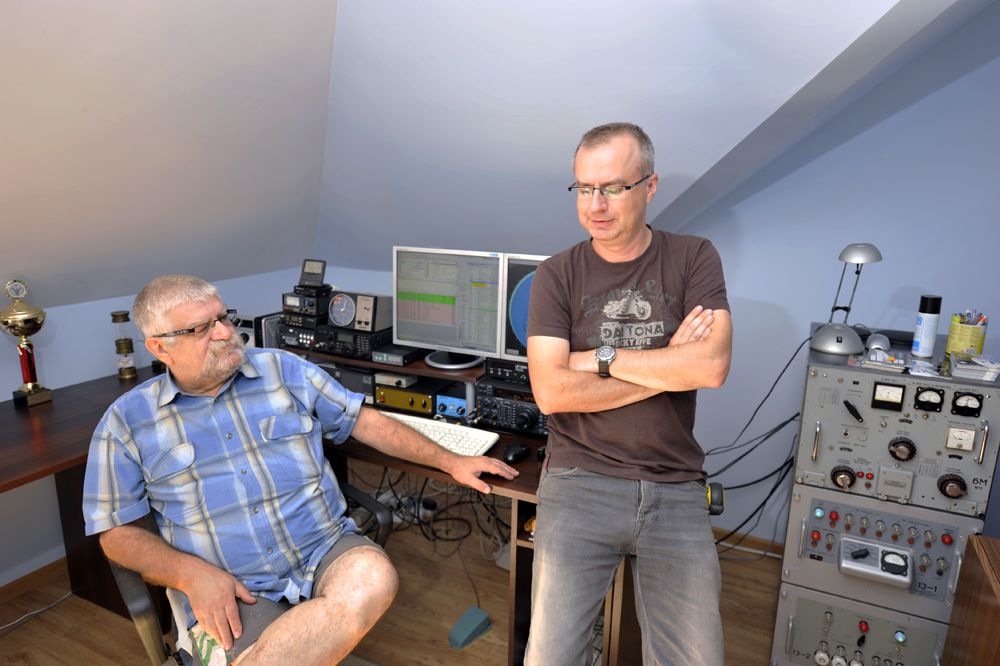 Zbigniew, SP7EWL, and his son Tomek, SP7UWL, in their neat radio room.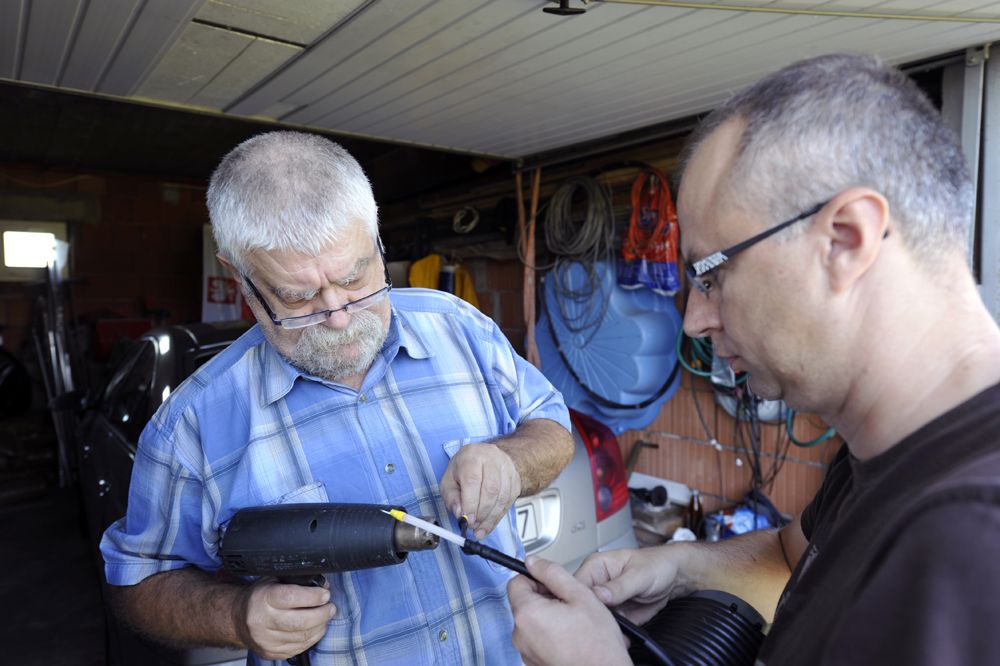 SP7EWL and SP7UWL working together on antenna feedlines.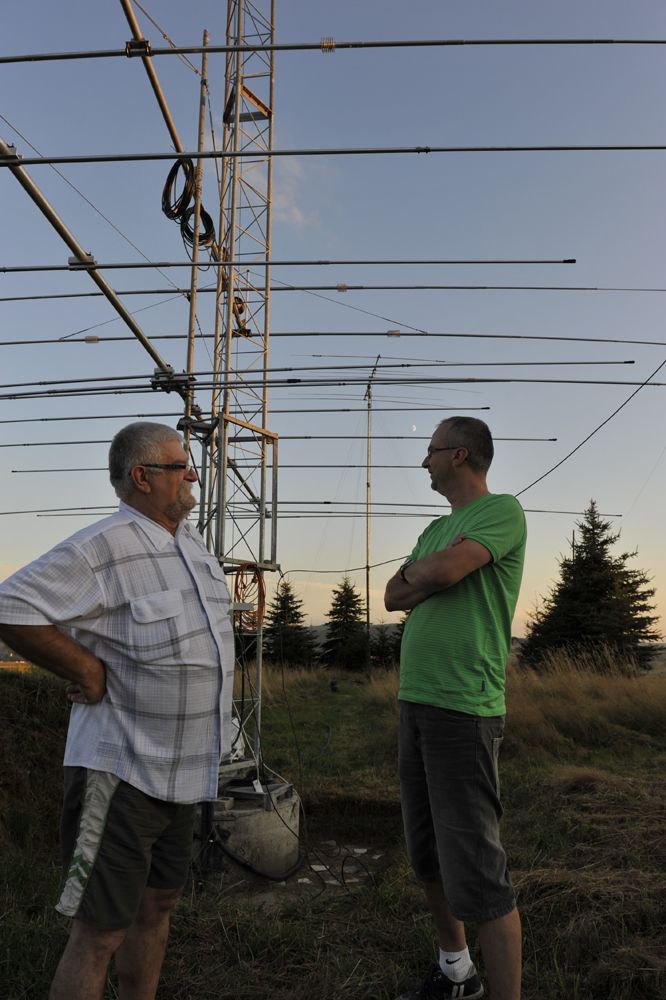 The antennas at maintenance level – SP7EWL and SP7UWL.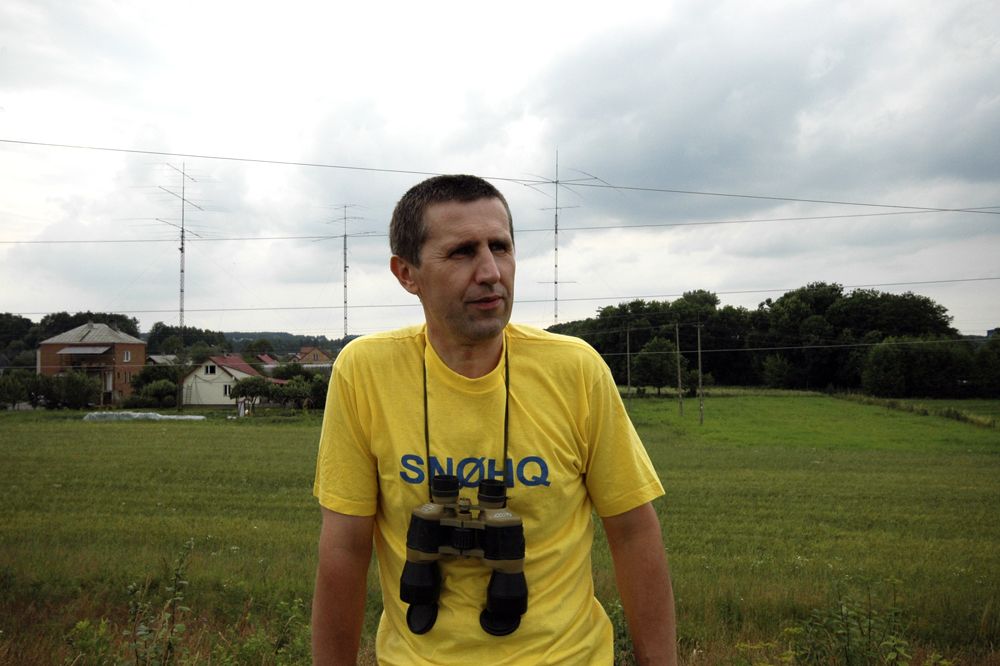 Wieslaw, SP4Z, during inspection of his receiving antenna wires.
The third father-son team I visited in July 2013 is of slightly different configuration. The father is a skillful operator and industrious constructor, the son is still a newcomer. They live in north-eastern Poland, the father is Wieslaw, SP4Z and his son Piotr, SQ4LP is 21 years old. SP4Z can be heard in many contests and he was a referee during the WRTC2010 competition in Moscow and is scheduled for a repeat during the WRTC2014. Wieslaw is a teacher and a strong advocate of Amateur Radio among his students, so it was obvious that his children became licenced operators in their early teens. Piotr is often on the air and lends a hand when the impressive antennas need repair. I am sure he will continue and develop his interest in this hobby which is almost his birthright. Most friends of the family, and even many old schoolmates, are in one way or another involved in Ham radio. When Wieslaw made his first radio contacts in 1976 he was 11 years old and the thrill was much bigger than it can be today for anyone turning a radio station on. If we are to make this hobby more meanigful and attractive to young people, we must bring back the thrill.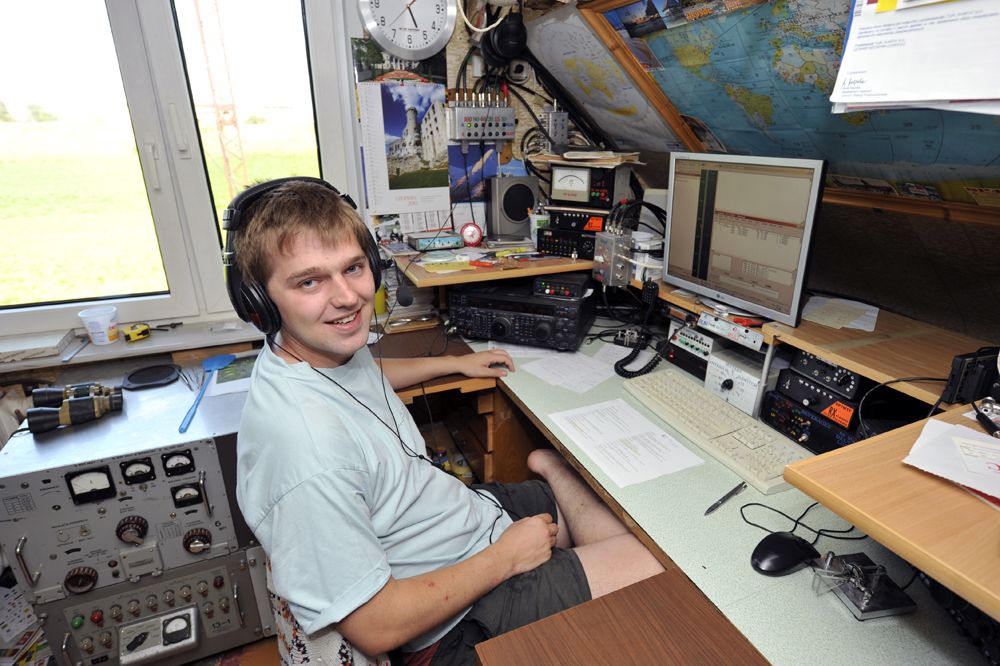 Piotr, SQ4LP, at the controls of the station he shares with his father SP4Z.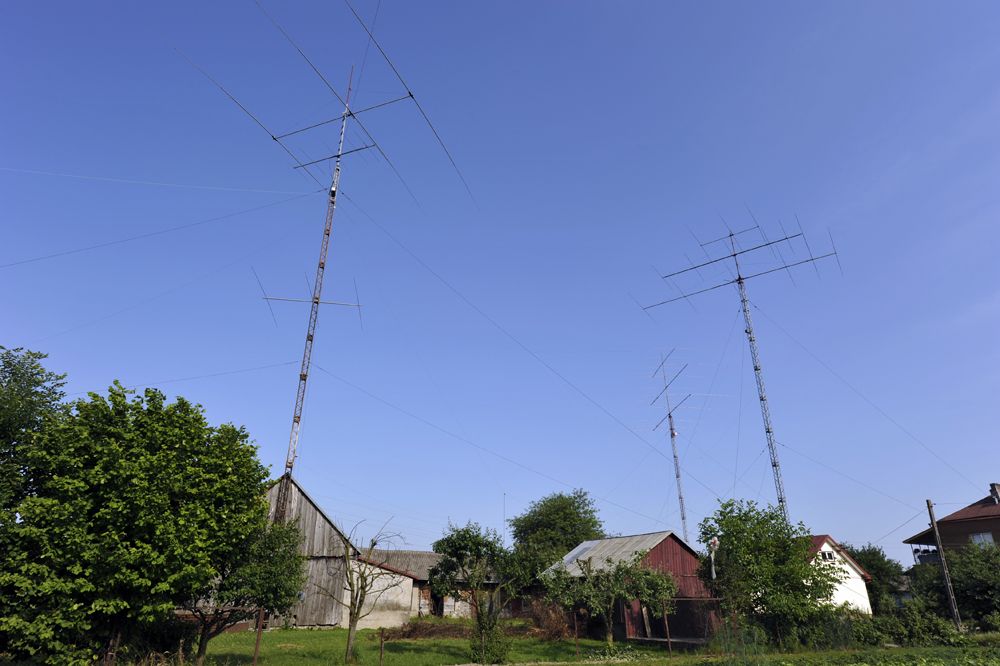 The QTH of SP4Z and SQ4LP in a small community in north-eastern Poland.
Henryk Kotowski, SM0JHF
2014 04 28
Copyright https://dxnews.com