Monte Verde 2014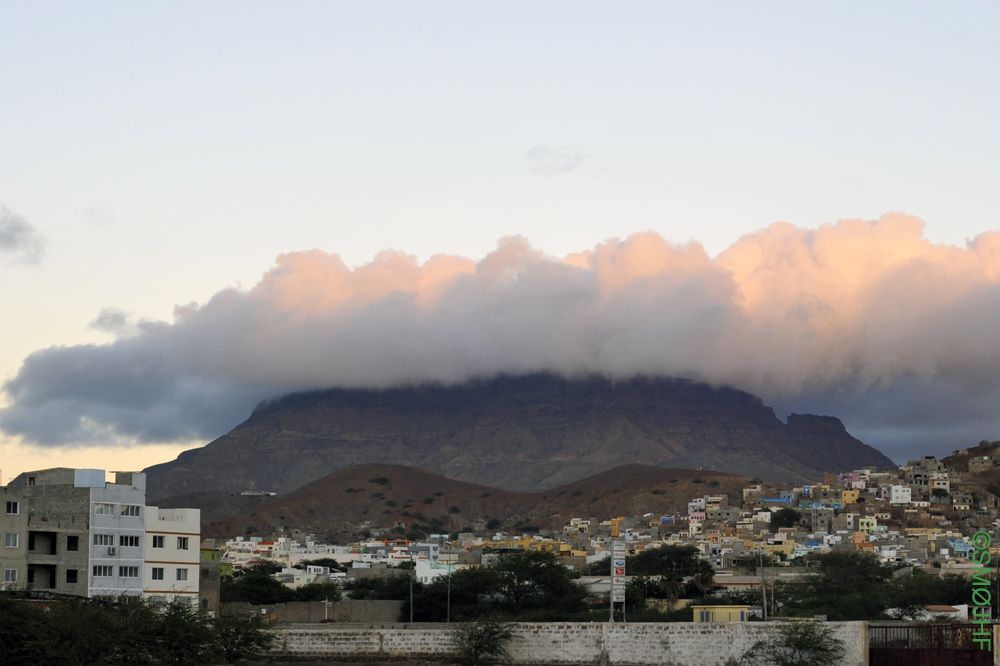 Monte Verde seen from my QTH in Mindelo, São Vicente Island.
The name Monte Verde is quite common; there are several places all over the world that bear this name. It means "a green mountain", but the one that this story is about, is not green. It is a brown, solid rock rising some 750 meters (2500 ft) above the sea level in the heart of a small island in the middle of the Atlantic Ocean. The landscape of the island resembles the moon, so the scarce vegetation on top of the summit inspired the settlers to call it green. The island is São Vicente, discovered centuries ago on Saint Vincent's day, between Senegal in West Africa and Brazil in South America. The archipelago is known as Cape Verde Islands, the name derived from the nearest mainland point – Cape Verde in Senegal.
My first visit to São Vicente took place in November 2000. I spent a few weeks in Mindelo, the only town on the island, and made thousands of CW contacts using my call sign D44CF. I did see Monte Verde every day, but it seemed to be out of reach – distant, difficult to climb and often in clouds. One year later I was there again, enjoying the mild climate and excellent propagation. I wrote a few articles about my impressions, but did not expect very much yield of these reports. Pulu, D44AC, the only active local amateur radio operator, reported from Mindelo an increased number of visitors who called at his home. Sometime in early 2002, one particular visitor changed the history of Amateur Radio in Cape Verde. It was Alexander, 4L5A, who came here from Moscow. Most likely, he fell in love with Monte Verde at first sight. Within months, he arranged for a complete radio station to be built on top of the mountain, next to the government communications center. A series of spectacular contest scores ensued in the next 3 years. Alexander would travel several times a year to Monte Verde, all the way from Russia. Each journey took more than 48 hours and included a few stops and multiple flights.
I took a direct flight from Lisbon to São Vicente in February 2014. A week later Massimo, IZ4DPV, came to the island from Italy. He is a member of the Monte Verde Contest Team. The group was created sometime in 2006 after Alexander had vacated the D4B station. His love for Monte Verde was not mutual – wind, moisture, corrosion and erosion made it difficult and demanding to keep the installation in good shape. Mother Nature has not changed her attitude toward the present residents, even though they acquired a new call sign D4C to deceit the elements. Every time they come here for a contest there is something to be repaired, replaced or discarded. Massimo came for the 160 Meter World Wide Contest and spent a few days working on antennas and cables.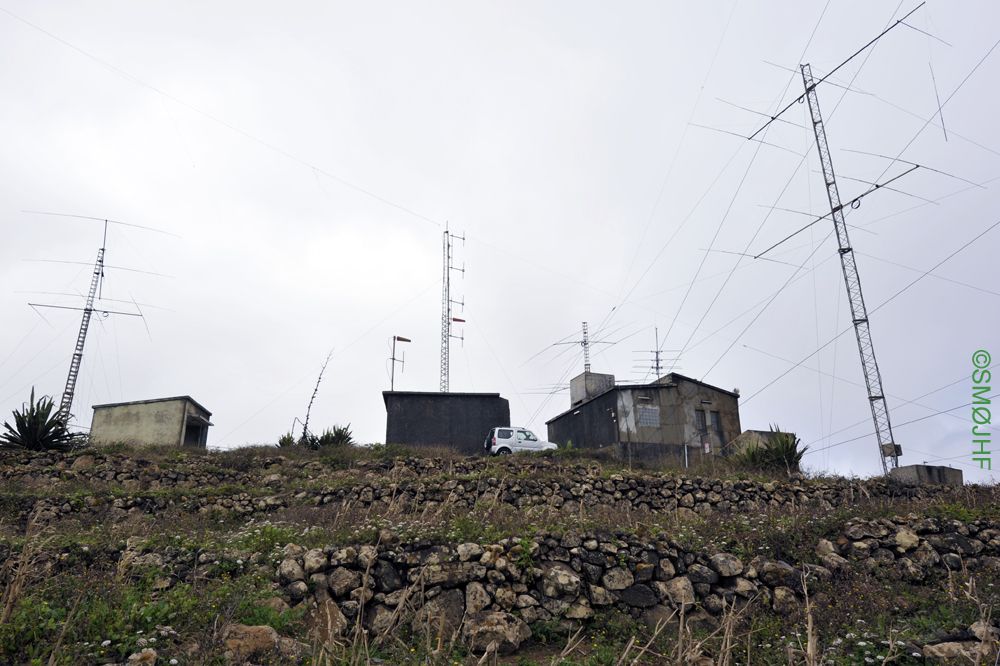 D4C station on not‐at‐all‐green Monte Verde. February 2014.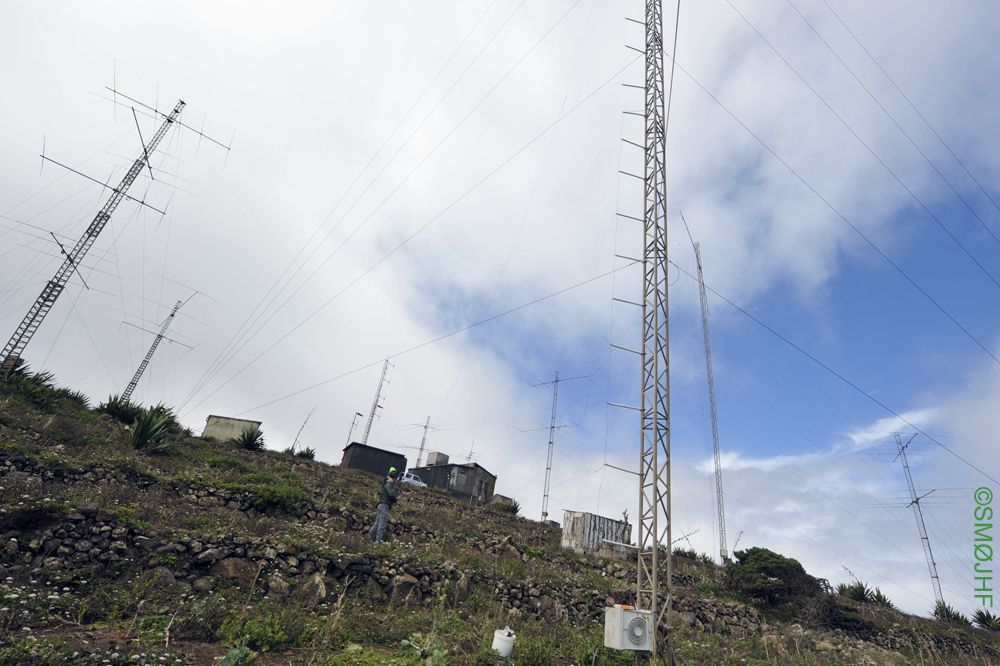 Monte Verde in February 2014, center – the 160‐meter vertical antenna.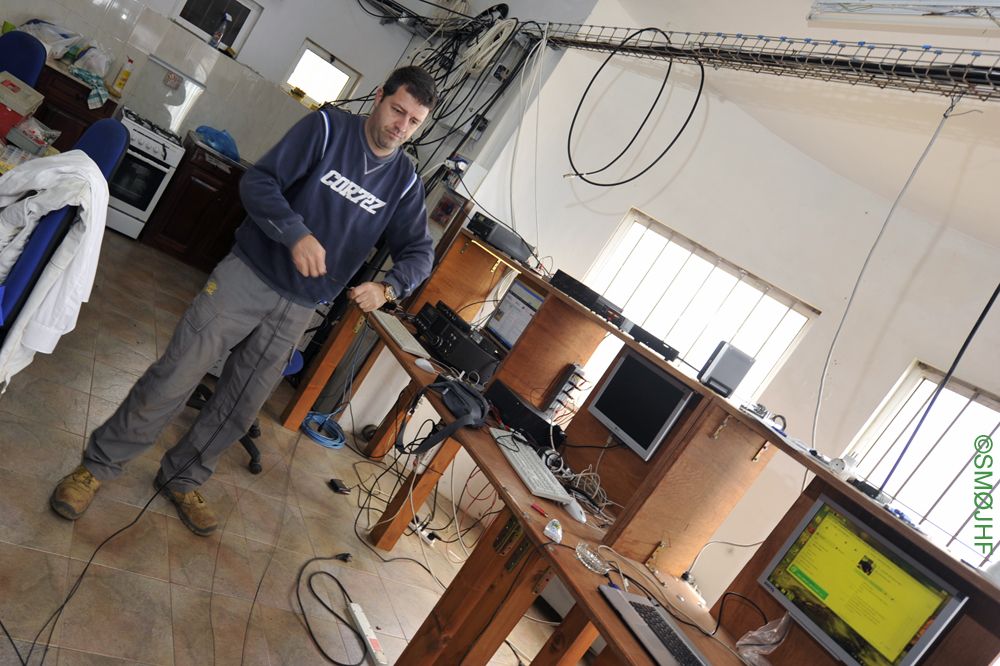 Max,IZ4DPV, at D4C preparing radial wires for the 160‐meter vertical antenna. February 2014.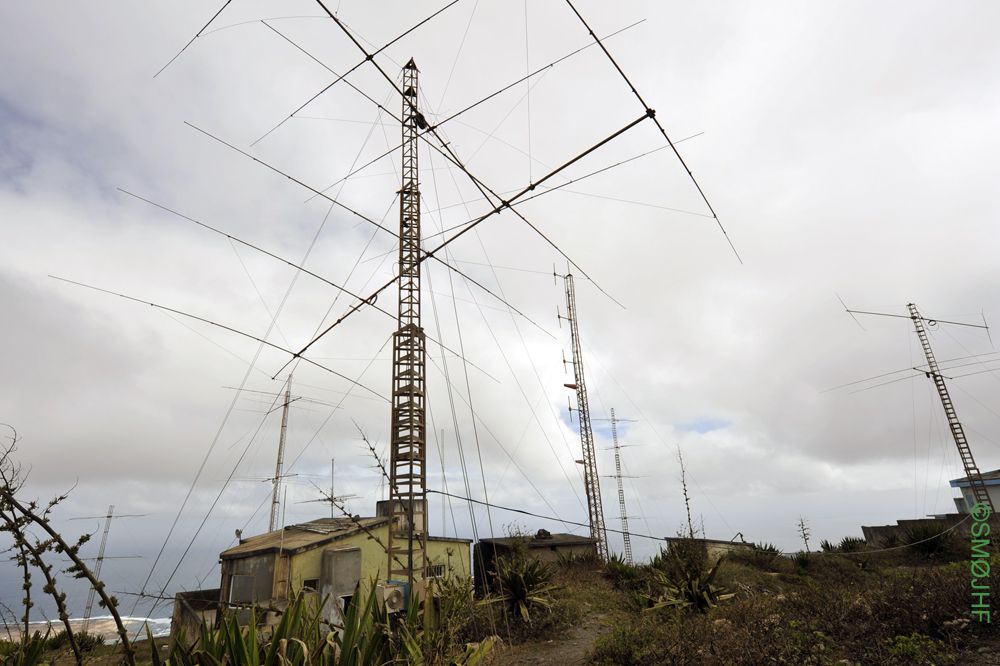 D4C in February 2014, many antennas are damaged.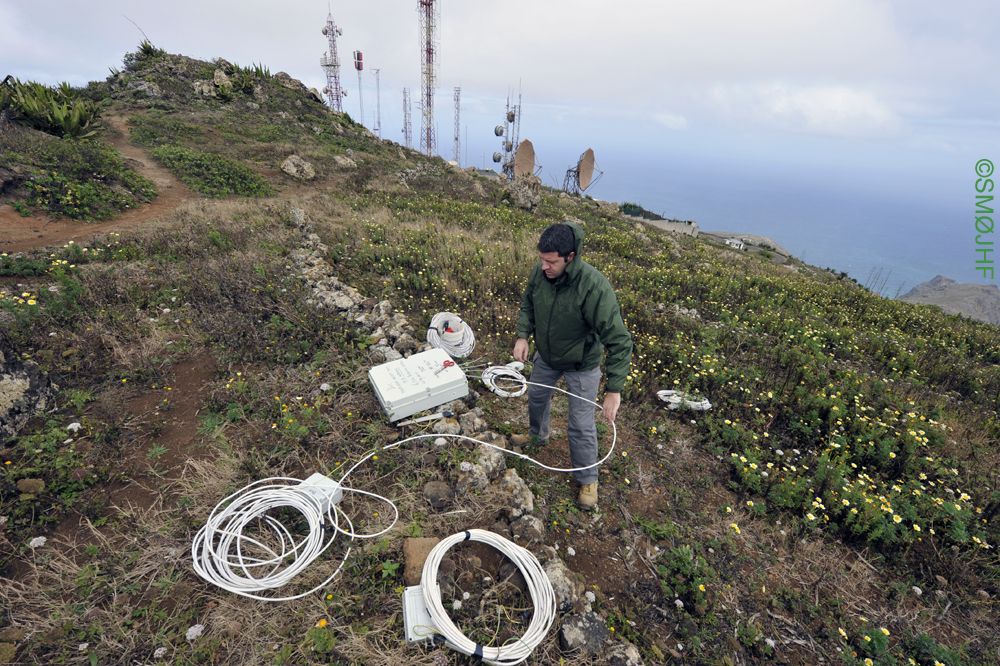 Max, IZ4DPV, setting up a receiving 4‐square antenna for the 160‐meter band. February 2014.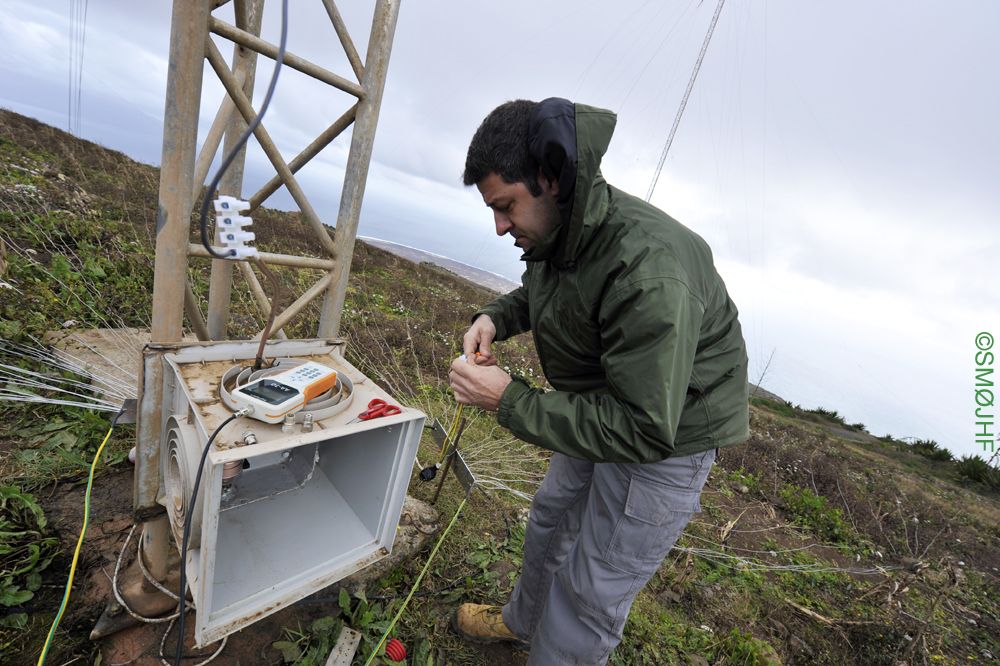 Max, IZ4DPV, at D4C adjusting the 160‐meter vertical antenna. February 2014.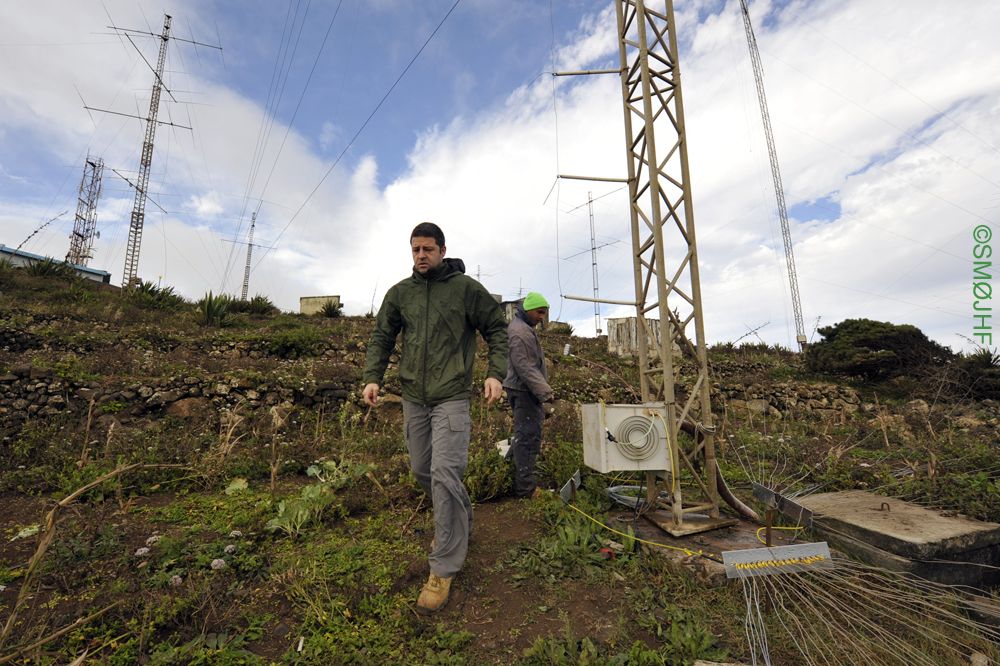 Max, IZ4DPV, at D4C adjusting the 160‐meter vertical antenna. February 2014.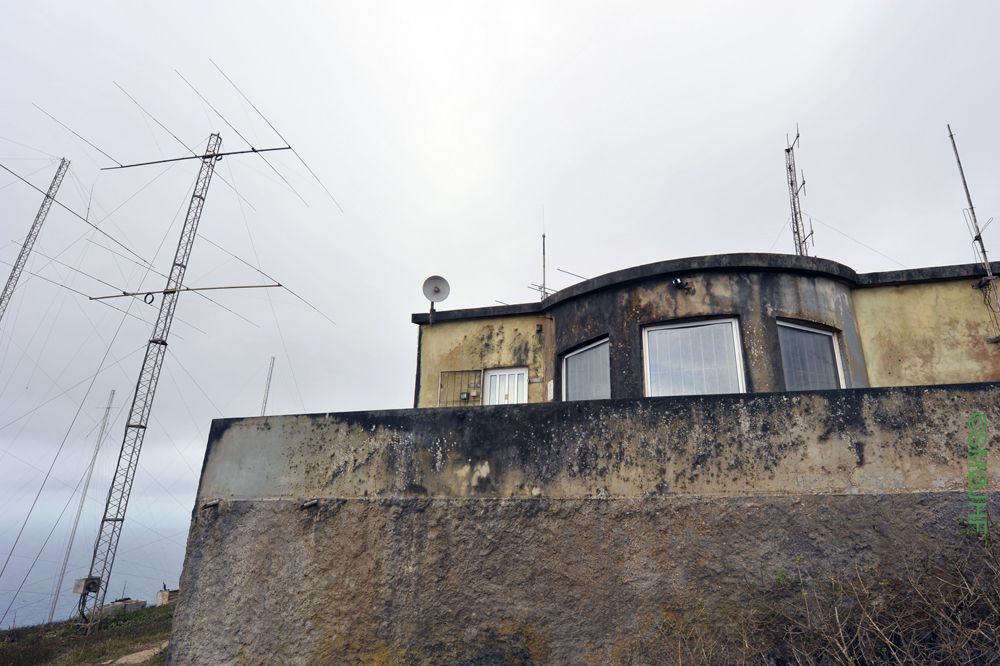 The small house on Monte Verde was built in 2002 by Al, 4L5A. February 2014.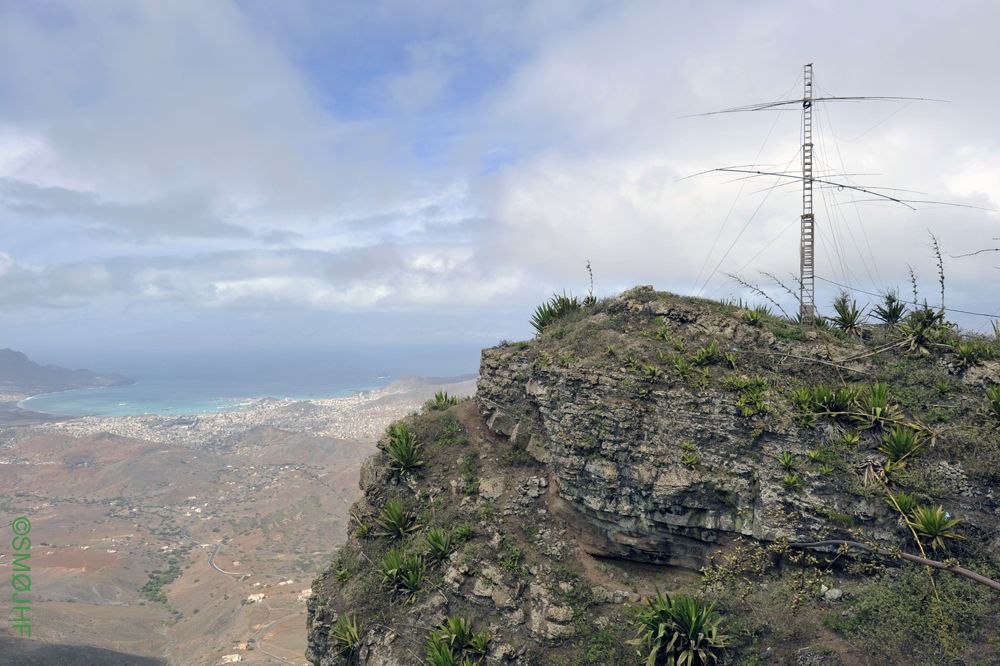 Monte Verde, 750 meters above sea level, Mindelo is seen in the distance, my QTH was on the left.
Friday night, the contest starts at 21.00 local time in Cape Verde, everything was just fine. Massi was optimistic; the additional radials he had installed at the vertical antenna seemed to boost the already potent signal. He fell by the wayside, though. Before the sunrise on Saturday morning all went black; the generator stopped working. I met him on Saturday in Mindelo, he was upset, but not in despair.
One month later he was in Mindelo again. A new, a few days of antenna work and adjusting the equipment ahead of the CQ WW WPX Contest at the end of March. This time he chose 28 MHz, while his young friend, Giammarco, IZ4ZAW, was on 21 MHz. Most of the antennas at D4C by that time were damaged and removed from the masts, but the 10 and 15 meter arrays were left in place. This weekend turned out to be a hit. The propagation on 10 meters was simply outstanding and the 15 meter operation by Giammarco in Single Band Rookie category was a bright event. Good to see enthusiastic, young people who learn quickly.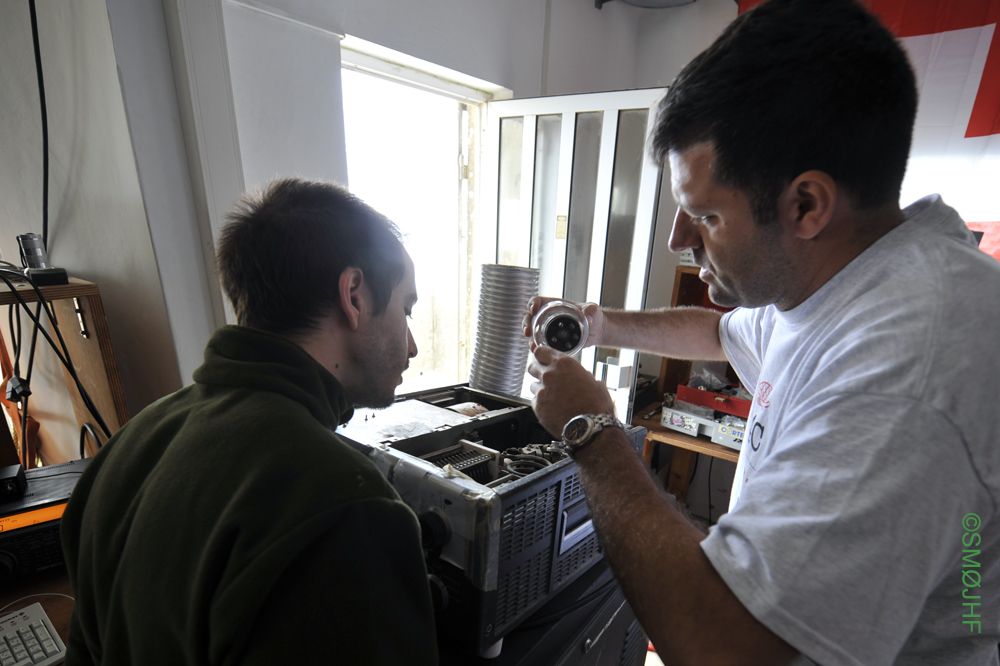 Giammarco, IZ4ZAW, left – and Max, IZ4DPV, right – check the 3‐500Z tube in the amplifier.March 2014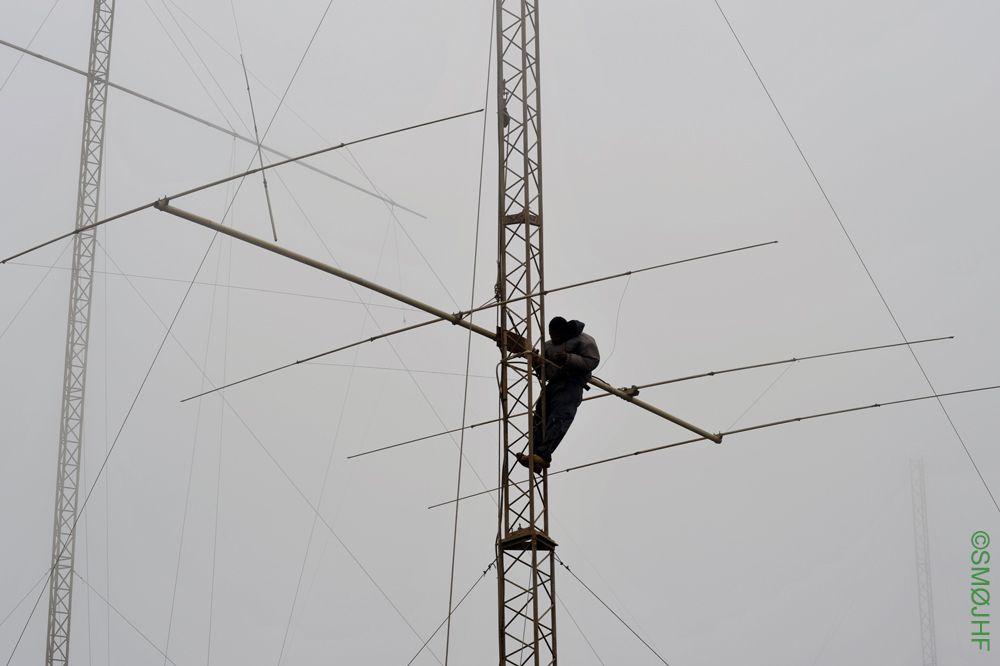 The local assistant Nevi works on one of the 15‐meter antenna. March 2014.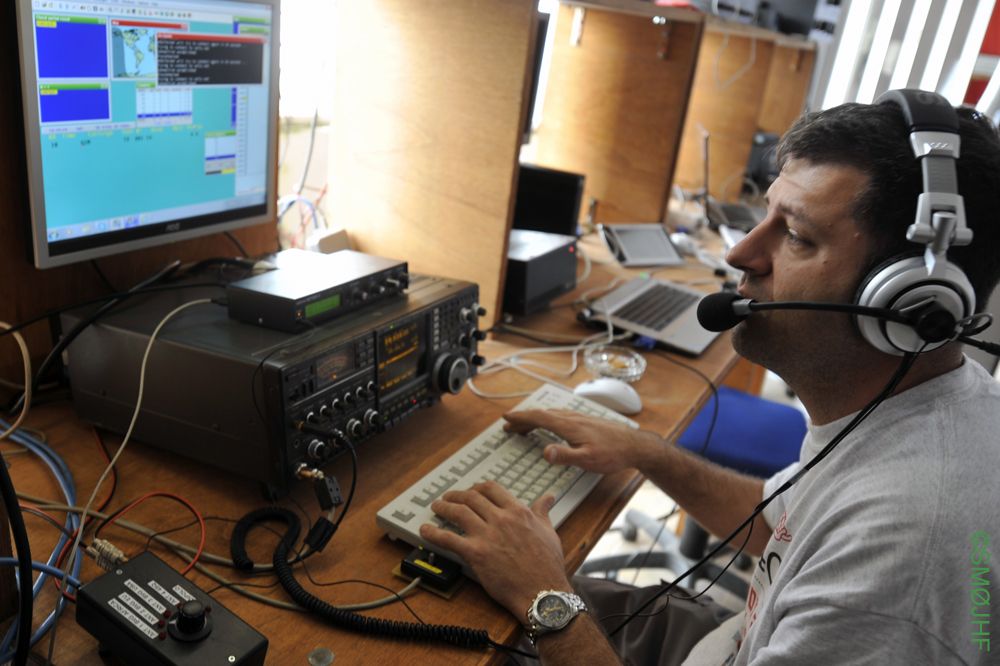 Massimo, IZ4DPV, the final check of the equipment on 28 MHz before the CQ WW WPX Contest, March 2014.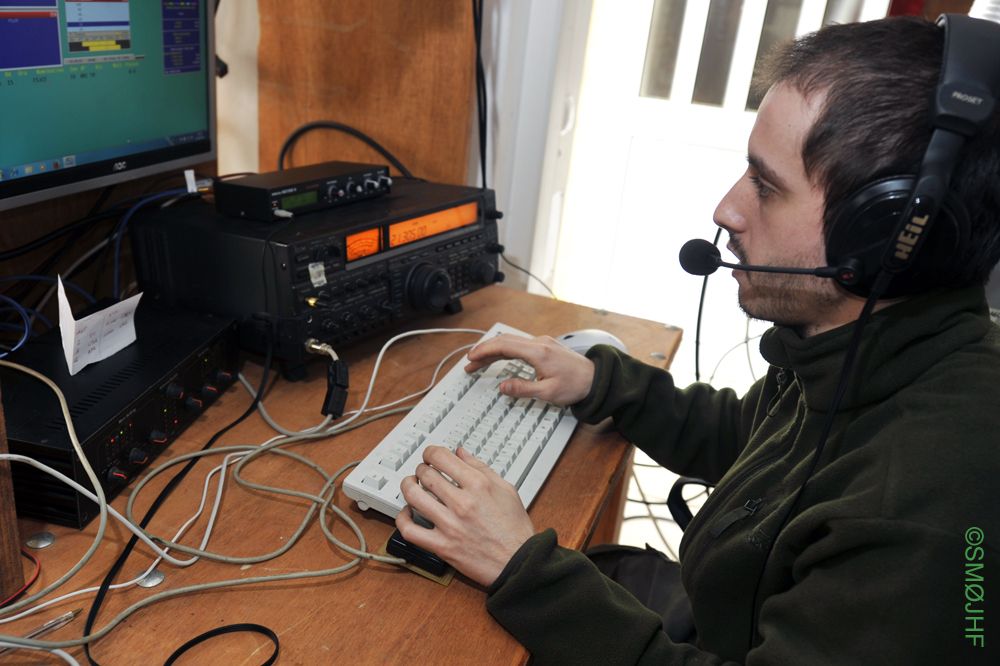 Giammarco, IZ4ZAW,is getting used to the equipment on 21 MHz before the CQ WW WPX SSB in March 2014.

I visited Monte Verde again two days before the WPX contest. My QTH in Mindelo was without electricity for two days so going to D4C and helping with the 2 meter installation was a good alternative. We put the 6 meter and 2 meter antennas on one pipe, and placed the 2 meter and 6 meter rigs in one place in the radio room. There was a good opening to Europe on 50 MHz, but nothing was heard on 144 MHz.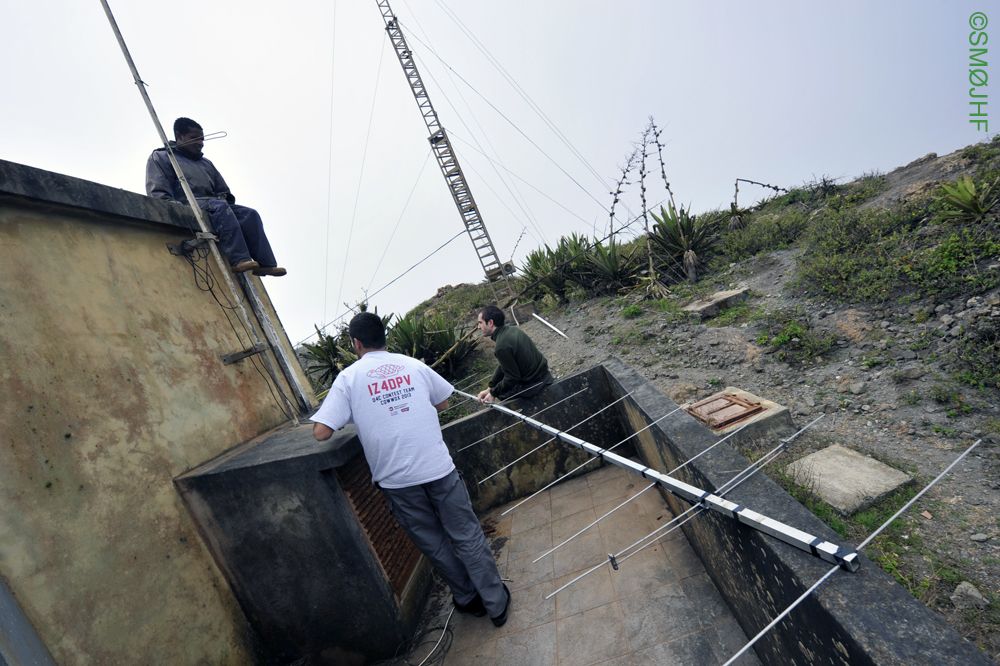 Installation of the 144 MHz Yagi antenna, from left: Nevi, Max and Giammarco.March 2014.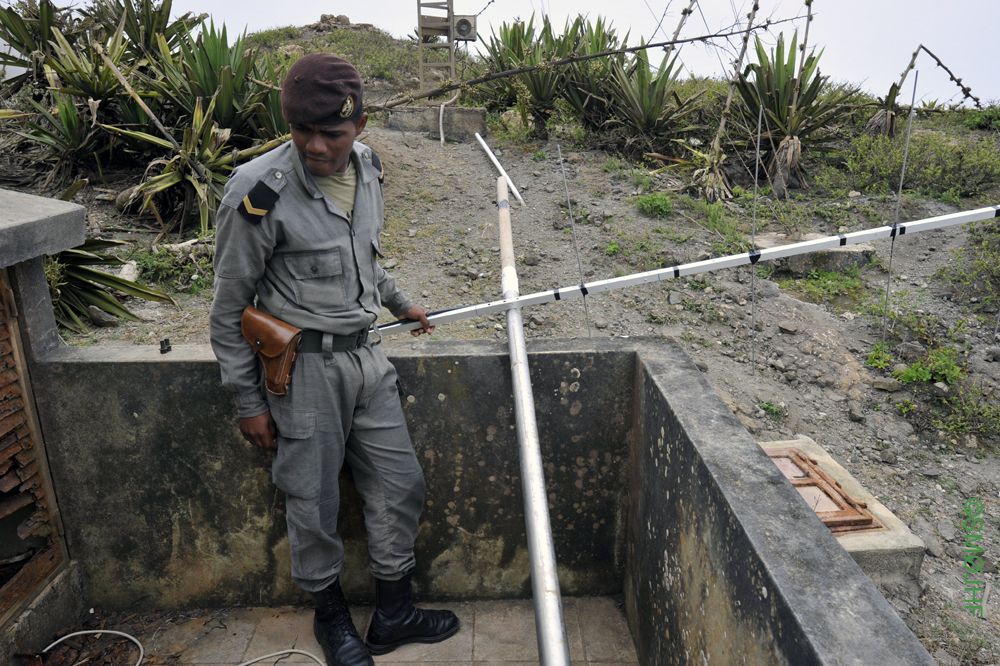 A military visitor from the neighbouring communications station.March 2014.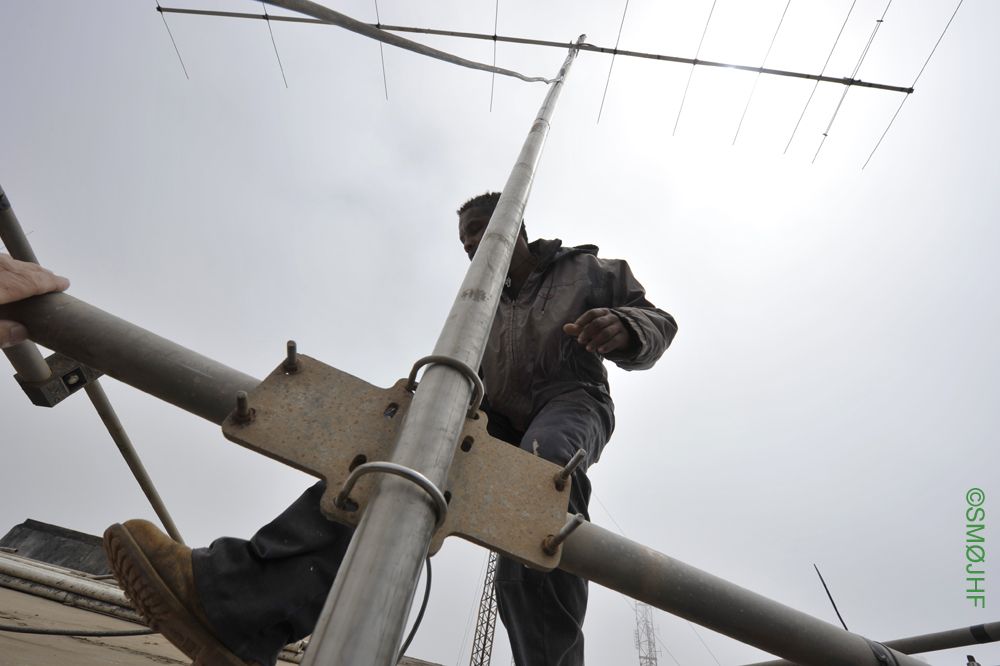 Nevi is a true expert on antenna work. I recall him when he helped us at D44AC in year 2000.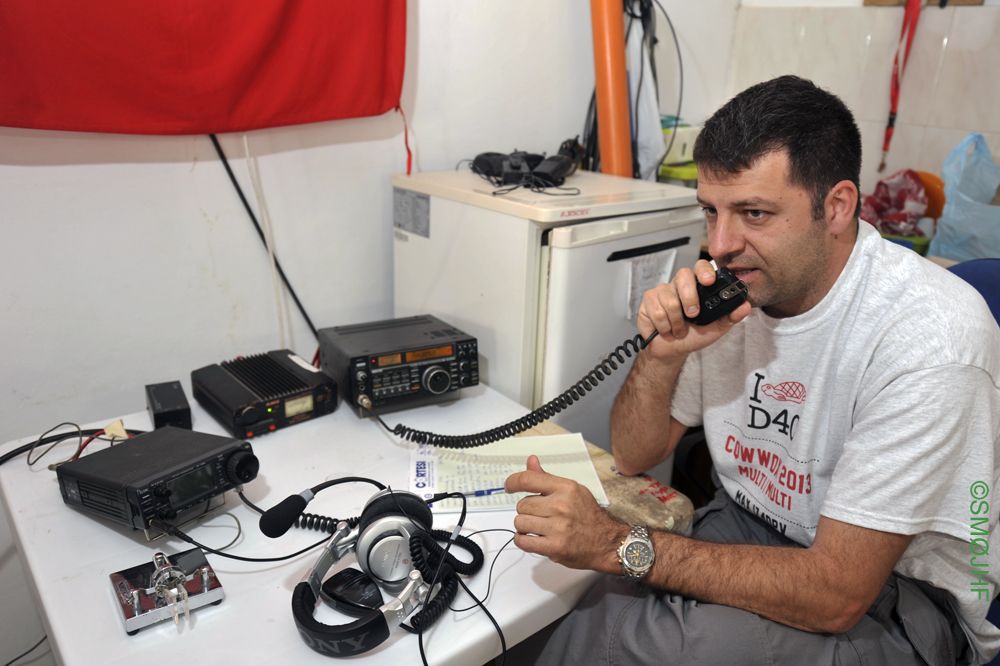 Max, IZ4DPV, calling CQ on 144 MHz, but in vain.March 2014.
The Monte Verde Contest Team continues the legacy of Alexander, 4L5A. Ten years ago he established new standards for single-operator contesting. The D4C team tries to engage many people in their contest activities, focusing on multi-operator events. In the past years, many guest operators joined the group for one or several collective entries. Ten-year-old report from Monte Verde by Bernie, ZS4TX, can be seen on https://dxnews.com/zs4txd4b/.
Henryk Kotowski, SM0JHF
20140425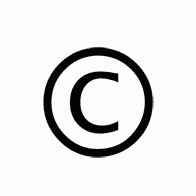 dxnews.com