P44X Team will be active from Aruba Island, IOTA SA - 036 in CQ WW WPX CW Contest, 27 - 28 May 2023.
Team - DL6RAI, DL5RMH.
Recent DX Spots P44X
They will operate in Multi Single High Power Category.
QSL via DJ4MX, LOTW.
Aruba

Aruba is a tiny island in the southern Caribbean Sea off the coast of Venezuela. Its area is less than 200 km². Today Aruba is an independent country that is part of the Kingdom of the Netherlands.
Despite its tiny size, the island has many interesting places, unique nature and fascinating culture. Breathtaking landscapes and azure beaches are sure to captivate even the most discerning travelers. It is a true branch of paradise on earth, which is located in the Caribbean.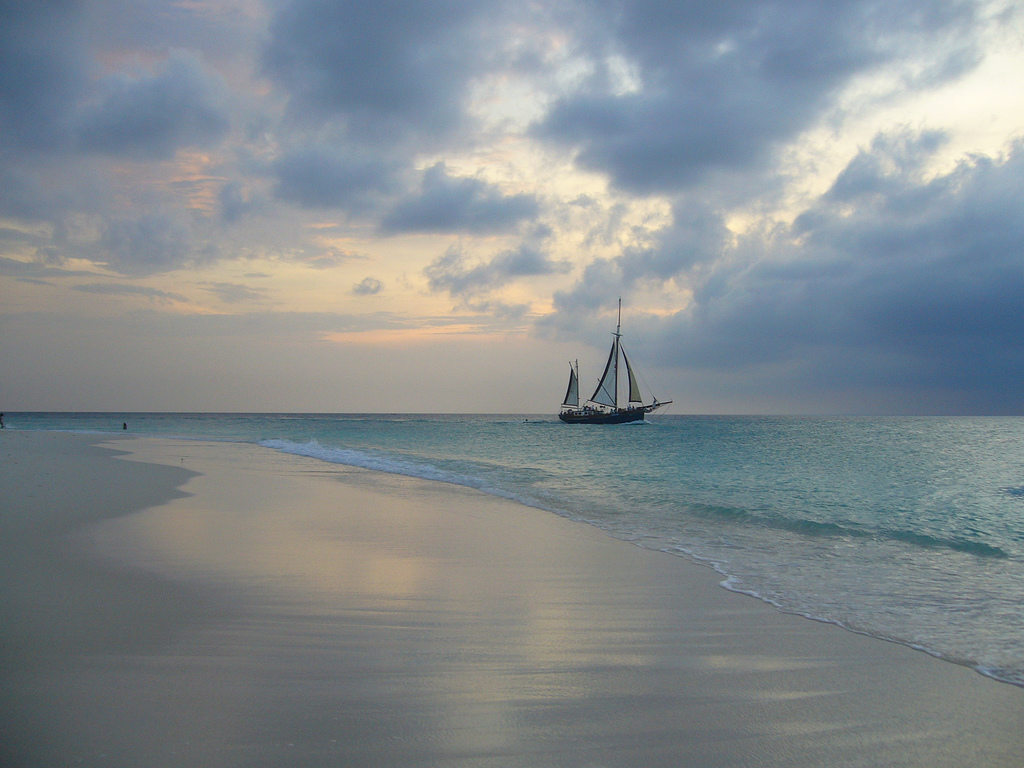 Eagle Beach, Aruba. Author - Kaldoon.
"Cool" beaches and fabulous diving

Aruba's beaches are special. Their surface is covered with a rare kind of sand made of tiny particles of coral, clam shells, and seashells. Because of its white color and unusual physical characteristics, Aruba sand repels the sun's rays and remains cool even at lunchtime. This makes it possible to walk along the promenade barefoot around the clock.
But the main feature begins where the beach ends and the sea begins. In the clear water you can see hundreds of colorful fish, sea turtles and scatterings of coral reefs. Even beginners can dive here, but even experienced divers are not indifferent. Of course, it is better to use the services of a local instructor, but it does not spoil the impression of the underwater world of Aruba.
Sunken Pirate Treasures

Not far from the shores of Aruba are the remains of several shipwrecks under the sea. Among them are both World War II ships and ships ruled by pirates. Two of them are in excellent condition - not only can they be viewed from the outside, but you can also walk through their cabins. Of the other, older ships, only ruins remain. But local legends say that it is among the ruined remains that you can find the pirate treasure. Some divers are still trying to do it!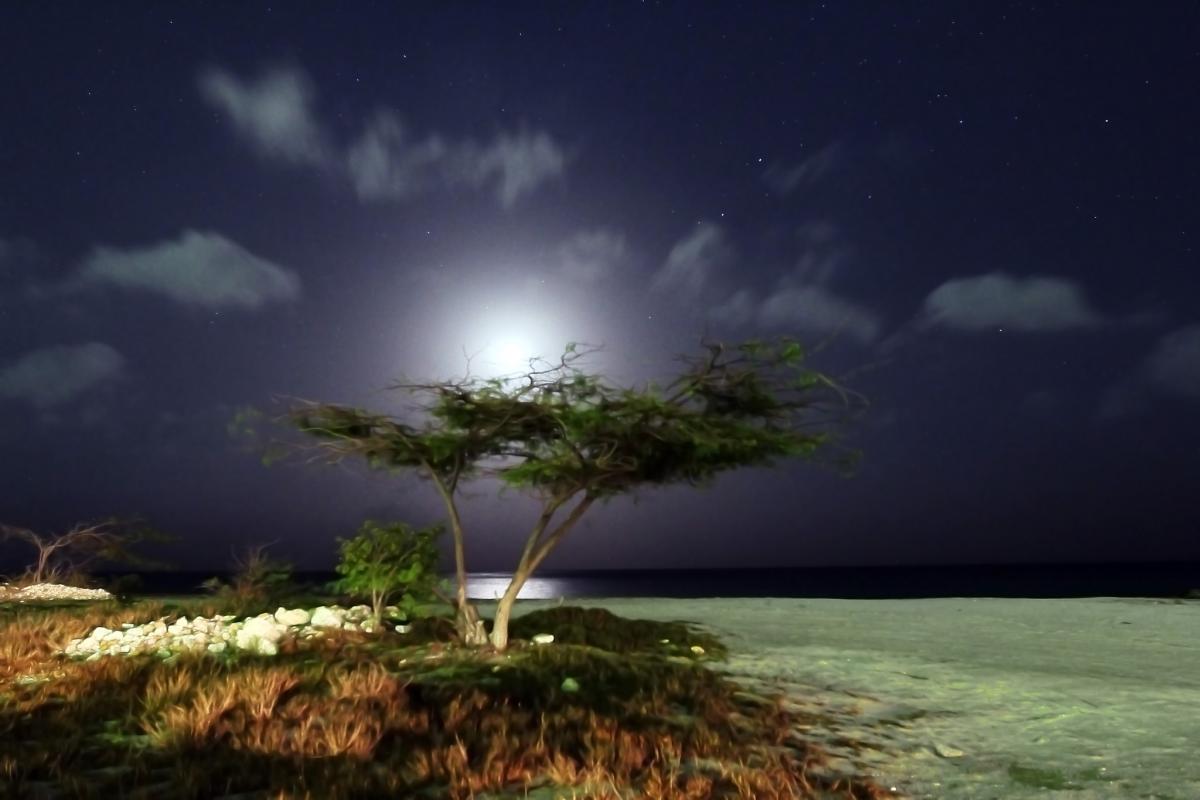 Moonlight, Aruba. Author - Valentin Lyakhovich.
Turtle Island

Aruba is home to a large population of sea turtles, which are strictly protected by animal welfare organizations. During the spring through fall, specially fenced-off areas can be seen on the island's beaches - using them to protect turtle nests from vandalism. Some lucky people can see dozens of "newborn" turtles go down into the sea for the first time. Although this process can only be observed from a distance, it is a truly fascinating sight. Adult turtles can easily be seen in the water, where you can admire these exotic reptiles and even swim with them.
Aricock National Park

Covering a quarter of the island is Aricock National Park, which is world-famous for its unique landscapes. Here you can see a huge natural pool "Conchie" almost perfectly round shape. Some of the water was once trapped in a dish made of volcanic rock. It remains in such a natural shell today. Other features of the park include the flora, which includes many species of tropical flowers and cacti, as well as divi-divi trees.
Aruba's animal life is not diverse. Here you will not find large mammals and ferocious predators. Among the local fauna are rattlesnakes, spiders, lizards, goats, rodents and ostriches. The islanders keep the latter as pets - hundreds of giant ostriches can be seen at the Aruba ostrich farm.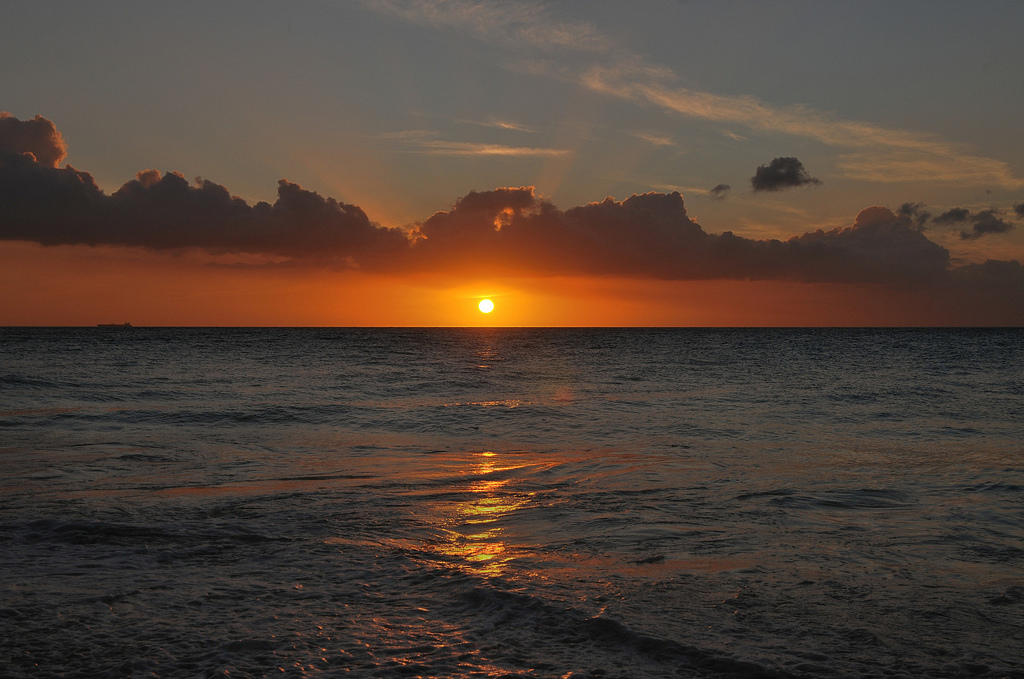 Sunset, Aruba. Author - zpics.
Ancient History

Aruba's human history goes back several millennia. And these are not just legends - the island has preserved material evidence, which can be explored by anyone. The main artifacts are the ancient petroglyphs and pictographs, of which there are more than three hundred. They were left by the Kakhetian Jackasses who inhabited Aruba dozens of centuries ago. The mild climate and firm cliffs that protect them from the sea breeze and scorching sun helped them stay perfectly preserved.
Original culinary traditions

Aruba is one of the islands that were once European colonies. At one time, the local population suffered greatly from this. On the plus side, you get your own unique culture because of the close-knit cohabitation of different nations and religions. Local culinary traditions are no exception. The greatest influence on them had the Dutch and immigrants from Indonesia.
Today Aruba's national dishes are a harmonious blend of European and Caribbean cuisine. Among the most popular recipes are noodles with seafood, nasi goreng and giant spring rolls with fish and vegetables. The traditional drink is a spicy beer made from the bark of the Sassafras tree (family of laurel). It has a mild flavor, low alcohol content and a treasure trove of nutrients and vitamins. A feast of flavors guaranteed!
Welcome to Aruba!
P44X. Where is Aruba located. Map.
P44X Aruba. Sunrise 09-21-2023 at 10:27 GMT sunset at 22:38 GMT