Frank, PA4N will be active from Curacao Island in CQ WW DX CW Contest 29 - 30 November 2014 as PJ2V.
Outside of the contest he will be active as PJ2/PA4N.
He will be in SO Category.
QSL via home call.
Curacao – the perfect island utopia
About Curacao Island
Curacao or fondly known by the locals as "DushiKorsou" (Sweet Curacao) is a beautiful little gem tucked away in the southern Caribbean Sea, off the Venezuelan coast and forms part of the Dutch Caribbean. Curacao is its own country and includes a main inhabited island and a smaller, uninhabited island- Klein Curacao (Little Curacao). Curacao has a population of over 150,000 and the capital is a historically rich town called Willemstad. Curacao is considered a constituent country of the Kingdom of the Netherlands. Some believe the name Curacao was taken from the Portuguese word for heart – and Curacao will surely hold yours captive. Their motto is "Live and Let Live" and this philosophy is prevalent on the island. It's easy to understand why this destination is popular as it is only two and a half hours from Miami, making it perfect for honeymoons, weddings, or any other occasion.
The currency in Curacao is the Antillean guilder also known as the florin. However, US dollars are widely accepted and used throughout the island, as are major credit cards and ATM machines can be found everywhere.
There is no need to worry about hurricane season in Curacao whose waters are safe throughout the year. This "best-kept" secret will seduce and tantalize you with stunning sandy beaches, striking collection of landscaped gardens and transparent coastal waters. The official languages spoken in this paradise are Dutch and Papiamentu, however, Not to worry though as English is also a widely heard.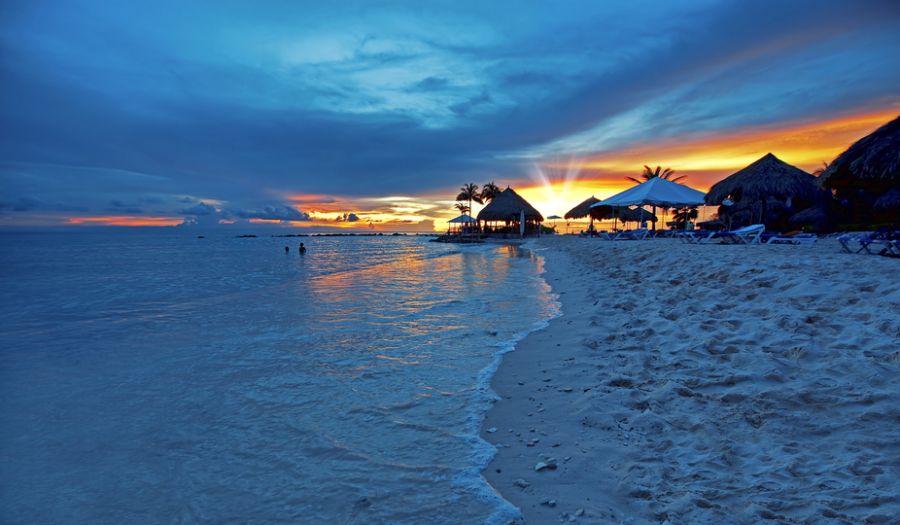 Visiting Curacao Island
Curacao hosts the longest runway in the Caribbean and is served by a number of airlines. Their modern International Airport of Curacao receives daily non-stop air services from the US, and daily flights from Venezuela and the Netherlands. If you're taking a private plane, Curacao is happy to welcome you.
If you're taking the scenic route, there are several major US and European cruise ships that dock at the island's two docking spots. All the seaports are natural, sheltered, and safe. Mega cruise ships dock at the Mega Pier and smaller ones at Mathey Wharf – both easily accessible to the duty free shopping in Willemstad.
Yachts are also welcome as Curacao's docking facilities are famous in the Caribbean islands. They have a diverse selection of marinas, anchorages and haul-out yards.
There are many ways to get to Curacao, but the real question is, will you ever want to leave this addictive island?
History of Curacao Island
Curacao's heritage is Native Indian – the Arawak people, who migrated to the island from the mainland of South America. About a hundred years later, Alonso de Ojeda, a lieutenant of Christopher Columbus, graced its shores. The Spaniards were impressed with the large physique of the native Indians and dubbed the island "Isla de los Gigantes".
In 1634, European powers in their eternal quest for territory were trying to get bases in the Caribbean and Dutch colonists started to occupy the island. They turned Willemstad into a major commercial center for the Trans-Atlantic slave trade. The Kura Hulanda Museum's exhibits chronicle this controversial period.
This paradise was sought after by many colonial powers and Curacao exchanged hands between the Dutch and the British several times, but the Dutch were tenacious. In the 1920s and 1930s Curacao saw a large influx of worldwide immigration and today boasts over fifty nationalities. In 1954, the island became self-governing within the Kingdom of the Netherlands.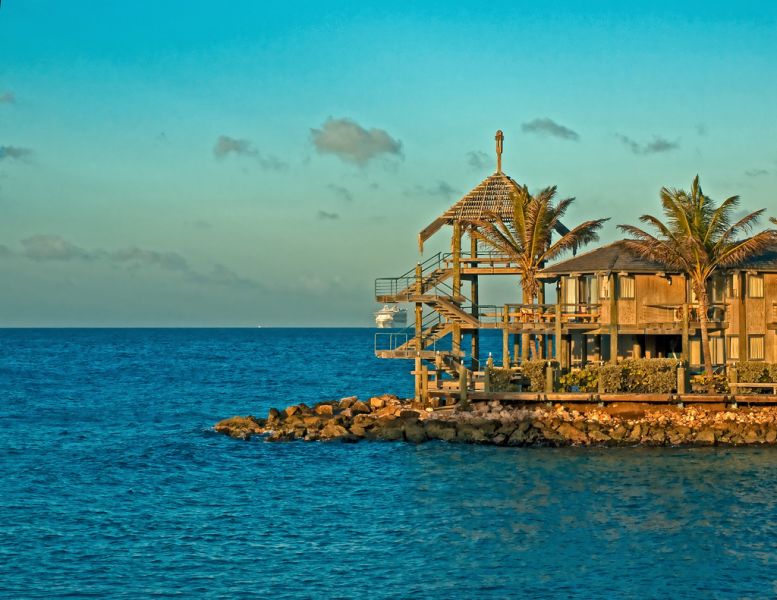 Government and Politics of Curacao Island
In 2010, Curacao became a constituent country of the Kingdom of the Netherlands. Locals are permitted to carry Dutch nationality and carry EU passports. Their government can best be described as a parliamentary democracy. They have a Central Government that covers sate affairs, police, communications, and all other industries.
Culture
With over 50 nationalities and 142,000 people, Curacao is a little global melting pot. The majority of the island's population is of African-Caribbean descent brought there during the vigorous slave trade. They speak the colorful, musical language called Papiamentu and is the main language spoken.
The Dutch influence is pervasive in the centuries-old colonial buildings in Willemstad. The Dutch influence also dictated Curacao's political, legal and educational system. Dutch is the language spoken in schools, government and business. Visitors from Europe make up 40% of Curacao's tourist traffic – with visitors mainly from Holland.
There is a colorful mix of many languages heard on the streets of Curacao although Dutch is the official language – and it sounds musical and infectious.
Weather, Flora and Fauna
Curacao is located in the tropics and has a warm sunny climate all the year round. The average temperate is about 27 degrees centigrade and cooling trade winds blow in constantly from the east. Curacao has a rainy season between October and February characterized by short, occasional showers. Curacao's average yearly rainfall is about 22 inches.
This meager rainfall may make it look like it is a barren island but on closer inspection you can see expansive hilly landscapes on the western end of the island. The Dividivi tree is one of Curacao's most distinctive trees. There are a lot of Whiptail lizards basking just about everywhere and iguana soup is a local delicacy.
Travel & Tourism:
What to do:
Willemstad is without doubt one of the world's riches cities in culture and diversity. The city is divided into two sections – Punda and Otrobanda. Willemstad is a port town and proud to be one the best walking cities in the world. Punda is formed in a neat grid while the streets of Otrabanda are a maze of twisting, small alleys and streets.
There are a diverse range of activities that are bound to gratify all appetites from diving, beautiful pristine beaches, art galleries, land sports, water sports, shopping, local artists and museums.
Where to stay:
Curacao's is well prepared for tourists and their different needs. They have variety of types of accommodation designed for your individual stay and needs from resorts, large and small hotels, luxury villas, apartments, bungalows, and guest homes.
Video Curacao Island