Norbert, OM6NM will be active from Corfu Island, (IOTA EU-052) in RSGB IOTA Contest 30 - 31 July 2016 as SV8/OM6NM.
He will operate in SO Category.
Recent DX Spots SV8/OM6NM
QSL via OM2FY, OQRS.SV8/OM6NM Log search
Ads for direct QSL:
Branislav Daras, P.O.Box 6, SK-820 08 Bratislava 28, Slovak Republic.
Corfu Island – Brief Introduction
Kefalonia and Corfu appear to be two largest islands in the Ionian Sea. Corfu is very close to territory Greece mainland if compared with other lands nearby. With its population up to 110 thousand people, the territory hosts an enormous number of olive trees that have already turned into the most recognizable signature of Greece as well as its main symbol. Overall, more than 3 million trees grow here. Corfu can boast a rich and long history. It has been inhabited for over 3000 thousand years. It was an essential port and a prosperous land due to its location and geography.
Corfu features great nature, astonishing beaches and exceptional environment making the stay here perfect for both local people and thousands of tourists. Thousands of invaders annually come here to enjoy the climate and nature. Whenever you get to Corfu, it seems like nothing else matters at all. Life is so peaceful and pleasant here introducing entertainments for all tastes no matter if you prefer active time spending or relaxation by the sea. Here you can find reflections of various cultures starting from ancient times and Roman Empire to Medieval period featuring Venetian style buildings and fortresses.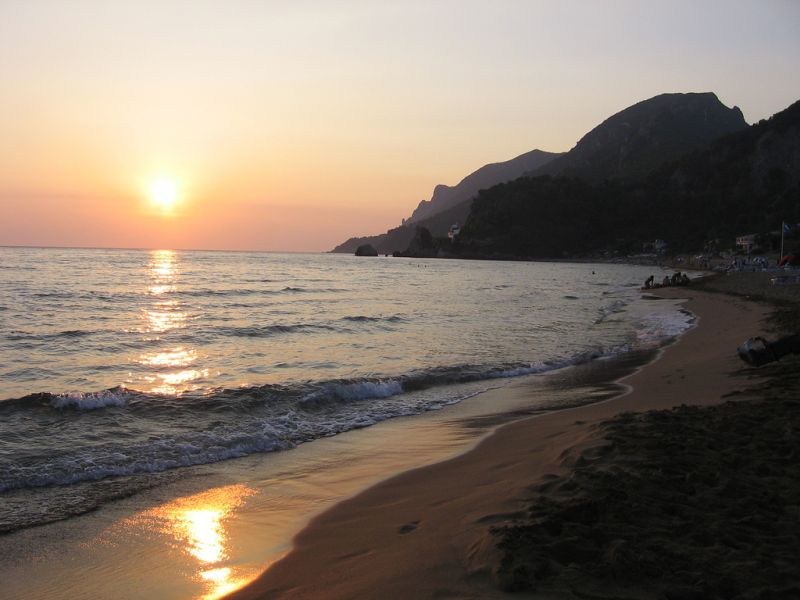 Sunset, Corfu Island. Author - albusorin.
History
Also known under the Kerkyra name, Corfy got its name after the daughter of the River God. It is surrounded by many legends and myths. According to one popular version, Poseidon fell for Nymph Korkira. He had nothing to do but to kidnap her daughter and left abandon on this island. Archeological discoveries prove that the first inhabitants appeared during the Paleolithic Era. All fans of stories about great adventures of Odysseus will be surprised to know that Corfu was actually the island where he landed together with his crew on the way home.
Good geographic location turned this territory into the essential trading point and vital port. This fact boosted the naval niche. However, pirates and corsairs regularly attacked the island. Nevertheless, they were not able to scare the British away who started arriving at the island since 1815. Corfu was under their domination for some time. However, it was a good period for the island and its inhabitants. From that moment, the Greek was the official language. The British invested lots of money to build new roads and infrastructure. First Universities appeared. The island got its independence in 1864 as a donation of Britain to the new king.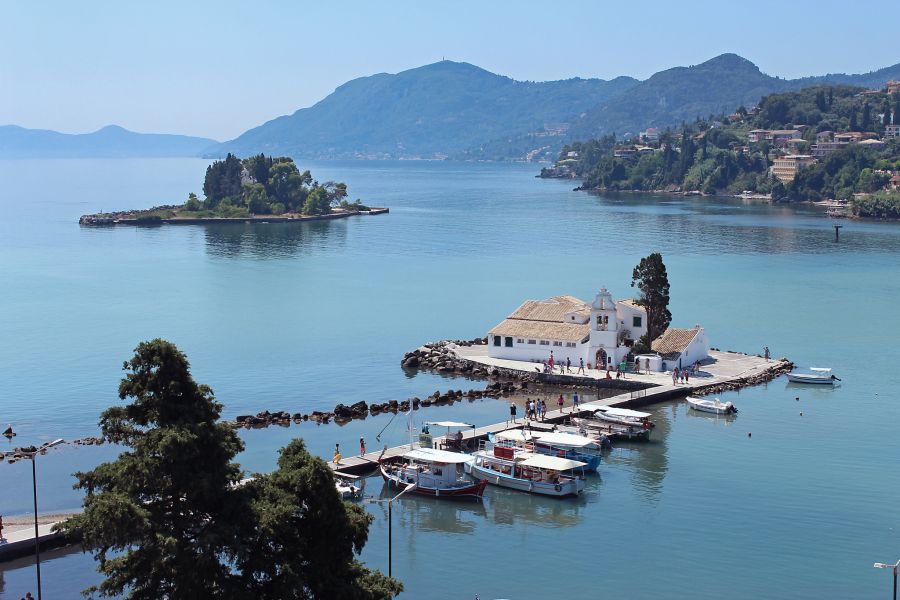 Pontikonisi Mouse Island, Corfu Island. Author - Simos Silaidis.
Corfu Island Today
Corfu today is probably the best destination in the Mediterranean Sea featuring its fascinating beaches and nature, authentic culture, great environment in addition to significant fauna, flora and landscapes. Speaking about major activities for locals, they include fishing and agriculture though they are hardly the most important ones. Local economy is mainly based on tourism niche offering a wide range of activities for tourists. Those looking for a piece of history can take a walk around the old part of the city showcasing its ruins and history on their every step. Those who seek for leisure activities will appreciate sandy beaches and breathtaking bays. Modern part of the city introduces modern inhabitants with their lifestyle and some old traditions that still exist today.
Summer is perfect ion case you want to pay the island a visit, as the weather here is the most delightful during summer season. You will hardly find it hot as it rarely comes with more than 30 C degrees above zero. Winds here blow rather seldom featuring short showers to chill the weather down a bit. Autumn will also keep you warm with the average temperature of about 25 C. This season traditionally brings lots of sunshine though the weather is not rather hot. However, the spirit and taste of summer are still in the air.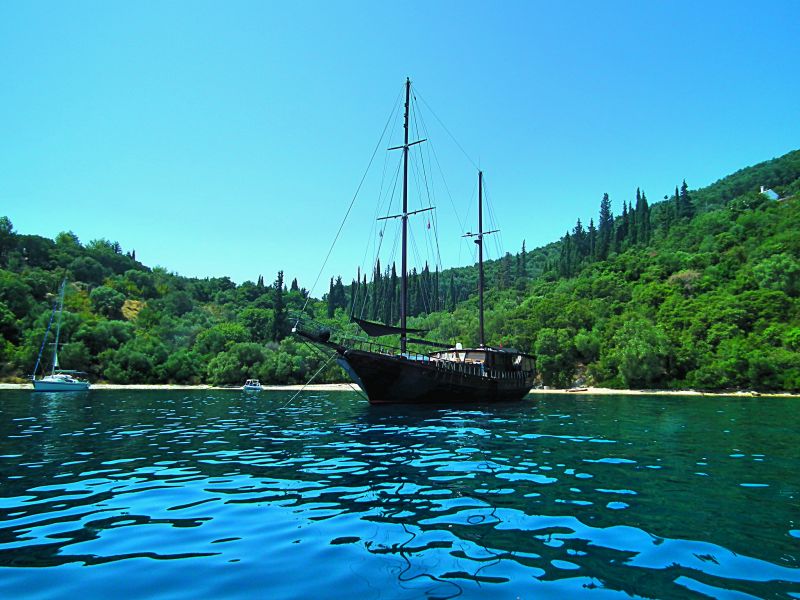 Corfu Island. Author - Sam Topping.
Corfu People
Despite such a turbulent history, people here are very easygoing and hospitable. They are used to getting along with different cultures and religions. They are always rather kind and caring with tourists and foreigners. However, you are supposed to follow some of the local rules and restrictions that are mainly connected with closing in local churches. Corfu residents are always rather cheerful. They traditionally love dancing and playing different music styles representing various aspects of their culture. In spite of such authentic lifestyle, the majority of modern inhabitants are more cosmopolitan and up-to-date. They follow some latest trends still keeping their authentic customs. Corfu Island has always something to offer to meet everyone's tastes and preferences.
SV8/OM6NM. Where Corfu Island is located. Map.
SV8/OM6NM Corfu Island. Sunrise 09-21-2023 at 04:25 GMT sunset at 16:41 GMT